Best Value
Instant Omni Plus XL

If you're looking for a substantially sized appliance, but the Breville oven is out of your price range, then the Instant Omni Plus XL air fryer toaster oven is the appliance for you. It has many of the same features and has superb versatility.

Yes, it's loud and a little plasticky, but it comes at a fraction of the cost of the Breville and is pound for pound, the best value toaster oven on the market.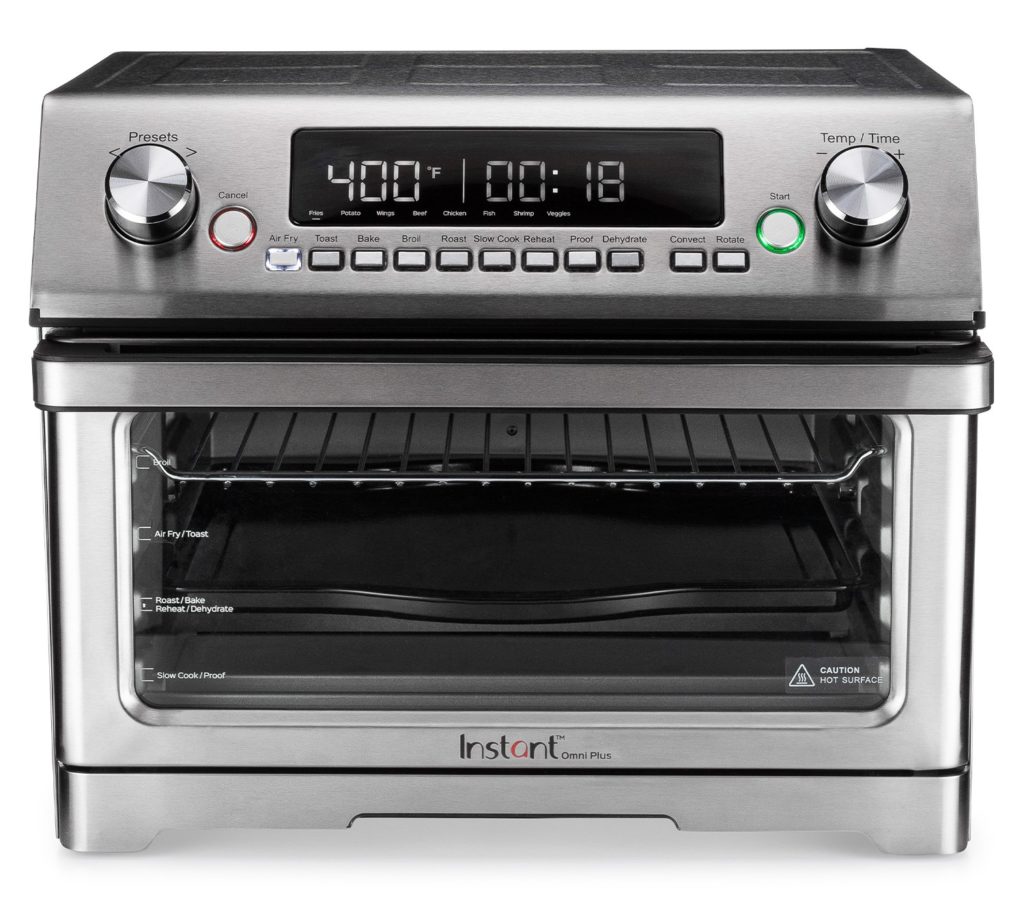 Best Overall
Breville Smart Oven Air (BOV900BSS)

Breville are habitual producers of high-end small kitchen appliances. Their Smart oven is as good as it gets. It looks superb, is simple to use, and consistently makes delicious food.

It has an enormous capacity that makes it ideal for large families or batch cooking, and the massive amount of features means you'll be experimenting in the kitchen for years to come. Though be warned, this model is ludicrously expensive.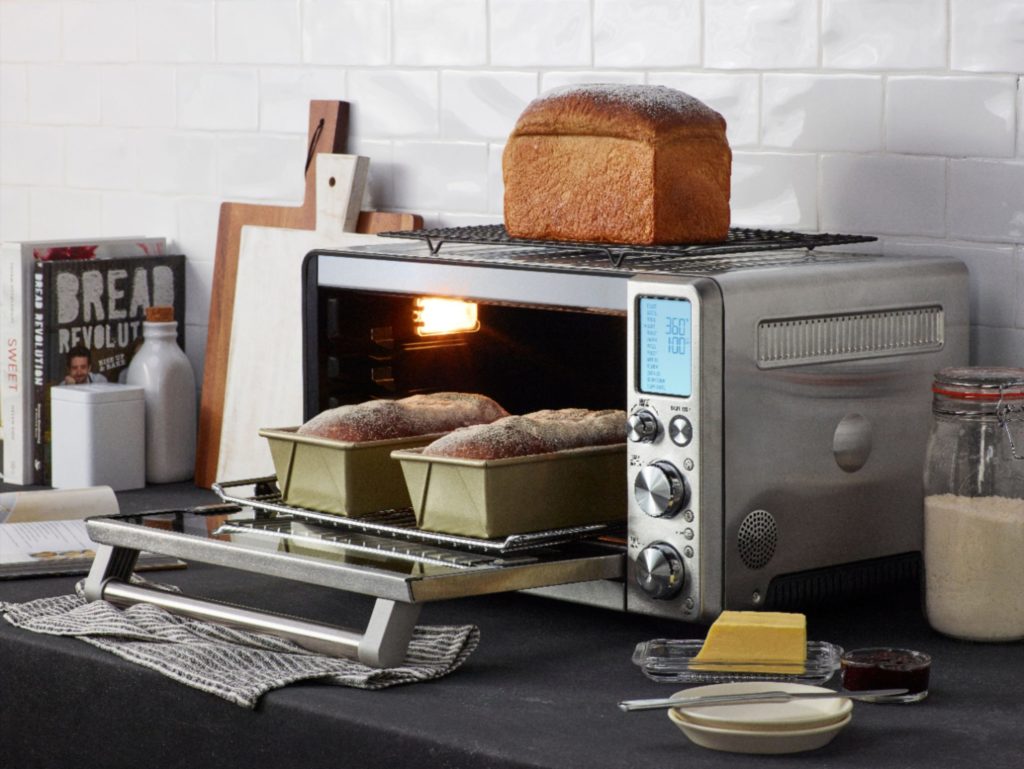 ---
Things I Love
Superb Appearance: Breville are the masters of producing high-end appliances with top-quality appearances. This toaster oven would look at home in any professional kitchen.
Substantial Capacity: The Breville air fryer toaster oven is enormous. It's big enough to hold most cooking trays, and will have no problem cooking a large chicken, and can even make a reasonably sized pizza.
LCD & Simple Controls: There are few more straightforward appliances than this one, thanks to the familiar Breville cool pale blue LCD and simple to use dials.
Perfect for Smaller Kitchens: While this appliance is relatively large compared to other brands and models, it can easily replace a conventional oven thanks to its large capacity and superb versatility.
Broad Versatility: With 13 different functions, this toaster oven can accomplish almost any task you'd require from a standard oven. Toast, Bagel, Broil, Bake, Roast, Warm, Pizza, Proof, Air Fry, Reheat, Cookies, Slow Cook, Dehydrate.
PID Control & Element IQ: Breville uses all available technology in this appliance to ensure you get the most efficient heating, to ensure consistent cooking every time.
What's Not to Like
It's Expensive: Let's not beat around the bush; the Breville air fryer toaster oven costs a lot of money. Far more than any other appliance on our list. But if it's not out of your budget, this high-end appliance is worth every penny.
Known to Run Hot: Consumers report the exterior of this oven gets very hot during use. Be sure to position it in a safe place in your kitchen.
Final Remarks
You know what you're getting when you buy a Breville product. They consistently deliver high-end appliances that are versatile, durable, dependable, and give you reliable results. This toaster oven is an ideal replacement for a conventional device but at a fraction of the size. It'll cost you, though. It'll cost you a lot.
Compared to Cuisinart TOA-65, Breville BOV900BSS offers more inside space, more cooking settings and an extra convection fan.
Breville is a much larger device and will take more space on your counter. For the same reason, it can fit 9 bread slices while Cuisinart has a capacity for 6. If you need a large toaster oven then choose Breville.
Breville also comes with more accessories. Despite BOV900BSS obvious advantages, we recommend TOA-65 as a better value option for one simple fact – TOA-65 is usually 30% cheaper than BOV900BSS.
Good alternatives
Breville BOV860 is a little sister of the above model. We think it's even a better value if you don't need the largest air fryer oven. Compared to BOV900:

1. BOV860 has a smaller footprint and capacity. It fits only 6 slices of toaster compared to 9 on the larger model but still fits the same 13″ pizza.
2. It loses two presets: dehydrate and proof.
3. This model has 7 color options and they look beautiful. Smart Oven Air has only one.
4. It's slightly cheaper. If you don't need extra presets and the largest oven then this is a way better value.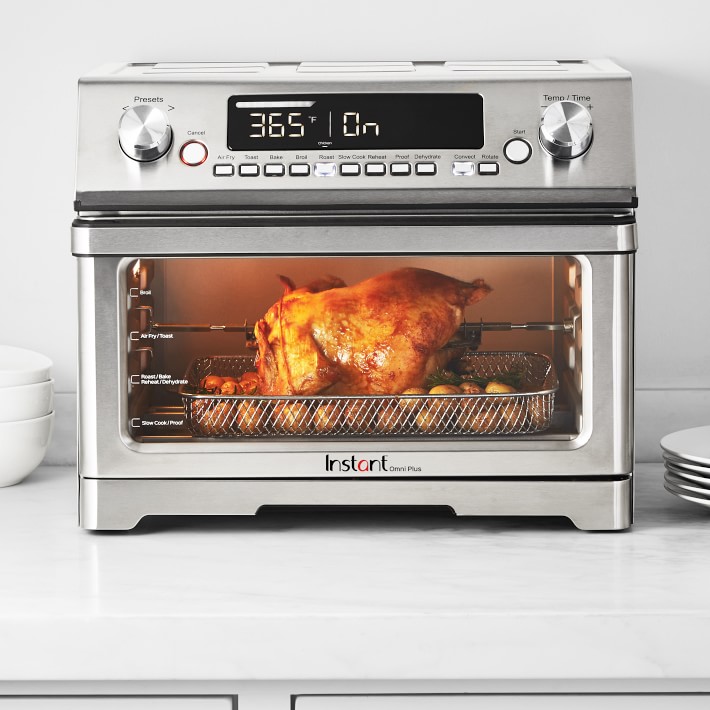 ---
Things I Love
Tremendous Value for Money: While the Instant Omni isn't the cheapest oven we'll look at today, but, it still represents the best balance between affordability and quality.
11 'Smart' Pre-sets: This appliance has enormous versatility with various pre-set functions that make it easy to use. Air fry, dehydrate toast, roast, bake, broil, slow cook, proof, convection, rotisserie, or reheat.
Rotisserie Option: We briefly touched upon this function in the pre-sets, but it's worth mentioning this appliance's ability to utilize the rotisserie setting and the accompanying attachments that help you make juicy roast chicken.
Large Capacity: The Instant Omni has a cavernous capacity, that while not quite as large as the Breville device, it still has a ton of cooking space.
Accessories: You'll have everything you need right out of the box, thanks to a whole host of accessories and attachments that comes with the toaster oven. Oven rack, cooking pan, air fryer basket, rotisseries spits and forks, and a rotisserie lift.
What's Not to Like
Ambiguous Instructions: There are a ton of functions on the Omni Plus, but Instant has done a poor job in explaining how to use them with their vague and ambiguous instruction manual.
It's Loud: Many of these types of ovens can be quite loud, though this one is louder than most.
Initial Plastic Smell: It's not uncommon for a brand new appliance to smell funky when you first use it, and while it will fade over time, the plastic smell will be quite strong when you first get it out of the box.
Final Remarks
The Instant Omni provides a ton of versatility in the kitchen for a relatively affordable price point. When coupled with a large variety of functions, it has a large capacity that is capable of tackling most cooking tasks. There is a learning curve, though, when first using this oven.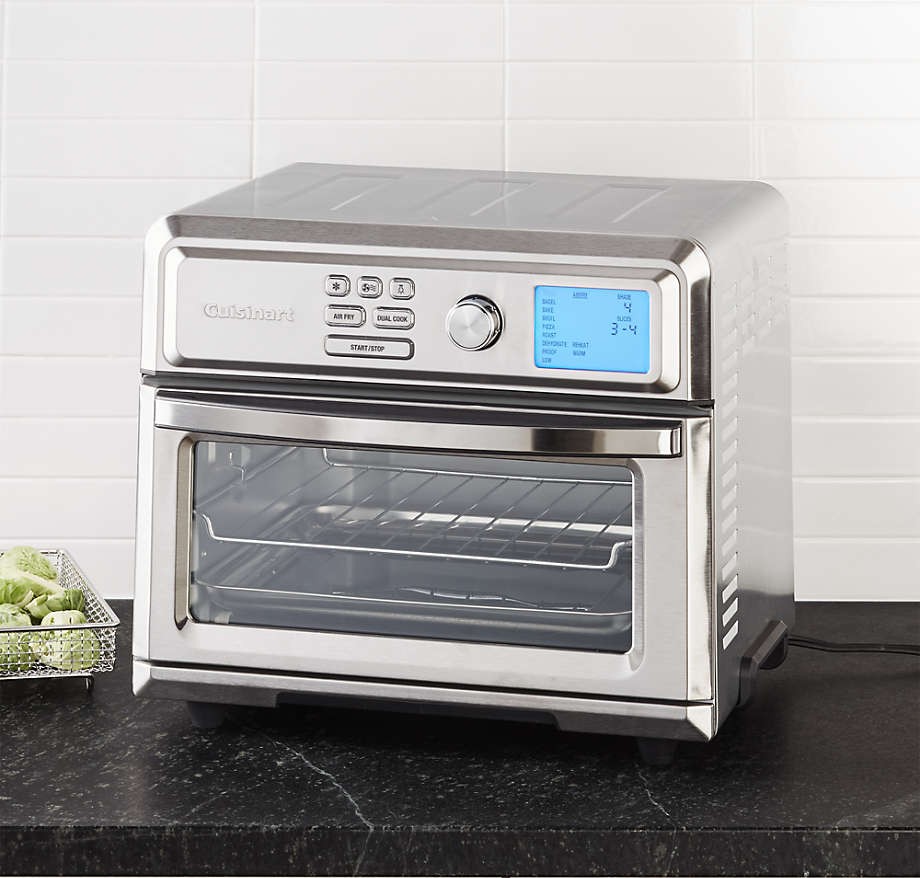 ---
Things I Love
Compact: The overall design of the Cuisinart TOA-65 means it won't take up much space in your kitchen while maintaining a decent interior capacity.
Low-Temperature Cooking: With a 'low temperature cooking' setting, you're able to slow-cook, braise, proof, and dehydrate.
Ease of Use: Cuisinart has put much thought into producing this appliance to make it as easy to use as possible. From the simple dials and buttons to the interior light.
Straightforward to Clean: Even though only selected parts are dishwasher safe, all components included with this toaster oven are really easy to clean.
It Runs Quietly: More often than not, we comment on how loud kitchen appliances can be. It's nice to find one that's more quiet than usual.
What's Not to Like
Hot Exterior: Appliances that heat food are bound to get somewhat hot on the outside, but the exterior on this oven is a little excessive.
Redundant Settings: While there are many settings on this appliance, it appears there is little difference between one or two of them.
Final Remarks
Despite having a far smaller capacity than both the Breville Air Fryer toaster oven and the Instant Omni Plus XL, the Cuisinart TOA-65 is a superb alternative to our favorite toaster ovens. It's one of the best Cuisinart has made and is an excellent choice for folks who are short on kitchen space. It's got plenty of features, easy to clean, and won't burst your eardrums while it's running. It has also received a "Very Good" rating from Consumer Reports.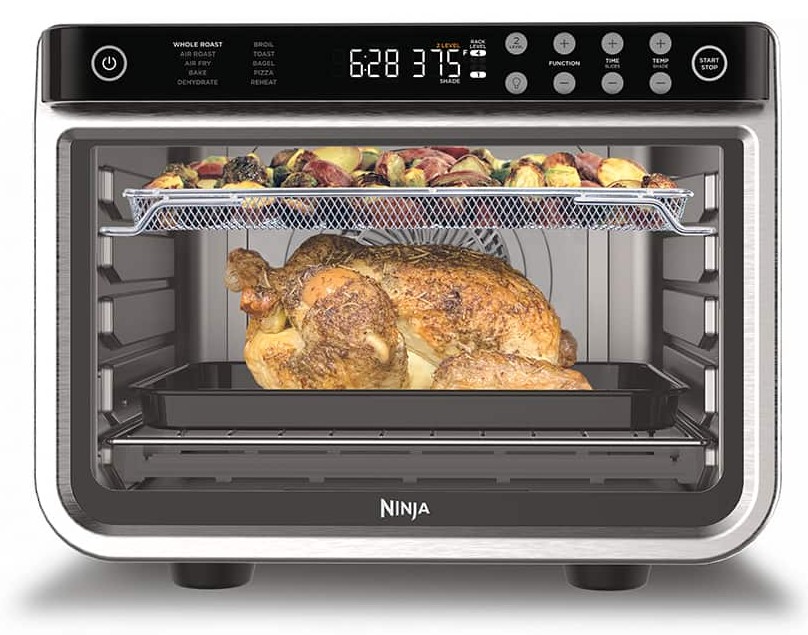 ---
Things I Love
Unrivaled Appearance: Ninja are well known for their fantastic looking appliances, and they have delivered again with the Foodi DT201.
"True Surround Convection": Ninja has combined various fans and technology to create the 'true surround convection,' which they promise will give you consistent results.
It Lights The Way: Depending on the function you've selected, this Ninja toaster oven will illuminate the optimal shelf position so you know where to place your tray for the best results.
Excellent Instruction Guide: We're always quick to point out when an appliance has a poor manual, so it's only fair that we give credit for a great one. Ninja explains all the functions succinctly and even provides a visual aid for which shelf position to use and when.
What's Not to Like
It's Very Heavy: Find a permanent position for this oven because it's super heavy.
Ridiculously Loud: This is probably the loudest model we've looked at today.
Final Remarks
The Ninja Foodi 10-in-1 toaster oven only became available to buy towards the end of 2020, so at the time of writing, there has only been limited use with this appliance so far. It has the potential to score more favorably once we know with more certainty about the longevity of this oven, though it is far louder and heavier than both the Breville and Instant appliances. Ninja also makes great air fryers.
---
Things I Love
Dual Convection: With heating elements at the top and bottom of the KitchenAid digital oven ensures your food is cooked not only quickly but also evenly.
Nine Cooking Methods: A variety of cooking styles gives this appliance tremendous versatility. They include air fry, bake, toast, bagel, proof, dehydrate, broil, reheat, keep warm.
'No-Flip' Basket: The specially designed air fry basket, working alongside the dual elements, means you can cook your food to a brown crisp without having to flip it halfway through.
Stylish Look: The stealthy matt black finish and silver stainless steel trim give the KitchenAid digital air fryer toaster oven a sleek and attractive appearance.
Fast Pre-Heat: Using two elements, pre-heats this toaster oven in under four minutes so there's no waiting around.
What's Not to Like
Poor Toaster: While the other functions of this oven work well, the toasting function is imbalanced and cooks unevenly.
Inadequate Shelf Spacing: Despite coming equipped with two shelves/racks and two separate rack slots, you can only use one at a time. A little more thought could have doubled the cooking capacity.
Input Lag: The appears to be some delay between pressing buttons and turning dials and the appliance registering the change, which consumers find very annoying.
Final Remarks
KitchenAid has produced an extremely versatile air fryer toaster oven with tons of functionality and versatility. For such a useful appliance, it has a relatively low price point too, and it could have been a contender alongside the Instant Omni Plus for 'Best Value Air Fryer Toaster Oven' if it weren't for its poor toasting function.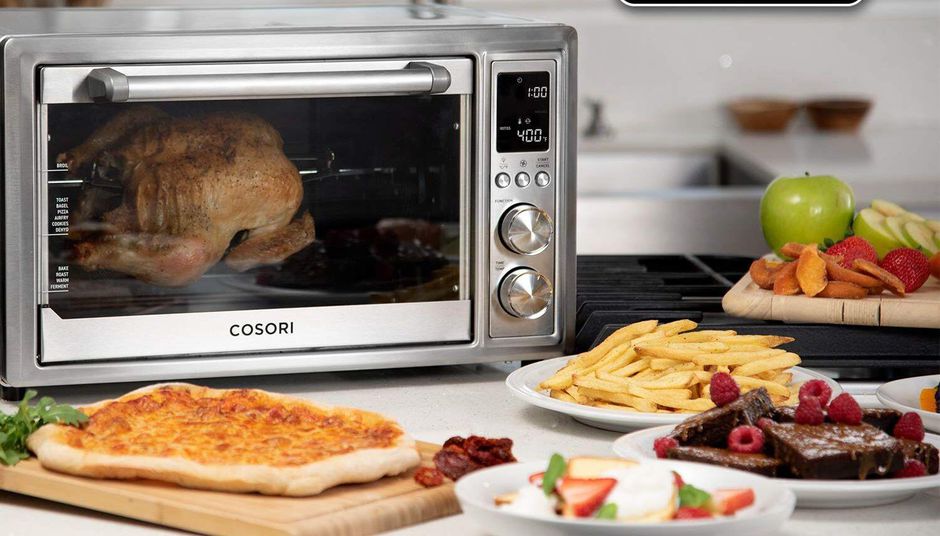 ---
Things I Love
Substantial Capacity: Despite costing significantly less than the Breville toaster oven, this Cosori appliance has an equally massive internal capacity.
Non-Stick Interior: Cleaning is super easy thanks to a non-stick interior that makes less of a deal out of internal accidents.
'12 Unique Pre-sets': We're not sure how unique these settings are, but they are functional and make this Cosori toaster oven extremely versatile in the kitchen.
It Looks Excellent: While the outward appearance neither positively or negatively impacts the taste of your food, this oven looks superb and will complement any kitchen.
Internal Light: See how well your food is cooking thanks to this handy interior light.
What's Not to Like
Rotisserie Mess: You'll be thankful for the non-stick interior if you use the rotisserie kit as it will make a huge mess of your toaster oven.
Poor Door Design: For reasons unknown, the door does not extend all the way down, making it tricky to remove trays without burning yourself.
No Power Button: There is no power button on this appliance, so you'll need to switch it off at the plug.
Final Remarks
An enormous capacity and multi-functional features make this air fryer oven an excellent alternative to more expensive appliances. There are a couple of design flaws that you don't find on the Breville and Instant Omni toaster ovens that create a mess and admittedly are a little inconvenient, but if you can work your way around them, you'll be happy with this appliance. For just air frying, check our review of amazing air fryers by Cosori.
---
Things I Love
Affordable: This toaster oven is the smaller, more affordable little brother to the Cuisinart TOA-65. An excellent choice for those on a tighter budget.
Simplicity: If you prefer a less cluttered, more simplistic appliance, this convection oven is a superb choice. There's little confusion with the control panel as the dials are self-explanatory.
Auto Shut-Off: The Auto Shut-Off feature will see this appliance switch itself off after a period of inactivity. Saving energy and giving you peace of mind.
Interior Light: See how your food is coming along with the manual interior light that lets you control when it's operating or not.
What's Not to Like
No Pre-Heat Setting: You can't pre-heat this oven using a specific feature.
Not-So Stainless Steel: The inside of this appliance can get a little messy if you're not careful, and the stainless steel can become discolored over time.
Analog Dials: While a choice between analog and digital controls is a personal preference, we feel digital controls are more beneficial and promote ease of use. However, if you prefer them, feel free to add this to the 'Things to Love' section.
Final Remarks
Cuisinart has produced a more affordable and simplistic version of the TOA-65 for people on a tighter budget or those who prefer their appliances less complicated. It's compact too, so suitable for people with smaller kitchens. Of course, the lower price point means there are fewer features than you'll find on the Breville and Instant Omni air fryer toaster ovens, and the build quality is inferior too.
8. Hamilton Beach Sure-Crisp Air Fryer Toaster Oven
---
Things I Love
Very Affordable: The super affordable price point that accompanies the Hamilton Beach Sure-Crisp oven makes it widely accessible to most consumers.
Four Cooking Options: Choose between the air fry, bake, broil, or toast settings for various tasty meals.
Fits a 12″ Pizza: Despite being a more compact appliance, this oven can easily accommodate a 12″ pizza of your choice.
Sizeable Curved Glass Door: Not only does this attractive door increase the aesthetic appeal of the Hamilton Beach Sure-Crisp toaster over; it makes it easier to get to your food too.
Accessories: Included with the Hamilton Beach air fry toaster oven are three accessories to make your life easier. An air fry basket, a broil rack, and a baking pan.
Slide-Out Crumb Tray: The slide-out crumb tray catches all the stray pieces of food, making this product very easy to clean.
What's Not to Like
Hot Exterior: The external temperature of this Hamilton Beach appliance is far in excess of where you'd like it to be. Please don't keep it too close to cupboards or cabinets.
Small Button Text: The text on the buttons and dials is super tiny and could be a challenge to read for anyone who doesn't have 20/20 vision.
Loud When Air Frying: This product is overly loud, especially when using the air frying function, it's not uncommon among appliances like this, but it's noticeably more audible in this instance.
Final Remarks
The Hamilton Beach Sure-Crisp air fryer toaster oven is a reasonable appliance for a very low price point, the features are decent, and the bonus accessories are useful. While this oven's performance is in no way comparable to the Breville oven or even the Instant Omni Plus, it's more than adequate for what you'll pay for it.