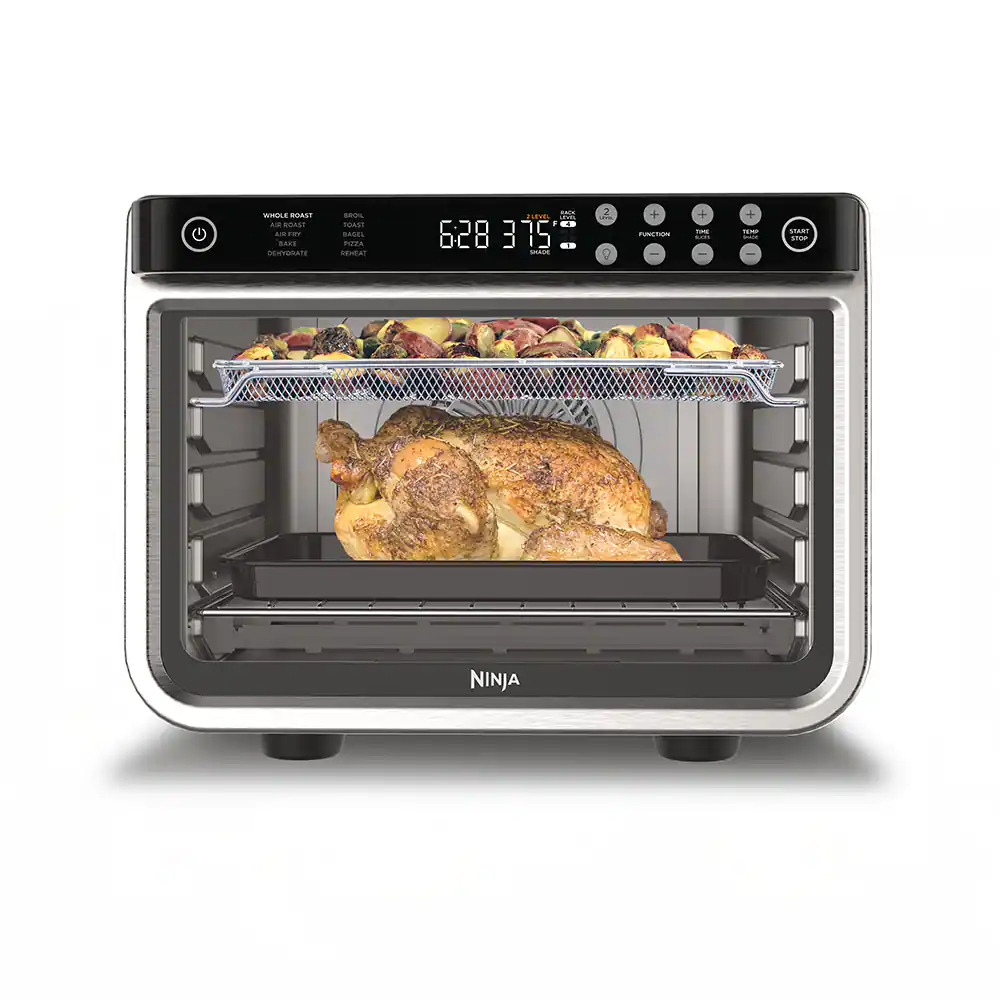 Disclaimer: I may receive commissions from purchases made via links at no cost to you
---
Quick review
Ninja's Foodi XL Pro (DT201) air fryer toaster oven is one of the most extensive appliances of this type with a mid-to-high price point.
The striking aesthetics of this Ninja toaster oven are matched by the internal components and the cooking functions that give this oven exceptional performance and enormous versatility.
This beautiful appliance has a massive capacity that's so big you could fit another toaster oven inside. Like regular ovens and ranges, it has dual-layer cooking to cook, bake, and roast multiple foods simultaneously.
There are many unique features on the Ninja Foodi XL Pro, like the vanishing LCD and stylish control panel incorporated into the oven's handle and "True Surround Convection" technology, so you don't need to rotate your food.
Despite the seemingly complex nature of this air fryer, Ninja found a way to ensure using it is fun and straightforward while not skimping out on performance.
The wide range of foods you can cook in this oven is matched by the impressive array of accessories and ten cooking functions that let you air fry, toast, bake, broil, and roast till your heart's content.
Some of the air-fried foods will take a little longer to cook than if you fried them in a skillet, but that's typical of this type of appliance and ultimately a much healthier way of cooking.
Cleaning the oven's interior is relatively simple, though the accessories will take a little more elbow grease as they aren't dishwasher safe.
There are very few drawbacks to this machine, but if we had to be ultra-picky, the unit is big and heavy, and it's deafening when you're using the air fryer.
However, when you consider what this air fryer toaster oven is capable of, that's more than understandable.
Basic Information
Dimensions: 17.09″ x 20.22″ x 13.34″
Weight: 33.6 lbs
Wattage: 1800 Watts
Control Type: Digital
Temp Range: 100 – 450°F
Pizza Size: 12″ Pizza
Toast Capacity: 6 slices of bread
Preset Count: 10
Price Range: Ninja's 10-in-1 Foodi XL is currently one of their largest and most extensive cooking appliances and, as such, commands a mid-to-high price point. Though not cheap, this oven is fairly priced.
Power: All of the best toaster ovens come equipped with 1800 watts of power. Not wanting to be left behind, Ninja ensured their best air fryer toaster oven could compete with rival models by giving it the same power level.
Temperature Range: The Foodi XL has a temperature range of 100°F to ​450°F. This appliance uses the bottom of that range for dehydrating and keeping warm and the top end for roasting and broiling. With 1800 watts, this appliance really should be able to reach 500°F.
Capacity: This massive air fryer toaster oven can house a 5lb chicken, a 12lb turkey, two 12" pizzas. It can cook multiple foods simultaneously thanks to dual-layer cooking. The Foodi XL is large enough to replace a standard range.
Warranty: The 1-year limited warranty is massively disappointing for such an appliance at this price point. Fortunately, Ninja has a decent track record with reliability.
Design & Build Quality 9/10


The grandiose exterior of the Foodi XL DT201 is majestic even by Ninja's usual lofty standards.
The brushed stainless steel casing is understated and, in some ways, outshined by the enormous viewing window, which is probably bigger than most entire toaster ovens.
On the back and sides of this oven are air vents that help prevent this appliance from overheating, so be careful not to cover them up or position the unit too close to the wall.
We'll cover the control panel in greater detail later on, but the ultra-modern touchpad panel is beautifully laid out and is actually situated on the appliance's handle. This unique design is indicative of the persona that Ninja wants to portray.
Though this air fryer's appearance is a joy to behold, the interior and working parts are equally impressive.
There are four rack positions inside this behemoth, and the internal capacity is extensive enough to use two racks simultaneously to cook more than one type of food. Indeed, you can cook an entire meal; such is the enormity of this air fryer toaster oven.
Non-stick layers coat the interior walls to make them less challenging to clean, but the crowning glory of this air fryer toaster oven is the technology that gives the DT201 its excellent performance.
There are four independent heating elements inside the Foodi XL, with two positioned at the bottom and two at the top. A high-speed fan is located at the back of the oven. The fan creates an airflow up to 130cfm and fills the internal capacity with superheated air that cooks family-sized meals in a little over a half-hour.
There's a third heat source integrated into the fan that creates what Ninja calls "True Convection Technology," which circulates the air so evenly that you don't need to turn, flip, or rotate your food when you're cooking.
The cooking timer will pause whenever you open the oven's door and resume when it's closed again. You'll also see the light come on when the door is ajar or when there's a minute left in the cooking cycle.
This oven will need a permanent spot in your kitchen as it weighs in at over 33lbs and measures 22" x 17" x 13" inches. So, it's a massive piece of kit.
Controls & Ease of Use 9/10
As we have already mentioned, this appliance's control panel is integrated into the handle, which spans the oven's entire width.
Despite the many useable functions of this machine, Ninja's user interface makes the experience pleasant and intuitive. There are only ten push buttons on this appliance, and they're all clearly labeled and hold your hand through the set-up.

Starting with the buttons that need the least explanation:
A power button, a start/stop button, and a button to switch the interior light on and off.
Plus and minus buttons are used to scroll through the oven's options. There's the functions list in which you'll select your preferred cooking method.
Time/slices options to set the cooking time or a number of slices of bread or bagels you want to toast, and finally a temperature/shade option (1 to 7) for setting the oven's temperature or how well done you like your toast.
'2 Level' and is used in times that you want to cook multiple foods at once. It illuminates a suggested rack position on the LCD, and truth be told, feels a little unnecessary.
There is an LCD of sorts that magically appears and disappears when you switch the appliance on/off. Each listed feature illuminates more brightly than the others when it's selected.
Depending on the cooking function you select, the Foodi XL DT201 will suggest the optimal rack level you should choose to cook your food in the most efficient way.
If your selected option requires preheating before you cook your food, the preheat cycle will begin automatically, and the LCD with flash 'Preheat' in red text. Once the preheat cycle is over, the cooking cycle will start immediately.
Remember that preheating this oven takes only one minute, so it's a good idea to have your food prepared ahead of time.
Listed below are the cooking functions you can use on the Ninja Foodi XL DT201:
Whole Roast
Air Roast
Air Fry
Bake
Dehydrate
Broil
Toast
Bagel
Pizza
Reheat
Once your cooking cycle has finished, the LCD with flash 'End' to let you know that it's done. However, this machine is so loud when it's in operation that it's pretty apparent when a cooking cycle is complete.
Performance 8/10
When you buy the Ninja Foodi XL, it's imperative that you wash all the accessories in warm soapy water, place them inside the oven and run an 'Air Roast' cycle for 20 minutes at 450F.
Doing this will remove all residual and trace chemicals left over from the manufacturing process.
Most cooking functions require pre-heating, and thanks to the 'True Convection Technology', this process only takes approximately one minute.
Roast Chicken Dinner
In the performance section of our appliance reviews, we generally look at individual foods. But this oven is so large you can cook a whole meal at once.
Air roasting a 5lb chicken, five chopped up, seasoned potatoes will take around 55 minutes and will deliver evenly cooked, crispy yet tender chicken like you wouldn't believe. Throw your favorite veggies in for a complete meal.
Toast
While the Ninja Foodi XL toasts bread beautifully even, the cooking cycle is set at five minutes (for shade five toast) and doesn't consider the current temperature of the oven.
So if you've already made a couple of rounds of toast and the oven is hot, your next round will be noticeably darker than the last.
Steak
Because the temperature of this appliance tops out at 450F, the broil function doesn't perform as well as you'd hope. However, if you fancy a couple of juicy yet well-seared steaks, you can use the air fryer function at 450F, and it'll take about 25 minutes for medium-rare.
Air frying steak is a healthier option, but it takes significantly longer to cook than frying steak in a skillet.
Chicken Nuggets
If you want to make a quick snack for the kids, chicken nuggets will take approximately 10 minutes at 450F to reach optimal temperature with a golden brown finish, which is a tad slower than a dedicated air fryer. But only just.
Bacon
The air fryer is the star of the show with this toaster oven and is excellent for grilling bacon evenly from back to front without the need to rotate it.
If you like crispy bacon, it'll take between 15 to 17 minutes to achieve your required doneness. Much like the steak, it's a much longer cook time than frying it in a pan, but this is a far healthier method.
Pizza
If there's one thing better than a 12" pizza cooked to perfection, it's two 12" inch pizzas.
Using the pizza function and 2 level cooking setting, you can simultaneously cook two pizzas with crunchy bases and golden brown cheese. You may have to tweak the time settings based on your pizza's thickness.
Despite the pizzas being cooked on different levels, they both cook to the same doneness, which is a testament to the superior air circulation of this countertop appliance.
Cakes
If you like to make sweet treats, the bake function will come in very handy. You can cook a mid-sized cake in around 30 minutes.
As with the pizzas, you can bake two cakes simultaneously; however, because cakes have more mass, the cake you cook at the top will cook more quickly. It's a good idea to swap the cakes around halfway through cooking.
A byproduct of the excellent performance and high-powered fan is that this air fryer toaster oven is extremely loud when you're operating it and can be heard from the next room.
Accessories 9/10
Ninja has included a wide array of accessories with this air fryer toaster oven to soften the blow of the relatively expensive price point to make sure you get the most out of it.
Right out of the box, you'll get a large air frying basket, a roasting tray with non-stick coating, two sheet pans, and two wire racks so you can cook multiple foods at the same time.
There's a slideout crumb tray too, but Ninja doesn't generally consider that (and the racks) an accessory more than they do an essential.
All the accessories are of decent quality, though expect the roasting tray and sheet pans to last about a year (depending on how much you use them) because of the non-stick coating. This is standard with non-stick coated products.
Ninja also provides a recipe book with 15 'mouth watering' recipes that give concise instructions on making delicious meals specifically for the Ninja Foodi 10-in-1 XL air fryer toaster oven.
Cleaning 7/10
Keeping on top of cleaning your appliance is essential in helping it maintain that excellent appearance for as long as possible.
The high-speed fan can cause a lot of grease spatters inside the oven, especially if you're cooking fatty or grease food. Fortunately, the non-stick interior is super easy to clean with a bit of mild detergent and a paper towel.
Even the tricky to clean sections near the heating elements scrub up with relative ease.
The accessories aren't so straightforward to clean, though. Ninja recommends against washing any of the add ons in a dishwasher, and handwashing greasy baking trays and broiling racks can be a pain.
This is made worse by the baking sheets being non-stick coated, so you can't use abrasive cleaning utensils without damaging the non-stick surfaces.
The roasting tray, in particular, is the most troublesome accessory of all.
So, while Ninja did an excellent job on the air fryer's interior, the ease of cleaning is negated by the added difficulty of cleaning the accessories.
Ninja Foodi DT201 Air Fryer Toaster Oven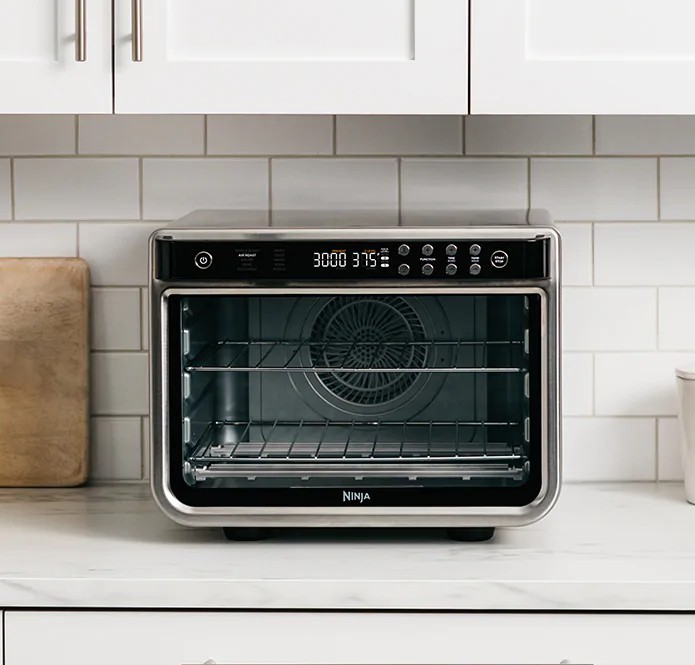 Cheaper
Ninja Foodi SP101
Ninja commands a certain amount of loyalty, and if you'd like to stick with the brand, but the Foodi XL is out of your reach, consider the Foodi SP101.

It's a little smaller and has fewer features, but when you consider the low price point, it's still an excellent choice for a toaster oven and comes with a unique storage feature.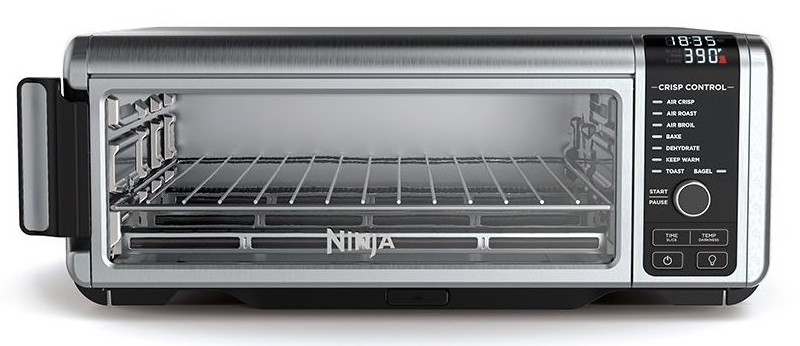 Similar price
Cuisinart TOA-65
If contemporary-looking appliances are not your thing, consider the Cuisinart TOA-65, which has a timeless appearance finished in brushed stainless steel.

It doesn't meet the standards of performance of the Ninja Foodi XL, but if you want that classic look, this one could be for you.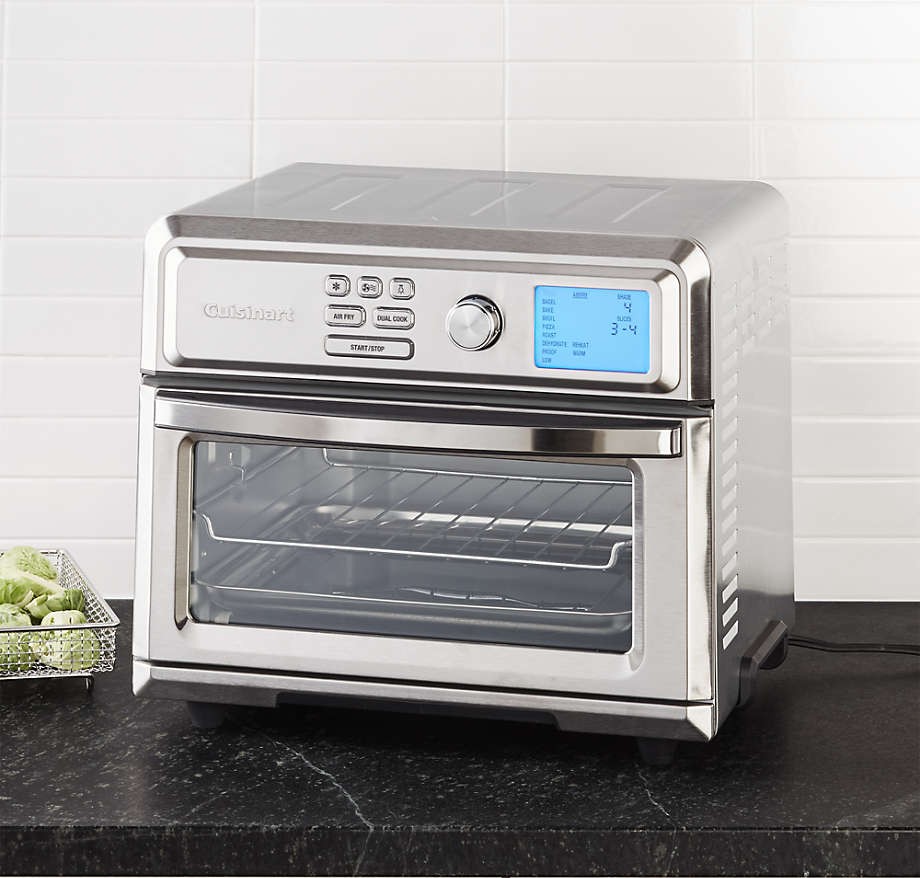 Higher price
Breville Smart Air Fryer Toaster Oven (BOV900BSSUSC)
The primary challenger to the excellent Ninja Foodi XL Pro is Breville's Smart Air Fryer Toaster Oven which is one of the most expensive appliances of this type on the market.

The build quality of this Breville oven is unrivaled, and its performance is first class. You will need deep pockets to bring this first-class oven home, though.