Air frying is one of the healthiest cooking methods as it uses very little oil (in some cases, non at all), which has helped increase the popularity of air fryers.
We have tested over 20 air fryer models, analyzed what other buyers enjoy and hate about each model and have come up with the top 9 list of air fryers. If you want to make your own research we have prepared a detailed guide on how to choose the perfect air fryer for your cooking needs.
There is no perfect model, each of them has its own strengths and weaknesses. These are the models feel confident recommending to our readers.
Recommended air fryer models
1. Cosori Air Fryer Max XL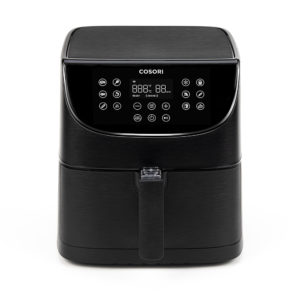 This appliance is a near-perfect blend of affordability, functionality, and aesthetics. You'll find it easy to use and extremely reliable, making it a fantastic choice for air frying beginners and experts alike. It's also one of the most popular air fryers on Amazon.
Warranty: 1 year
Power: 1700W
Capacity: 5.8 QT
Price range: $$
Value: Excellent
2. Instant Vortex Air Fryer​
Great price/performance ratio.
Practical capacity
Some users complain about plastic smell during first uses.
Warranty: 1 year
Power: 1800W
Capacity: 6 QT
Price range: $$
Value: Excellent
3. Ninja Air Fryer AF101​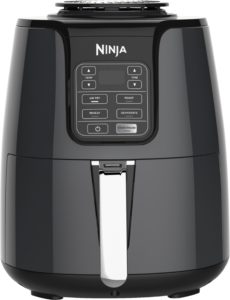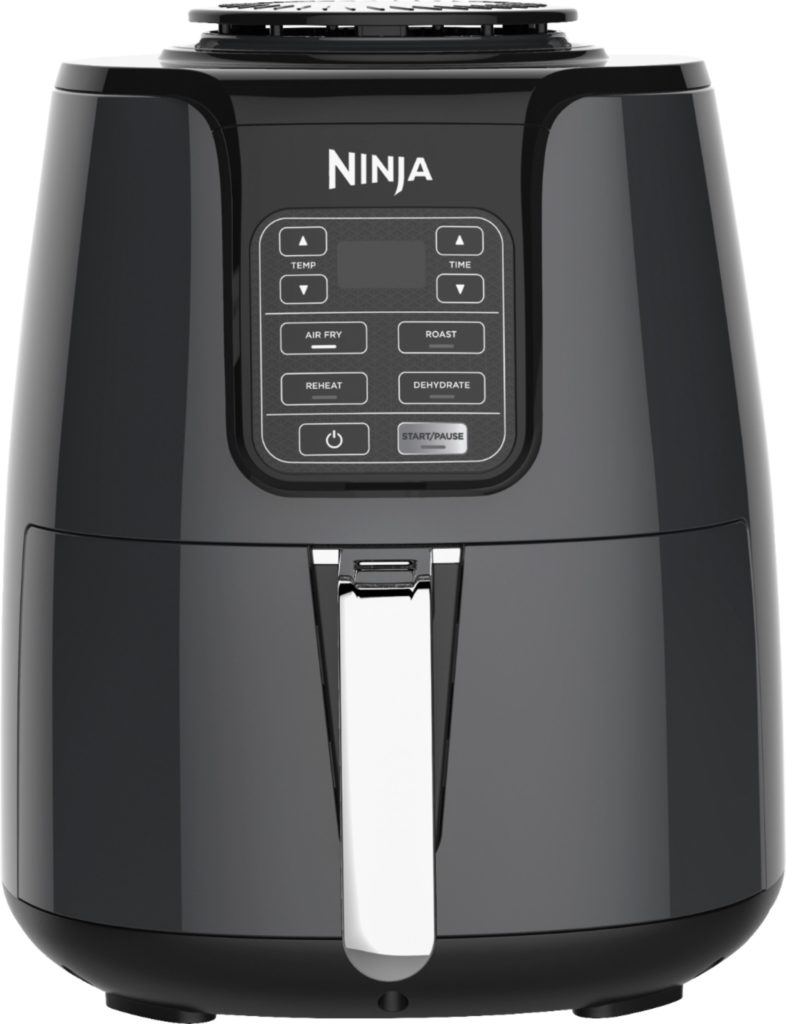 Great performance for the price
Comes with a ceramic coated basket which makes it very easy to clean
It's louder than most air fryers.
Warranty: 1 year
Power: 1550W
Capacity: 4 QT
Price range: $$
Value: Great
4. Philips TurboStar HD9741​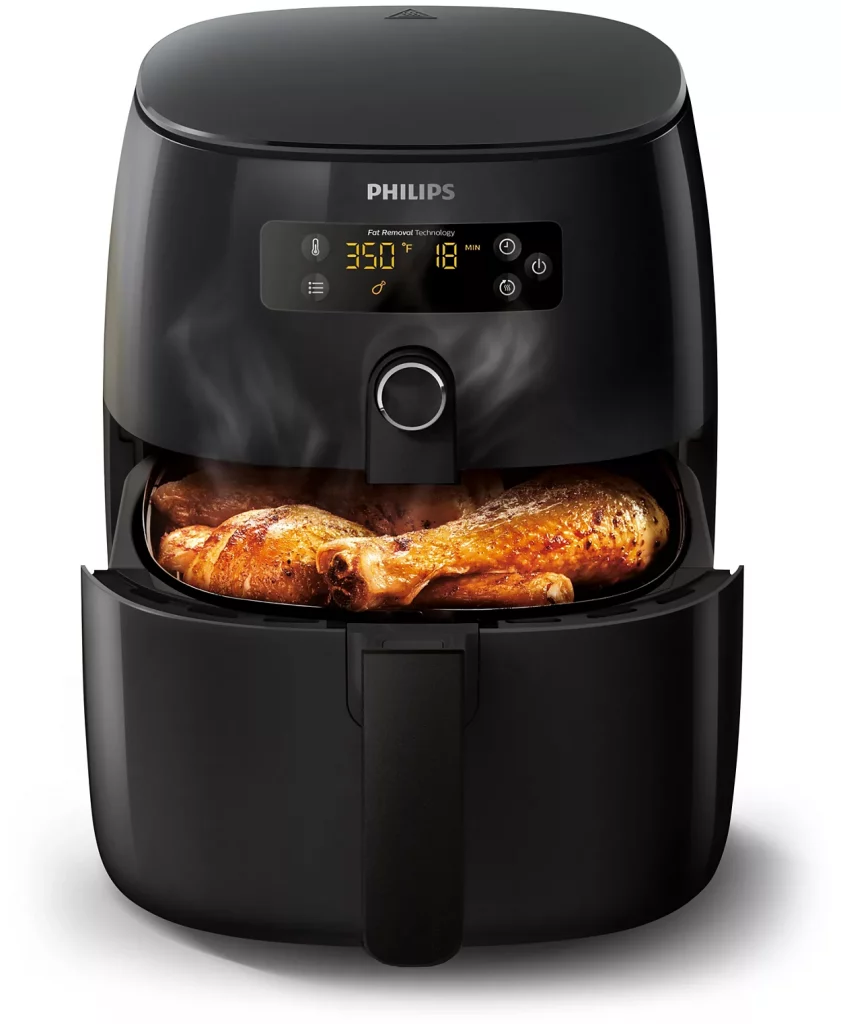 Simply the best performing air fryer
Low capacity. Choose something else if you cook for more than 2 people.
Premium price tag. Only for those who are serious about air frying and nothing else.
Warranty: 1 year
Power: 1425W
Capacity: 2.75 QT
Price range: $$$
Value: Average
5. Cuisinart Digital Convection Oven Air Fry TOA-65​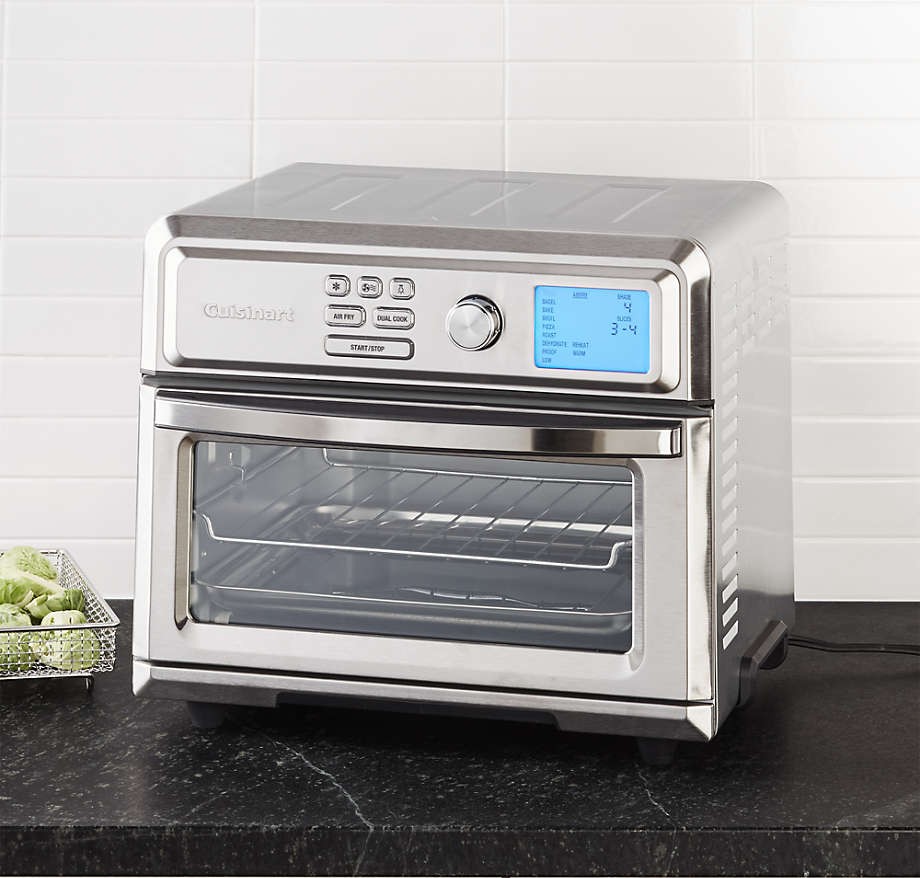 Simple to use and control the settings.
Big capacity and great versatility that come with toaster oven features.
3-year warranty.
Warranty: 3 years
Power: 1800W
Capacity: 18 QT
Price range: $$
Value: Great
6. Breville Smart Oven Air​
It's an air fryer toaster oven combo with 13 presets including air frying, dehydration and curing.
All versatility comes at a hefty price.
Huge capacity but also a big footprint on the countertop.
Warranty: 2 years
Power: 1800W
Capacity: 23.2 QT
Price range: $$$$
Value: Good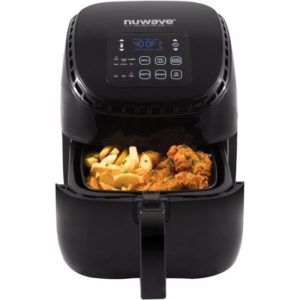 One of the most affordable air fryer models
Comes with 6 presets including reheat.
Quality is lacking. It's fine for an entry-class model but if you have the budget we recommend investing in the models above.
Warranty: 1 year
Power: 1300W
Capacity: 3 QT
Price range: $
Value: Good
Cosori Air Fryer Max XL (5.8 Qt)​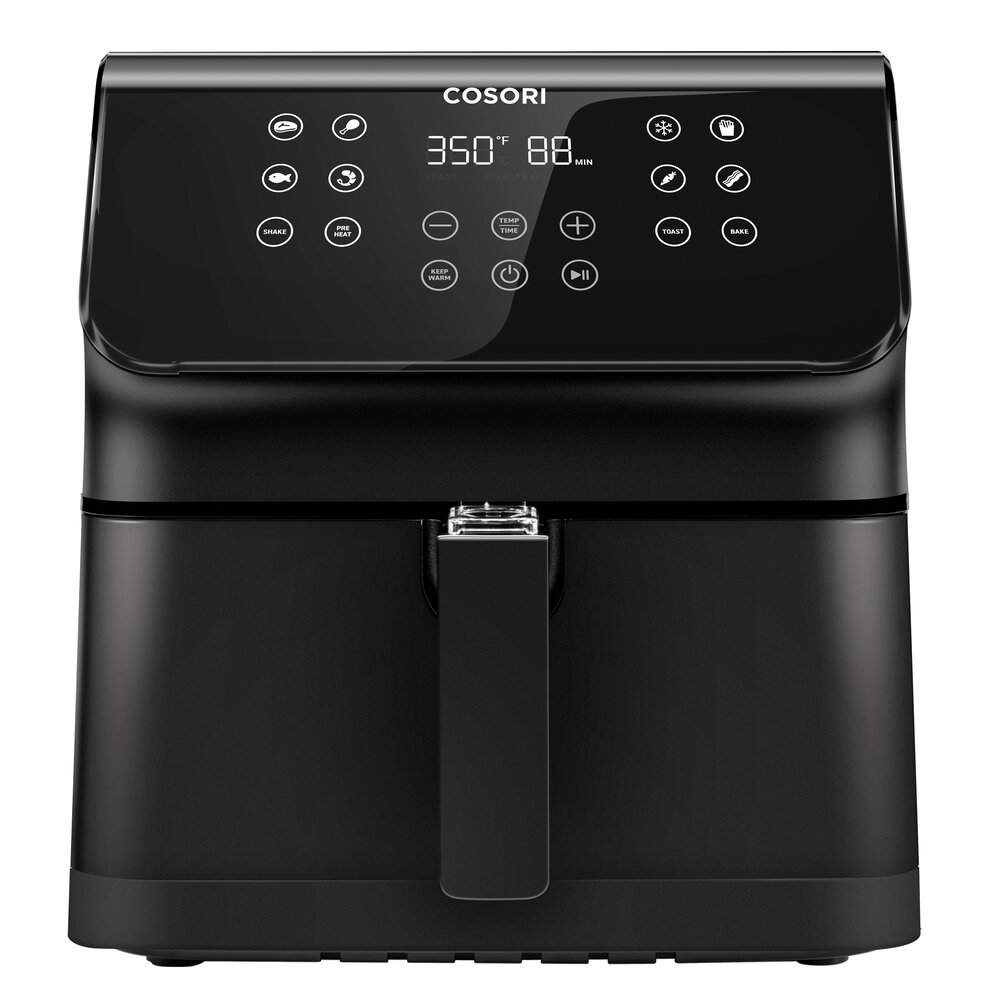 For the mid-range price tag, you get a reasonably high-end unit. It is a decent size, looks fantastic, and has a ton of practical and useful features that makes cooking meals for your family, fun, and easy.
The CP358-AF is an extremely dependable appliance, chocked full of features, and looks fantastic. And that's why this Cosori model is our favorite air fryer on the market today. Another Cosori product has made our best air fryer toaster oven list.
---
Specifications
Dimensions: 11.8 inches x 13.8 inches x 12.6 inches
Appliance Weight: 12.3lbs
Dishwasher Safe: Selected Parts
Wattage: 1700W
Min/Max Temperature: 170°F/400°F
Things We Love
Cooks Amazing Food: The primary function of an air fryer is to cook food that tastes great. Cosori has nailed it with this model. It produces delicious food and fast.
Decent Size Cooking Capacity: With just shy of 6-quarts of space in the basket, the Cosori air fryer comfortably cooks for a family of four.
Tilted Touchscreen: The LED has been mounted at an angle, making it more intuitive and easier to use.
Cooking Presets: The CP358-AF comes with cooking pre-sets. There are ten pre-programmed recipes; Steak, Chicken, Seafood, Shrimp, Frozen Food, French Fries, Vegetables, Toast, Bake, and Bacon.
Non-Stick Coating That Works: Many air fryers advertise non-stick coating on the baskets to help with cleaning. It doesn't usually work, or peels off after use. With this model, it works perfectly.
Wi-Fi Connectivity: This feature allows the user to connect their air fryer to an Alexa device for voice control; it even provides set-up via an app that lets you schedule cooking times up to four hours in advance.
What's Not To Like?
We can't find anything we don't like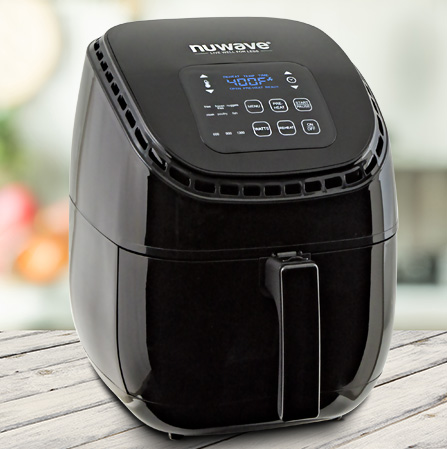 As appliances go, the NuWave Brio air fryer is pretty standard; nothing stands out except the price point. It's easily the cheapest air fryer on our list and is an excellent gateway into the world of air frying.
While the basket capacity is low and the features are few and far between, the Brio 38001 does cook delicious food and has a price tag that won't break the bank.
---
Specifications
Dimensions: 13 inches x 8 inches x 8 inches
Appliance Weight: 14.6lbs
Dishwasher Safe: Selected Parts
Wattage: 1300W
Min/Max Temperature: 100°F/400°F
Things We Love
Very Affordable: The Brio 36011 is the cheapest air fryer on our list, which makes it a great entry-level appliance or a good choice for people on a tighter budget.
Presets: Set your appliance up with the touch of a button with six pre-programmed cooking settings. The pre-sets; Fries, Frozen Fries, Nuggets, Steak, Poultry, and Fish, which are all fairly standard.
Reheat Setting: Who doesn't love leftovers? Preheat them easily with the reheat setting. A single push of a button it will warm your food for 4 minutes at 360°F.
Auto Shut-off: This appliance comes with an auto shut-off safety feature that prevents the air fryer from operating when the pan/basket is not securely in place.
What's Not To Like?
Rather Heavy: For an air fryer with such a small capacity, this appliance is hefty.
Text/Numbers Rubs Off The Touch-Pad Buttons: The text on the touch-pad display controls rubs away after extended use, leaving the buttons difficult to read.
'Non-Stick' Coating Peels Away With Use: There are multiple reports of the non-stick coating that covers the basket and pan, peeling away after use and even contaminating some consumer's meals.
Philips TurboStar HD9741 (2.75 Qt)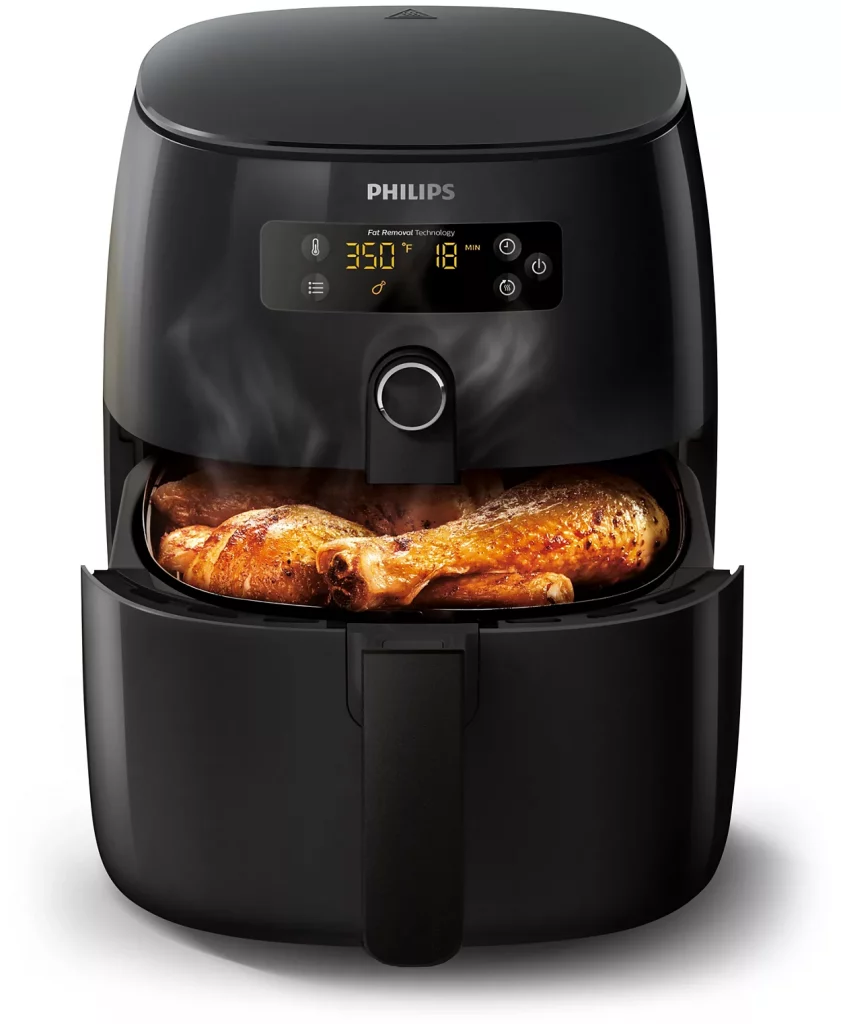 The Philips TurboStar HD9741 is an excellent example of what money can buy. If you want the most reliable machine that cooks the tastiest foods, then it's going to come with a sizeable price point, and because it's small, it is only suitable to serve one to two people or to be used as a supplementary cooking device,
---
Specifications
Dimensions: 13.62 x 13.62 x 14.13 inches
Appliance Weight: 15.8lbs
Dishwasher Safe: Yes
Wattage: 1425W
Min/Max Temperature: 100°F/400°F
Things We Love
Performance: This air fryer is likely to be the best performing appliance on the market. It is entirely reliable and consistently makes delicious food.
Cleaning Made Easy: Many brands claim their products are easy to clean and dishwasher safe when they aren't. This Philips air fryer model has to be one of the best in this regard.
TurboStar Technology: Philip's patented design appears to be the driving force behind this appliance's ability to cook amazing food.
Looks Fantastic: This subtle yet striking design is one of our favorites.
Instant Heat: There's no waiting around with the HD9741; just turn it on, and the instant heat feature will ensure it's ready to use, well … instantly.
What's Not To Like?
Very Expensive: Philips produce some of the most reliable and efficient air fryers on sale, so they command a massive price point.
Small Cooking Capacity: Alongside being the most expensive model on our list, it also has the lowest cooking capacity.
It's Big: Despite its small basket, the overall size of this appliance is relatively enormous.
GoWise USA Air Fryer GW22958 (5 Qt)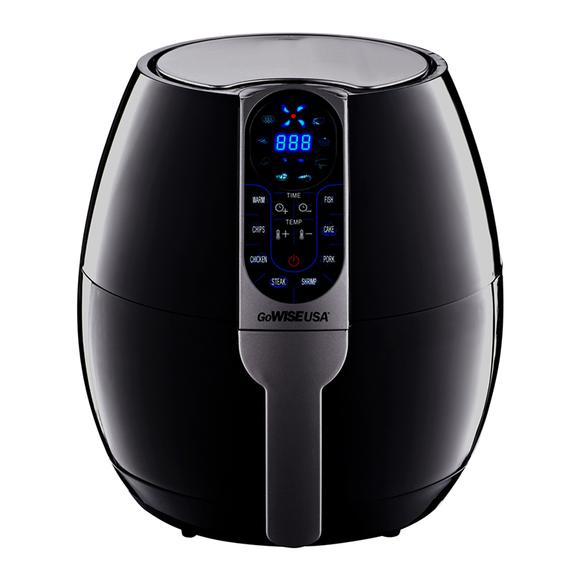 If you're looking for a mid-sized air fryer with a reasonable price point, the GoWise USA GW22958 is a viable option. It has a tiny footprint and is as reliable as air fryers come.
We find GoWise's recommendation to shake the basket every 5 minutes a bit odd, but if it helps produce tasty food and minimize the cleanup, then it's a small price to pay.
---
Specifications
Dimensions: 13.62 x 13.62 x 14.13 inches
Appliance Weight: 15.8lbs
Dishwasher Safe: Yes
Wattage: 1425W
Min/Max Temperature: 100°F/400°F
Things We Love
Relatively Cheap for Decent Size: The GoWise USA GW22958 has a reasonable price point considering its 5-quart cooking capacity.
Fantastic Performance: Performance is one of the standout areas for this air fryer. It can do everything you ask of it and rarely has mechanical failures been reported.
Basket Divider: This simple feature allows the user to split the basket so two different foods can be cooked simultaneously without fear of cross-contamination.
Ceramic Coating: The ceramic coating on the basket makes this appliance easy to clean after use.
Small Footprint: GoWise USA has managed to take a decent-sized air fryer and cram it into a relatively small space. This appliance has the smallest footprint on our list.
Eight pre-set cooking functions: The pre-programmed settings include warm, pork, chicken, steak, shrimp, fries, fish, and cake.
What's Not To Like?
Shake The Basket Every 5 Minutes: We're not sure whether GoWise suggests doing this because of non-stick issues or to help produce nicer foods, but shaking the basket every 5 minutes will become tiresome.
Ninja Air Fryer AF101 (4 Qt)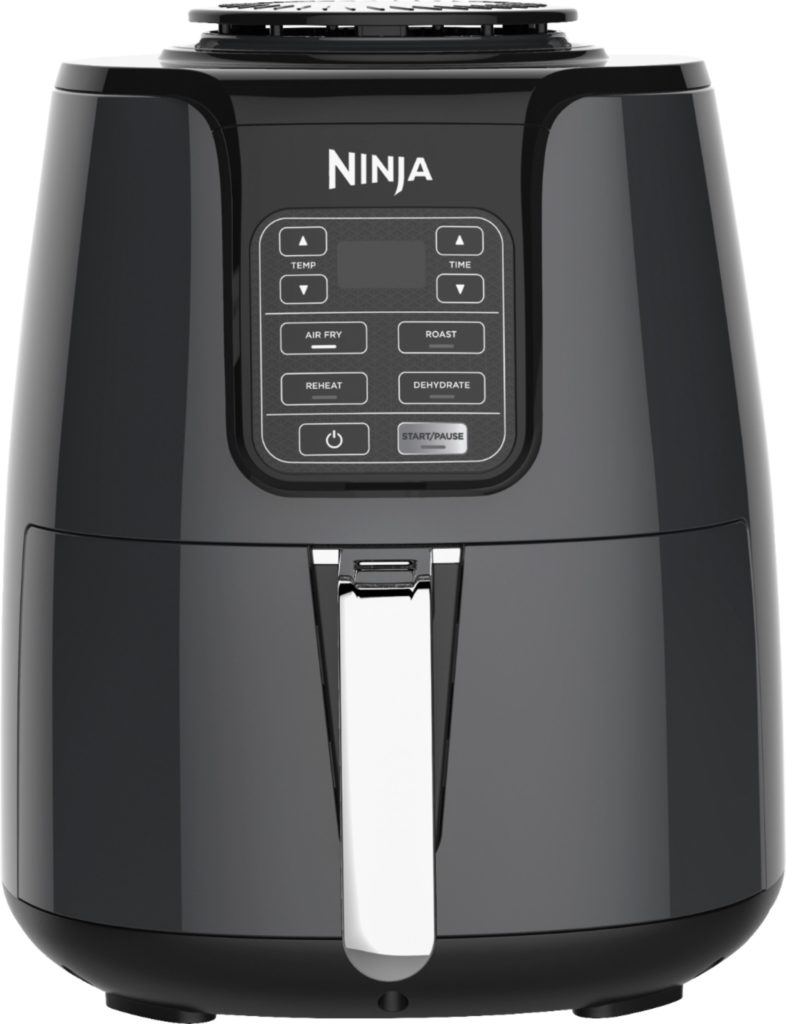 We love the Ninja Air Fryer. It looks superb, performs admirably, is easy to clean, and is relatively inexpensive. With a slightly larger basket and an extra feature or two, this could have been our number one pick.
---
Specifications
Dimensions: H13.3 inches x W11 inches x D13.6 inches
Appliance Weight: 10.5lbs
Dishwasher Safe: Yes
Wattage: 1550W
Min/Max Temperature: 105°F/400°F
Things We Love
Excellent Performance: The Ninja AF101 performs superbly well in all areas. It has reliable hardware and consistently produces delicious food for all the family (assuming there are no more than four people in your family)
Ceramic Coated Basket: The ceramic coated basket makes it incredibly easy to clean after use. Just pop it in the dishwasher or clean by hand with warm soapy water and a sponge.
Epic Appearance: The Ninja brand really took their name to heart with this model, with the overall appearance looking almost ninja-like.
Pre-programmed Settings: It's quick and easy to get cooking with a touch of a button with these four pre-programmed presets.
What's Not To Like?
It's Loud: Air fryers are naturally noisy beasts thanks to the high-speed fan that circulates the air. However, the AF101 is louder than most.
Timer Doesn't Pause: Occasionally, the user will need to remove the basket to turn the contents or give it a shake; for reasons unknown, the timer continues to count down when the basket has been removed.
NuWave Brio Air Fryer 38001 (14-Quart)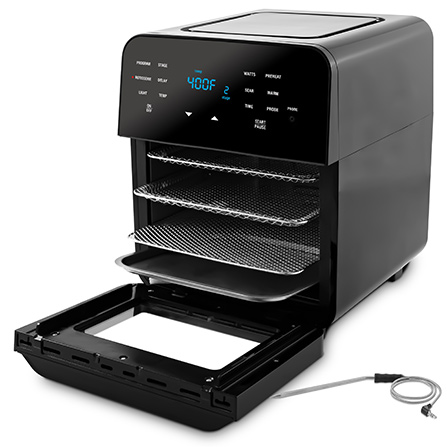 The NuWave Brio 38001 is a large air fryer with vast cooking capabilities. While it is the second most expensive appliance on our list, it does represent tremendous value for money.
It has an impressive range of features and options that gives the consumer the ability to cook almost any meal imaginable. However, it is significant in size, so you'll need the space, and it can be a pain to clean.
---
Specifications
Dimensions: H17.75 inches x W14.5 inches x D16.65 inches
Appliance Weight: 22lbs
Dishwasher Safe: Selected Parts
Wattage: 900W / 1500W / 1800W
Min/Max Temperature: 60°F/400°F (Adjustable in 5°F Increments)
Things We Love
Massive Cooking Space: This large appliance comes with a cavernous 14-quart cooking space, which is complemented by the rack system that gives you even more cooking capabilities.
Options: The sheer range of options with this appliance is magnificent. With three racks, a rotisserie, and a basket gives the user a ton of different configurations.
100 Pre-programmed Recipes: One hundred (yes that wasn't a typo) pre-sets to help with cooking almost every food you can think of.
Custom Recipe Settings: If by some miracle, the food you're cooking isn't featured as one of the 100 pre-sets, you can input it manually and save it for future use.
Integrated Food Probe: When cooking food, especially chicken, it's essential to ensure it is cooked throughout before serving it up to your family. This probe helps put your mind at ease that your meal is cooked correctly.
What's Not To Like?
It's Massive: This appliance takes up a lot of space. Of course, it comes with an enormous cooking capacity, but you need plenty of kitchen space to house this beast.
Door Hinge Issues: One of the very few complaints about this model is the tendency for the hinges on the door to come loose. It doesn't happen to every model, but it does give a cause for concern.
Difficult To Clean: Despite being dishwasher safe, the racks are not the easiest thing to clean due to their diamond-shaped structure.