It's not easy to choose between the two Ninja air fryers, as they are both superb products. They are both reliable appliances, which cook healthy and delicious meals.
The smaller device is cheaper and more suited to single diners or couples, while the larger air fryer will be better for larger families. However, the AF161 is marginally superior to us as it offers a more efficient cooking time, a slightly more appealing control panel, and a higher cooking capacity.
1. Ninja Air Fryer Max XL (AF161)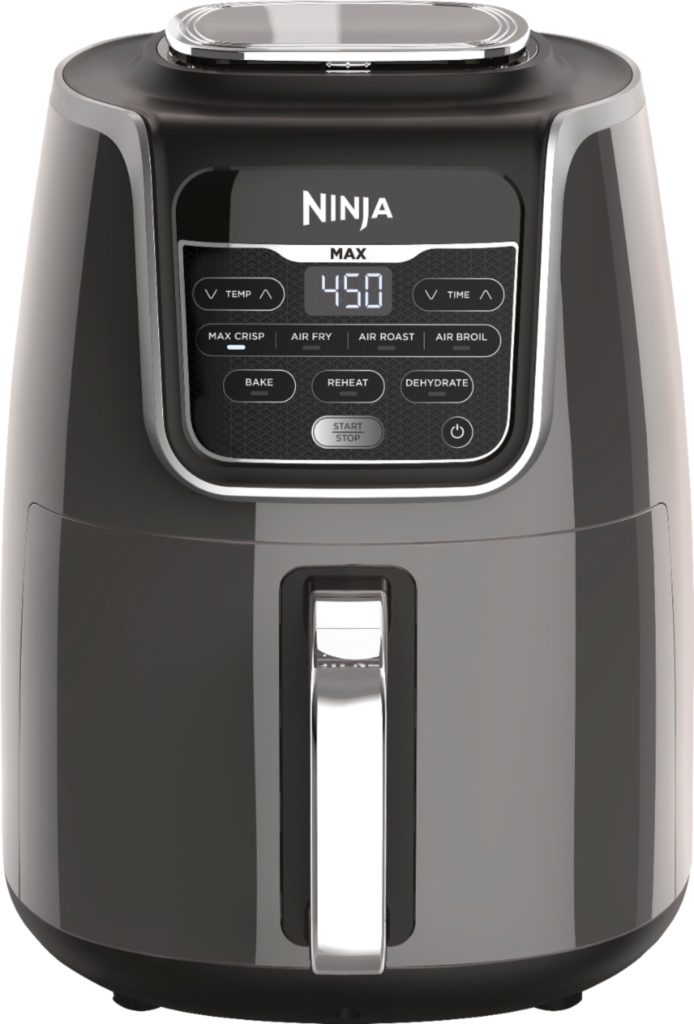 ---
The larger Ninja air fryer, the 'XL Ninja Air Fryer Max' (known from here-on-in as the AF161) doesn't just have a more substantial cooking capacity, it has been improved across the board. It comes equipped with all the good stuff the AF101 has, such as the ceramic coated and dishwasher safe cooking pan, but Ninja has improved upon the cooking speed and overall efficiency.
Using this appliance, cook healthy foods using 75% fewer fats than traditional methods, to make tasty, crispy meat, fish, or fries.
Specifications
Dimensions: H14 inches x W11 inches x D14 inches
Appliance Weight: 11.7lbs
Capacity: 5.5 Quarts
Available Colors: Grey
Dishwasher Safe: Yes
Wattage: 1750W
Min/Max Temperature: 105°F/450°F
Looks 9/10
Much like its baby brother, the AF101, this air fryer is stylish and contemporary in appearance, which wouldn't look out of place in any modern kitchen. The gloss grey finish is offset by the chrome top and handle, to give the AF161 a look worthy of the price tag.
Unlike the AF101, this device has had much more thought put into the design of the control panel; it appears much more suited to the overall style while the button layout is more intuitive.
Capacity 7/10
Many features and functions on the AF161 are taken from the smaller Ninja appliance and tweaked, improved upon, or increased in size. The frying ability has increased by 1.5 quarts in the larger model (a 25%+ improvement) while only slightly increasing in overall size (0.7 of an inch added to the height and 0.4 of an inch added to depth) meaning Ninja have a much more efficient design on their hands.
To improve cooking capabilities, Ninja has included the broil rack enabling the consumer to cook two layers of food simultaneously.
Functions 9/10
Air Fry: The standard 'air fry' setting cooks food quickly and healthily. When using this preset feature, consumers can enjoy delicious home-cooked meals without worrying about calorie intake.
Air Broil: Use the high heat with the 'air broil' function to cook extra crispy, caramelized meats or fish without needing to fire up the grill or barbeque.
Air Roast: Enjoy the taste of roasted foods that would traditionally be made in an oven. Roast products for up to three hours using this setting, and use the 'crisp-plate' give your meals a crisp and crunchy texture.
Bake: This air fryer can do more than just fry. The 'bake' function makes it possible to bake bread, cake and treats for the whole family as if it were made in an oven.
Reheat: Reheat any leftovers or takeaway using this function. The even temperature distribution created by the appliance's fan ensures foods retain their original taste and texture.
Max Crisp: This Ninja appliance has the 'Max Crisp' function to get your fries, meats, and potatoes extra crispy by cooking them quickly using exceedingly high temperatures and rapid fan speeds.
Dehydrate: Slowly create dehydrated snacks and treats with this temperature/time setting. The fan in this setting is very quiet and has the ability to dehydrate fruit, vegetables, and meat overnight without waking your family.
Performance 10/10
Once again, Ninja has achieved a superb performance level for this appliance. The tiny levels of fat needed to cook with the AF161 make it an incredibly healthy option, while the cooking speed is even faster than their smaller device by up to 30% making it all the more efficient.
The number of consumers complaining about performance or reliability issues is minimal, while popular opinion is that this air fryer is a 5-star product.
Should you buy the XL Ninja Air Fryer Max (AF161)?
If you're in the market for an air fryer, then it isn't easy to find a reason not to recommend this appliance. The price tag is approaching the higher end of the spectrum, or maybe the cooking capacity wouldn't be enough for very large families of five or six people. Still, if those things aren't an issue, then the AF161 is definitely an air fryer that is deserving of your consideration.
2. Ninja DZ201 Foodi Air Fryer
---
What's better than one air fryer? Two air fryers! Technically, the Ninja Dual Zone Air Fryer/ Double Air Fryer is a 2-for-1 deal, with smart options to allow you to operate both 'zones' simultaneously.
With Smart Finish, you'll never worry about warming food before serving it at the table. And Match Cook was designed for all of us that don't like mundane, repetitive tasks like keying in the same settings twice.
If you often air fry two different types of food at the same time then this is a great option. However, cooking a single type of food is not as great as cooking in a standard one-chamber air fryer. You lose surface area, have increased cooking times and have less space on the counter. The Dual Zone has some obvious tradeoffs, but is it the air fryer for you?
Specifications
Dimensions: 15.63 x 13.86 x 12.4 inches
Appliance Weight: 17.86 pounds
Capacity: 8 Quarts
Available Colors: Black/ Gray
Dishwasher Safe: Selected Parts (Removable Drawer and Crisper Plate)
Wattage: 1690
Min/Max Temperature: 105ºF-450ºF
Looks 10/10
When it comes to kitchen appliances, you can never go wrong with black or gray. The Ninja Dual Zone is a dark-hued fryer that commands attention, not just with its bulky stature, but also with the elegant design that blends in with your other mid-sized kitchen appliances.
The thin stainless steel rim on the cap with a vented collar resembles a ninja's headband, which plays into the fryer's persona. The interactive panel is also intricately designed and only improves the fryer's overall aesthetics. Finally, the symmetry in construction gives the fryer a very put-together look.
Capacity 9/10
The Ninja Dual Zone is a large-capacity fryer. Double baskets are a new trend in air fryer tech and typically give you the functionality of two medium-sized fryers in one. The separate cyclonic fans and rapid heaters allow you to cook food in the baskets independently. But you can still run both baskets at a go–allowing you to cook different foods or large batches of the same food in one session.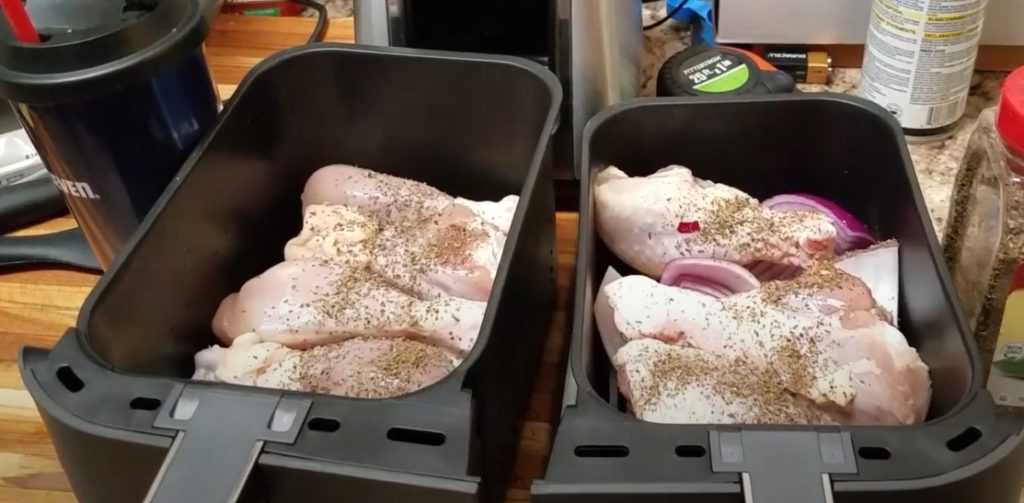 The two baskets each hold 4 Qts, giving the fryer a total capacity of 8 Qts. Each basket measures 5.5'' wide x 8'' long x 5'' deep. In theory, you might probably achieve your 4qts capacity, but it would mean stuffing your baskets which leads to uneven cooking. For people cooking small to average portions of food, this is a better alternative to the Ninja XL's space expansion by use of a broil rack.
However, a great 4lbs capacity option is the Ninja SP101 Air Fryer Toaster Oven. The fryer comes with a 13'' x 13'' tray and a 3'' clearance, allowing you to spread your food on the fryer basket for even cooking. You can even prepare a pizza on this one. And the best part is you can flip the appliance to stand on its side when storing to save on space.
Functions 8/10
Dual Zone: The Ninja Double Air Fryer uses separate cyclonic fans and rapid heaters that independently facilitate cooking for each zone. The fryer's control panel has settings to activate a cooking function in either Zone 1, Zone 2, or both at the same time.
Smart Finish: When Smart Finish is activated, the fryer delays the cook-time of the drawer whose contents are set for a shorter period and begins cooking only when the timer for the other drawer runs down to match that shorter cook time. When both zones are set for the same time, they simultaneously cook to zero, and you have your two hot dishes in one session.
Match Cook: Basically a copy & paste feature. This function ensures that you won't have to key in similar settings for Zone 2 if you are cooking meals with the same temperature and cook settings. It works perfectly if you're cooking a large batch of food that doesn't fit one basket.
6 Cooking Functions: This air fryer has dedicated buttons for 6 cooking functions, including Air Fry, Air Broil, Roast, Bake, Reheat, and Dehydrate. You can Bake in basket 1 as you roast in basket 2. Disclaimer, you can't air broil on both zones at a go.
Removable Crisper Plate: The crisper plate efficiently drains excess water, oil, and grease and allows better airflow.
Performance 7/10
Cooking with the Ninja Dual Zone is convenient, due to the dual baskets. The rapid heating eliminates the need for preheating, but users have complained about the longer cook time needed by the fryer to cook meals when on dual mode–in some instances, users remark that they end up saving no time.
Again, while the 8qt cooking capacity is great, the floor space on the individual baskets is limited, with most of the capacity going to the height. The downside is that stacking food sometimes prevents even cooking, affecting the efficiency.
The advertised 450ºF is only for the air frying function, and not the other 5 functions. Baking and dehydration fail to live up to the advertised glory. And lastly, the lack of a shake-reminder, or an auto-pause add an unnecessary step to airfryer cooking.
However, cleaning the air fryer is easy. The rubber padded, nonstick crisper slides right off and can easily be hand washed or thrown in the dishwasher. The drawer basket is also nonstick, and dishwasher safe. Though we'd recommend hand washing to prolong longevity.
Should you buy the Ninja DZ201 Foodi?
This airfryer is a revolutionary gadget in your kitchen. There's a proven use case for the convenience of simultaneously cooking two types of food. While it has been reported to take longer, this fryer definitely beats the alternative process that is preparing one batch of food, cleaning, loading the next batch then warming the batch that finished first before serving. You also need to get creative with your portioning to ensure that you don't stuff food so that it cooks evenly.
And though it does come with some minor readjustments like setting your own shake reminder and manually restarting the timer after a pause, the Ninja DZ201 offers plenty of benefits to make you want to purchase it–smart finish, match cook, dishwasher safe, etc. So, for a medium sized family that likes to air fry all their food, or for a person that's tired of having several courses cook independently, this is the air fryer upgrade you need.
Cheaper
Chefman TurboFry
The Chefman TurboFry is a double basket airfryer just like the Ninja Dual Zone, but comes at nearly half the price. With this version, you get a shake reminder feature, 9 Qts capacity, 8 cook functions and the unit is available in a gorgeous black color.

However, you do have to compromise on a couple of things. For instance, the timer has been repeatedly reported to fail, which affects the ability to achieve perfect meals. Other top complaints relate to the difficulty in opening the drawer baskets, uneven cooking for foods that weren't fries or chicken wings, and the metallic bits caught rust quite fast.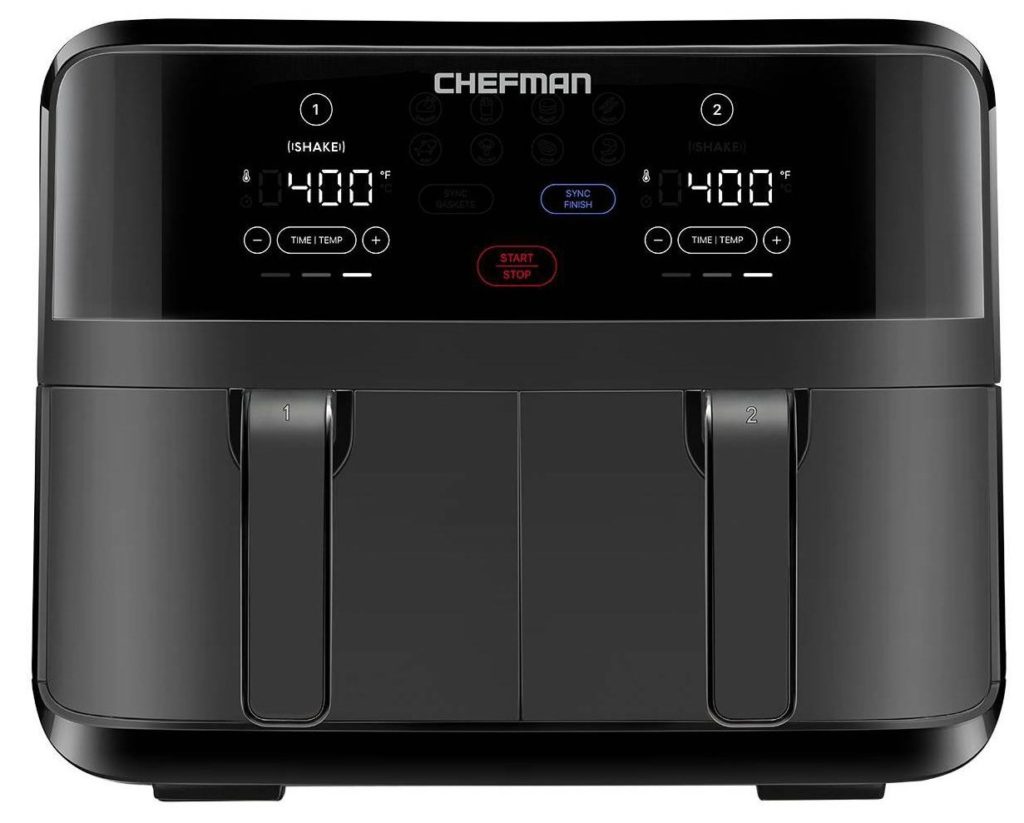 Similar price
Philips Essential Airfryer XL
While the name suggests an XL appliance, the capacity on this fryer is only 2.65 lbs, which is quite limiting for a large family. All the same, the Philips air fryer accords you fast and even cooking, with less oil needed–the Philips guarantee. You get 7 cooking presets plus a keep warm function that makes meal preparation a seamless activity.

We do have to mention that many users have complained about the poor design of the digital display–the buttons are unresponsive or sometimes take a great deal of effort to register. Again, the design of the basket, especially the handle and the base, feels cheap and not as sturdy as other releases by the brand. It also features an inconvenient hole on the base that drips oil and residue to the fryer's interior.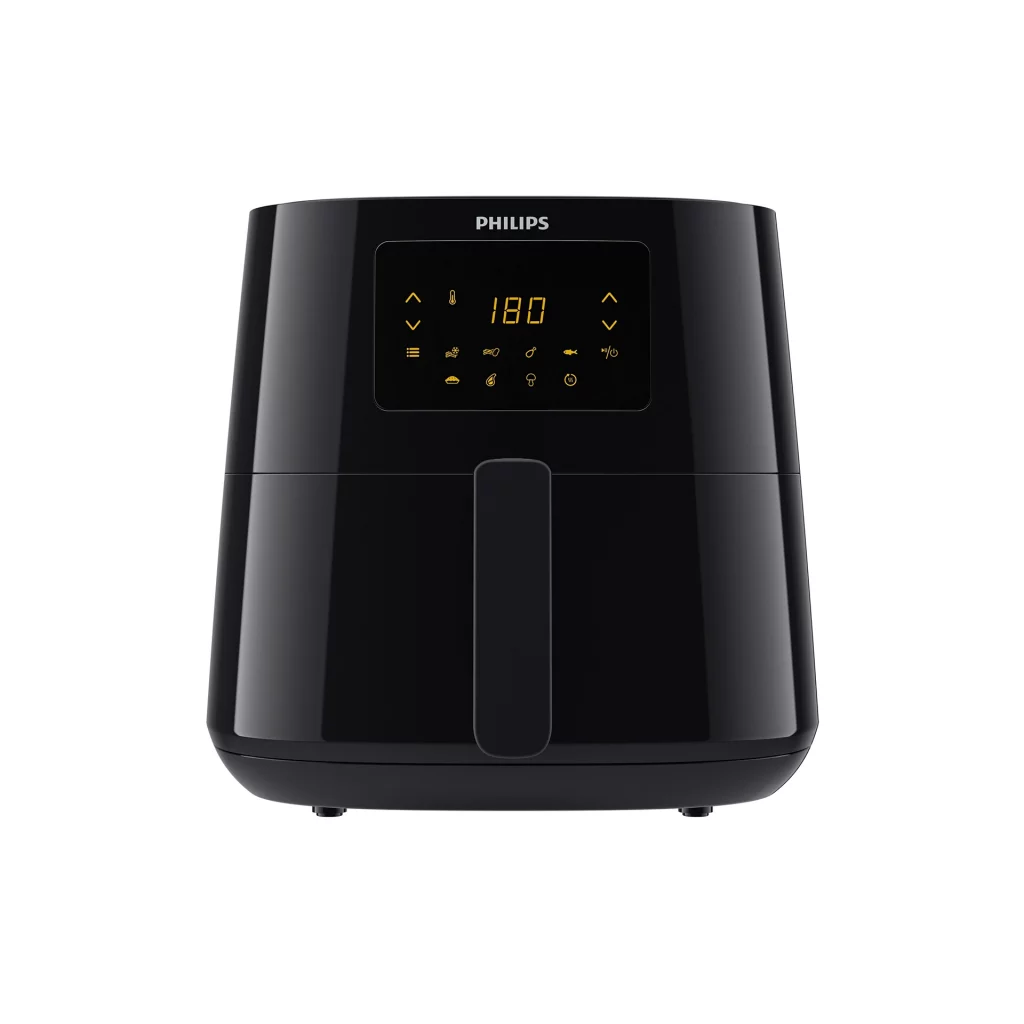 Higher price
COSORI Air Fryer 6.8Qt
The Cosori 6.8Qt air fryer not only looks good in your kitchen, but also performs exemplarily well. This large capacity fryer makes use of vertical and horizontal space to give you plenty of room to fit your food. Both the Ninja and Cosori air fryers will occupy a decent amount of space on your countertop and are also heavy. The 12 customizable settings are also a huge selling point for this air fryer as they make the cooking experience quite seamless.

The display is quite intuitive, and for those that want to take seamlessness a notch up, the airfryer is Wi-Fi enabled for app control of your cooking. The fryer also features automatic heat control that lowers and raises temperature for the best cooking outcome. However, you might have to contend with that chemical smell in the first few uses. Again, the bottom heating element tends to smoke anything that drips to the bottom of the basket when using the crisper plate.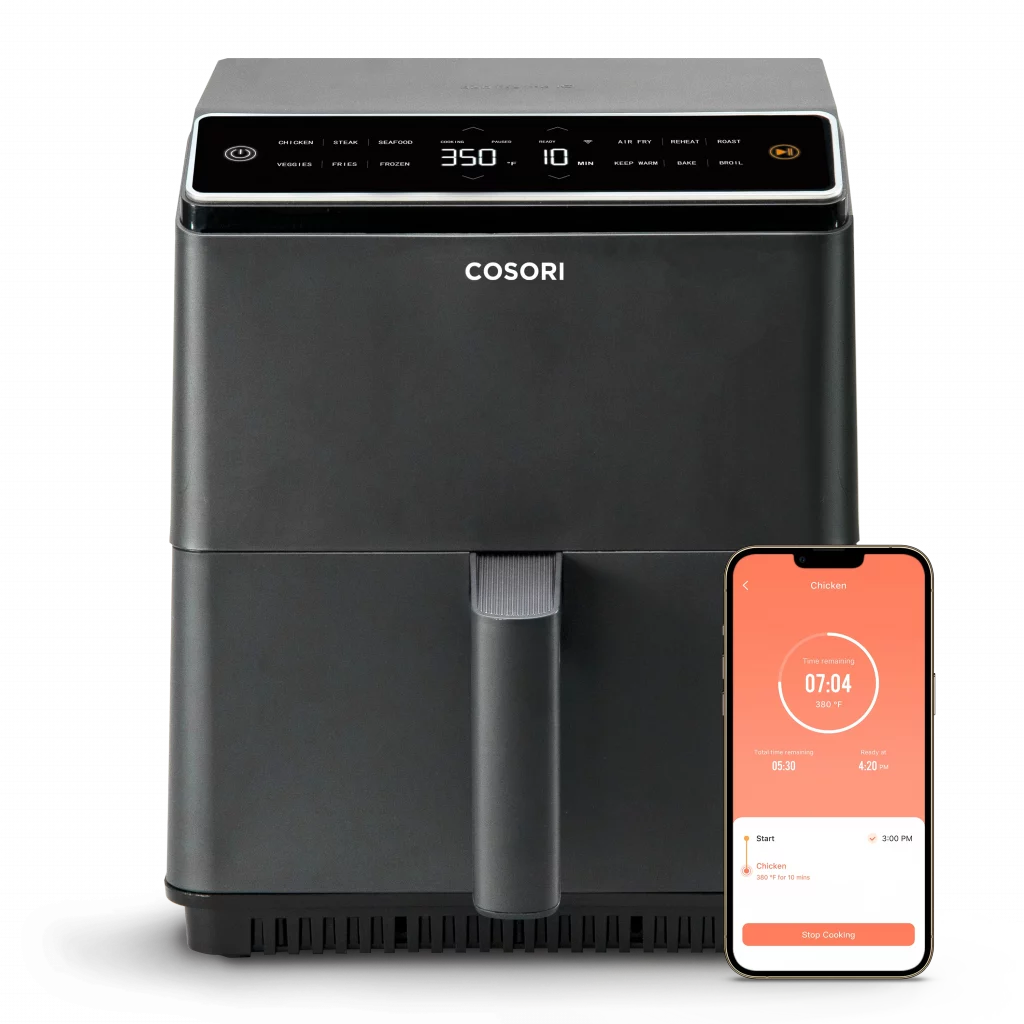 3. Ninja Air Fryer (AF101)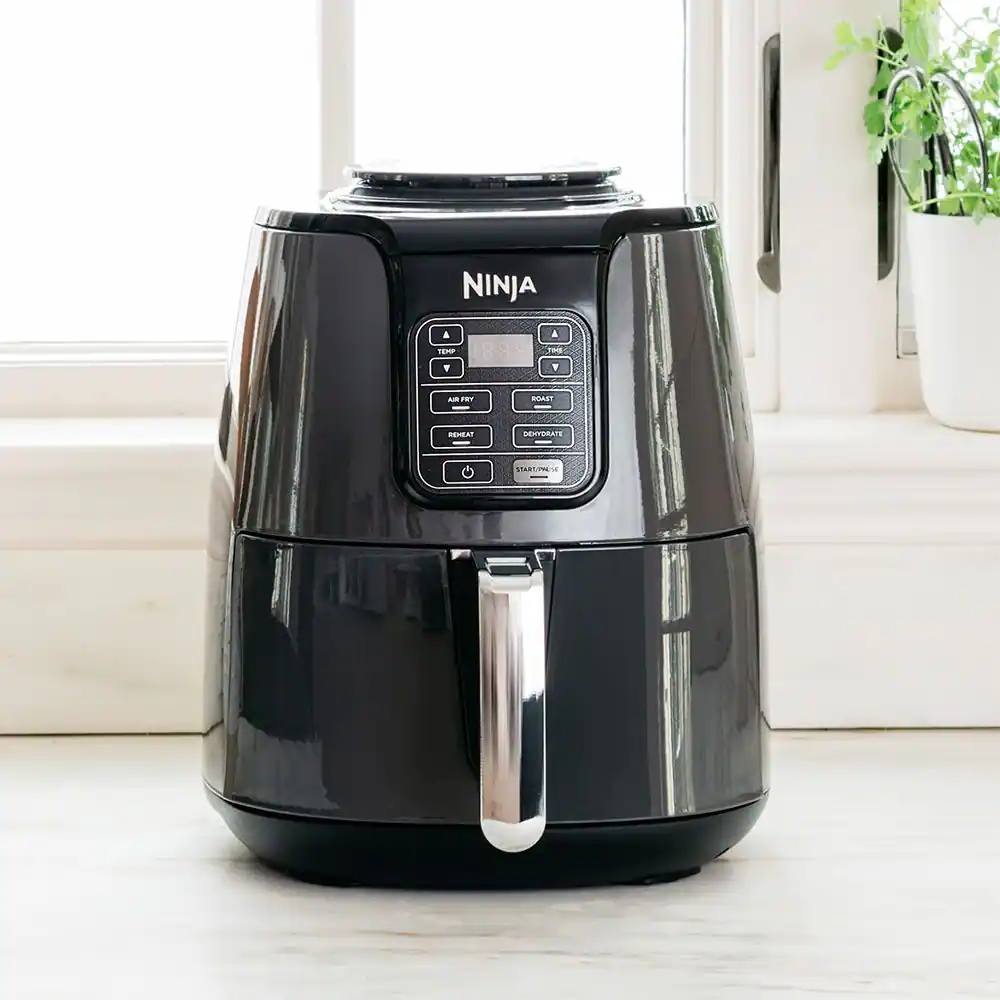 ---
The Ninja AF101 (which is the same unit as the Ninja AF100 but comes with an extra multi-layered rack and recipe book) air fryer is a 4-quart capacity air fryer that can cook 2lbs of French fries using up to 75% less fat than a traditional fryer.
It comes with a one-touch push-button control panel, a durable ceramic-coated basket, accessories that are dishwasher safe and easy to clean, and the ability to air fry, roast, dehydrate and reheat your foods.
Specifications
Dimensions: H13.3 inches x W11 inches x D13.6 inches
Appliance Weight: 10.5lbs
Capacity: 4 Quarts
Available Colors: Black/Gray
Dishwasher Safe: Yes
Wattage: 1550W
Min/Max Temperature: 105°F/400°F
Looks 8/10
The AF101 lives up to the Ninja name. Its sleek black exterior is almost stealth-like, while the chrome handle adds a little sparkle to the overall appearance. It is one of the more subtle designs on the market, but that's not a bad thing as an understated appliance can blend seamlessly into any kitchen.
However, the display controls and buttons do look a bit dated compared to other air fryers on the market, but not so much that they negatively impact the appearance to a massive extent.
Capacity 6/10
With 4-quarts of frying capacity, the Ninja AF101 is an average-sized air fryer. The basket is circular, which is not the most efficient shape when it comes to air frying, because wherever possible, you should be able to lay the food out in a single layer to allow for a crispy finish. A more shallow, square basket of the same capacity would offer more space to cook.
There are other appliances on the market at the same price point with larger capacities.
For a device that comes with a reasonably average basket capacity, the appliances' footprint is much larger than air fryers manufactured by competitors. Many other models have smaller dimensions yet a larger frying capacity.
Functions 8/10
Air Fry: The standard air fry setting cooks food quickly and healthily. When using the pre-set feature, consumers can enjoy delicious home-cooked meals without worrying about calorie intake.
Roast: Enjoy the taste of roasted foods without having to fire up the oven. Roast products for up to three hours on this setting, and use the 'crisp-plate' give your meals a crisp and crunchy texture.
Reheat: Any leftovers can be easily reheated using this function. The even temperature distribution created by the appliance's fan ensures foods retain their original taste and texture.
Dehydrate: Slowly create dehydrated snacks and treats with this temperature/time setting. The fan in this setting is very quiet and has the ability to dehydrate fruit, vegetables, and meat overnight without waking your family.
Performance 10/10
The performance of the AF101 is where this model shines. When purchasing a kitchen appliance, the most crucial factor should be reliability, and this air fryer rarely, if ever, lets you down. Of the few minor complaints consumers have about this product, machine failure is not one of them.
The components are durable and easy to clean, while the fryer itself is consistent and makes delicious, healthy food in double-quick time.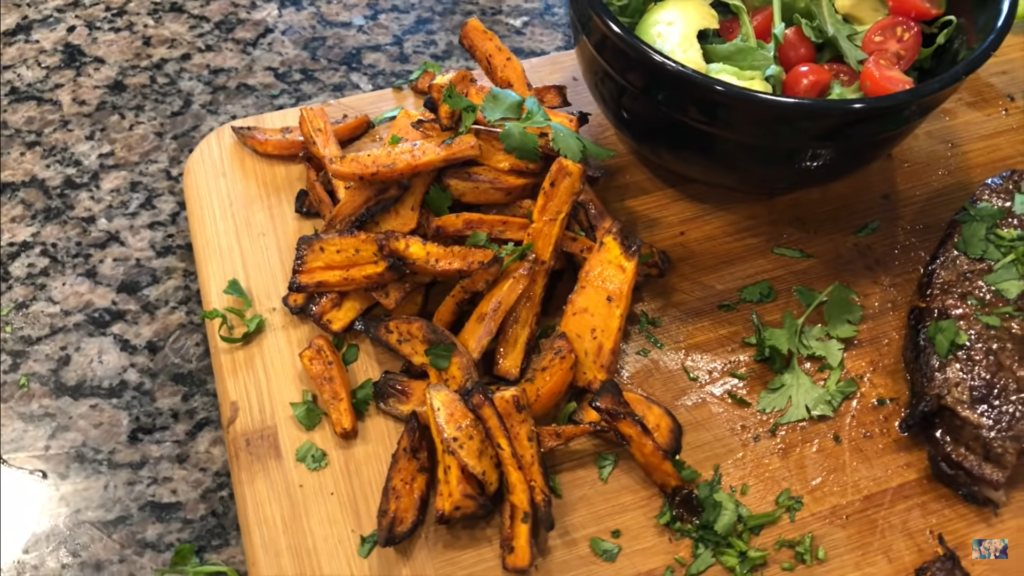 Should you buy the Ninja AF101?
The Ninja AF101 is one of the most highly rated 4-quart air fryers on the market. The product description claims the 4-quart capacity is large enough to feed a family of four; however, many consumers say it would be best suited to serve three people or less.
This air fryer is easy to clean, reliable, and won't break the bank. It's not difficult to see why this product is rated so highly in the cooking community. We have also included it to our best air fryers list as one of the best value options. If the cooking capacity meets your family's needs, and the price tag is within your budget, this kitchen appliance is worth your consideration.
Alternative Models
Cheaper
GoWISE USA GW22621
This more affordable alternative is available for those on a tighter budget. However, it does come with a smaller capacity. The touch-screen digital display is an improvement on the AF101's push button. The components are easy to clean but take more elbow grease than the Ninja.

Don't let the brand-name fool you either, while the "USA" may lead you to believe this an American made appliance; in reality, it is manufactured in China.

Similar Price
NuWave 37001
Despite having a smaller footprint than the Ninja AF101, this NuWave air fryer has 50% more frying capability with a 6-quart basket. It features a square, rather than circular, pan though it isn't ceramic, making it a little more challenging to clean.

Where the 37001 has a higher capacity for the same price as the Ninja appliance, it doesn't have the same build quality. Consumers report logos and text on the buttons rubbing off after only a short while.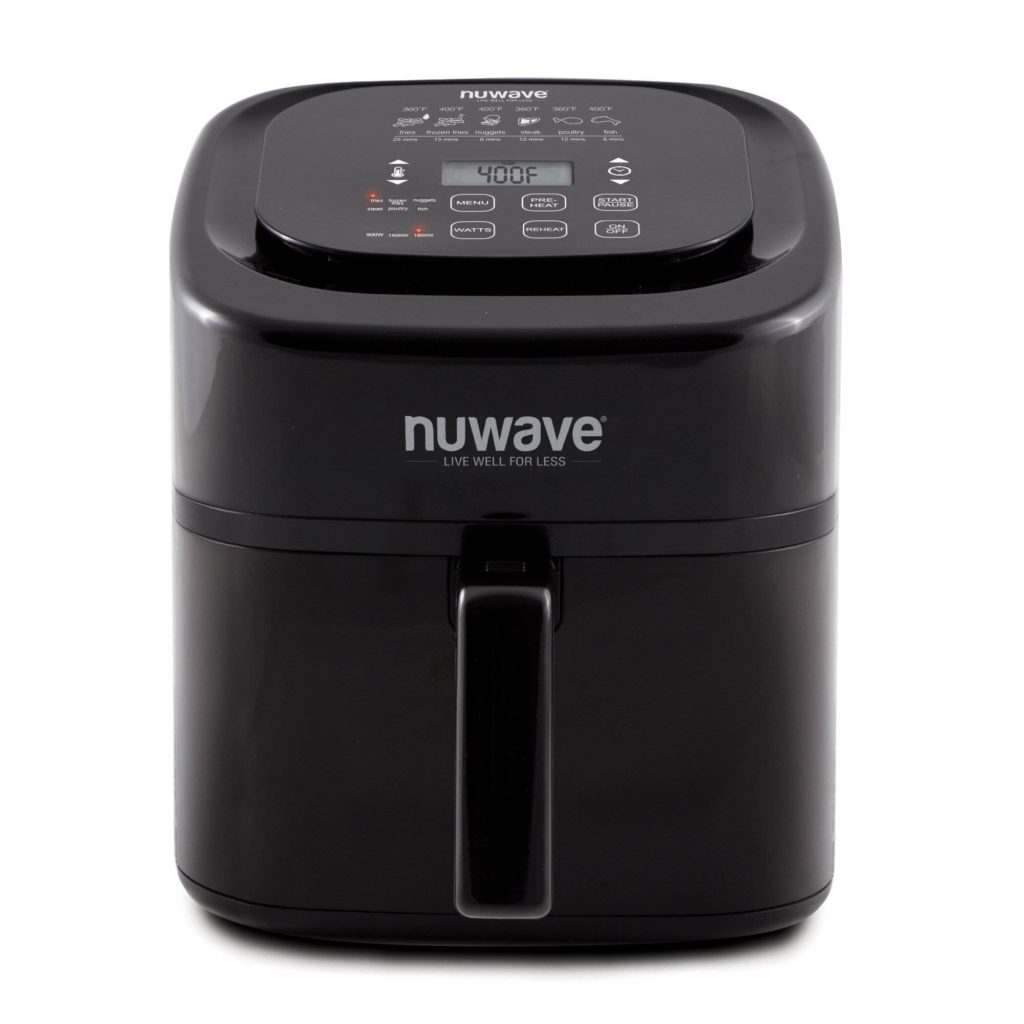 Similar Price
Cosori Max XL
Cosori's air fryer is a more expensive option, but for consumers with more money to spend, the extra outlay could be money well spent. The 5.8-quart capacity basket is an improvement over the 4-quart Ninja, and Cosori claims it helps cut down on fat by up to 85%.

With 11 pre-sets, the KAAPAFCSSUS0017 is a versatile appliance capable of cooking many different foods that are both healthy and delicious.