Philips Air Fryer Reviews
Best Overall
Philips Avance TurboStar HD9641 2.75-Quart Air Fryer
When it comes to air frying, few companies do it better than Philips. They consistently build some of the best performing appliances on the market, but they can be rather expensive.

Our favorite Philips fryer, the TurboStar HD9641/99, is no different, and with a 2.75-Quart basket, it's relatively small too. However, this appliance is unparalleled when it comes to performance and ease of cleaning. It does have a particular target audience, but if you fall within that demographic, this could be your new kitchen appliance.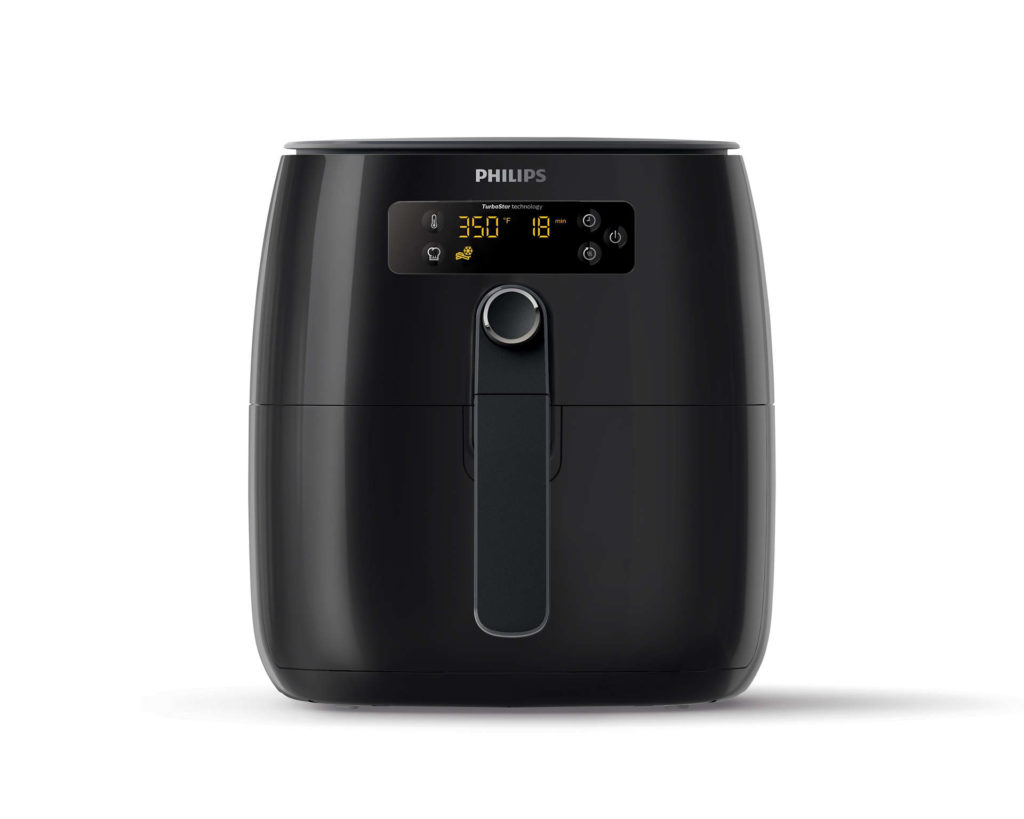 1. Philips Viva HD9220 2.75-Quart Air Fryer
---
Philips has a very capable appliance on its hands with the Viva HD9220. The starfish airflow technology seems to have a profound effect on the fryer's food. It's crispy and delicious.
However, this model is expensive and relatively small and doesn't have many features. The gap in the market for the HD9220 is very specific.
Specifications
Dimensions: 11.2 x 12.4 x 15.1 inches
Appliance Weight: 15.4lbs
Capacity: 2.75-Quarts
Available Colors: Black – White
Dishwasher Safe: Yes
Wattage: 1425W
Min/Max Temperature: 100°F/390°F
Looks 6/10
Out of the box, this is a stunning and simple looking appliance. But don't expect it to stay that way for very long.
The Philips HD9220 has a sleek black plastic exterior, with elegant curves that give it an almost fluid appearance, with a pleasant silver dial of the timer built into the handle. The overall look is spoiled somewhat by the air fryer's tendency to easily pick up fingerprints and smudges that just takes away from the total score.
Also available in white (which could negate the fingerprint issue).
Capacity 5/10
Make no mistake; this is by no means a cheap air fryer; in fact, this Philips model is really quite expensive for its size and capacity. So, its 2.75-Quart cooking capacity is relatively small. This isn't necessarily bad if you live on your own, but given the high price point, we would hope for a bit more in cooking capability.
Features 5/10
Starfish Heating Technology: Philips has installed their patented 'Starfish technology' into this particular model, a starfish-shaped mold at the bottom of the basket that aids air circulation to the point that Philips claims consumers don't need to turn or shake their food during cooking.
Retractable Cord: This is a simple feature but one that is missing from many appliances. It helps keep your kitchen looking tidier, and avoids possible danger through tripping and/or snagging.
Auto Shut-Off: This device is fitted with an auto shut-off function to avoid over-cooking or burning food.
Performance & Cleaning 8/10
The air fryer performance is where the Philips Viva shines. Even the most annoyed of consumers admit that the food the HD9220 produces is both crispy and delicious. Whether or not the "Starfish" technology is the reason behind this appliance's cooking ability is unknowable, all that matters is this thing can cook!
Unfortunately, when it has finished doing its thing, the clean-up process is a lot more complicated than it should be. Despite the basket being dishwasher-safe, the wire structure is a nightmare to get clean.
Should you buy the Philips Viva HD9220?
When an appliance is this good at what it does, then it feels wrong to recommend against buying it. It is an expensive fryer, it has a relatively small cooking capacity, and has very few features. Unless you're a wealthy, single person who likes to clean and prefers the more simple things in life, you should give this model a miss.
2. Philips Avance TurboStar HD9641 2.75-Quart Air Fryer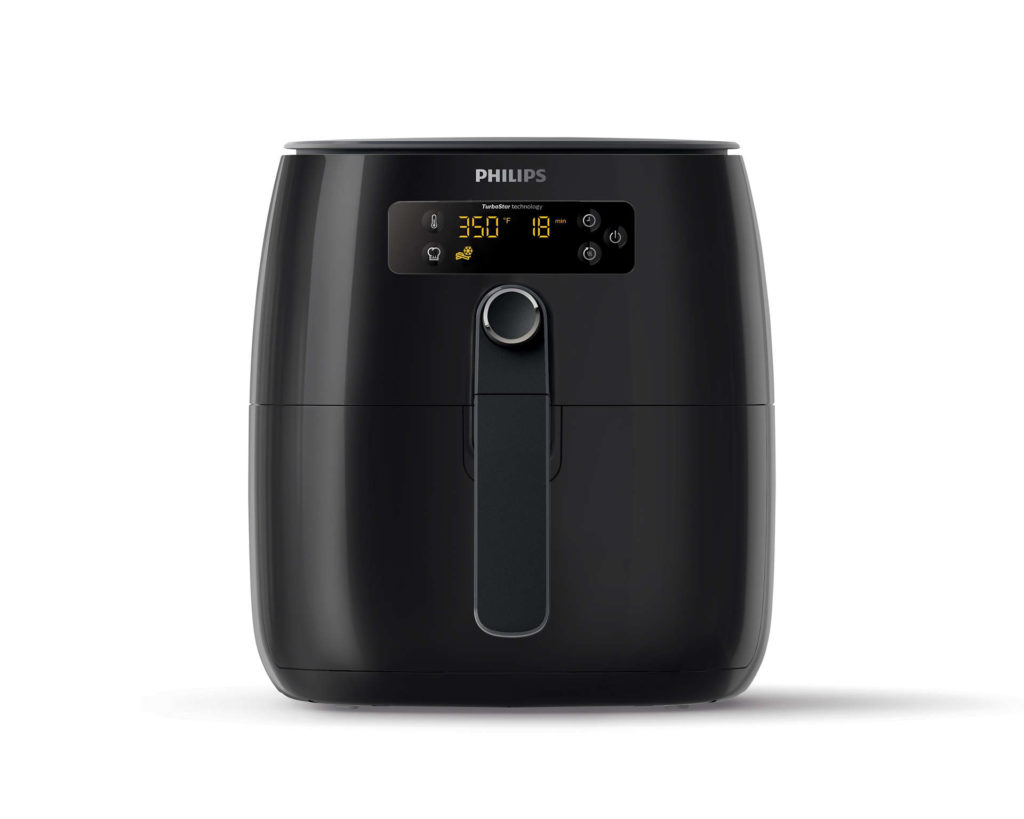 ---
This Philips masterpiece produces stunningly delicious food and is an incredibly reliable air fryer.
In a market that is saturated with appliances that say they're "easy to clean" and "dishwasher safe", the TurboStar HD9641 actually lives up to that claim.
It does cost a lot of money, so prepare to open your wallet.
Specifications
Dimensions: 13.62 x 13.62 x 14.13 inches
Appliance Weight: 15.8lbs
Capacity: 2.75-Quarts
Available Colors: Black
Dishwasher Safe: Yes
Wattage: 1425W
Min/Max Temperature: 100°F/400°F
Looks 9/10
The HD9641/99 looks determined to do the job it was designed to do. It looks like a proper kitchen appliance. It has no fads or gimmicks and has a slick barrel-shaped body that's finished in black plastic. The LCD is simple yet effective with a pleasant orange glow. The look is completed with the iconic Philips logo.
Capacity 5/10
We have the same complaint with the HD9641/99 as we did with the HD9220, the 2.75-Quart capacity has a niche in the market (single folks or to be used as a supplementary appliance), but for the rather sizeable price point, it's not a lot of cooking space at all.
Features 8/10
TurboStar Technology: We can't honestly see any difference between Philips' StarFish tech and the TurboStar feature. Truth be told, we believe it is the same and has just been rebranded. Nevertheless, whatever they've called it, it works and consistently produces delicious and crispy food.
Instant Heat: There's no waiting around for this air fryer to warm up thanks to what Philips call, 'Instant Heat.' Use this appliance as soon as you switch it on with no need to pre-heat.
4 Presets: There are some appliances with a massive amount of pre-programmed settings, but Philips have just stuck with the classics for this air fryer; fry, bake, roast, and grill.
Keep Warm Function: Is your partner late home from work? Are your kids not quite ready to eat? No problem. The 'Keep Warm' function will gently keep your food heated, without over-cooking, until it's ready to be eaten.
Performance & Cleaning 10/10
Philips are the masters of the air fryer, which is probably why their products are so expensive. This model rarely has any mechanical failures. The food it produces is as tasty as it comes from an air fryer, which is all you can ask for.
So many appliances with non-stick coating claim to be dishwasher safe for ease of cleaning (ironically, that non-stick coating usually has trouble sticking to the device) but fail miserably. The HD9641, however, is perfect in this regard.
Should you buy the Philips Avance TurboStar HD9641 2.75-Quart Air Fryer?
Long story short, if the small cooking capacity suits your needs and you have the available budget, this appliance is worth a look. Yes, it is expensive, but the quality of the food it produces, impressive reliability, and ease of use and cleaning make this one of the best appliances on the market.
3. Philips TurboStar XXL 4-Quart Air Fryer
---
The ambitiously named XXL air fryer doesn't quite live up to its title. With a mediocre 4-quart capacity, it is capable of cooking for three people, maybe four at a push. But the ill-advised monicker doesn't stop the XXL from being a great device.
Is the air fryer a little small? Yes. Have Philips over-priced it somewhat? Maybe. But is it a good-looking appliance that cooks excellent food? Absolutely.
Specifications
Dimensions: 17.1 x 12.63 x 12.4 inches
Appliance Weight: 19lbs
Capacity: 4-Quarts
Available Colors: Black
Dishwasher Safe: Yes
Wattage: 1725W
Min/Max Temperature: 100°F/400°F
Looks 9/10
At its core, the XXL doesn't look too dissimilar to the TurboStar HD9641; they seemingly share a DNA. But if anything, the XXL is marginally more attractive with just a few subtle differences.
It's wider, making it look ready for business, while the sleek silver handle adds a touch of class. The XXL is a gorgeous appliance.
Capacity 6/10
The XXL title might be well suited for this air fryer within the Philips house; however, a 4-quart cooking capacity isn't all that great, especially when you consider the massive price tag with which this appliance comes. It would be ok for smaller families, but anything beyond that and the XXL will struggle.
Features 8/10
TurboStar Technology: This airflow feature appears to be at the very core of the Philips models. Their patented design assists the flow of the hot air around the appliance's interior, ensuring an even temperature for more consistent food.
'Keep Warm' Setting: Like its little brother, the XXL is fitted with the 'Keep Warm' setting, enabling it to keep food heated until it's ready to be consumed.
Fat Reduction Technology: Coupled with the TurboStar feature, the fat reduction technology uses the unique basket shape to collect any excess fat that may drip down, shepherding it into an easy-clean tray at the bottom, making it far easier to get rid of the grease and grime.
Instant Heat: There's no waiting around for the pre-heat setting to do its thing, just switch this appliance on, and it's ready to go.
Performance & Cleaning 7/10
Given that this appliance appears almost identical to the HD9641, you would expect the same glowing report regarding performance and cleaning, right?
Wrong.
Whatever subtle changes Philips made to this air fryer seem to have harmed the overall performance. Whether it be the increase in wattage or a larger basket or a difference in materials used in the build, we're not sure. But there appears to be a substantial problem with smoke coming from the appliance during use.
Many consumers report having smoke alarms set off when using the XXL. And what makes matters worse is this also appears to make the removable parts challenging to clean, even when they have been in the dishwasher.
It should be noted that the actual cooking performance is as good as it has ever been, but the excess smoke is a cause for concern.
Should you buy the Philips TurboStar XXL 4-Quart Air Fryer?
Despite being a slick-looking device with a ton of great features and an excellent cook to boot, we find the price point of this appliance too large to consider it a worthwhile option.
The cooking capacity isn't adequate for any more than three people (four at a push), and the smoking issues should make anyone think twice before spending such a large amount of money.