Cosori Air Fryer Reviews: excellent performance
Best Overall
Cosori Air Fryer CP358-AF
It can occasionally be an arduous task in choosing the best model from a particular manufacturer. However, picking our favorite model from the Cosori range was very easy.

While all the models we've reviewed are viable options (if the appliance sizes meet your needs and you're not bothered about aesthetics), the CP358-AF stands head and shoulders above the rest. It is more expensive than the other two air fryers, but not by much.

The extra money will buy you double the cooking capacity over its siblings, and you get tons more features that are both practical and ingenious, making it the only choice for us.

1. Cosori Premium 5.8-Quart Air Fryer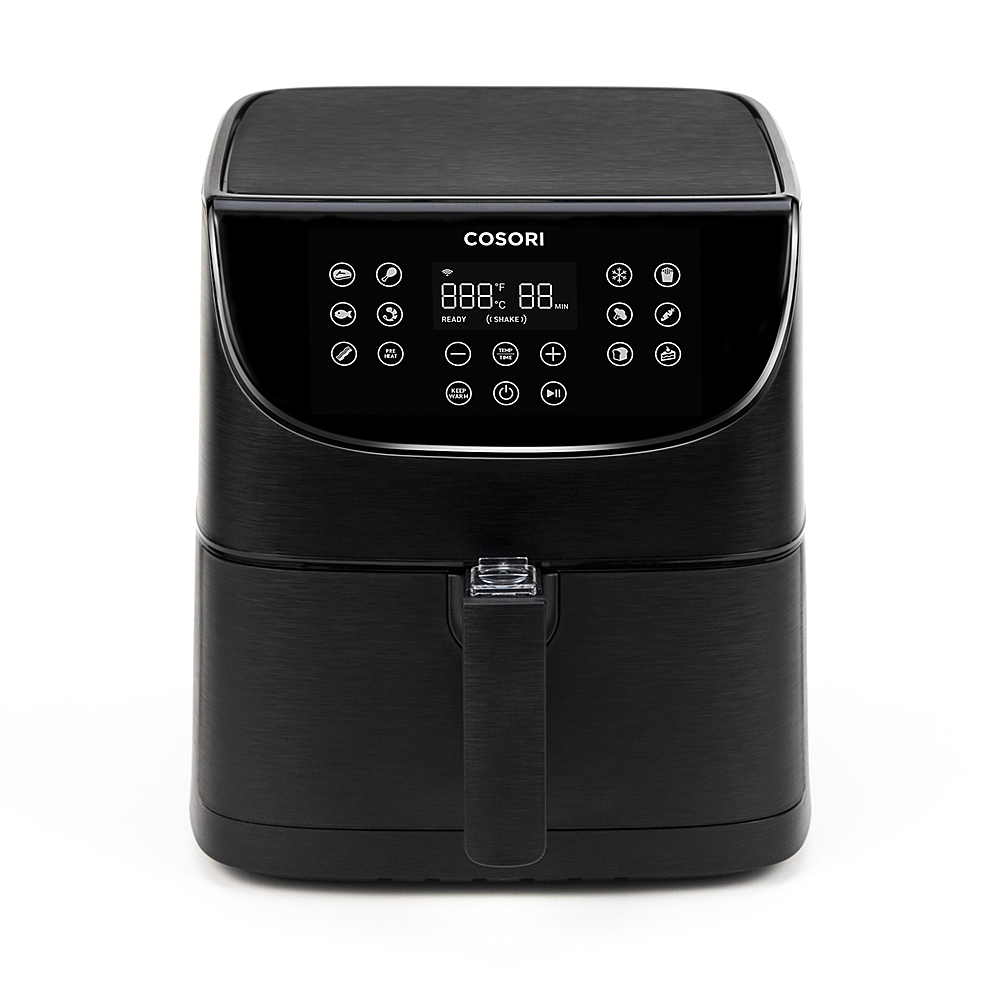 ---
This mid-sized 5.8-Quart appliance is Cosori's best air fryer to date. With a sleek, black appearance and many functional features, this superb unit has a lot more value than its mid-range price point suggests.
The LED touchscreen with a fingerprint-resistant display is the crowning glory of the exterior with the ergonomic design tilting the screen towards the user, making it easier to see and more intuitive to use.
Specifications
Dimensions: H11.8 inches x W13.8 inches x D12.6 inches
Appliance Weight: 12.3lbs
Capacity: 5.8-Quarts
Available Colors: Black
Dishwasher Safe: Selected Parts (Removable Drawer and Food Basket)
Wattage: 1700W
Min/Max Temperature: 170°F/400°F (Adjustable in 5°F Increments)
Looks 9/10
Cosori's premium air fryer is by far the best-looking appliance they make. The black plastic exterior has an almost brushed-steel appearance and has subtle curves that give it a sleekness that other machines lack.
The LED touchscreen is modern yet understated and is tilted for ease of use and is a fingerprint-resistant to stop unsightly smudges.
Capacity 8/10
The 5.8-quart cooking capacity of the CP358-AF is 100% larger than it is on the CO134-AF but the appliance is only around 30% more expensive. Using a square frying basket, it can comfortably feed between 4 and 5 people.
Features 9/10
Presets: Unlike the other models in this review, the CP358-AF comes with cooking pre-sets. There are ten pre-programmed recipes; Steak, Chicken, Seafood, Shrimp, Frozen Food, French Fries, Vegetables, Toast, Bake, and the setting some might consider the most important, Bacon.
Wi-Fi Connectivity: This feature allows the user to connect their air fryer to an Alexa device for voice control; it even provides set-up via an app that lets you schedule cooking times up to four hours in advance.
Removable Drip Tray: This particular model comes with a separate drip tray that is removable, making it easy to clean and leaves less of a mess in the basket to help with getting rid of grease and grime.
Keep Warm Function: Your food is ready, but you're not quite ready to eat? No problem, use the 'Keep Warm' function to … well … keep your food warm.
Performance & Cleaning 8/10
The general opinion is that Cosori air fryers are reliable and consistent appliances that get the job done, and this model is no different.
The food it produces is sublime, while all the features and functions perform as they should.
Cleaning this product is a cinch. Helped by the durable non-stick coating (that doesn't peel away during use) that is dishwasher safe, there is also a removable drip tray, so the basket isn't all that greasy after cooking.
Should you buy the Cosori CP358-AF?
Yes. Absolutely. As long as the cooking capacity meets your needs, then we can't see any reason for you not to buy this air fryer. For the mid-range price tag, you get a reasonably high-end unit. It's currently the best air fryer you can get.
It is a decent size, looks fantastic, and has a ton of practical and useful features that makes cooking meals for your family, fun and easy.
Among the online community, the ratings for the CP358-AF are through the roof, while the number of complaints from angry consumers is about the lowest we've ever seen.
2. Cosori 3.7-Quart Air Fryer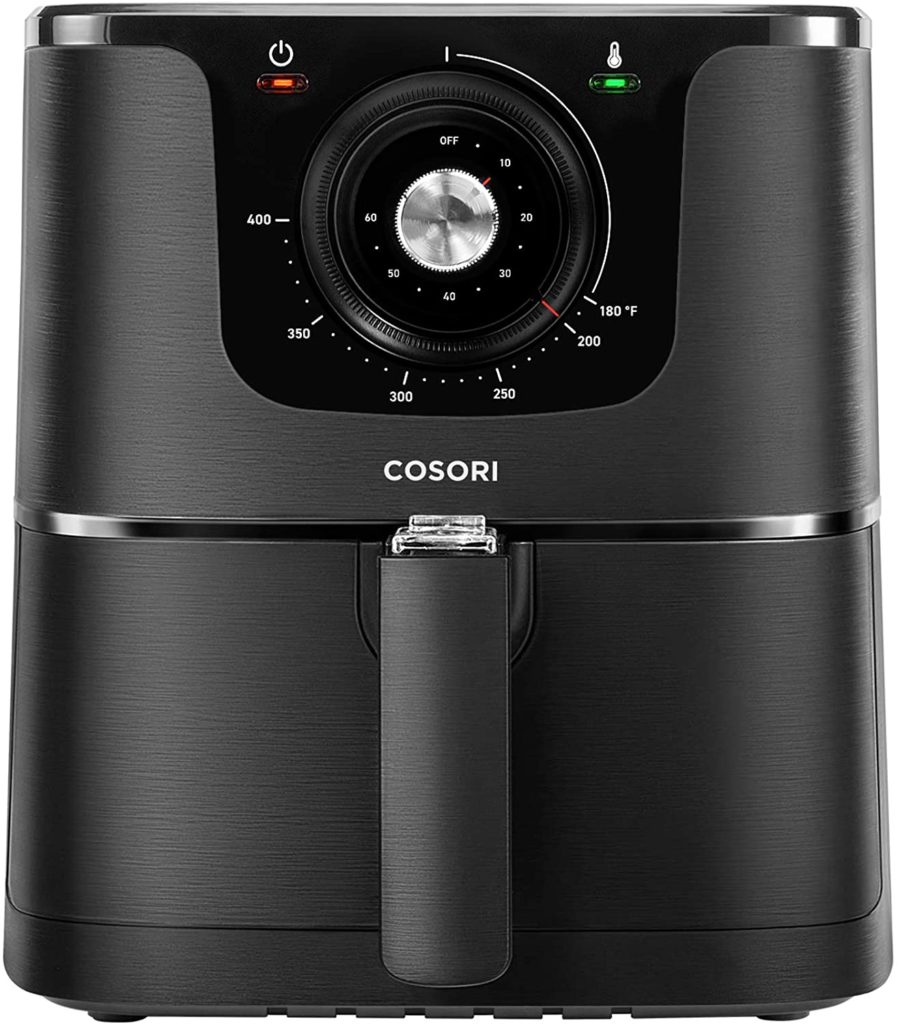 ---
With a 3.7-quart cooking capacity, the CO137-AF is a small air fryer with a modest price point. Suitable for cooking delicious meals for one to two people using 85% less fat than conventional fryers.
It doesn't have many features but makes up for that with a stable performance and components that are easy to clean.
Specifications
Dimensions: H12.2 inches x W11 inches x D11 inches
Appliance Weight: 10.4lbs
Capacity: 3.7-Quarts
Available Colors: Black
Dishwasher Safe: Selected Parts (Removable Drawer and Food Basket)
Wattage: 1500W
Min/Max Temperature: 180°F/400°F
Looks 8/10
This air fryer has a very distinctive and unique appearance. The exterior finish is in a matt-black plastic. The temperature/settings dial is stylish, while the top of the unit has food icons and cooking times decorating it.
The aesthetics for this appliance are far superior to its low price point.
Capacity 5/10
The CO137-AF is a small air fryer with a cooking capacity of only 3.7 quarts. This unit is more suited to cooking meals for 1-2 people. Cosori claims their fryer can cook for up to 3 people, but customer reviews suggest those meals could be a little sparse.
Features 5/10
Recommended Recipe Settings: The top of the unit has recommended cooking settings for this appliance that are printed on to it. Most other air fryers come with these settings pre-programmed and available at the touch of a button; unfortunately, consumers will need to input these manually.
The settings recommended are for French Fries, Chicken, Seafood, Shrimp, Root Vegetables, Desserts, and Frozen Foods.
Air Crisp Technology: Cosori's CO137-AF has been designed to air fry food with a reduction in fats by up to 85% against traditional frying methods.
'Cool Touch Handle': Kitchen appliances tend to get hot when in use, this Cosori air fryer has a 'Cool Touch Handle,' which lets the user easily remove the basket without the need for an oven mitt.
Auto Shut-off: An additional safety feature is the auto shut-off function. The unit will stop its heat and time cycle when the basket is removed from the fryer.
Performance & Cleaning 8/10
This air fryer is generally considered a reliable appliance that cooks consistently, and consumers believe the food it produces is healthy and delicious. There are a couple of minor performance issues with reports of the display being particularly challenging to read, and the interior fan is loud when operating at high speeds.
Cleaning the air fryer is quick and easy as the removable components are dishwasher safe. The non-stick coating is durable and doesn't peel away with sustained use, which is a significant problem with other brands.
Should you buy the Cosori CO137-AF?
Cosori's small air fryer is undoubtedly worthy of your consideration, but only if the lower capacity fits your needs. The CO137-AF will certainly produce consistently delicious food at a reasonable price. It doesn't have many features, but this is a solid unit that will not let you down.
3. Cosori 3.4-Quart Air Fryer CO134-AF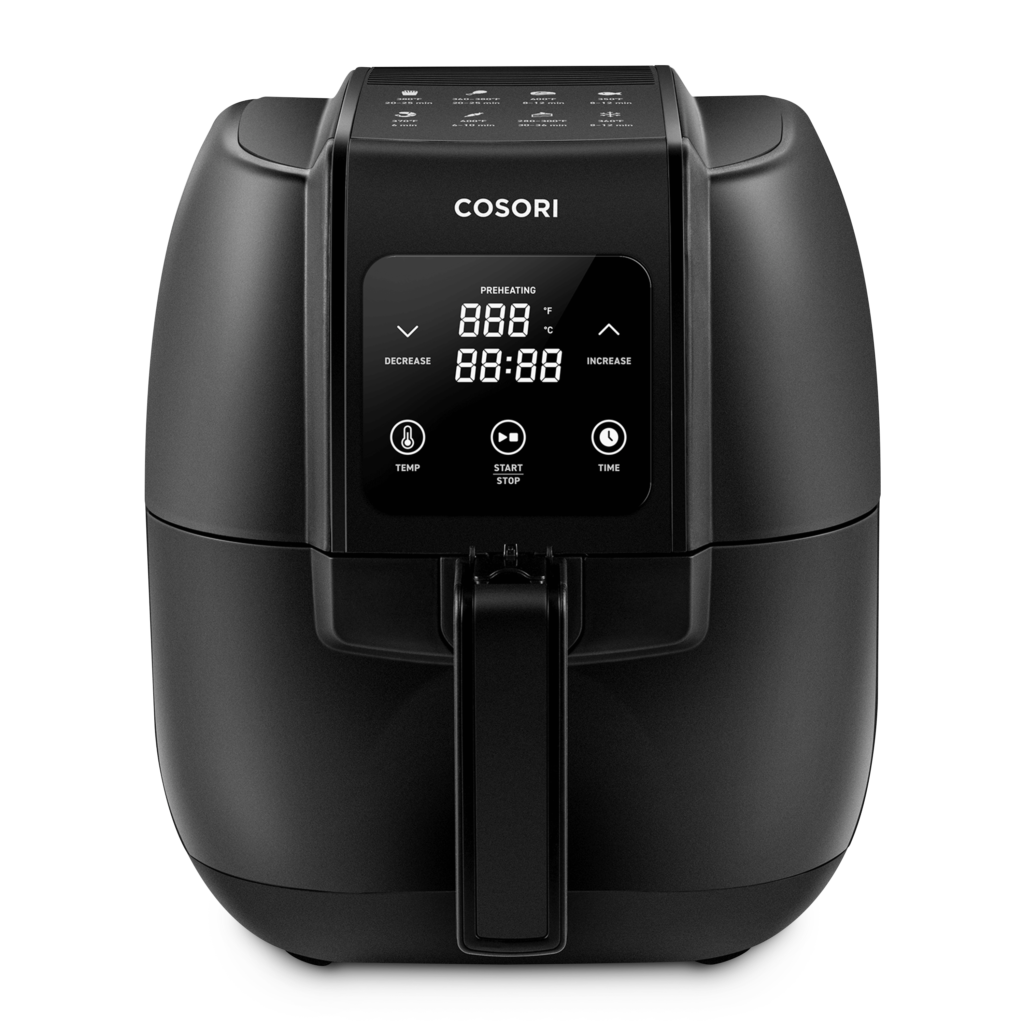 ---
Cosori's modest 3.4 Quart Air Fryer is not much to look at, has limited features, and is relatively expensive considering its size.
However, it excels in its performance while cooking quickly and consistently. The removable basket is durable and is easy to clean.
Specifications
Dimensions: H13.9 inches x W12.6 inches x D10.9 inches
Appliance Weight: 12.6lbs
Capacity: 3.4-Quarts
Available Colors: Black
Dishwasher Safe: Selected Parts (Removable Drawer and Food Basket)
Wattage: 1500W
Min/Max Temperature: 100°F/400°F (Adjustable in 5°F Increments)
Looks 5/10
Considering this particular model is approaching a mid-range price point and has a reasonably small cooking capacity, it's disappointing that the exterior of this air fryer looks cheap, uninteresting, and almost toy-like.
The matt-black plastic outer shell has panels that don't fit together as well as they ought to. The LED touch screen is simple in appearance, but it is the simplicity that adds a touch of class to an otherwise boring-looking device.
Capacity 5/10
When choosing the size of an air fryer, the consumer usually does so based on personal needs (budget, family size, available kitchen space, etc.), thus giving the capacity a rating is somewhat subjective. However, in this case, this is a reasonably expensive appliance for a relatively small cooking space of 3.4-quart. The only saving grace is the square basket, which is much more efficient than a round basket that some other brands and models use.
Features 6/10
One-Touch LED Display: There aren't too many attractive qualities on the CO134-AF, but the touch-pad display screen adds bit of excitement to the lifeless exterior. It doesn't just offer aesthetic value, its responsive and the layout is intuitive. However, the whole appliance is lacking in any pre-sets, and all configurations need inputting by hand.
Auto Pause: Auto Pause is a simple feature, a feature some people probably don't appreciate until it isn't there. And there are air fryers without it. Fortunately, this Cosori model comes with 'Auto Pause' that will stop the countdown timer if the basket is removed from the central unit and restarts when returned.
Square Basket: Circular baskets are usually the design of choice for manufacturers of air fryers, which is entirely inefficient. By employing a square design, the cooking capacity can be increased without changing the appliance's footprint.
Cool Touch Handle: With an insulated handle that doesn't retain heat, you can cook safely with this appliance, knowing you're never going to burn your hand.
Performance & Cleaning 9/10
The CO134-AF hasn't performed particularly well in our review so far; however, an essential attribute of a kitchen appliance is that it works the way it is supposed to and isn't prone to falling apart. Performance and cleaning are where this small Cosori air fryer shines.
An air fryer's primary function is to cook food, and this device does just that quickly and consistently. Reports of appliance failure are rare, so you can rest assured your purchase will last.
It is as easy to clean as it is to use to cook delicious meals. The removable parts are dishwasher safe, and unlike other brands/models, doesn't have an issue with the non-stick coating peeling off.
Should you buy the Cosori CO134-AF?
This model is pretty costly when you consider the low capacity, lack of features, and uninteresting appearance. Though it is reliable and easy to clean, there are other, larger, and more appealing models on the market for a similar price point.