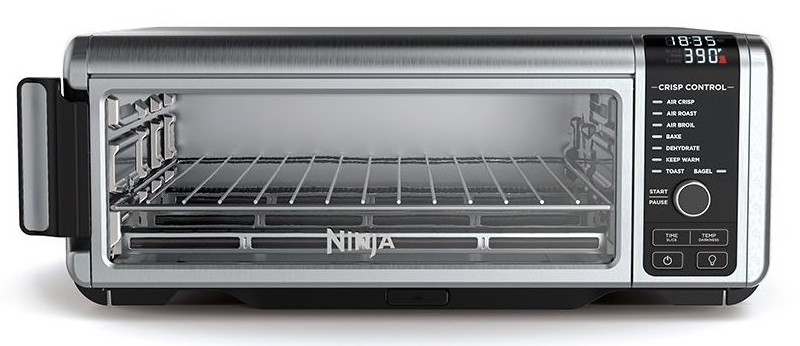 Disclaimer: I may receive commissions from purchases made via links at no cost to you
---
Quick review
As relative newcomers to the small kitchen appliances market compared with other brands (yet still with decades of experience in the field), Ninja has reset the metric by which appliance excellence is measured.
With their affordable yet multifunctional SP101 air fryer toaster oven, Ninja has once again managed to produce an excellent cooker that tops the design, versatility, and performance charts.
This air fryer's aesthetics are easy on the eye, but each design feature serves a purpose. The fancy-looking LCD is positioned so that it's easy to see from almost any angle, while the control system is incredibly intuitive.
The low-profile design means you can cook large volumes of food with ease, while the flip-up storage system negates the extra-large footprint by halving the amount of countertop space it takes up … as long as it fits under your cupboards.
The Ninja Foodi SP101 is powered by a massive 1800 watt power output which pre-heats the oven in about a minute. Using 'Crisp Control' technology, this air fryer cooks more quickly and evenly than some of the most popular toaster ovens on the market.
You'd usually need to use a dedicated toaster for the most evenly browned toast, yet this excellent cooker can knock up nine slices of near-perfect toast in double-quick time.
The massive capacity will help feed a small family, though be aware you won't be able to cook whole chickens or significant cuts of meat as there are only 3 inches of clearance from the bottom rack position to the top heating element.
While the appliance itself is super impressive, the range of accessories that come with it is not. You can buy additional trays and pans from Ninja, but we're disappointed with what you get in the box.
It's essential that you keep up with cleaning the Ninja Foodi SP101 after almost every use, or your new appliance will soon fall into a state of disarray.
We hypothesize that the low-profile design and high energy output are responsible for causing fat, grease, and grime to splash over the oven's interior when cooking fatty foods and causing a mess.
Though a removable panel makes it easier to get inside the oven to clean it, it's still not the easiest appliance in the world to clean.
A crumb tray and dishwasher safe parts expedite the clean-up process slightly. However, the tight-fitting crumb tray can be a struggle to get in and out of the oven, and the dishwasher-safe parts are so big that they might not fit inside smaller dishwashers.
Even though the number of accessories and challenge of cleaning this air fryer toaster oven is a bit of a letdown, the overall experience with this appliance is exceptionally positive and massively popular with consumers.
Basic Information
Dimensions: 9.7″ x 7.6″ x 15″
Weight: 18.57 lbs
Wattage: 1800 Watts
Control Type: Digital
Temp Range: 150 – 450°F
Pizza Size: 13″ Pizza
Toast Capacity: 9 slices of bread
Preset Count: 8
Price Range: The Ninja Foodi SP101 Air Fryer Toaster Oven has a mid-range price point which we think is fair considering the multifunctionality of this small kitchen appliance.
Power: With 1800 watts of power at its disposal, this Ninja toaster oven has all the energy it needs to 'Air Crisp', 'Air Fry', and 'Air Roast'. So it's quick and efficient.
Temperature Range: 150°F-450°F. While the lower temperature range is suitable for keeping food warm or reheating last night's takeout, the top side falls a little short even though this oven has a broil function. However, that doesn't impact the performance too much.
Capacity: Thanks to the low-profile design, this ninja appliance has a broad base that is perfect for air frying fries (which need to be spread out), toasting nine slices of bread, or baking a 13" pizza. This toaster oven can function as a primary cooking appliance for a couple or smaller family or as
an accessory oven for more people.
Warranty: One-Year Limited Warranty. This one-year warranty only covers the original unit and non-wearable parts. We're always disappointed by short warranties on kitchen products.
Design & Build Quality 8/10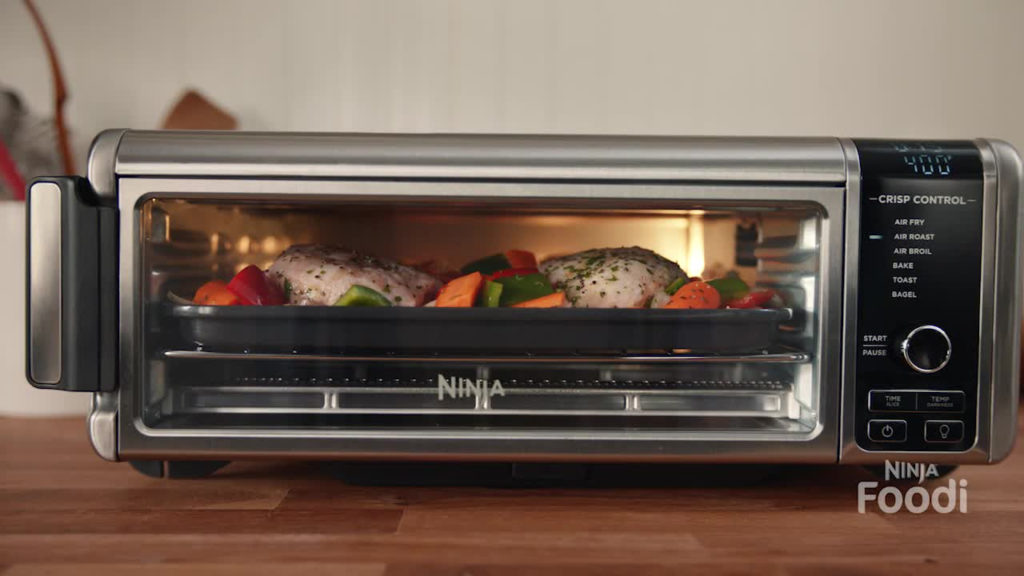 Ninja rarely, if ever, disappoints us with their new appliance designs. It's uncanny how this brand continuously produces the best-looking machines yet somehow keeps their price points reasonable.
The design team at Ninja outdid themselves with the excellent aesthetics of the SP101, which is easily distinguishable from all the other generic appliances on the market. That said, this appliance is not the best-looking toaster oven that Ninja makes.
In a break from the norm, Ninja produced this machine to have a wider cooking area than ovens of a similar capacity. This is important when choosing an air fryer because this cooking method requires all food to be spread out so that it cooks evenly.
There are pros and cons to this design. On the plus side, the oven can accommodate wider cooking trays so you can cook bigger pizzas or a larger volume of fries or wings. Conversely, the device lacks height, so roasting a whole chicken is not viable. You'll have around 3 inches of clearance when the oven rack is in the lowest position.
Though the SP101 has some stainless steel on it, the majority of this appliance's exterior is comprised of a massive viewing window and touchpad control panel, which makes this machine stand out in a particularly large crowd.
Even the door handle is different from the ones found on 95% of other air fryer toaster ovens as it's located on the side of the door. Which, by the way, is much more intuitive and ergonomic compared to standard oven handles.
Inside the oven, there are only two rack positions because of the low profile design. The interior is coated with non-stick for ease of cleaning. And there's an inner light that fades in/out when you switch it on/off, which is incredibly satisfying.
The light automatically switches on when there are 30 seconds left of cooking time, which is a nice touch.
Heating elements are found at the top and bottom of the oven's interior that incorporate Ninja's "digital crisp control technology." The brand isn't really clear on what that is, but we can't deny that this toaster oven makes deliciously crispy food (which we'll get to soon).
If the overall appearance of this oven and the cooking space it provides weren't enough to separate this oven from other devices, Ninja incorporated a nifty space-saving feature to help with storage.
The feet at the back of the air fryer toaster oven are on a hinge, so when you've finished cooking, you flip the entire appliance up and save up to 50% counter space. Assuming you have the height clearance under your cupboards, of course.
At the bottom of the appliance, you'll find a crumb tray that catches all the food particles that might drop during the cooking process. However, it's very tight-fitting and can be fiddly to fix into place.
Controls & Ease of Use 9/10
Ninja, as a brand, are excellent at making complex control panels very easy to use.
The control system is comprised of four pushbuttons, one dial, and an LCD.
Ninja put their ingenious LCD on the curve of the outer shell so that it kind of faces upwards so you can view it without bending down. It's simple yet effective ideas like that which have quickly identified Ninja as one of the frontrunners of the small kitchen appliances industry.
The LCD will display a 'P' when the oven is pre-heating, 'Hot' when pre-heating is finished, and it's ready to cook, and 'Flip' when the appliance has sufficiently cooled and is ready for storage.
You'll also see an 'End' notification when your food has finished cooking.
The dial is twistable, so you can select between the following functions:
Air Crisp
Air Roast
Air Broil
Bake
Dehydrate
Keep Warm
Toast
Bagel
The options are lacking compared to other leading brands; however, all the essential functions are there.
You can switch the air fryer on and off by pressing the dial too.
If you want to change the time, temperature, the number of slices, or preferred doneness of your toast, press the appropriate push button and twist the dial to choose the setting you want.
The final two buttons are the power button (often omitted from countertop appliances) and a button for the interior light.
Performance 9/10
Before we look at the different kinds of food this Ninja Foodi SP101 can cook, it's worth mentioning how well this appliance pre-heats.
Because this oven technically has a smaller capacity than rival brands (though a larger cooking area because of the low profile design). It can get up to the optimal temperature in approximately one minute, which is a good two to three minutes faster than other models.
Frozen French Fries
Cooking frozen French fries is a breeze using the air fryer crisp control technology (whatever that is). Set the oven at 400F for 20 minutes (give them a shuffle after ten minutes) for evenly cooked, crispy fries.
Chicken Thighs
There's enough space in the SP101 for up to 9 chicken thighs. Using the default Air Roast setting, cook your chicken thighs for 25-30 minutes at 400F (though you might need to turn the temperature down depending on the size of your chicken thighs). Rotate your chicken halfway through.
Toast
While it's true that the SP101 can toast nine slices of bread at once, it is a tight squeeze, so you'll need to be careful. However, the toast it produces is excellent. This toaster oven makes darker, more evenly cooked toast in the same amount of time other models cook weak-looking toast.
The slices closest to the door will be a little lighter; however, this isn't uncommon in toaster ovens. Indeed, this is one of the best toasters on the market.
Dehydrated Apples
While a dehydrate function might seem like a waste of a feature to most people, there are undoubtedly people out there who like to dehydrate food for convenient snacks.
You can dehydrate apple slices in the Ninja SP101, and they will come out extremely crispy. However, it will take seven to eight hours to achieve these results, and truth be told, unless you get joy from dehydrating, it would be cheaper and easier to buy dehydrated apple slices.
French Toast Sticks
Using the Ninja recipe guide, you can cook these amazing cinnamon french toast sticks in 11 minutes (including the pre-heat time). The sticks come out with a wonderfully crispy crust and a soft center.
Frozen Pizza
Though the Ninja Foodi SP101 looks like it was designed with pizzas in mind, it doesn't have a dedicated pizza setting like most appliances of this type. However, cooking at 400F for 20 minutes is more than sufficient for a golden crust pizza.
Bagels
When toasting bagels, Ninja recommends placing your bread cut side up because the bottom heating element will run slightly hotter than the top element. This gives your bagel's exterior a crisp finish, while the inside will be lightly toasted and a little chewier.
Accessories 5/10
Ninja managed to get most things right with the SP101; however, while they were focused on the design, build quality, and performance of this appliance, they forgot about the accessories.
We can't remember the last time we reviewed a toaster oven with so few accessories. Ninja says this appliance comes with two accessories (an air fry basket and a 13" x 13" sheet pan), though you will get an oven rack and crumb tray with it too, which most other brands list as an accessory.
However, the wide cooking surface of this machine means it's likely that any trays, baskets, and baking pans you already own will fit inside, unlike many other models, which are designed in a way that you'll need to buy accessories directly from the manufacturer.
While not an accessory, Ninja includes a recipe guide that gives you 15 ideas for delicious meals along with the required cooking times and temperatures in an easy-to-read layout.
We still feel let down in this area, though.
If you want specialist accessories, you can buy a casserole dish or muffin tray from Ninja.
Cleaning 6/10
Cleaning the Ninja Foodi SP101 is a double-edged sword.
On the one hand, this appliance has a "removable back panel" (which is really the bottom of the oven), so you can get right into the corners and near the heating elements to give them a good clean.
Conversely, you'll have to clean this machine after almost every use. The high power output and the low profile design are a perfect storm for spreading grease, dirt, and grime all around the oven's interior.
If you're cooking food that contains a lot of fat or has oil in the recipe, expect to food lots of mess after you're finished cooking.
The oven rack is challenging to clean if you've cooked food directly on it, but the other accessories are, mercifully, dishwasher safe (assuming your dishwasher is large enough to accommodate these massive trays and baskets).
The only challenging part to clean on this oven is the little nook where the door is hinged, which is a crumb magnet and a bit of a pain to clean them up.
Ninja Foodi SP101 Air Fryer Toaster Oven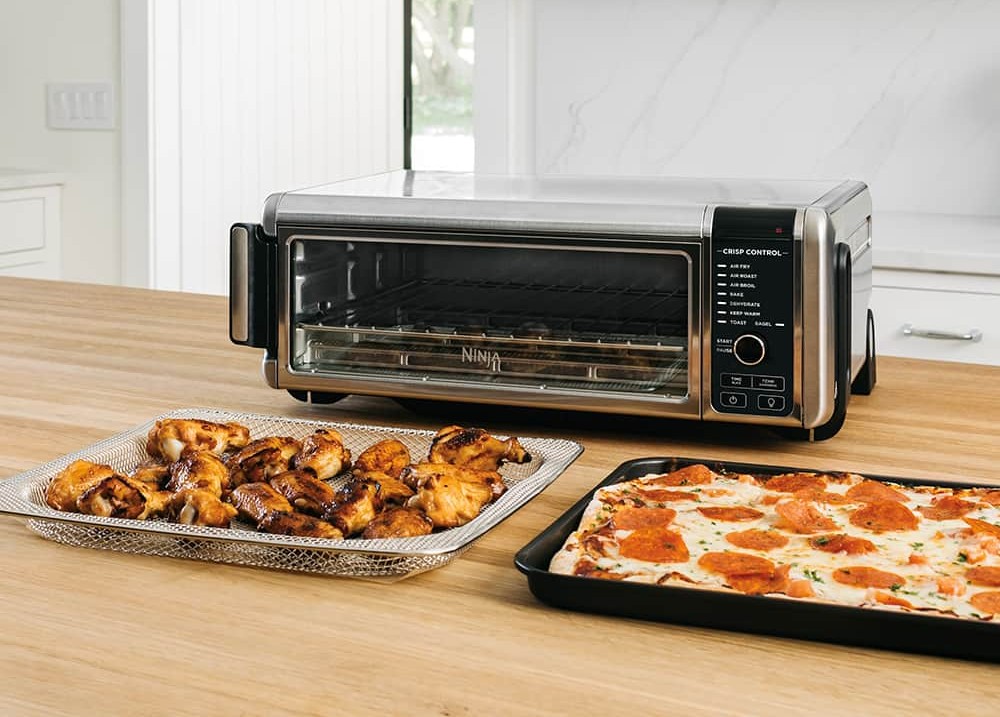 Cheaper
Panasonic FlashXpress
If you're struggling for kitchen space and the Ninja Foodi's storage system doesn't quite cut the mustard, the Panasonic FlashXpress could be just the ticket.

This compact toaster oven has ceramic heating elements that ensure there aren't many small ovens out there that cook as evenly as the FlashXpress, despite its limited capacity.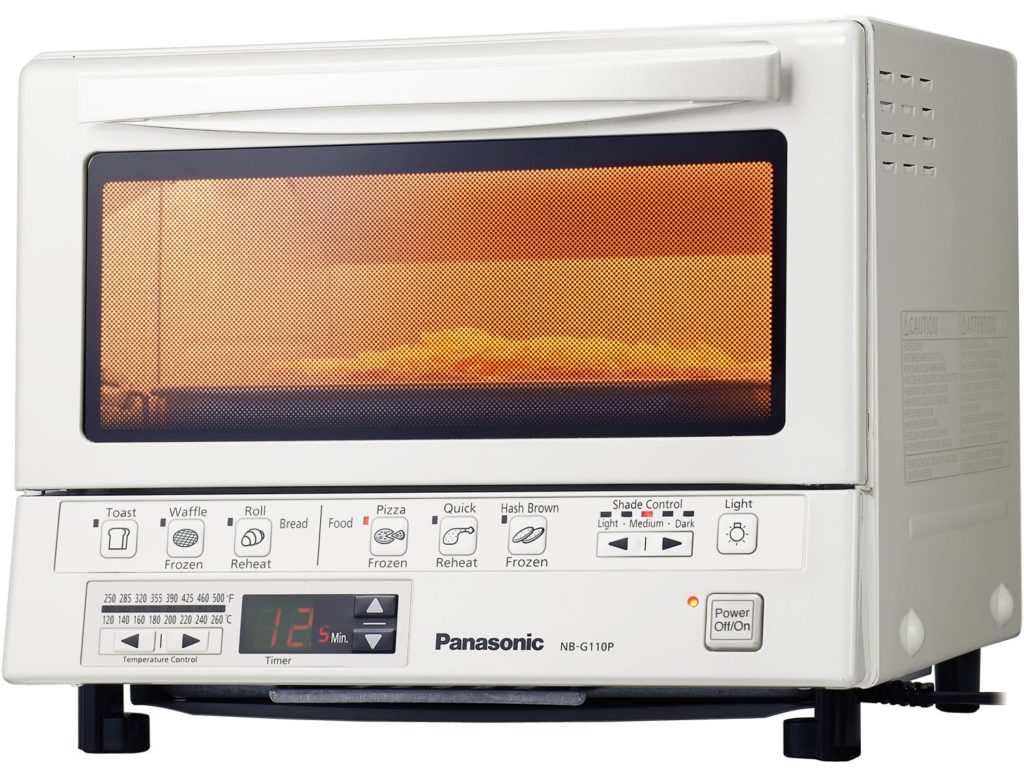 Similar price
Breville Mini Smart Oven (BOV450XL)
It's a rare thing to find a Breville appliance at a low (ish) price point, and the Mini Smart Oven is an excellent alternative if you fancy some of that Breville quality.

The BOV450XL utilizes Element IQ technology for first-class performance and has the recognizable brushed steel finish and pale blue LCD.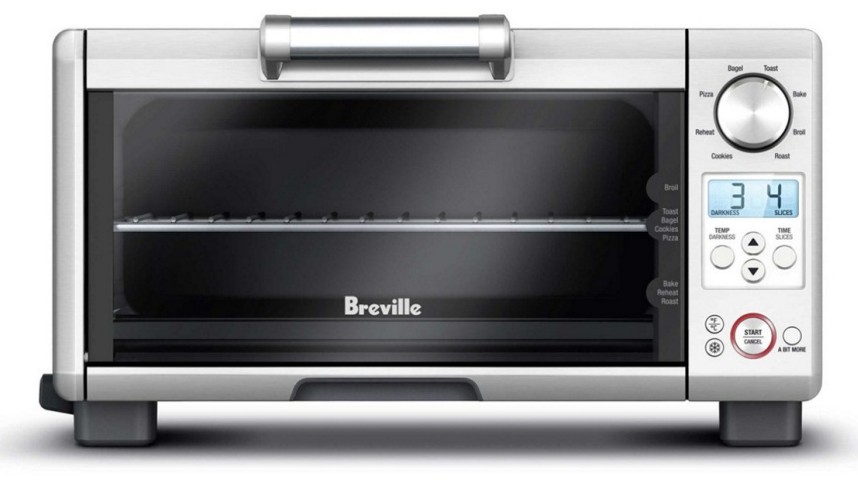 Higher price
Cuisinart Chef's Convection Oven (TOB-260N1)
Cuisinart's flagship toaster oven, the "Chef's Convection Oven TOB-260N1," It's a larger appliance than Ninja's Foodi SP101 and more suited to larger families.

Though it isn't marketed as an air fryer, this oven easily functions as one and represents excellent value for money with a massive fifteen cooking functions.