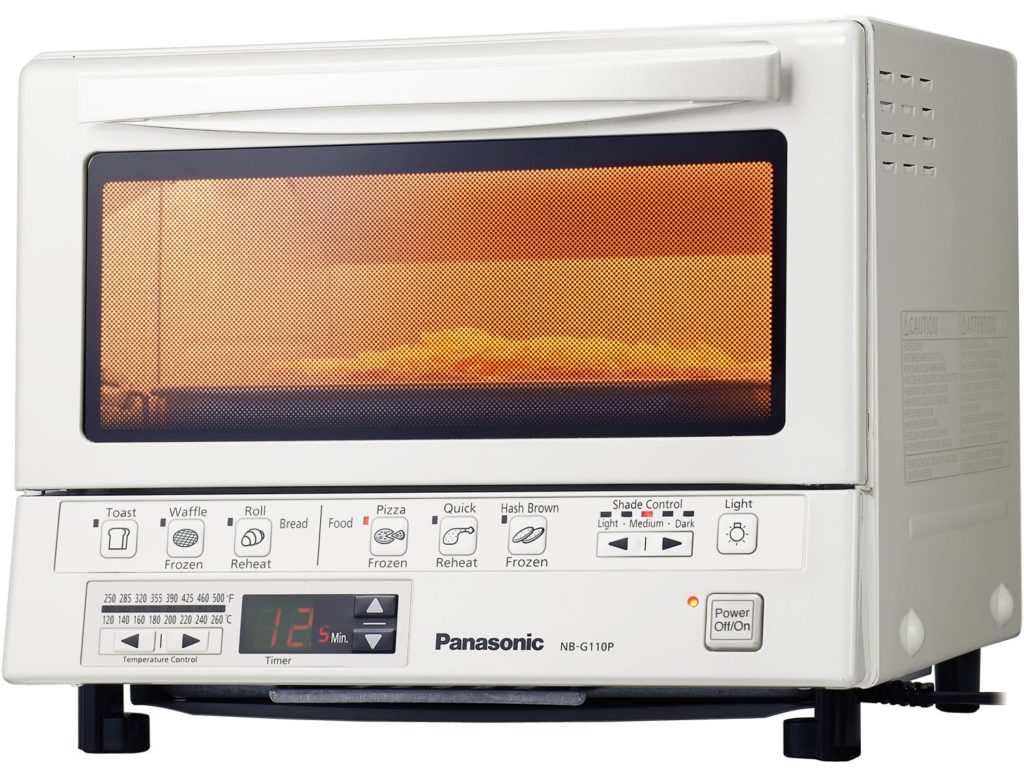 Disclaimer: I may receive commissions from purchases made via links at no cost to you
---
Quick review
Panasonic's FlashXpress compact toaster is a niche appliance that's only suitable for a very specific corner of the market. Still, if this little oven meets your needs, it's an absolutely fantastic machine.
It's true that the FlashXpress isn't particularly easy on the eye. The overall design looks like something out of the 80s, with its flimsy walls and cheap-looking exterior.
The control panel is quite effective and easy to use, yet that too looks like it comes from a time long since passed. This oven only has a small cooking capacity, one shelf rack position, and comes with bare minimum accessories, but don't judge a book by its cover.
Despite only having two ceramic infrared heating elements and a lowly 1300 watt power output, the engineers at Panasonic have this toaster oven firing on all cylinders.
It can bake, toast, and roast extremely quickly and evenly. The performance of this oven is exceptional. First, however, you need to be aware of this oven's capabilities and judge it on what it was designed to do.
Don't expect to be able to roast whole chickens, make massive batches of fries, or cook entire meals because you can't, and you're not meant to. Instead, this appliance is aimed squarely at single people who want a device to make a round of toast for breakfast, snacks or to work alongside a primary cooking appliance.
In that capacity, it's a brilliant toaster oven. But if you want something more functional and versatile, this isn't the appliance for you.
Bizarrely, there's a sizeable price difference between the different colors of this particular model. The silver option appears to be the most affordable (and the ugliest), while the white and black options increase in price drastically.
The FlashXpress has a couple of quirks that don't affect the oven's performance, but they are a little weird. For example, the interior light comes on randomly while you're cooking, the power cord sticks out of the side, and you can only cook in maximum increments of 25 minutes.
That all said, if you're looking for a compact appliance to cook small amounts of food quickly and evenly, and you don't mind an odd-looking machine, this little pocket rocket really is worthy of your consideration.
Basic Information
Dimensions: 13″ x 12″ x 10.5″
Weight: 7.5 lbs
Wattage: 1300 Watts
Control Type: Digital
Temp Range: 250 – 500°F
Pizza Size: 9″ Pizza
Toast Capacity: 4 slices of bread
Preset Count: 6
Price Range: The Panasonic FlashXpress compact toaster oven has a price point from low to mid-range, which bizarrely depends on the color you prefer. A silver version of this oven is super affordable, while the black version can cost twice as much. There's a white variation that lands somewhere in the middle.
Power: With only 1300 watts of power, the FlashXpress toaster oven is one of the lower-powered appliances on the market. However, because of its compact size, it doesn't require a massive 1800 watt power output.
Temperature Range: This compact toaster oven has a temperature range of 250F to 500F. While the lower limit is much higher than other appliances (so there's no option to 'keep warm'), the top temperature of 500F is super impressive, which many 1800 watts appliances fail to reach.
Capacity: Panasonic named the FlashXpress "Compact" for a reason. Its small cooking capacity is only large enough to accommodate four slices of bread or a 9" pizza. As a result, this kind of appliance is only suitable for single people or a couple at a push.
Warranty: This toaster oven comes with a one-year limited warranty. Some consumers have noted that Panasonic makes the customer foot the postage bill for the unit to be repaired in the event of a malfunction.
Design & Build Quality 7/10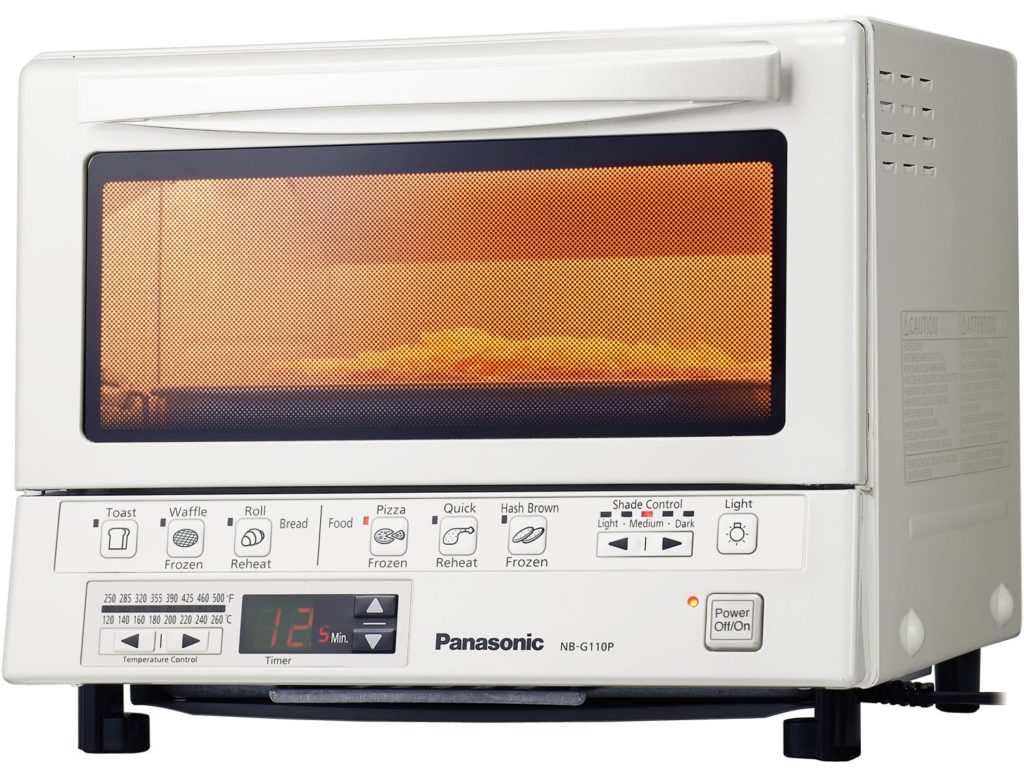 Panasonic's FlashXpress compact toaster oven isn't the most attractive appliance we've ever reviewed; in fact, it's downright ugly. Of course, it's been many years since its 2013 release, but even by those standards, this appliance looks dated. It looks very much like a 1980s VHS recorder.
That being said, there is a market for retro-style appliances, so if that's your thing, there's a chance you'll enjoy this oven's aesthetics.
The FlashXpress comes in a choice of three colors, black, white, and silver. We prefer the black model as it looks much sleeker than the other two colors. The white option is nice and the preferred choice for people who like crisp, clean-looking appliances.
There's a reason that the silver version of this oven has the lowest price point, and that's because it looks cheap. Panasonic were going for the brushed stainless steel look but fell short by quite some distance.
Panasonic fit this FlashXpress compact toaster oven with two infrared ceramic heating elements positioned at the top and one at the bottom of the interior cooking space. That might not seem like much, but it's more than enough for the small capacity of this appliance.
The door has a small viewing window so you can see inside, and when you open the appliance, the wire oven rack automatically comes with it to make it easier to get your food out of the oven and avoid any potential burns.
Infrared heating elements require no preheat as the heat is almost instantaneous, so you'll be able to start cooking way faster than you would with other appliances that don't use this feature.
There's only one rack position for your cookware inside this toaster oven, but the capacity is so small it doesn't affect how your food is cooked so much.
This toaster oven has an interior light that helps you keep an eye on your food while it cooks, and it's seriously bright, especially when you're cooking at night. Unfortunately, the interior light will also come on sporadically throughout the cooking cycle, which seems odd, but it's not too big of a deal.
For reasons unknown, Panasonic chose to put the power cord on the right-hand side of the oven, which can be inconvenient, especially if your power outlet is situated to the left of where you'd like to position your toaster oven.
Finally, a slide-out crumb tray fits neatly into the underside of the Panasonic FlashXpress to help catch any stray food particles. However, it does feel a bit flimsy.
Controls & Ease of Use 7.5/10
The control panel on the Panasonic FlashXpress is super simple to use, thanks partly because of the thought that went into the panel layout and because there aren't too many features.
While the control panel looks very dated, there's no denying its practicality. The system is comprised of 14 small buttons and a tiny LCD timer.

Six touch-button pre-programs give you a helping hand cooking some simple snacks and meals. They are:
Toast
Waffle
Roll
Pizza
Hash Browns
Quick Reheat
The hash browns, pizza, and reheat programs all have a 'frozen' option if you want to cook your food straight out of the freezer.
There are arrow selectors to set your time and temperatures and another set to choose your preferred shade of toast. In addition, you can choose between five levels of doneness ranging from light to medium to dark.
Finally, there's a power button for switching your appliance on and off and also a button to switch on the super-bright interior light.
Performance 9/10
One caveat you'll have to take into account before committing to buying a Panasonic FlashXpress toaster oven is that you can only cook in cycles of 25 minutes. This should be sufficient for most foods that you'll cook in this compact appliance, but it's something to be aware of if you want to make something that needs 30 cooking time minutes or more.
Toast & Waffles
This little toaster oven packs a punch and can toast four slices of bread and frozen waffles in around two and a half minutes making this appliance almost as effective as a dedicated toaster.
Compared with similar appliances, the FlashXpress toasts almost twice as fast thanks to the infrared heating elements.
Chicken Wings
While you might not be able to fit many chicken wings inside this compact toaster oven, there's enough room for a few wings for one person or for a snack for two. The heating elements do a decent job of making sure the chicken is thoroughly cooked and has crispy golden brown skin.
French Fries
The small cooking space inside the FlashXpress means you can't cook huge quantities of French fries, but if you want a small plate of fries, you'll be hard pushed to find crispier chips than the ones that come out of this oven. The 'Hash Browns' setting works best for fries.
Pizza
You won't be able to bake enormous pizzas in this little unit, but it can accommodate a 9" pizza, some individual slices, or a few mini pizzas.
The Panasonic FlashXpress utilizes infrared heating elements to cook pizza with a crispy base and gooey melted cheese. This oven is one of the best small kitchen appliances for reheating last night's takeout and restoring it to its former glory.
Sweet Treats
You can bake a small number of cookies, cupcakes, or croissants using the bake feature, and they'll turn out relatively well. Though you'll have to buy an appropriate tray or hope that one you already own fits as the food tray that comes with this oven is grooved and not suitable for baking cookies.
When assessing the performance of the Panasonic FlashXpress, we had to take into consideration what it was designed to cook. This isn't an appliance for cooking large meals, roasting whole chickens are baking large pizzas, but it was never intended as such.
This compact toaster oven is for people who want a small appliance for snacks, toasted goods, and assistance cooking, and its performance in that area is nearly flawless.
Accessories 5/10
Because this toaster oven is a compact appliance, it wasn't designed to accomplish an enormous amount of kitchen-related tasks. As such, the Panasonic FlashXpress comes with a minimal amount of accessories.
In fact, out of all the toaster ovens we have reviewed, this particular model has the smallest number of accessories with only a wire oven rack and an "inner tray" (baking pan).
The wire oven rack is a standard piece of kit that's no different from almost any other rack from any other model. However, the food tray doesn't have a non-stick coating, which will be a positive for some people but causes problems with staining.
We're also concerned about the quality of the pan, it stains easily and probably has a pretty short lifespan.
Cleaning 8/10
There isn't much to clean in this little toaster oven. There are only three removable parts, and the interior is small, and because of the limited functions of the FlashXpress, you're probably not going to be cooking too many foods that have the potential to create a lot of mess.
The primary use for this toaster oven will be toasting bread, waffles, and croissants, or baking pizza, all of which aren't particularly messy. On the rare occasion that you get some spillage, the crumb tray, wire rack, and interior walls all wipe clean with relative ease.
Yes, the food tray is prone to staining, but it does clean up easily. This appliance won't give you any trouble in the clean-up process.
Panasonic FlashXpress Toaster Oven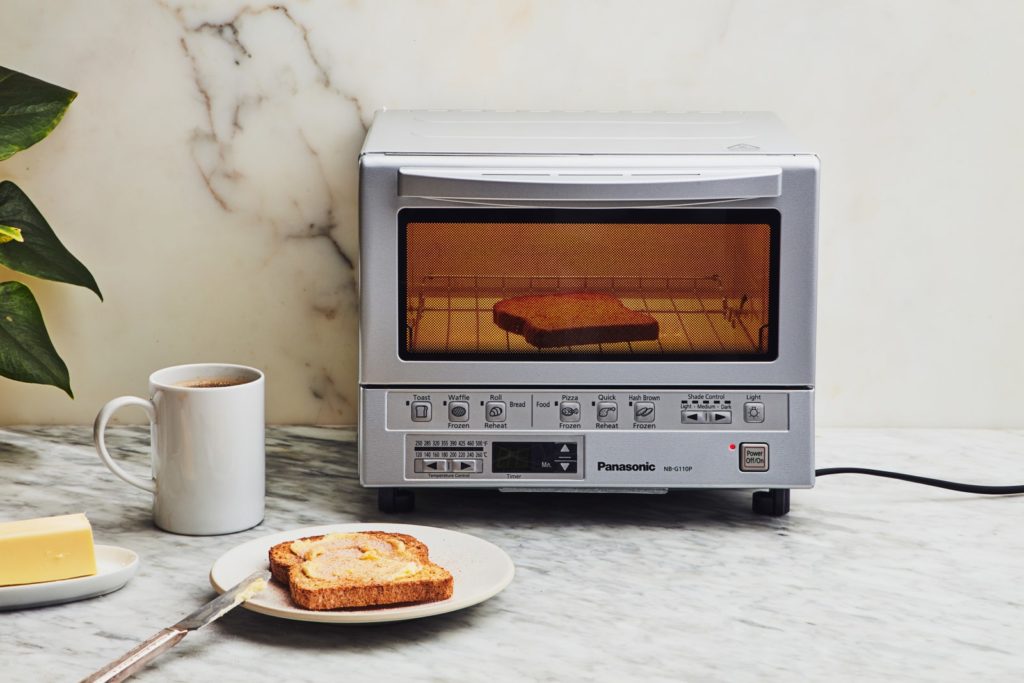 Cheaper
Comfee 4-Slice Toaster Oven CFO-BC10(SS)
Anyone looking for a compact toaster but is on a strict budget should consider the Comfee 4-slice toaster oven. This little cooker is probably the most affordable toaster oven on the market and would cost you less than most restaurants would charge you for a meal.

Yes, it's very basic and a little bland-looking but it will get the (basic) job done without taking up much kitchen space.

Similar price
Cuisinart Convection Toaster Oven (TOA-28)
Cuisinart's convection toaster is a gorgeous compact appliance with a timeless appearance. It comes with its traditional stainless steel finish along with a selection of accessories.

If you like a simple-to-use control panel then the analog dial system will be right up your street. You'll be able to cook up to 450 degrees for a maximum of 60 minutes cooking cycles.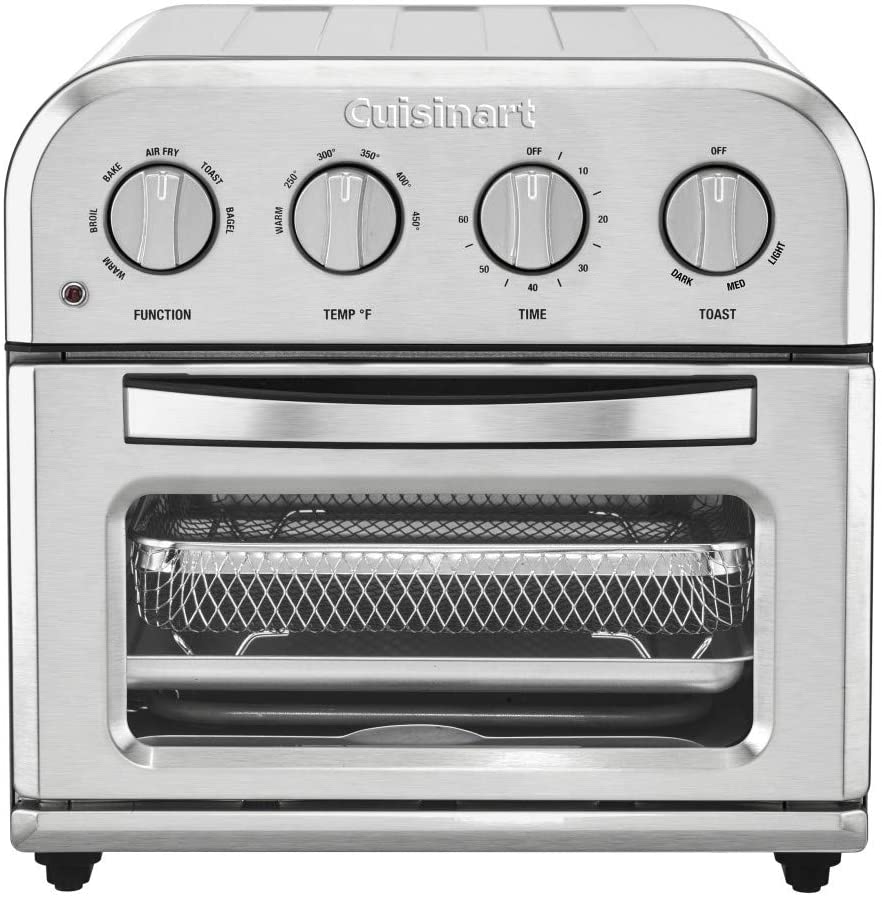 Higher price
Balmuda Steam Toaster Oven
In the Balmuda steam toaster oven, you have one of the most unique small kitchen appliances out there. This compact appliance uses steam and intense bursts of heat to cook food that's moist on the inside and crispy on the outside.

There is no other oven on the market that can make toast as good as this appliance, unfortunately, it comes with a ridiculously high price point.