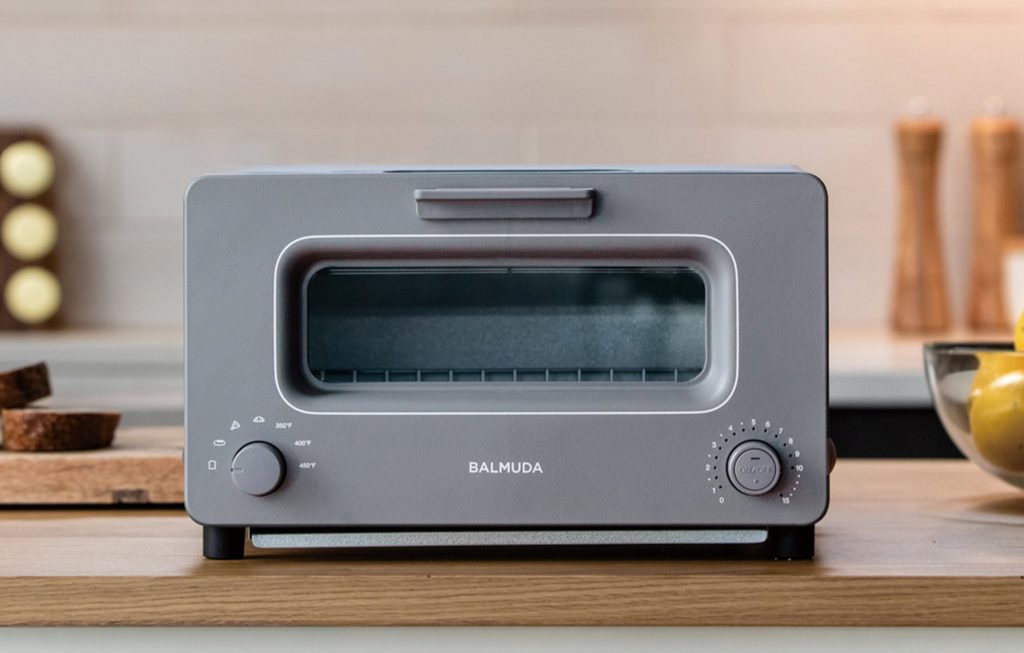 Disclaimer: I may receive commissions from purchases made via links at no cost to you
---
Quick review
The Balmuda steam toaster oven is a high-priced Japanese-designed appliance that is unique in both appearance and performance; it has a tiny footprint but a big heart.
Available in three colors, the Balmuda toaster oven is easy on the eye and incredibly well put together. However, this innovative steam oven is so small it can only hold a couple of slices of bread, a handful of cookies, or a solitary slice of pizza.
It isn't only the footprint and capacity that's on the small side either; this oven's door has a tiny viewing window and a super small handle which could be problematic for folks with small hands.
You'll find a minimalistic control panel on the oven's door with only two dials and one button to operate it. Unfortunately, the versatility of the Balmuda toaster oven is limited as it only has four cooking functions, three temperature settings, and a maximum cooking time of 15 minutes.
When you open the oven door, the rack simultaneously pulls forward smoothly; however, there's only one rack position inside with very little clearance above it. If it sounds like I'm giving the Balmuda toaster oven a hard time, it's because despite the very limiting size, features, and functionality that hamstrings this cooker, it actually performs amazingly well at the tasks it can do.
The primary function of the steam oven is to make toast, and while it doesn't cook evenly, it makes wonderful toast. Using the steam function, the oven surrounds your bread (two slices, maximum) with a mist of moisture to prevent it from drying out. When your bread is hot enough inside, the oven turns up the heat and blasts the bread to give a crunchy (if a little uneven) exterior.
All the other cooking functions use the same method, and it works the same way to revitalize other food such as stale pizza (though you can only cook one slice at a time), croissants, pastries, grilled cheese, and bagels.
However, the small capacity of this oven means you're limited to cooking breakfast for one or small snacks with your toaster, which admittedly works incredibly well. Still, there's so little versatility for such a high price point.
The accessories you get with the oven are minimal but very well made, and cleaning the oven is super easy because, well, you'll only really make bread products in this toaster oven, and there isn't very much space to clean.
The Balmuda toaster oven reminds me of fancy concept cars that you see at motor shows. They're beautiful, feature innovative technology, and work really well. However, no matter how nice they look or how well they perform, the cost of these premium products is far too high for what they can accomplish.
Is the toast from the Balmuda toaster oven better than toast from a standard toaster? Absolutely. Will you care enough about the difference in the toast to warrant such a massive price tag? We're not so sure.
The Balmuda Toaster oven is an excellent cooker for sure. Still, it's a very niche appliance that only represents good value for money for a very specific corner of the market. But unless you're a single person who eats a lot of bread and is very picky about your toast, your money will be better spent on a more functional appliance with a larger capacity for cooking.
Basic Information
Price Range: The Balmuda toaster oven has a high-end price point that makes it one of the more expensive toaster ovens on the market. Only Breville has consistently higher prices.
Power: This toaster oven has a 1300 watt power output which would usually be considered under-powered, but this appliance has a unique cooking technique; it's not a massive problem.
Temperature Range: This Balmuda oven has a temperature range of 350°F to 450°F, which is a bit limited compared to other appliances but suitable for the purposes of this appliance.
Capacity: The capacity of this steam toaster is very small and only accommodates two slices of bread. This appliance is suitable for single folks or for making snacks.
Warranty: For such an expensive appliance, the 1-year limited warranty is hugely disappointing. If your oven fails after 12 months, you'll be left severely out of pocket.
Design & Build Quality 8/10
This toaster's outward appearance of this appliance is distinctively Japanese, and we love it. Japanese culture values simplicity, and Balmuda trimmed the fat when designing this oven, giving it the bare minimum that it needs to function.
The oven comes in three sleek colors (black, grey, and white), which has a tiny bit of color on the control panel and around the window. A handy timing guide is printed on the top of the oven, so you'll never lose it.
Also on the top of the appliance is the opening for a water reservoir. Before you cook any food, you'll fill the reservoir with 5 ccs of water which you can measure out with the little cup you'll get with the oven.
The oven's door has a nice chunky feel to it, though the handle is petite. When you open the door, the rack pulls forward in a fluid motion. However, there is only one rack position inside the cooker and only a few inches of clearance to the top of the oven, making cooking any larger items impossible.
When you're using the oven, the interior light briefly illuminates every 60 seconds. We're not sure why or for what purpose, but there's something strangely calming about it. The timer, too, has a soothing sound that is different from all other toaster ovens.
Overall the Balmuda toaster oven is a beautifully made small kitchen appliance that's not only attractive to look at but also a conversational piece that everyone will want to know about.
Controls & Ease of Use 7/10
The control and ease of use section for the Balmuda toaster oven will probably be one of the shorter sections we've ever done as the control panel on this oven consists of two dials and an on/off button. And that's it.
There are only four modes on this oven, and as this appliance was designed in Japan, they have names that might seem a little odd. They are:
Sandwich Bread (Toast)
Artisan Bread
Pastry
Bread with Toppings (Pizza)
You'll use the left-hand dial to select one of the four cooking functions, or bizarrely, you can set the temperature instead. Unfortunately, you only have the option of choosing from three different temperatures 350F, 400F, and 450F, which limits this oven a lot.
The dial on the right is for setting the toasting time. The timer ranges from 1 minute to 15 minutes (in increments of one minute, except the 1-to-2 minute range, which has a thirty-second marker in between). Each minute has its own orange LED to signal where you are in the cooking process.
These short cooking cycles identify this appliance as a toaster first and any other cooking functions as secondary. There aren't many recipes outside bread-based snacks and meals that you can cook in under 15 minutes.
The on/off switch is built into the time dial.
The control system on this oven is among the most straightforward we've ever seen; however, part of the reason is that the Balumda toaster oven doesn't do very much.
Performance 7/10
The Balmuda toaster oven is unlike any other toaster on the market. Where regular toasters use dry heat to toast your bread, this appliance uses a combination of heating elements and steam to give your food a soft, chewy center before turning up the heat for a golden brown finish.
Before you cook anything, you need to put 5 ccs of water into the oven's reservoir.
Toast: Making toast is this appliance's primary function, so you'd expect it to perform well. Balmuda recommends using thick bread for toast, so there's more volume to absorb the steam.
The toaster creates a thin layer of steam that envelops the bread to create a moist and chewy center. For the last part of the cooking cycle, the oven cranks up the heat to brown off the toast's exterior.
Truth be told, this toaster doesn't cook evenly at all; one side of the bread is noticeably more brown than the other. But the taste is something to behold. This toaster makes some of the best toast you'll ever eat.
Pizza: Now, right off the bat, this oven is not large enough to cook fresh pizza. Maybe you can cook a couple of mini pizzas, but the more likely scenario is you'll warm up leftover slices from last night's take-out, and even then, it won't accommodate large portions.
However, the steam function on this toaster oven works ridiculously well at revitalizing stale pizza and restoring it to its bubbly, crispy, golden brown glory.
Cookies: Because the oven function only has three heat temperature settings, you may be limited as to what you can cook. Up to this point, everything cooked in the Balmuda has been superior to foods cooked in other appliances.
However, whether or not this oven bakes better cookies is based entirely on personal preference. A regular convection oven is more suitable for crunchy cookies, while the Balmuda makes gooey, chewy cookies.
Bagels: Though there is no bagel setting on this machine, this oven's natural inability to toast evenly works in favor when making bagels, as you're supposed to have one side of the bagel toasted more than the other.
Make sure you place the cut side up, and the Balmuda toaster oven will toast your bagel to perfection.
Grilled Cheese: The Balmuda toaster oven makes a mean grilled cheese. You can make a melt-in-your-mouth bonanza that tastes amazing using some thick crusty bread and mature cheddar cheese. You'll need to flip your sandwich halfway through, or one side will be far more toasted than the other. And you can only make one at a time.
Balmuda includes some "recipes" with your oven, but they primarily involve cooking parts of your meal in a skillet or regular oven before putting the ingredients on some bread and toasting it for a little while in the Balmuda.
It feels like the brand is trying to convince people that the steam oven is more practical than it actually is.
The performance of the Balmuda steam toaster oven is exceptional at what they designed it to do. Unfortunately, it can't do very much.
Accessories 7/10
You only get three accessories with the Balmuda Steam Toaster Oven, which, considering the price point, is a huge letdown. That said, this tiny appliance has limited functionality, so there isn't much you can do with it.
However, the few accessories you do get are of excellent quality. You'll get a wire oven rack, a chunky baking pan, and a 5cc cup for filling the water reservoir.
Cleaning 9/10
Cleaning your Balmuda toaster oven is super simple because there isn't much to clean, and there isn't much room inside the oven to cook massive amounts of food.
The removable crumb tray at the bottom slides out and wipes clean with little effort, while the wire oven rack comes out and is dishwasher safe. Because this appliance is primarily a bread-based cooker, you'll be cleaning up crumbs most of the time.
You might cook a couple of slices of pizza or some bacon from time to time, but the reality is, this toaster is not versatile enough to get itself messy.
Overall, the Balmuda Steam Toaster Oven is effortless to clean.
Belmuda Steam Toaster Oven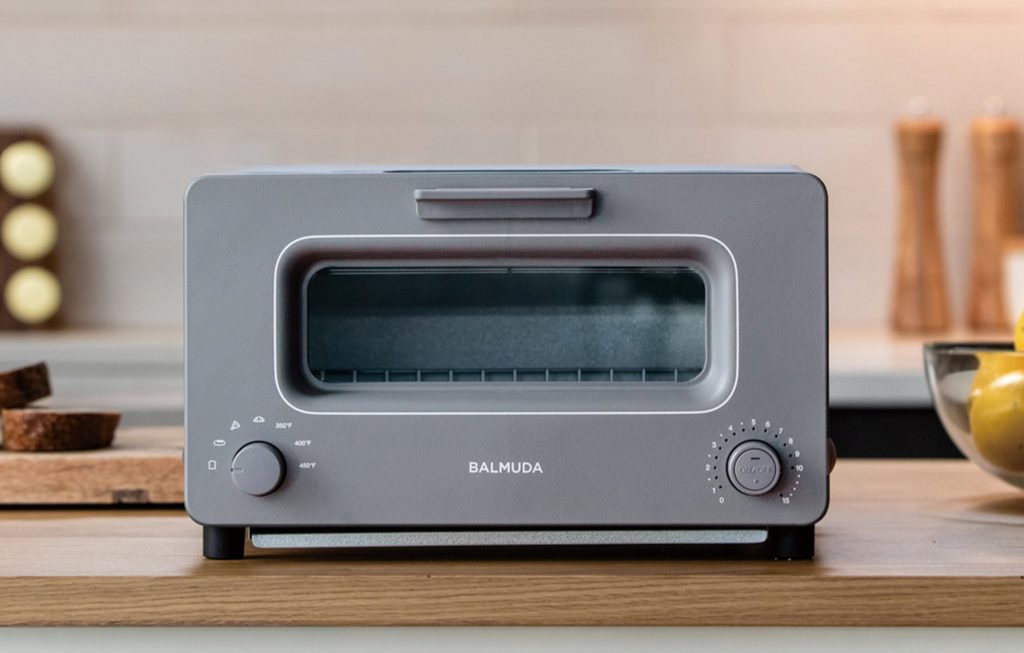 Cheaper
Panasonic FlashXpress
If you need a small toaster oven but don't have the massive funds required for the Balmuda steam oven, consider the Panasonic FlashXpress.

It doesn't have the same amazing steam abilities, the FlashXpress does have ceramic heating elements that deliver a level of performance that betrays its affordable price point.

Less cheaper
Breville BOV450XL Mini Smart Oven
We usually have a selection of differently priced alternatives, but the Balmuda steam toaster oven is so expensive that we can't find any feasible similarly priced or more expensive alternatives.

However, a mid-priced compact alternative to the Balmuda steam oven is the Breville Mini Smart Oven that oozes quality. The Element IQ system and PID temperature control combine perfectly with the 8 cooking functions for an affordable Breville experience.