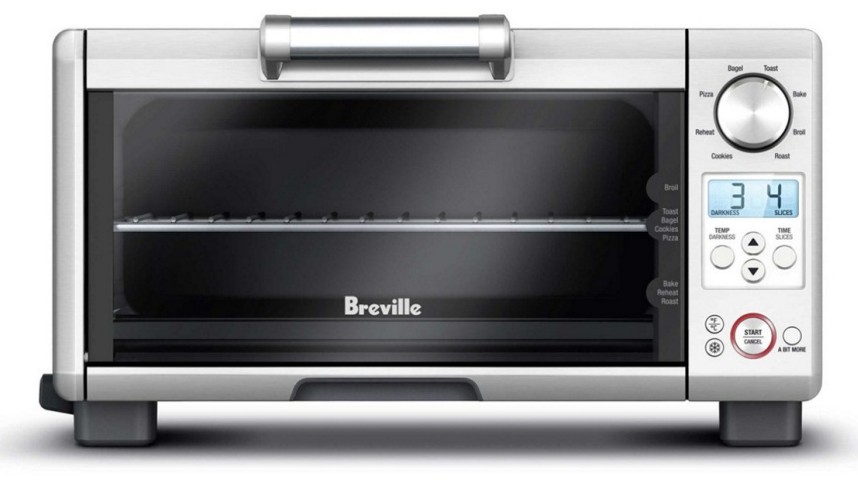 Disclaimer: I may receive commissions from purchases made via links at no cost to you
---
Quick review
The Breville BOV450XL is the brand's smallest and most affordable toaster oven. We think it's the best budget toaster oven Breville has to offer.
With this particular model, Breville has abandoned their usual modus operandi of producing the biggest, best, and most expensive appliances to bring a more affordable toaster oven to the market (though it's still relatively pricey compared to similar-sized rival brands).
However, because the brand didn't want to reduce the quality of their machines, they had to make reductions in other areas to make it cost-effective.
The Breville BOV450XL Mini Toaster Oven has a small footprint and even smaller internal capacity. If you want an oven to cater to more than two people, this appliance is not for you.
It's still a very useful cooker, and though there are only eight preprogrammed settings (their other toaster ovens have up to 13 functions), Breville ensured the most essential features remained.
Breville didn't make any cuts in the power output, though, with the BOV450XL sporting 1800 watts of power. Even the most sizable unit rarely exceeds that amount of juice. It's almost unheard of in compact appliances such as this.
The small cooking space and enormous power output work in tandem with Breville's "Element IQ technology" to make sure this toaster oven delivers perfectly cooked meats, evenly toasted bread, and golden brown pizzas every single time.
Breville made an almost total cut to the accessories they supply with the BOV450XL; you'll only get a small baking pan and a wire oven rack to cook with. Make sure any third-party additions you buy to go with this oven fit in the tiny cooking space.
Keeping your Breville Mini toaster oven clean is relatively simple, and even though the brand recommends only hand-washing the removable parts, they are safe to put in a dishwasher. However, we're unsure how long it will be before this process would negatively affect these components.
If the compact nature of the BOV450XL suits your needs and the price point is within your budget, this little toaster oven is a worthy choice to complement your kitchen.
Basic Information
Dimensions: 117.7″ x 12.9″ x 10.5″
Weight: 13.35 lbs
Wattage: 1800 Watts
Control Type: Digital
Temp Range: 120 – 450°F
Capacity: 12 Quarts (11.3 Liters)
Pizza Size: 11″ Pizza
Toast Capacity: 4 slices of bread
Preset Count: 8
Price Range: It's rare that Breville ventures into the low-to-mid-range price points with their appliances, but the BOV450XL Mini toaster oven is their most affordable toaster oven to date.
Power: All Breville's toaster ovens seemingly come with the same 1800 watts of power. This is a mighty powerful appliance when you consider its tiny capacity.
Temperature Range: 120°F to 450°F. Despite having the same 1800 watt power output as its big brothers and sisters, the BOV450XL can't reach 500°F due, in part, to its lack of convection capabilities.
You can alter the temperature in increments of ten degrees Fahrenheit or five degrees Celsius.
Capacity: With an internal capacity of 10.25 x 10 x 4 inches, this little oven can make four slices of toast, a couple of bagels, or an 11-inch pizza. This appliance is more suited to people flying solo or couples.
Design & Build Quality 8/10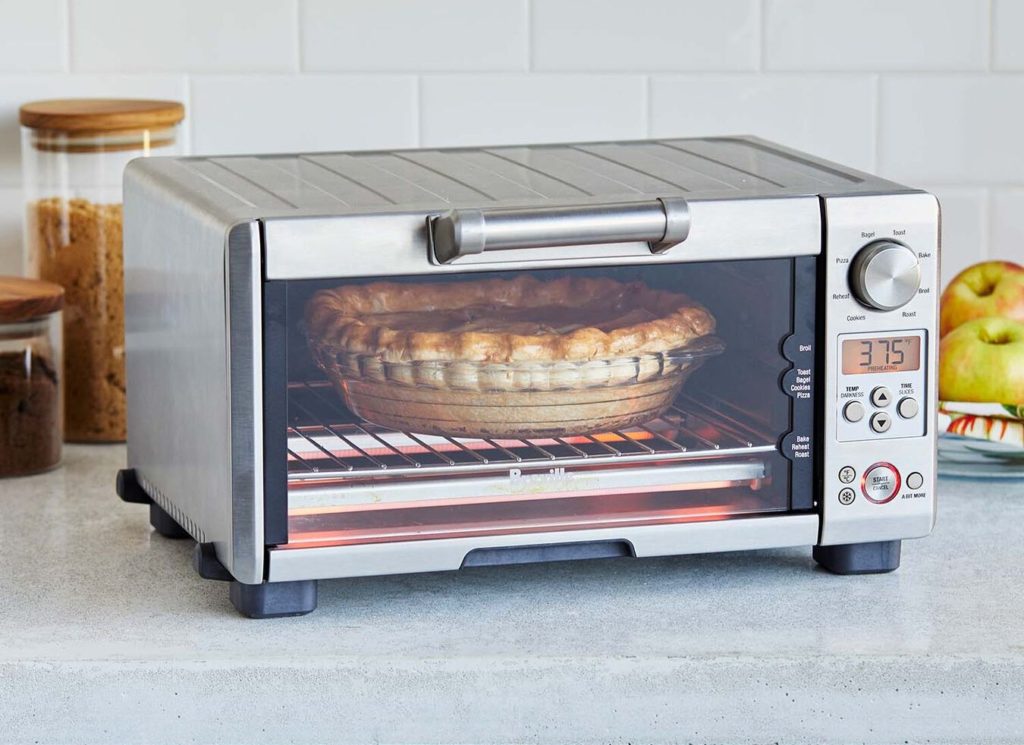 Breville designed the BOV450XL with compactness in mind. Weighing in at a little over 15lbs, you can move this toaster oven around your kitchen with relative ease. It's certainly easier to move than most other models.
Though this Mini toaster oven is extremely similar to the BOV650XL in terms of functions, components, and power, we feel Breville did a much better job in terms of appearance.
The outer casing is made from high-quality brushed stainless steel and some plastic, while the door is pretty sizable for such a tiny appliance giving good access to the oven's interior. The door is frameless to improve visibility, which is just as well as there is no interior light in this oven.
There's a chunky handle fixed to the top of the door, though, unlike most other appliances, it doesn't stretch the entire width of the door. This could prove to be problematic for people with large hands.
As with all of their toaster ovens, Breville recommends a four-inch gap between your walls and cupboards for better ventilation.
Four large rubber-bottomed feet raise the unit away from your countertop so air can circulate underneath to help keep the appliance cool.
There are also two buffers around the back of the machine to prevent the oven from touching the wall. This doubles as power cord storage. Though if your power outlet is behind where you intend to position your oven, you won't need the buffers as a poorly designed plug sticks out so much it'll automatically enforce almost four inches of space.
Inside this Breville Mini toaster oven, you'll find a non-stick coating on the walls to make the clean-up process less frustrating and three rack positions useable with various cooking functions. Breville notes the best combination of rack positions and functions on the appliance's door, which is very handy.
Unfortunately, there is no auto-eject feature for the rack, making it difficult to remove when it's hot, and you'll have to be doubly careful when pulling the rack out as there isn't a safety catch to stop it from sliding all the way out either.
Four quartz heating elements are the beating heart of the BOV450XL toaster oven and provide dynamic heat for even temperatures throughout.
Controls & Ease of Use 8/10
If you're looking for a small kitchen appliance that's easy to use, the BOV450XL could be right up your street.
The control system consists of one selector dial and eight buttons.
Select one of the eight functions you want to use with the dial which clicks between options, and the machine will automatically set the time and temperature. While the dial is easy to use, the text is tiny, proving troublesome to folks with poor eyesight.
Those options are:
Bagel
Toast
Pizza
Bake
Broil
Roast
Cookies
Reheat
The CPU inside the BOV450XL will remember all your previously used settings. Any times or temperatures you're unhappy with will need to be altered. Alternatively, unplugging the unit will restore the original factory settings.
Despite being relatively small, the recognizable pale blue Breville LCD (that turns orange when you're cooking) has large text, which is a lot easier to read than the selector dial. This is accompanied by four small buttons used to adjust time, temperature, toast darkness, and the number of slices you intend to cook.
Four operational buttons located at the bottom of the panel round out the control system. The "Start/Cancel" button is self-explanatory.
There's a button with a snowflake icon that switches between cooking cycles for frozen and non-frozen foods and a different button for choosing whether your toaster oven operates using Celcius or Farenheight.
The final button is labeled "A Bit More". This feature adds extra time to your cooking cycle if you think your food isn't quite ready. The amount of time this feature adds depends on what function you're using.
While the control panel is technically laid out in chronological order of use (select function, times, and temperatures, then start), it's odd to see an LCD positioned in the center of the control panel. However, it does make this toaster more distinctive from other similar models.
There is no on/off button on this machine; it will auto shut off after approximately five minutes of inactivity.
Performance 8/10
The BOV450XL Mini Toaster Oven is one of several Breville appliances that feature their patented "Element IQ" technology. Sensors recognize disparities in the internal temperature and rectify the difference by supplying/removing more/less to heat to the nearest heating element for even temperatures throughout.
Though there is no convection setting in this oven, it still performs relatively well without it. Below are just a few of the foods you can cook using the BOV450XL.
Toast & Waffles
If you love toast for breakfast, you'll appreciate the toasting capabilities of this Breville appliance. The 1800 watt power output and Element IQ technology team up to make perfectly toasted bread, pittas, and waffles every time.
Bread
If you want to bake your own bread, you'll be able to bake small loaves suitable for a couple of people. However, unlike the more expensive Breville models, there is not proofing function on this particular toaster oven.
Roast Vegetables
If you have a spare ten minutes and want to whip up some delicious and healthy roasted vegetables, the BOV450XL is the perfect appliance for the job.
Sweet potatoes, carrots, broccoli, onions, asparagus, or roast potatoes will all come out crispy golden brown with fluffy and tender insides. Excellent to accompany a Sunday roast dinner.
Chicken
While you won't be able to cook a whole chicken inside this relatively small toaster oven, wings and chicken breast won't be a problem.
Sure, they'll take longer to cook because there is no convection setting, but if you don't mind the wait, we're sure you'll be pleasantly surprised with the results.
Steak
Despite being limited to a maximum temperature of 450F, this Breville toaster oven's broiling setting works surprisingly well on steak.
Maybe, it's the proximity of the top rack position to the heating elements or that the reduced cooking capacity is more suited to broiling. We're not sure, but cooking medium-rare steaks with a tantalizingly browned exterior is super easy in this toaster oven.
Pizza
While this oven can hold up to an 11" pizza, the BOV450XL mini toaster oven is more suited to mini pizzas or a few individual slices. The pizza function is set to 11 minutes at 425 degrees and has a 5 minute pre-heat time. It might be a good idea to lower the oven temperature slightly when cooking mini pizzas or slices to get that golden brown top with a crispy crust.
The pizza setting on this toaster will automatically assume you're cooking a frozen pizza and adjust the time and temperature accordingly. If you're cooking a fresh pizza, you'll need to hit the snowflake button to switch off the frozen setting.
The only downsides to the performance of the BOV450XL don't actually affect the food you cook. The unit is poorly insulated, so the top gets extremely hot. Breville says you can use it as a warming plate, but we think that's just a workaround for an existing problem.
The second issue is the volume of the notification beep, which is too quiet. Customers often complain about obnoxiously loud beeps on kitchen appliances; it seems Breville went too far the other way.
Accessories 6/10
If you were hoping that Breville would provide you with some added extras to help you create some culinary masterpieces, you would be sorely disappointed.
The only accessories that come with the BOV450XL are a 10" x 10" enamel baking pan, the wire oven rack (which isn't so much an accessory as it is an essential component needed to use the toaster oven), and a slide-out crumb tray.
There's nothing special about the baking pan, it's a relatively standard piece of cookware, but the crumb tray is very effective in catching every crumb and particle that drops down.
Overall, there's a disappointing amount of extras with this toaster oven, but it's not surprising considering the relatively low price point for a Breville machine.
Cleaning 9/10
It's extremely rare to get people on the internet to agree on, well, anything. However, consumers are almost unanimous in the opinion that the BOV450XL is super easy to clean.
The non-stick cavity coating is highly effective, though it's at its most effective when you clean your oven as soon as possible after cooking (taking great care to let it cool sufficiently, so you don't burn yourself).
You can't use abrasive chemicals or sponges to clean it, or you'll damage the non-stick coating, so it's just as well that the oven is easy to clean.
In the support section of Breville's website, the brand states that the rack and baking are dishwasher safe, yet they recommend washing them by hand. This makes us suspicious that while the accessories might initially be dishwasher safe, continuously cleaning them in this manner will be detrimental to their longevity.
Breville BOV450XL Toaster Oven
Cheaper
Panasonic FlashXpress
This tiny toaster oven is one of the most underrated small appliances on the market. It's often overlooked because it's not very pretty, and the wattage is on the low side.

However, the superb performance of the FlashXpress comes thanks in part to the ceramic heating elements that ensure even heating throughout.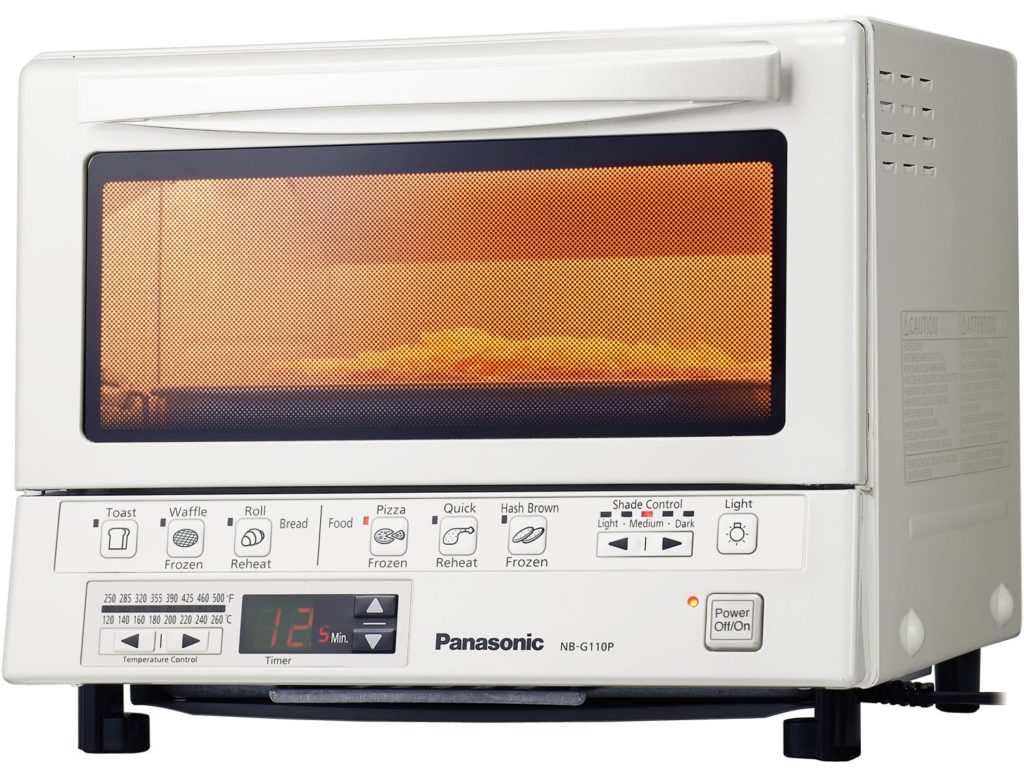 Similar price
Ninja Foodi SP101
The smaller of the two Ninja toaster ovens are still relatively roomy inside, and while it's larger than the Breville Mini Smart Oven, a handy storage feature will save space in your kitchen.

This Ninja oven is a bonafide rival to Breville products in terms of performance and aesthetics.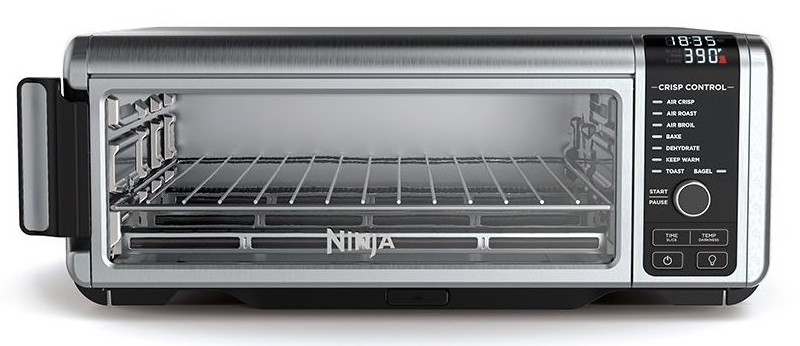 Higher price
Breville Smart Oven (BOV800XL)
If you must have a Breville appliance and have a little extra cash, the BOV800XL is one of the best models to come from the Breville stable.

Sure it's more pricey than its little brother, but it has more features, a larger cooking capacity, and is much more attractive than the BOV450XL.