The Breville brand name is synonymous with both premium quality and enormous price points.
Their high-end products command their hefty price tags through build quality, gorgeous aesthetics, and first-class performance (though they have notoriously poor customer service).
One of their most popular lines is their range of toaster ovens, all of which come equipped with high power outputs and Element IQ technology. These features make sure that you won't be disappointed with how your Breville oven performs.
Each oven has the same basic operations, such as toast, bake, roast, and pizza. However, you'll find different features on each model that differentiates one from another.
The most popular Breville toaster ovens come with air frying capabilities, super convection settings, and a decent selection of accessories (though the more affordable Breville units are disappointing in this area).
Breville toaster ovens are some of the most expensive small kitchen appliances on the market outside of commercial-grade machines.
Disclaimer: I may receive commissions from purchases made via links at no cost to you
1. Breville Smart Oven (BOV800XL)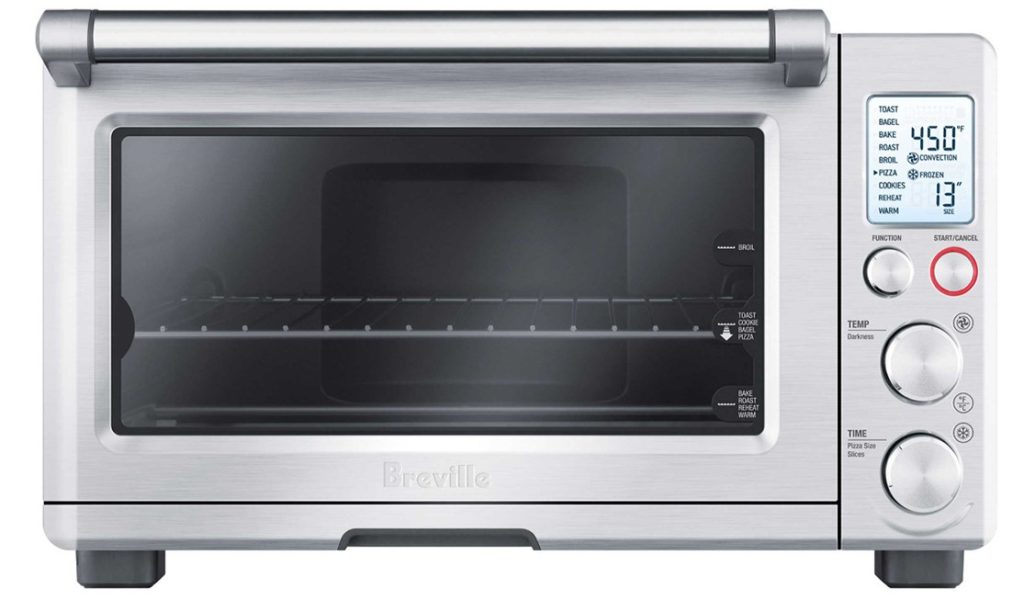 ---
The Breville Smart Oven BOV800XL is one of the best toaster ovens to come out of the Breville stable because it bridges its own gap between cost, performance, and functionality.
While there are a couple of Breville appliances that have more functions and features than this one does, they're generally far more expensive. The features are valuable additions, but not everyone will be looking to utilize them. If you have no use for an air fryer or slow cooker, the BOV800XL represents far better value for money than the more extensive models.
This gorgeous toaster oven has a decent-sized internal capacity with a mid-to-high price point that can accommodate a 13″ pizza, six slices of bread, or a medium-sized chicken. This appliance is an excellent choice as a primary cooking appliance for a single person or couple or as a secondary oven to work alongside your regular cooker or range.
Breville equips most, if not all, of their toaster ovens with 1800 watts of power, placing them among the most powerful toaster ovens on the market. This immense power working in tandem with Element IQ technology gives the BOV800XL the ability to cook quickly and evenly, though its maximum temperature tops out at a disappointing 450F.
While most Breville appliances are stunning to look at, this particular model is a step above the rest. The sleek curves, crisp lines, and excellent control panel make for a beautiful appearance. This toaster oven is more than just a pretty face, though, and with nine cooking functions (all the main ones), you'll be able to cook all your family favorites in no time.
The disappointing thing about the Breville BOV800XL is the accessories. While they aren't the worst selection of accessories in the world, Breville could have done a better job with the quality, particularly the pizza tray, which will only last 6 to 12 months before it needs replacing.
Best Air Fryer Toaster Oven
2. Breville Smart Oven Air Fryer Pro (BOV900BSSUSC)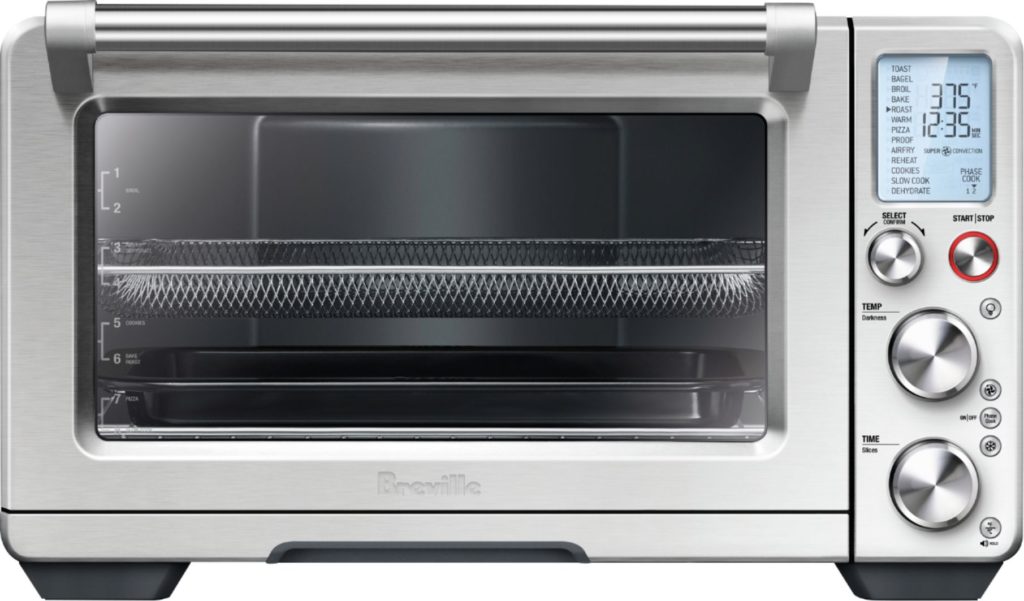 ---
One of Breville's most expensive appliances in the toaster oven genre is their Smart Oven Air Fryer Pro (BOV900BSSUSC) which will set you back many hundreds of dollars.
Breville's justification for that massive price point is the oven's all-encompassing skill set, covering almost every cooking style imaginable. The crowning achievement of the Smart Oven Air Fryer Pro is, unsurprisingly, its air frying capabilities which can air fry chicken wings, french fries, cakes, mozzarella sticks, or potato chips to perfection.
This striking toaster oven comes with thirteen useful functions (Toast, Bagel, Broil, Bake, Roast, Warm, Pizza, Proof, Air Fry, Reheat, Cookies, Dehydrate, Slow Cook) to cook things from broiled steak to pizza, to a Sunday roast. You can even proof your bread dough in this multifunctional machine.
Using Element IQ Technology, six independent heating elements, and a two-speed super convection fan, this Breville toaster oven heats up remarkably fast and evenly and boasts a temperature of 80F to 480F (though the upper limit disappointingly doesn't reach 500F).
While the Breville Smart Oven Air Fryer Pro has an enormous footprint and will take up an excessive amount of space on your countertop, its internal capacity is so vast that you can toast nine slices of bread, roast a 14lb turkey, or bake a 13" pizza. This appliance can not only replace your standard primary cooking appliance; it can get rid of your air fryer, slow cooker, and toaster too.
This toaster oven is the ultimate space saver.
The range of accessories that comes with this oven is decent too. You'll get a 13" pizza pan, two stainless steel oven racks, a broiling rack, an enamel roasting pan, and air frying/dehydrating basket, and a removable crumb tray.
If we had to be super critical of the Smart Oven Air Fryer Pro, we say it would have been beneficial if Breville had included a recipe guide you give some simple suggestions of what to cook with the vast amount of functions. It's also tricky to clean and loud when operating in air frying or super convection mode.
Of course, the biggest downside of this appliance is that it's expensive, it's really expensive.
3. Breville Mini Smart Oven (BOV450XL)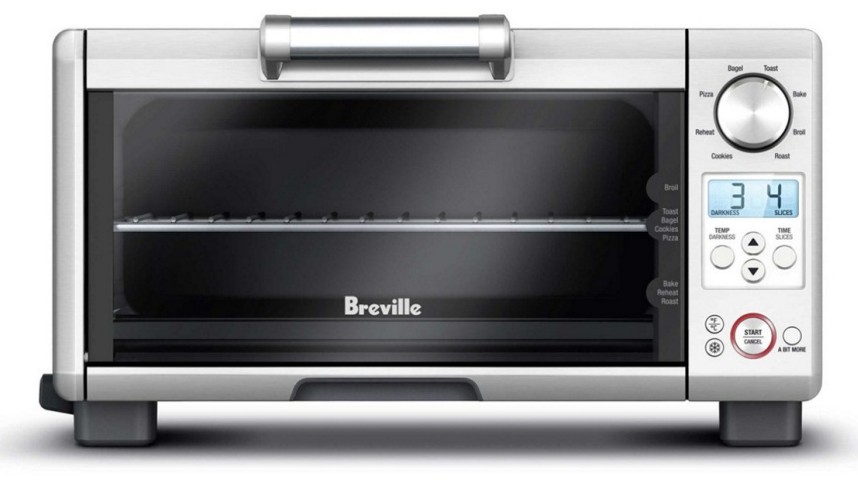 ---
As a general rule of thumb, Breville doesn't do "affordable" appliances, not in the way that most people would consider value for money at least.
And while the Breville Mini Smart Oven (BOV450XL) doesn't fall within the usual realms of being a "budget" appliance, it's easily one of the most affordable Breville toaster ovens available.
Of course, the significantly reduced price point of this toaster oven (compared to its brothers and sisters) comes at a cost, the most obvious of which is implied by the oven's name; The Mini.
With the ability to toast only four slices of bread, a couple of bagels, or bake an 11" inch pizza (and who wants an 11" pizza?), the Breville Mini Smart Oven is only suitable for single people or to be used as an accessory appliance alongside a traditional range.
The oven's size isn't the only limitation; there's no convection setting, so it doesn't cook as quickly as other appliances that do, and despite the extremely powerful 1800 watts of power (which is astronomical for an oven of this size), the temperature range is pretty poor.
With the negatives out of the way, what does the Mini Smart Oven do well?
It looks great; it has a tiny footprint perfect for people with limited kitchen space. It has a "bit more" button, which is usually reserved for dedicated toasters, but most importantly, it performs brilliantly.
Yes, it only has a small number of functions, but it has all the essential features you'd want from a small toaster oven, and it performs the basics to an excellent standard. The Breville Smart Oven Mini (BOV450XL) is a superb choice for people flying solo or those on a limited budget.
Breville Model Comparisons
BOV900 vs BOV860
If having air frying capabilities on your toaster oven is an absolute must, the Breville BOV900 or the BOV860 are your best choices.
While both these appliances have an air fryer function and a whopping 1800 watts of power, there are subtle differences (and one not so subtle difference) that will affect which toaster oven you choose.
We'd be remiss if we didn't start with the most obvious difference; the price point. While the BOV860 could be considered relatively high priced compared to other leading brands, it's almost twice as affordable as the BOV900. Of course, there are far more benefits to be gotten from the larger machine (which we'll get to), but if your budget limits you, the choice is clear.
For your extra cash, the BOV900 will give you a vastly superior capacity (Breville reckon you can cook for up to 14 people with the BOV900), two additional functions (dehydrate and proof), and a lower temperature range. Oddly the BOV860 can reach 500F while the big brother can only muster up 480F.
One significant advantage the cheaper model has over its expensive big brother is a choice of colors so that you can match appliances to your kitchen's decor.
CTOA-130PC1 vs TOA-65
At first glance, you might think there is absolutely no difference aesthetically between these two Cuisinart models. Indeed, it takes a keen eye to notice the subtle changes the brand has made.
The only visible difference between these cookers is the door handle, with the CTOA model having a rounded handle fitted and the TOA-65 has a more angular handle. Despite having the exact same cooking capacity, the CTOA has marginally smaller dimensions yet, conversely, is a little bit heavier.
Looking at the features and accessories, you'll notice they're all the same. Power, capacity, warranty are all the same too, so what's the difference?
Well, the CTOA-130PC1 is only available at Costco (at a significantly reduced price point). That's it. Nothing else. They are essentially the same model. So if you're thinking of getting a TOA-65, check Costco for the CTOA-130PC1 first to save yourself some money.
BOV800XL vs BOV845
While Breville's BOV800XL is widely considered one of the best "bang for your buck" toaster ovens from this premium brand, their BOV845 is marginally more functional.
Both these Breville toaster ovens are incredibly similar; at first glance, they're almost identical. Their external appearance is virtually twin-like, with only an extra push button on the BOV845 to separate them visually.
Inside the oven is more of the same. Both are equipped with 1800 watts of power, and both have the same capacity to hold a 13" pizza or six slices of bread.
Even the accessories that come with these ovens are identical in that they're not very good and prone to warping.
The main difference between the two is that the BOV845 has a "slow cook" function and an interior light. If these features are essential to you, it's your decision whether they're worth the relatively significant price increase.
BOV650XL vs BOV450XL
The BOV650XL and the BOV450XL are two of Breville's most affordable toaster ovens. Though by other brand's standards, they're still relatively expensive.
Because these appliances are affordable options, they're stripped back and have only the bare minimum features, functions, and accessories.
While the BOV450XL is the smaller and more affordable option, they both have exactly the same features and the same power levels. The performance of each machine is identical too.
So why buy the more expensive BOV650XL? Well, it has a marginally larger cooking space and comes with an extra broiling pan.
In our opinion, the BOV450XL is the more attractive of the two toaster ovens.
Frequently Asked Questions
While some of the questions you might have are model-specific, below are some answers to general questions you might have about Breville toaster ovens.
How Do You Use a Breville Toaster Oven?
Breville countertop toaster ovens aren't massively different from standard ovens you might find in any modern kitchen.
Unlike older ovens, Breville appliances come equipped with digital control systems that make selecting and using the cornucopia of functions as straightforward as possible. In most cases, the ovens will hold your hand and walk you through the setup process.
Of course, the volumes of food you can cook in Breville toaster ovens is much smaller than in a traditional range. Even Breville's largest appliance won't hold as much food, but they weren't designed to.
It's generally accepted that using a toaster oven is more suited to cooking smaller amounts of food for fewer people or as an accessory appliance for your primary cooker or range.
Breville toasters ovens (mostly) come with automatic preheating (when it's needed), auto-keep warm when your food has finished cooking, and "Element IQ technology" that auto-regulates the internal temperature when discrepancies occur.
While Breville appliances come with some accessories, they're not the most excellent quality, so finding good quality cookware that fits inside would be beneficial in the long run.
What Can You Cook In a Breville Toaster Oven?
An easier question to answer would be, "what can't you cook in a Breville toaster oven?".
These multifunctional appliances are purpose-built to undertake almost any kitchen task to an adequate standard.
All the toaster ovens can toast (surprise surprise) things like bread, waffles, or bagels. They can roast whole cuts of meat, poultry, or vegetables and bake cakes or sweet treats.
The more expensive Breville models may come with air frying capabilities so that you can air fry chicken wings, French fries, or burgers. And some toaster ovens have a temperature range that uses low heats to slow cook casseroles and stews or extreme temperatures to broil steak or brown the top of cheese-based dishes.
How Do You Clean a Breville Toaster Oven?
It's no secret that Breville products are not only among the best that money can buy, but they're also the most expensive, too, so you'd hope that the brand pulled out all the stops to make sure their ovens are super easy to clean.
Breville did their best to make the selection of accessories that come with their ovens easy to clean by coating them with non-stick and making them all safe.
Of course, not everybody has access to a dishwasher and will have to wash them by hand. The non-stick coating does a decent job of reducing the difficulty of removing the grease and grime, which is just as well Breville advises against using abrasive cleaning utensils and harsh chemicals in the cleaning process.
In general, Breville's toaster ovens have a non-stick coating inside too, which wipes clean with relatively little effort. However, the models with air frying capabilities tend to create a lot more mess because of their high-powered super convection fans.
It's not uncommon for the area around the heating elements to be challenging to clean, though that isn't a problem synonymous with Breville.
How Do Breville Toaster Ovens Compare to Other Brands?
There are many different brands and models of toaster ovens available to buy, so how do Breville's products compare to their rival's appliances?
Vs Cuisinart
If you're looking for a more affordable alternative to Breville's high-end premium appliances, then Cuisinart arts offering could be just what you're looking for.
Cuisinart has clearly taken inspiration from Breville's product as their ovens sport similar stainless steel exteriors and nice-looking LCDs. Even though Breville appliances are marginally more attractive, Cuisinart art ovens are stunning to looking at.
Sure, the performance from Cuisinart appliances is not comparable to the Breville ovens, but when you consider the drastically reduced price point you'll be paying, it softens the blow somewhat.
Cuisinart's Chef's Convection oven is the closest model in terms of quality and functionality to any Breville appliance.
Vs Ninja
Ninja are relatively new to the small kitchen appliances market compared to Breville, who have been in the industry for decades.
But that hasn't stopped them from making waves in the market.
Ninja have quickly reduced the distance between price point and quality, bridging the gap that was once thought insurmountable. While the toaster oven doesn't perform as well as those from Breville, it's not as far away as Breville would like.
Not only do Ninja make affordable appliances, but they're also generally well made, great to look at, have substantial capacities, and have tons of features.
Ninja products offer superb value for money and are a fantastic alternative to most small kitchen appliance brands and definitely one to watch.
Vs Hamilton Beach
Comparing Breville toaster ovens to Hamilton Beach appliances is like comparing a supercar to your everyday runaround. If Breville is a Lamborghini, then Hamilton Beach is a Ford Fiesta.
Both have their place on the market, but it's unlikely that you'll choose between the two.
Hamilton Beach toaster ovens aim more towards people looking for an appliance for occasional use, simple kitchen tasks, or people on a lower budget.
You'll find they generally have smaller capacities, lower power outputs, and far fewer features. Breville ovens are far superior in terms of performance, build quality and appearance. This is not surprising when you consider that, in some cases, they are more than four times as expensive.