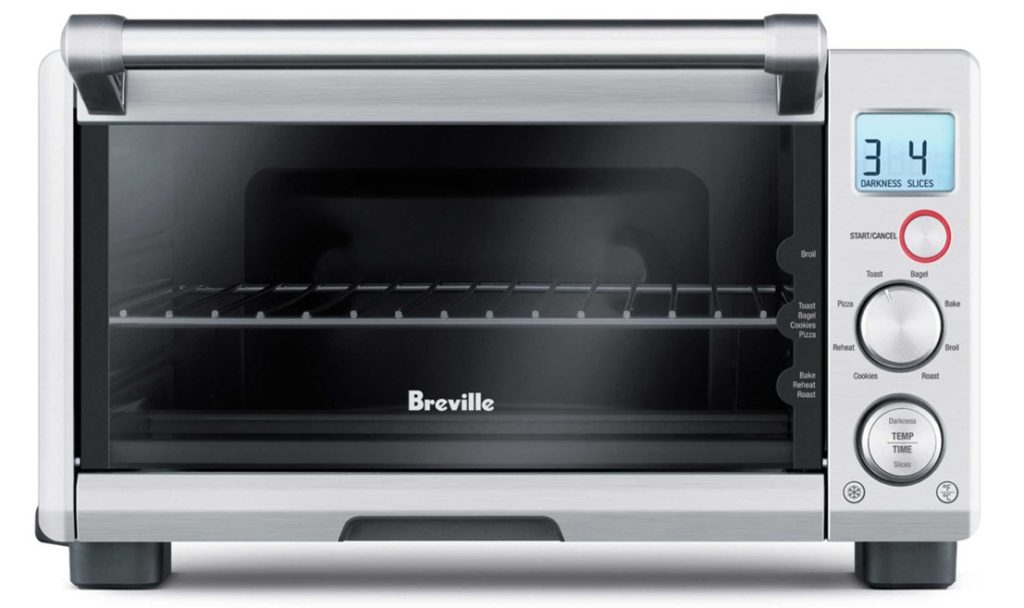 Disclaimer: I may receive commissions from purchases made via links at no cost to you
---
Quick review
The oddly named Breville BOV650XL Compact toaster oven ("XL Compact" is undoubtedly an oxymoron) is one of the more affordable toaster oven appliances from this brand.
That's because Breville did away with many of the features that appear on the more expensive models. The most notable absence is the convection setting and it doesn't have an interior light (which we feel should be a staple in the genre of appliance).
While the BOV650XL has a reasonable price point as far as Breville is concerned, similarly priced models from rival brands come with convection functions and interior lights as standard.
We aren't a fan of the styling of this toaster oven (though you may have a different opinion); it's not bad per se; it's just a bit bland with little to separate it from the crowd, which is most unlike Breville.
The overall footprint is small, making it perfect for small kitchens, office spaces, and dormitories. The internal capacity is suitable for cooking for two to four people.
This toaster oven is as easy to use as it is to clean, thanks to a well-laid-out control panel that even the most technologically shy people can use. The dials and buttons make scrolling through the eight cooking options, shade, and slice selectors a breeze.
Even without the convection setting, the BOV650XL does a decent job in its performance and, despite minor toasting issues (that probably won't bother most people) is a good all-round cooker. It's especially good at making cakes and cookies.
You don't get many accessories with this appliance. Still, Breville concentrated on making a machine more widely available to the whole market with a lower price point rather than producing a premium high-end toaster oven.
Basic Information
Dimensions: 13.5″ x 16.7″ x 11.5″
Weight: 13.9 lbs
Wattage: 1800 Watts
Control Type: Digital
Temp Range: 120 – 450°F
Capacity: 18 Quarts (17 Liters)
Pizza Size: 12″ Pizza
Toast Capacity: 4 slices of bread
Preset Count: 8
Price Range: The Breville BOV650XL comes with a low-to-mid-range price point, making it one of the most affordable Breville toaster ovens on the market.
Power: With 1800 watts of power, this compact unit has a massive amount of juice when considering the small cooking space. In fact, it has the same power output as some of the industry's largest toaster ovens.
Temperature Range: You can adjust the temperature of this compact toaster oven in increments from ten degrees from 120°F to 450°F.
Capacity: With approximately 0.6 cubic feet of cooking space, this little toaster oven can toast four slices of bread, bake a 12" pizza (at a squeeze), or house a six-cup muffin tray. The limited capacity is suitable for up to three or four people depending on the food you're cooking.
Warranty: The BOV650XL comes with a Limited 1-Year Warranty which is the bare minimum warranty length and hugely disappointing.
Design & Build Quality 7.5/10
The Breville brand is world-renowned for its premium quality gorgeous small kitchen appliances. While the BOV650XL isn't an ugly machine, there's something about it that doesn't quite meet their usual high standards, and it looks a little generic.
Of course, being a Breville toaster oven, it's made from high-quality brushed stainless steel, as are most of their appliances, which is weighty and looks really nice (the stainless steel finish). The drop-down door handle is chunky and solid, though the two fixtures that hold the handle in place are made from plastic and painted silver, which isn't ideal.
Yet there's something about this toaster oven that reminds us of a small microwave or child's toy.
It could be the mid-sized printed Breville logo on the viewing window (which is usually embossed into the stainless steel), or maybe it's the large, bold text and numbers on the LCD (which, in fairness, are super easy to read).
We're not sure what it is, but after being spoiled by Breville over the years with their stunning designs, this one seems a little lackluster, and it isn't our favorite. Of course, attractiveness is subjective and open to interpretation for each individual.
That's not to say it's not a quality machine, there's still lots to love about the BOV650XL toaster oven, and there's lots of value to be found for the right person.
Inside the toaster oven, you'll find the interior is coated with non-stick for ease of cleaning, and there are four heating elements, two at the top and two at the bottom.
There are three rack positions that you'll use depending on what food you're cooking and the function you're using. Breville has printed the suggested positions on the oven's tempered glass door for handy reference.
Use the top rack position for broiling only, the middle position for the toast, bagels, pizza, and cookies functions, while the lowest rack position is reserved for bake, roast, and reheat.
Unlike similar Breville toaster ovens, there is no convection setting with the BOV650XL, presumably to keep the price down. There's no interior light either, which is hugely disappointing.
Because the overall size of this unit is compact with a small footprint, it's a great choice of a toaster oven for folks with a smaller kitchen or people with limited kitchen space.
Controls & Ease of Use 8/10
While the Breville BOV650XL might not be the most attractive appliance from this brand, the control system is well thought out, intuitive and simple to use, saving you from being frustrated by overly complicated control systems.
If you're familiar with Breville's digital kitchen appliances, you'll quickly recognize their favored pale blue LCD (which turns oranges when you're cooking something), which not only looks nice but is also super easy to read.
The rest of the panel is made up of only three buttons and two dials. There's a Start/Cancel button (which needs no explanation), a selection button for the times you're cooking frozen foods (a snowflake icon will appear on the LCD when this mode is selected), and a button for choosing between Celcius and Farenheight temperature settings.
There's a simple dial for scrolling through the list (that gives a confirming 'click' with every turn, and you can press the temperature dial inwards to confirm your selection) and selecting which cooking function you want that has eight options. They are:
Toast
Bagel
Bake
Pizza
Broil
Roast
Reheat
Cookies
Once you have selected your preferred cooking method, the toaster oven will automatically program the specific time and temperature. If you've chosen Toast, Bagel, or Pizza, you'll have the option to decide how many slices you're cooking and your preferred doneness.
As soon as you're ready, hit Start, and away you go. If at any point you need to end the cooking cycle, press the cancel button. Be aware; pressing cancel will reset the process back to the beginning.
Performance 8/10
Before cooking anything in the Breville BOV650XL toaster oven, it's essential to run a cooking cycle at 425 degrees (the pizza setting is ideal) for approximately 15 minutes. This process will remove any residual coating left on the heating elements from the manufacturing process.
Breville recommends a four-inch gap between your walls and all sides of this appliance to help with ventilation and overheating. We think it's because the sides and top of this device get extremely hot during use, and it's possible you could burn, scorch, or melt your cupboards and wall if you position it too close.
To help with performance, Breville fit this appliance with their exclusive "Element IQ" technology. Using sensors, the oven detects disparities in the internal heat and delivers more power to the closest heating element to ensure a consistent temperature throughout the oven.
Using certain functions the BOV650XL will require preheating which the appliance will perform automatically. Once the pre-heating cycle is complete the notification bell will let you know so you don't have to guess the right time to put your food in the oven.
Some consumers have reported that the internal temperature doesn't match the temperature displayed on the LCD; however, that wasn't our experience.
Toast
The toast function on the BO650XL is ok. While this oven will toast your bread evenly on each side, there is a slight disparity between each side of your bread. This is only an issue if you're very picky about the doneness of your toast.
Bagels
This toaster oven can whip up a couple of bagels in double-quick time. You don't have to worry about the difference between sides using this function, as that's actually the objective of the bagel function. Golden brown on one side of your bagel, lightly toasted on the other. You can use this function on English breakfast muffins or artisan bread to great effect too.
If you like your bagels toasted equally on each side, use the toast function, though they still won't be perfect.
Cookies & Cakes
The cookies function is one of the crowning glories for the BOV650XL. Though the amount you can make is limited because of the smaller capacity, the cookies you make will come out perfect.
Even people who rated this appliance at one-star on Amazon admitted the cookies function was excellent for baking sweet treats.
Chicken Breasts, Wings, & Whole Chickens
The BOV650XL is pretty sharp at cooking chicken breast and wings. With a few herbs and spices and the skin from the bird, you can whip up a batch of tender yet crispy chicken that's super tasty.
Due to the small capacity of this toaster oven, you won't be able to roast a whole chicken inside. At least not a sizeable bird with appreciable amounts of meat on it.
Broil
You can brown off your casseroles, open-faced sandwiches, and cheese-topped pasta dishes using the broil function on this toaster oven. When you're using this setting, the Element IQ will switch off the lower heating elements and concentrate all the power to the top elements.
There is a broiling timetable guide for various foods on Breville's information page for the BOV650XL.
Pizza
Unlike other brands that claim to be able to cook a 12" pizza in their small ovens (but can't), the BOV650XL can, although it takes all of the space. The final results are excellent, with a crispy base and golden brown cheese.
However, the brand notes that if you're using a pizza stone for cooking, you need to preheat the stone without your pizza on it before starting to cook, or you risk ending up with soggy pizza.
As we've already discussed, this toaster oven comes with a mighty 1800 watts of power, as do other Breville toaster ovens, yet this runs a lot more quietly than its brothers and sisters, which a big tick in the pros column.
Accessories 7/10
Given this toaster oven's relatively low price point (especially for a Breville product), it's not surprising that you'll get the bare minimum accessories needed to use your oven.
There's a 10" baking pan (that doubles as a drip tray) and a 10" broiling pan. Both these items have a non-stick coating. And a stainless steel oven rack which is more an "essential" than it is an accessory.
You'll find a removable extra deep crumby tray fixed to the front of the oven that catches almost every last crumb and is invisible when it's popped back into place.
While this appliance doesn't come with a dedicated recipe book, there are a few recipes to get you started in the back of the instruction manual.
Cleaning 7.5/10
The oven's interior is coated with a non-stick material that makes cleaning this appliance relatively straightforward. However, be sure not to use any abrasive chemicals or harsh sponges when cleaning the interior, or you risk damaging the non-stick coating and making cleaning this machine exponentially more difficult.
Surprisingly, despite having a non-stick coating, the broiling pan and baking pan are both dishwasher safe, as is the wire oven rack. If you don't have access to a dishwasher, wash all the accessories in warm soapy water with a non-abrasive cleaning utensil.
Hand washing these accessories is more time-consuming than cleaning than in a dishwasher, but the non-stick coating makes it pretty simple. Though the wire rack doesn't have a coating and food gets easily stuck in the joins, making it the most challenging part of this toaster oven to clean.
Breville BOV650XL Toaster Oven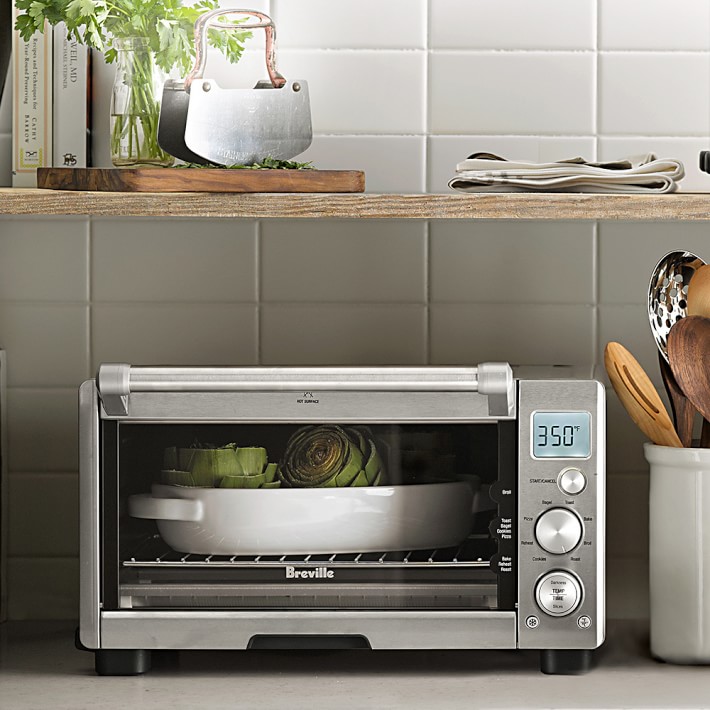 Cheaper
Panasonic FlashXpress
If "compact" is what you're looking for, then few toaster ovens come smaller than the Panasonic FlashXpress. However, don't let its tiny footprint fool you. This oven packs a serious punch.

Despite its dated appearance and lowly 1300 watt power output, the ceramic heating elements ensure this oven is one of the best performing small toaster ovens on the market.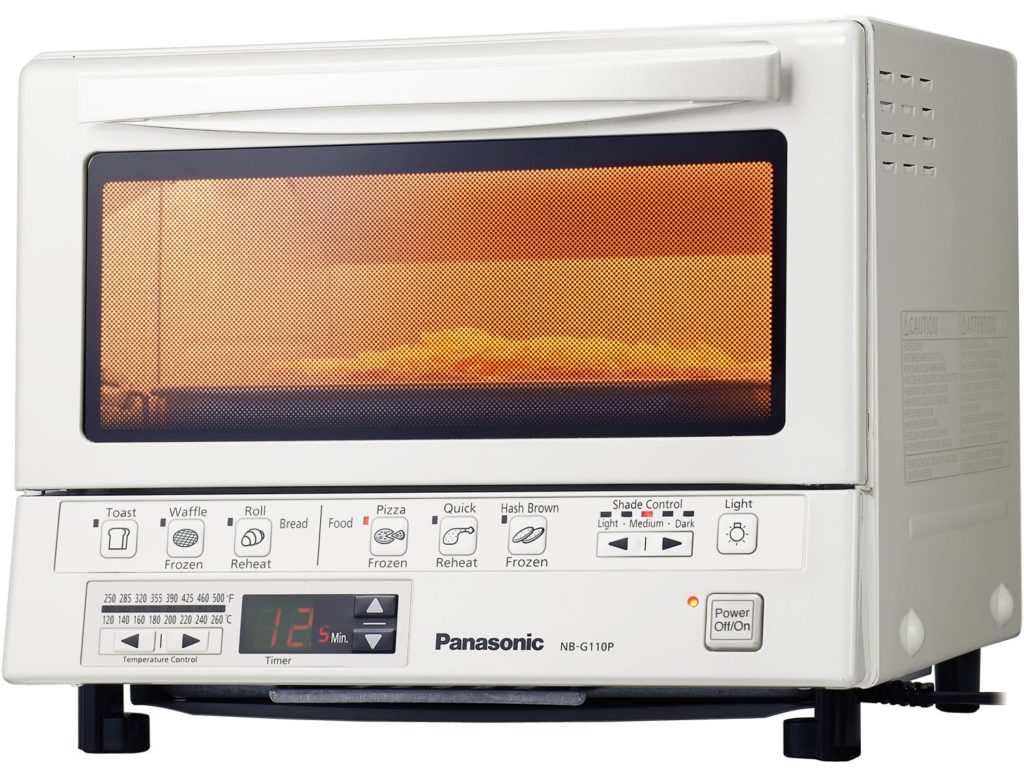 Similar price
Calphalon Performance Toaster Oven
Calphalon's Performance Air Fryer Toaster Oven is a gorgeous appliance with one of the few control systems that are better than a Breville product.

This oven doesn't quite have the quality of the Breville, but it has air frying capabilities and a larger interior capacity.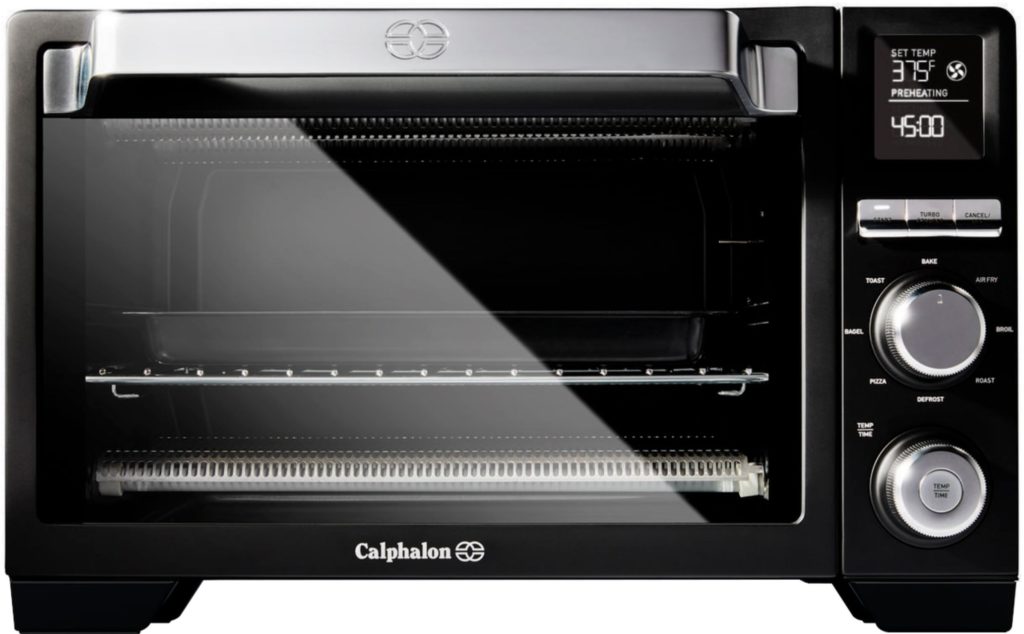 Higher price
Breville Smart Oven (BOV800XL)
Breville's BOV800XL isn't their most expensive toaster oven, but it's one of their most popular because though its price point is getting up there, it's still relatively cheap for this iconic small kitchen appliance.

You'll get all the same performance and functionality, but with a much larger capacity and one extra feature. It's far more beautiful too.