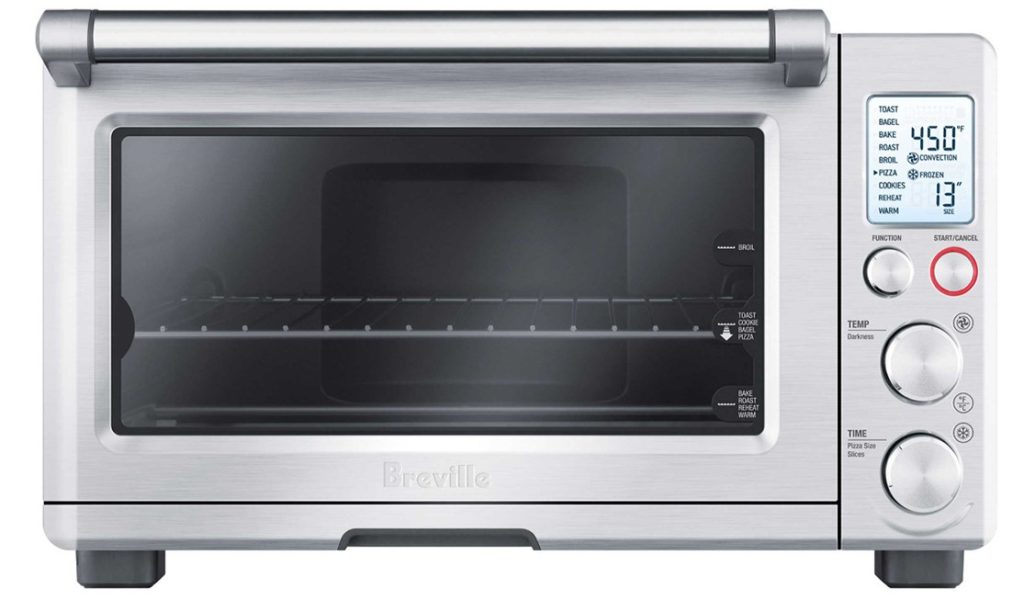 Disclaimer: I may receive commissions from purchases made via links at no cost to you
---
Quick review
Breville's BOV800XL Smart toaster oven is one of their most popular appliances despite not being of the best quality they've ever produced, thanks to its lower than average price point for a Breville product.
Though it's still pretty good when compared with rival models. We think this model is the best value from Breville's lineup of toaster ovens.
This gorgeous machine is almost a carbon copy (from an aesthetical standpoint) of their superb Breville Smart Air Fryer Toaster Oven appliance with only tiny differences that most people would overlook.
With a stunning brushed stainless steel exterior and ultra-modern control panel, this eye-catching appliance is a joy to look at and will be the centerpiece of most contemporary kitchens.
The BOV800XL toaster oven has an averaged sized cooking capacity that is a good choice for 1-3 people, 4 at a push. It also has 9 cooking functions to cook anything from roast chicken to sweet goods to pizza using the specific functions as laid out by Breville.
You'll have no problem using the control panel that is intuitive and had a lot of thought put into it to make it as easy as possible to use despite the extensive nature of the functions and features.
This toaster oven comes with a few accessories, but truth be told, the quality of them doesn't match that of the appliance. They aren't as easy to clean as the oven's interior either.
Overall, the BOV800XL is an excellent toaster oven that, while not as versatile as its big brother, is one of the more affordable Breville ovens on the market.
Basic Information
Dimensions: 19″ x 13.9″ x 14.1″
Weight: 21.6 lbs
Wattage: 1800 Watts
Control Type: Digital
Temp Range: 120 – 450°F
Capacity: 23.9 Quarts (22.7 Liters)
Pizza Size: 13″ Pizza
Toast Capacity: 6 slices of bread
Preset Count: 9
Price Range: The Breville BOV800XL Smart Oven has a mid-to-high price point which is a break from the norm for Breville, whose appliances usually are among the most expensive on the market.
Power: This toaster oven has 1800 watts of power which is the upper limit you'll find in this type of appliance.
Temperature Range: 120-450 °F. This kind of temperature range is standard among toaster ovens. However, the upper and lower limits are a little disappointing when you consider the power this machine has and the usual high standards set by Breville.
Capacity: The internal cooking space of this toaster oven measures 18.5 x 15.7 x 11.1 inches, which is sufficient to toast six slices of bread, hold a six-cup muffin tray, or bake a 13" pizza. This type of appliance is ideal for couples and small families.
Manufactured: Breville's product ranges are designed in Australia, while the components are manufactured in a selection of countries and assembled in China. Being made in China will be a deal-breaker for some people.
Warranty: Limited 1-Year Warranty. Having only a one-year warranty with such an expensive product is a huge disappointment, especially when considering Breville's notoriously substandard customer service.
Design & Build Quality 7.5/10
Breville has a long-standing tradition of producing beautifully designed appliances that aren't only easy on the eye and built from high-quality materials.
If you're familiar with Breville's extremely popular Smart Oven Air Fryer Pro (BOV900BSS), then you'll probably have noticed that it's incredibly similar to the BOV800XL; in fact, to the untrained eye, they're almost identical.
This gorgeous appliance has Breville's trademark (not literally) brushed stainless steel exterior that we all know and love, which is heavy and gives the oven a real feeling of quality. Amazon has this toaster oven weighing in at 1lb, but we can assure you it's a lot heavier than that, 28lbs to be precise.
There's a cord management system to the rear of the unit, so you can wrap any excess power cord around it to keep your kitchen tidy and avoid any potential accidents. The cord system doubles as a buffer to keep your toaster oven from touching the wall when it gets hot.
Because this appliance gets hot, Breville recommends you leave at least four inches of space around the toaster oven to give it room to breathe, however, this isn't much of an issue thanks to its low profile design.
One thing that doesn't get hot is the large door handle which is positioned in such a way that it remains cool throughout the cooking process.
There's a large viewing window at the front of the oven that has suggested rack positions marked on the glass, so you can alter where you put the racks depending on what setting you're using.
When you open the door, some magnets work as an "auto-eject" for the rack in the middle position to help you remove your dishes and trays. However, we're unsure as to why this is limited only to the central rack.
There are three rack positions inside, the top one is for grilling and the crumpet setting, the central position for toasting, pizzas, and the cookie setting, while the bottom rack position is recommended for baking, roasting, the warming function, and reheating food.
The top and middle rack positions have a "catch" that stops you from accidentally pulling the rack all the way out when you're checking on your food. The bottom position does not.
Breville used a non-stick coating on the inside of the cooker for ease of cleaning (which we'll look at in greater detail later), and the back of the appliance is curved so you can better fit pans and pizza trays inside.
There are five heating elements inside the Breville BOV800XL, with three at the top and two at the bottom.
It's worth noting that while we didn't have any issues with unit failure, several consumers have had problems with their products breaking down after 2 to 3 years. This is a tiny number of people when you consider the thousands of unit that Breville have sold, but we thought it worth mentioning.
Breville's customer service leaves a lot to be desired, so if you're unfortunate enough to receive a defective unit, it will be challenging to get it fixed or replaced.
Controls & Ease of Use 8/10
Breville's control panel is made up of three dials, four buttons, and an LCD.
The LCD is Breville's signature pale blue display that turns orange when the appliance is in use and back to pale blue once the cooking cycle is finished. The dials have a smooth yet solid feel that gives you an assuring click, so you know you've changed selection.

Each dial has a different function, in some cases more than one. You'll use the top knob to scroll between the various features on the LCD; the middle dial is used to select either your preferred temperature setting or the shades of your toast/bagels. Lastly, the lowest dial is used for choosing the length of time for your cooking cycle or the number of slices of toast or pizza you want to cook.
Your options on the LCD are:
Toast (with slice and shade selection)
Bagel (with slice and shade selection)
Bake
Roast
Broil
Pizza (with slice selection)
Cookies
Reheat
Keep Warm
While the pre-programmed settings are handy and, for the most part, don't need to be changed, you can make tweaks and adjustments to the times and temperatures if you want to, and the toaster oven will remember them for the next time you use that function. On the flip side, if you're unhappy with the changes you've made, unplug the toaster oven and the functions will revert back to their original settings.
The buttons on the panel consist of a start/cancel button, a button to choose between regular cooking and convection cooking, a defrost button, and an option to change temperatures between Celsius and Fahrenheit.
Though there are many options on this control system, it's relatively intuitive and straightforward to use.
Performance 8.5/10
Before you start cooking food in your new Breville toaster oven, it's recommended that you run a twenty-minute cycle at 450F to burn off any residue on the elements that may have been leftover from the manufacturing process.
Element IQ technology delivers heat dynamically to the heating elements to precisely control the internal temperature of this toaster oven. Rather than having a fixed temperature throughout the element, "Element IQ" acts like a dimmer switch to more accurately adjust the heat.
Breville fitted a sensor to the inside of the oven that relays heat information back to the CPU and makes dynamic adjustments to the settings based on the ambient temperature to ensure you get consistent results every time.
You can preheat this toaster oven to 400F in approximately five minutes. Once the preheat period has finished, the oven will automatically begin the countdown of your chosen cooking cycle, which is inconvenient if you have other things to do in your kitchen.
Listed below are just some of the foods you can cook in the Breville BOV800XL toaster oven.
Toast & Bagels
As an extension of the Element IQ technology, the internal components deliver 900 watts of power to the top elements and 900 watts to the lower elements so that your bread is toasted evenly on both sides.
On the flip side, you'll only want your bagels toasting on the outside, so this Breville toaster oven automatically shuts off the bottom elements on the bagel setting, but you'll need to place your bagel with the outside facing up.
This machine will remember your last used settings for the toaster.
Cakes
Using the bake function, the BOV800XL delivers 1500 watts of power to two elements at the top and two of the bottom heating elements, so baking cakes is quick and easy. The self-adjusting temperature settings make sure you won't burn the out edges of your cake.
Pizza
Despite the poor quality pizza tray (which we'll get to later), this Breville toaster oven does an excellent job of cook both fresh and frozen pizza, especially if you like your cheese golden brown.
Whether you're using regular convection settings or the frozen pizza setting, this appliance will deliver crispy, delicious results.
Warming up last night's pizza with the reheat function also works well, restoring your pie to its former glory rather than a soggy, rubbery, tasteless mess.
Chicken Breasts
It's possible to cook chicken breasts from frozen (though you don't have to if you prefer to defrost them first) using the bake function in tandem with the "defrost" and "convection" settings. You'll get juicy, tender chicken breasts as a result.
This toaster oven can cook so quickly you'll need to pay attention as you can never be too careful when you're cooking chicken. Always make sure the meat is cooked throughout.
Steak
The broil function does a decent job of cooking juicy, golden brown steak by delivering 1500 watts to three of the top heating elements. However, as the Breville BOV800XL can't exceed 450 degrees, the results won't be as good as if you used a cast-iron skillet.
Cookies
The dedicated cookies feature works surprisingly well and doesn't burn the edges of your sweet treats. It's excellent for some weekend baking with your kids or grandkids. It can knock out a tray of 6 to 8 cookies in around ten minutes.
Accessories 6.5/10
When you open the box inside, you'll find a few accessories to get you started in cooking fantastic food in your Breville BOV800XL toaster oven.
Firstly there's a quick-start guide and recipe book to give you tips and ideas on what you can cook, the settings to use, and how long it takes to cook them. And also a guide of other accessories that you can buy separately from this unit.
You'll get a 13" pizza tray that has a non-stick coating. It's a nice addition to the oven, though it won't last for more than 12 months at the most before it starts to lose effectiveness.
There's also a 12" baking tray, a 12" broiling rack (both of which are also non-stick coated), and a wire oven rack that you can only use in one configuration.
The removable crumb tray is well hidden at the base of the appliance and spans the entire width and depth of the oven. Some products have crumb trays that are not 100% effective and allow some crumbs to get into hinges and onto countertops; however, this crumb tray is almost infallible.
With the exception of the wire rack and crumb tray, all the accessories are of substandard quality and will easily be outlasted by the appliance itself.
Cleaning 8/10
Aside from the wire rack, none of the accessories are dishwasher safe, and you can't use abrasive cleaning materials to remove baked-on grease and grime, or else you'll risk accelerating the already fast decline of the effectiveness of their non-stick coating.
You can clean the wire oven rack in a dishwasher, so it's hassle-free to clean it up as good as new.
While the accessories can be a challenge to clean, the non-stick interior and removable crumb tray are remarkably easy to clean, and in most cases, you'll be able to simply wipe away the grease as long as you don't leave it too long after cooking.
As with the non-stick accessories, you'll have to use non-abrasive materials to clean inside the oven too.
Breville BOV800XL Toaster Oven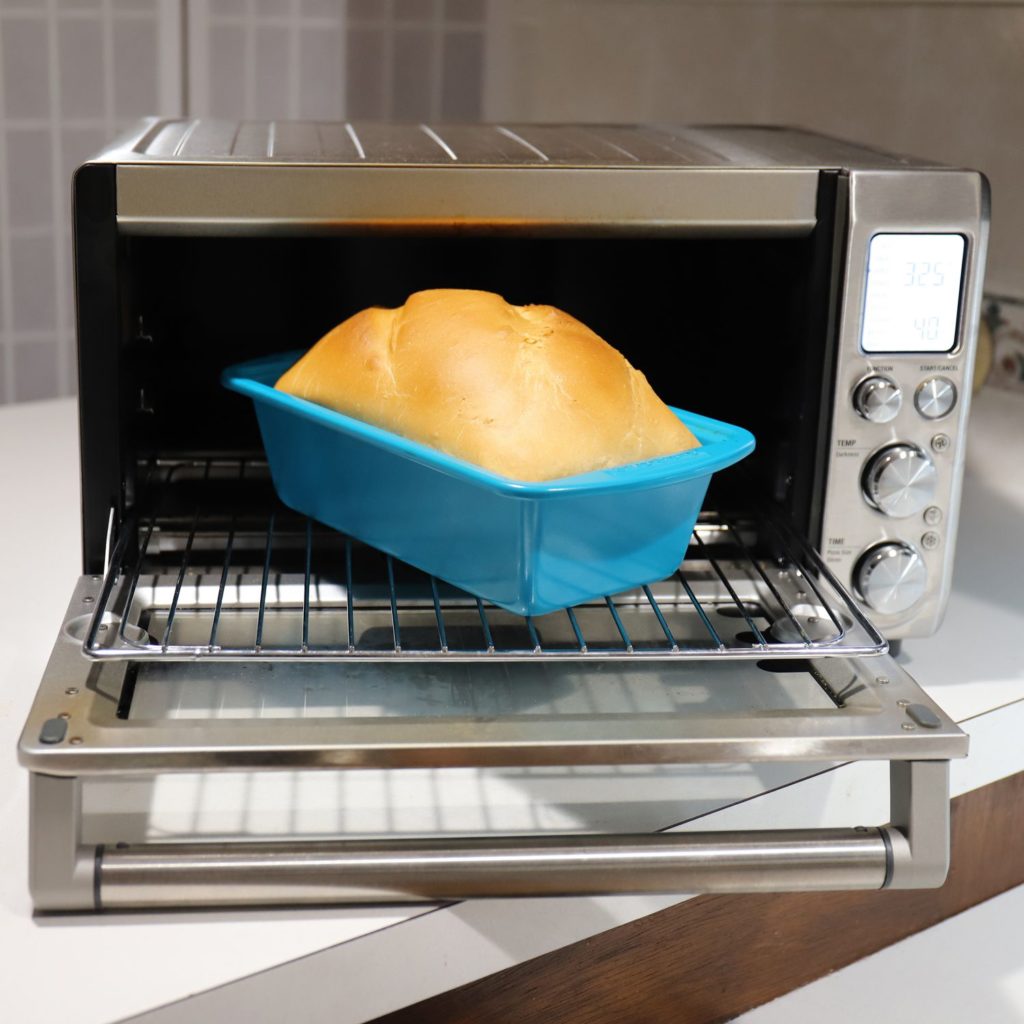 Cheaper
Cosori Air Fryer Toaster Oven Combo (CO130-AO)
Cosori's CO130-AO air fryer is like a Breville-lite small kitchen appliance. Though it does appear to try a little too hard to be like its rival, this oven still represents excellent value for money.

While the performance and build quality might not be as good as the Breville, the control system (which is Wi-Fi connectable) and air frying capabilities are excellent.

Similar price
Cuisinart Chef's Convection Toaster Oven (TOB-260N1)
This direct rival to some similarly priced Breville toaster ovens even looks like its competitor with a similar pale blue LCD.

The Cuisinart TOB-260N1 is one of the best toaster ovens from the brand and offers you all the benefits of the Breville oven but can operate as if it were an air fryer too. However, the build quality isn't quite as good.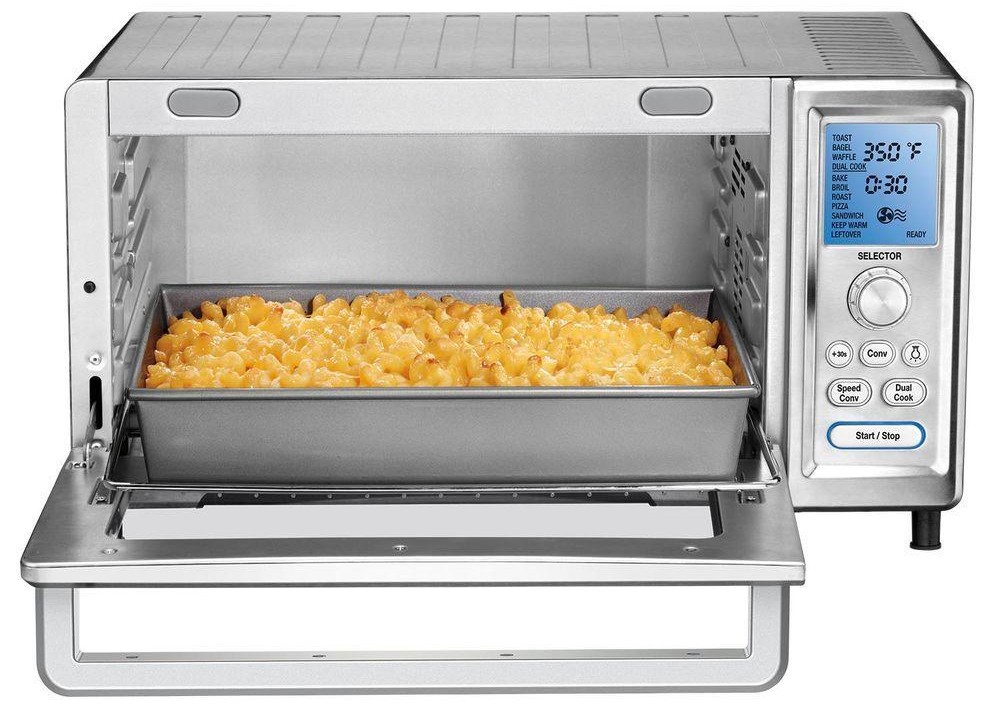 Higher price
Ninja DT201 Foodi XL 10-in-1
If you're after a little something "more," you should consider the Ninja DT201 Foodi XL air fryer toaster oven, which is one of the best new products on the market.

It has a massive internal capacity, beautiful exterior, ten cooking functions, a vast selection of accessories, and is super easy to use.