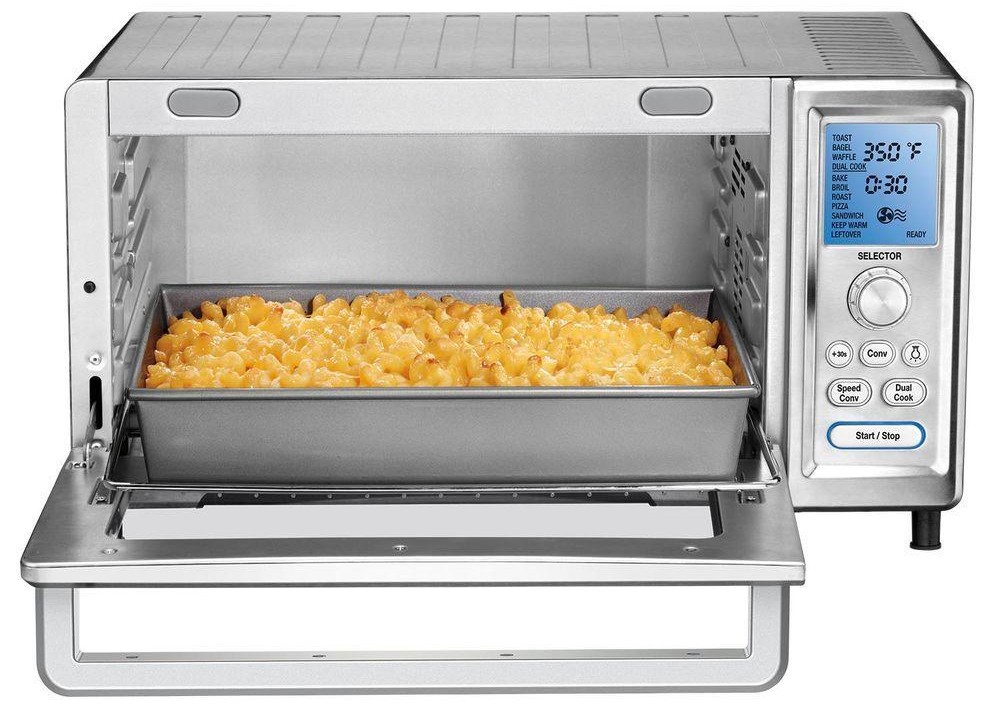 Disclaimer: I may receive commissions from purchases made via links at no cost to you
---
Quick review
When is an air fryer toaster oven not an air fryer toaster oven?
When it's a Cuisinart TOB-260N1.
This stylish stainless steel small kitchen appliance has 15 features and functions for baking, roasting, toasting, and broiling, but not one of them is for air frying.
But it seems that when Cuisinart released this machine, they were way ahead of the curve as their "speed convection" setting is basically an air fryer mode which works in almost exactly the same way.
Unlike other Cuisinart toaster ovens that have had issues with temperature regulation, the TOB-260N1 has no such problem despite having the same 1800 watt power output as its sibling devices.
This could be due to the extra-large 0.95 cubic feet capacity with more room to disperse that high heat somewhat. In fact, with some foods, you might give it an extra minute or two, which is much more preferable to burnt food.
There are plenty of accessories with this appliance, too; with additional racks (and multiple rack positions), trays, and a 13" pizza stone, this Cuisinart toaster oven is super versatile.
Many Cuisinart ovens have (if you'll pardon the pun) taken a lot of heat for their inadequacies, but the TOB-260N1 is the best to come from Cuisinart.
Basic Information
Dimensions: 20.87″ x 16.93″ x 11.42″
Weight: 32 lbs
Wattage: 1800 Watts
Control Type: Digital
Temp Range: 150 – 500°F
Capacity: 28.4 Quarts (27 Liters)
Pizza Size: 13″ Pizza
Toast Capacity: 9 slices of bread
Preset Count: 15
Price Range: This oven's price point is extremely reasonable compared to similar products, possibly because it wasn't built to be an air fryer, though it can function as one (which we'll get to shortly).
Power: 1800 watts. This power range is generally considered the upper limit of power output for a toaster oven. Toaster ovens with this kind of juice can expect to cook food extremely quickly. Too quickly in some cases.
Temperature Range: 150F to 500F. This oven's ability to reach exceedingly high temperatures lets it cook a greater variety of foods.
Capacity: 0.95 cubic feet. This convection toaster has a cavernous capacity that's capable of holding nine slices of bread, a 12" pizza, 5lb whole chicken, or 7lbs of turkey breast.
You can use the dual racks for cooking different foods simultaneously, making this toaster oven super versatile.
Manufactured: Produced and assembled in China and France, this Cuisinart toaster oven might not be for everyone. However, it was designed in the USA.
Warranty: Limited 3-Year Warranty.
Design & Build Quality 8/10
The Cuisinart TOB-260N1 convection toaster oven might not have a name that rolls off your tongue, but its appearance is certainly easy on the eye. The outer casing, door, and handle are all finished in brushed stainless steel that is so popular right now and will look at home in almost any kitchen.
The handle itself might look like it's in an awkward position. However, it does have a purpose. It's positioned in such a way that when the oven door is fully open, the handle supports the weight of the door by resting on the countertop, which should give the hinges more longevity.
You can find vents on either side of the appliance to help keep it from overheating while you're cooking. While on the top of the oven, there are a couple more vents and some weird indentations that don't appear to have a purpose.
To the rear of the toaster oven is a cord management system that lets you wrap up any unused power cord to help keep your kitchen tidy. The cord management cleats extend beyond the back of the appliance and can be used as a buffer to stop your oven from touching the wall and potentially causing damage.
Inside the oven, you'll find five heating elements, three at the top and two at the bottom, and the fan for circulating the heat is situated on the right side of the interior. Cuisinart uses their patented ExactHeat sensors that eliminate hot or cold spots to produce even cooking throughout.
There are four rack positions to cook different foods simultaneously, using the two oven racks, or cook one larger item if you use the bottom rack. The third rack position is spring-loaded so that when you open the appliance door, they move forward a couple of inches to help you get your tray or rack out without burning your hand.
The two upper rack positions have built-in stoppers to make sure the racks don't come all the way out while you're cooking. The safety feature will prevent spill and potential injuries/
This toaster oven was released before air frying technology came to the forefront of the small kitchen appliance industry. It has "speed convection" capabilities which are essentially what an air fryer does, so this could be considered one of the early air fryer toaster ovens, even though it isn't marketed as such and can essentially function as an air fryer.
The whole unit weighs a hefty 32lbs, so you might want to find a permanent home for it in your kitchen as it's too heavy to be moving around all the time.
Controls & Ease of Use 8/10
The control panel might look a little complex, but it's actually pretty easy to use. It is made up of a total of six buttons, a pressable dial, and a cool pale blue LCD.
The six buttons are Convection, Speed Convection, Dual Cook, Interior Light, +30 Seconds, and Start/Stop.

It goes without saying that the start/stop button begins and ends a cooking cycle.
Simultaneously, the convection settings are functions that allow you to cook quickly and evenly, and super quickly and evenly in the case of "speed convection" (which is basically an air fryer setting). You can press the convection button at any time during the cooking cycle to increase the air circulation.
The speed convection setting is especially useful as the high powered fan blasts heat around the internal capacity faster than standard convection ovens so that no preheating is required, which also saves you money on your energy bills.
Cuisinart's Dual Cooking function is a clever setting that lets you program two different cooking cycles consecutively. So, if you're making a dish that requires it to be cooked to varying temperatures in the process, you can program that right at the start. For instance, you could bake a cheese topped pasta dish before browning the cheese with the broil feature without skipping a beat. It's also a helpful feature for slow cooking.
If you want to see inside the toaster oven while your food is cooking but don't want to let the heat escape by opening the door, hit the interior light button to illuminate the inside of your appliance for two minutes. Alternatively, opening the oven door will also switch on the light.
The "add 30 seconds" button is usually reserved for dedicated toasters but is a helpful feature that lets you add 30 seconds to your cooking time with the single push of a button if you think your food isn't entirely done.
The Cuisinart convection toaster oven will suggest which rack position to use by indicating the rack number on the LCD depending on what food you're cooking.
If you're someone who dislikes the sometimes obnoxious volume of appliance notification beeps, then you're in luck, as this Cuisinart toaster oven lets you adjust the volume of the beep or even turn it off altogether.
With a simple turn of the large rotary dial, you can scroll through and choose between fifteen different functions, set times and temperatures, and toast shade levels. Listed below are the functions and what they do.
The final and most pointless function on this appliance is the clock that features on the LCD. Cuisinart recommends keeping the appliance unplugged when it's not in use which will reset the clock every time.
Toast: Choose between seven different shade settings and how many slices you're cooking. And there's an option to toast bread from frozen too.
Waffle: There doesn't seem to be much difference between the waffle setting and the toast setting. Maybe the temperature used to toast your waffles is different, but all your options are exactly the same.
Bagel: The options for bagels are the exact same as they are for toast. However, when toasting bagels, the oven will hit the top of the bagel with more heat than it does the underside.
Bake: When you choose to use the bake option, you can select temperatures of between 150 and 450 degrees Fahrenheit and a time scale between one minute and two hours. The convection setting will preheat your oven before the cooking cycle starts, while speed convection does not need such trivialities.
Broil: The broil setting is fixed at 500 degrees, and there is no preheat option with either the convection or speed convection options. This function also has a time range of one minute to two hours.
Roast: The roast setting is extremely similar to the bake function. It has the same time and temperature ranges as well as the same convection and speed convection features.
Pizza: If you're cooking pizza in this oven, you can select between350 and 450 degrees Fahrenheit for your temps and choose the size of the pizza you're going to cook or if you're cooking from frozen. The time setting ranges from one minute to two hours, but we're not quite sure if anyone has ever tried cooking a pizza for two hours.
Sandwich: The sandwich option is identical to the bake function. At this point, we feel like they're adding features for feature's sake.
Keep Warm: This useful feature lets you keep your meal warm for up to two hours until you're ready to eat.
Leftovers: Again, this feature has the same specifications as bake and sandwich; we don't quite see the point.
Performance 8/10
We'll discuss the performance of the Cuisinart TOB-260N1 with specific foods below, but we'd like to note two general things about how this oven performs.
One good, one not so good.
Despite the immense power this toaster oven possesses, it runs remarkably quietly, even on the super convection setting. On the flip side of the coin, the exterior of this appliance gets very hot during use, despite numerous vents that are supposed to keep it cool.
Toaster
Some many toasting appliances get this part of the job badly wrong, and though the TOB-260N1 is perfect, it does toast better than most ovens. Granted, the slices at the back toast a little darker than those at the front, but that is usually the case for more appliances with a door.
Air Frying
While this convection toaster oven isn't' technically an air fryer, the technology inside it works identically. The results from cooking frozen fries in this appliance or a dedicated air fryer are indistinguishable from each other.
The fries are cooked in around fifteen minutes, and they are all cooked well. However, larger friends tend not to be as crispy as the smaller ones.
The only drawback is that the Cuisinart TOB-260N1 does not come with an air fryer basket.
Roast
Because this toaster oven has such a larger capacity, it's easy to roast a whole chicken inside with relative ease. Chicken needs to be properly cooked, so it's advisable not to try and rush it with a speed convection setting; instead, you should use the standard function.
This cooker performs so well a cooking whole chicken that it's basically "fire and forget", set your cooker going and come back when the timer has counted down. The exterior will be crisp and delicious while the meat tender and juicy.
Broiling
Whipping up a couple of steaks in this device couldn't be easier. Using the baking pan in rack number three position and the broil setting on the oven, this appliance gets up to 500 degrees, ideal for searing big chunks of steak.
The steaks should take between 12 to 16 minutes, depending on the size of your steak and how you like it to be cooked. If you want a dark brown finish, you might need to finish it off in a skillet.
Pizza: There have been many Cuisinart toaster ovens that claim to be able to cook a 12" pizza, which just wasn't true. Not without squishing your pizza at least, but the TOB-260N1 can achieve this; in fact, the 13" pizza stone that comes with this appliance fits easily inside.
Your pizza will cook to a beautiful golden brown finish with a crispy base that's soft on the inside.
Results
Accessories 9/10
Previous Cuisinart toaster ovens have had a disappointing amount of accessories, but the TOB-260N1 appliance comes with an excellent array of helpful add ons to give this oven extra versatility.
It comes with two oven racks, a baking tray/drip pan, a broiling pan, a removable crumb tray, 13" pizza stone, and a recipe guide to get you started.
Cleaning 7/10
Previous iterations of Cuisinart toaster ovens and models since the release of the TOB-260N1 have often been challenging to clean because they're not dishwasher safe.
Sadly it's also the case with this small kitchen appliance, which beggars belief in this day and age that stainless steel racks and non-stick trays haven't got the technology to make them dishwasher safe.
Washing all the accessories by hand can be tiresome, especially oven racks that are notorious for getting food stuck in them.
Of course, if you don't have a dishwasher, you won't be overly bothered by this news, but dishwasher owners are frustrated that they can't utilize all their kitchen equipment.
On the flip side, the interior has a non-stick coating that you can wipe down with minimal fuss, and the front loading crumb tray can easily be removed for ease of cleaning.
Cuisinart TOB-260N1 Toaster Oven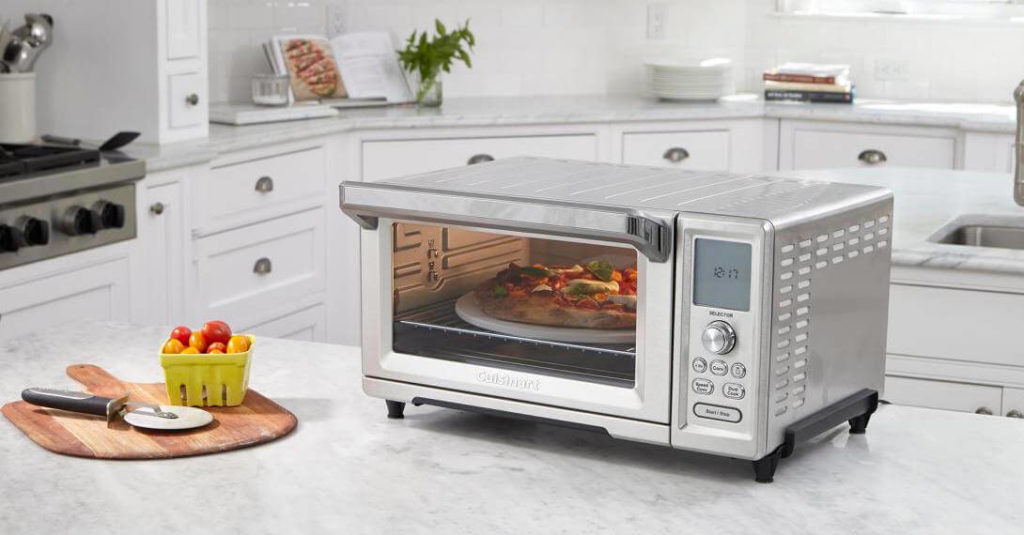 Cheaper
Cuisinart TOB-135N1
The TOB-135N1 is the 260N1's baby brother, and while the smaller appliance doesn't stand up to the more expensive version in terms of size and quality, it is still a decent toaster oven at a much lower price.

Though you won't get the air frying capabilities (even though the TOB-260N1 does explicitly say it has them either.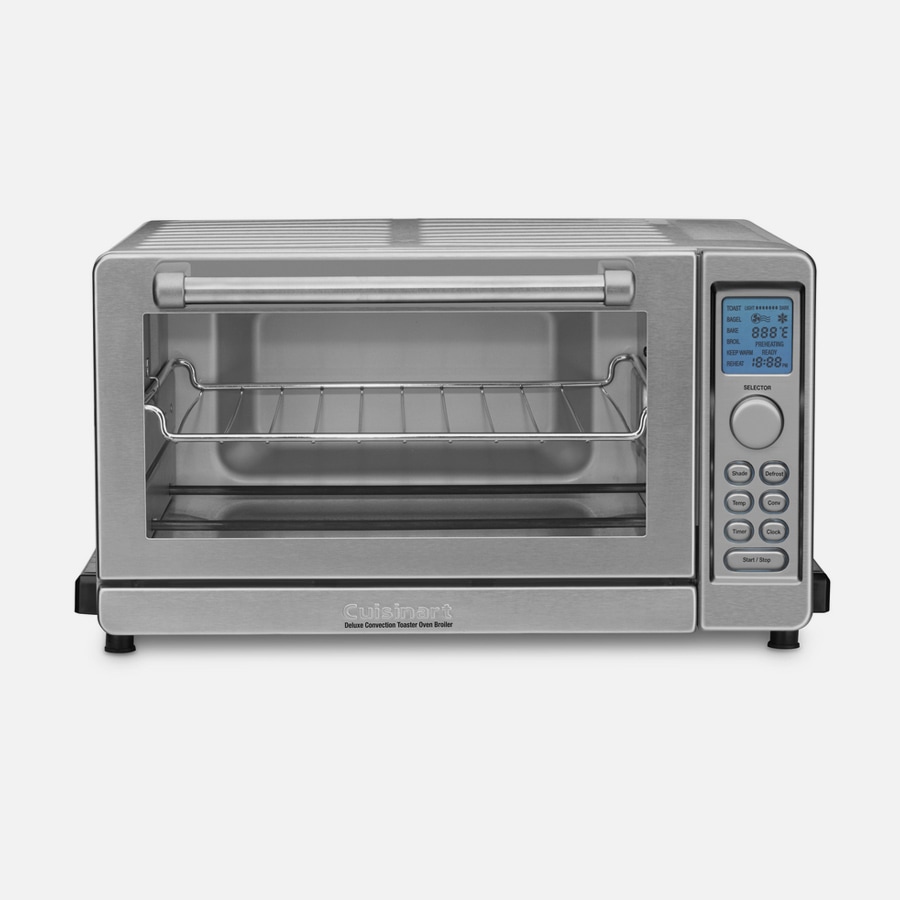 Similar price
Breville BOV800XL
The BOV800XL is one of Breville's most popular toaster oven models because it offers their trademark quality but without their regular massive price point.

You'll get their excellent Element IQ system, large capacity, and industry-leading control panel. Unfortunately, this appliance doesn't have a built-in air fryer.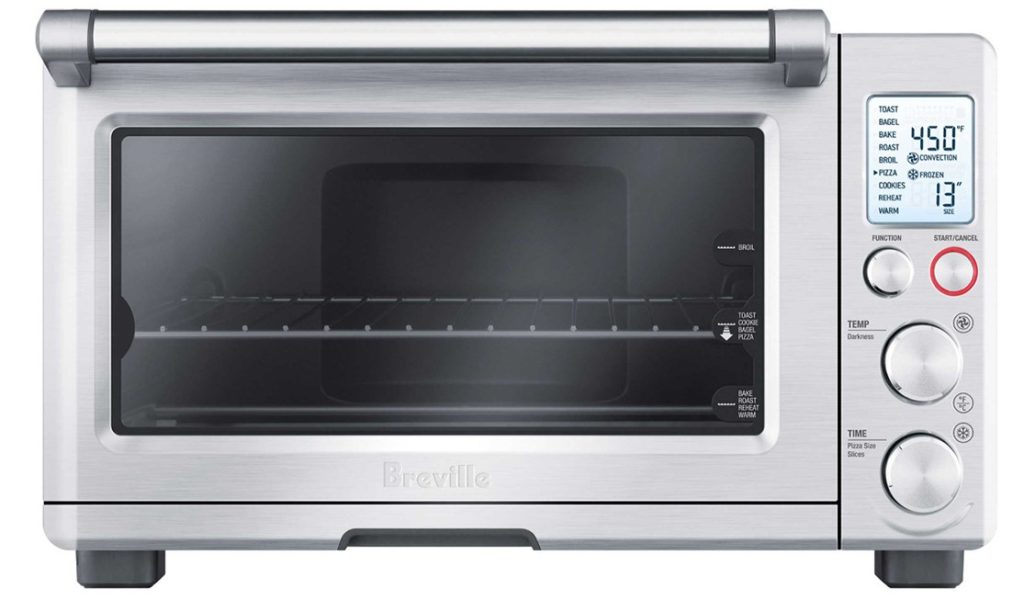 Higher price
Ninja DT201 Foodi XL 10-in-1
Ninja's 10-in-1 Foodi XL is a relative newcomer to the industry but has taken the market by storm thanks to its cavernous interior, enormous versatility, and gorgeous aesthetics.

Though it is more expensive than the TOB-260N1, you get far more for your money than you'd expect for a few extra dollars.