Cuisinart is a very popular brand that makes affordable small kitchen appliances, and some of their most popular products are their range of toaster ovens.
Cuisinart offers a wide variety of toaster ovens, each a little different from the last. While their primary toaster function remains the same, you'll find different features like air frying capabilities, convection, speed convection, digital, analog, and even steam ovens throughout the range.
The general price point for toaster ovens from this brand ranges from mid to mid-high compared with other brands.
Disclaimer: I may receive commissions from purchases made via links at no cost to you
1. Chef's Convection Toaster Oven (TOB-260N1)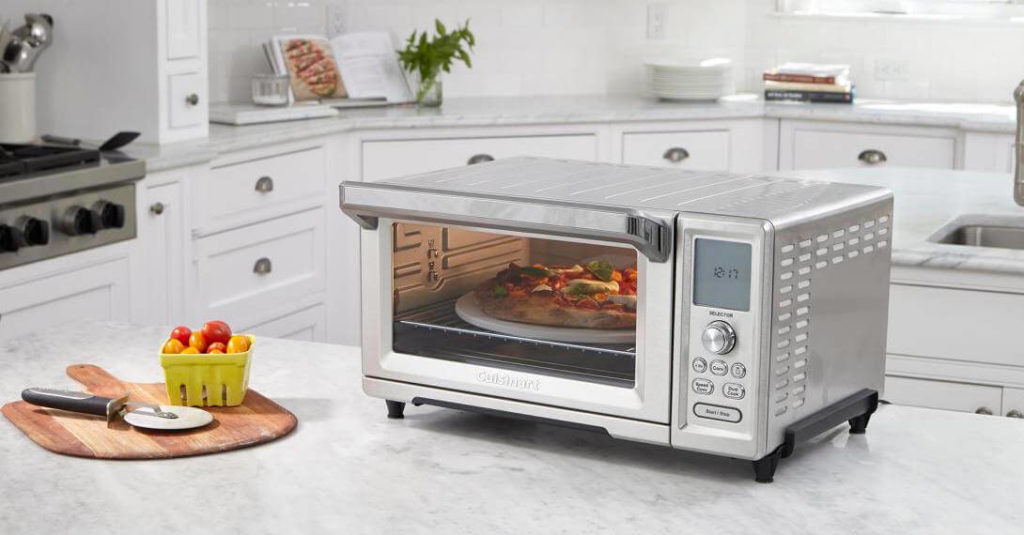 ---
The Cuisinart Chef's Convection toaster oven is my favorite model from this brand because it does everything that Cuisinart claims and a little more.
All too often, brands make claims about their appliances that, at best, stretch the truth and, at worst, are flat-out lies. For instance, some Cuisinart toaster ovens say they can cook a 12" pizza when in reality, you'd have to squeeze it on to cook it. The Chef's Convection toaster oven has a massive 0.95 cubic feet capacity that will house a 13" pizza no problem.
Other Cuisinart toaster oven models have had problems with temperature regulation, the company appeared unable to dial it in, but the TOB-260N1 suffers from no such issue. It's unclear whether Cuisinart fixed the problem or whether the spacious capacity is more suited to the enormous 1800 watts of power. Whichever it is, it works, and it works well.
Despite its high-powered nature, the Chef's Convection oven runs remarkably low volume and is easy on your ears. At the same time, the overall aesthetic and digital control panel is easy on your eyes.
This toaster oven also has a secret because despite not being marketed as an air fryer, the speed convection setting functions in a very similar way to an air fryer, so this appliance can pretty much function as one. So, if you choose to buy this toaster oven, you'll be able to try out all those delicious air fryer recipes.
Though many brands and models (Cuisinart included) list a bunch of "accessories" that come with their toaster ovens, they're usually simple racks and trays. The TOB-260N1 comes with a couple of racks, a broiling pan, removable crumb tray, 13″ pizza stone, and a recipe guide which extends the value for money you get when you pick up this model.
While there are a couple of downsides to owning this machine (the text rubs off the buttons, it's challenging to clean, and some of the "features" are exactly the same as the others under a different name), the positives far outweigh the negatives, making this the best toaster oven to come out of the Cuisinart stable.
The Cuisinart Chef's Convection Oven is the perfect appliance for families of up to four people looking for a toaster to use as one of their primary cooking appliances.
Best Air Fryer Toaster Oven
2. Cuisinart Digital Toaster Oven (TOA-65)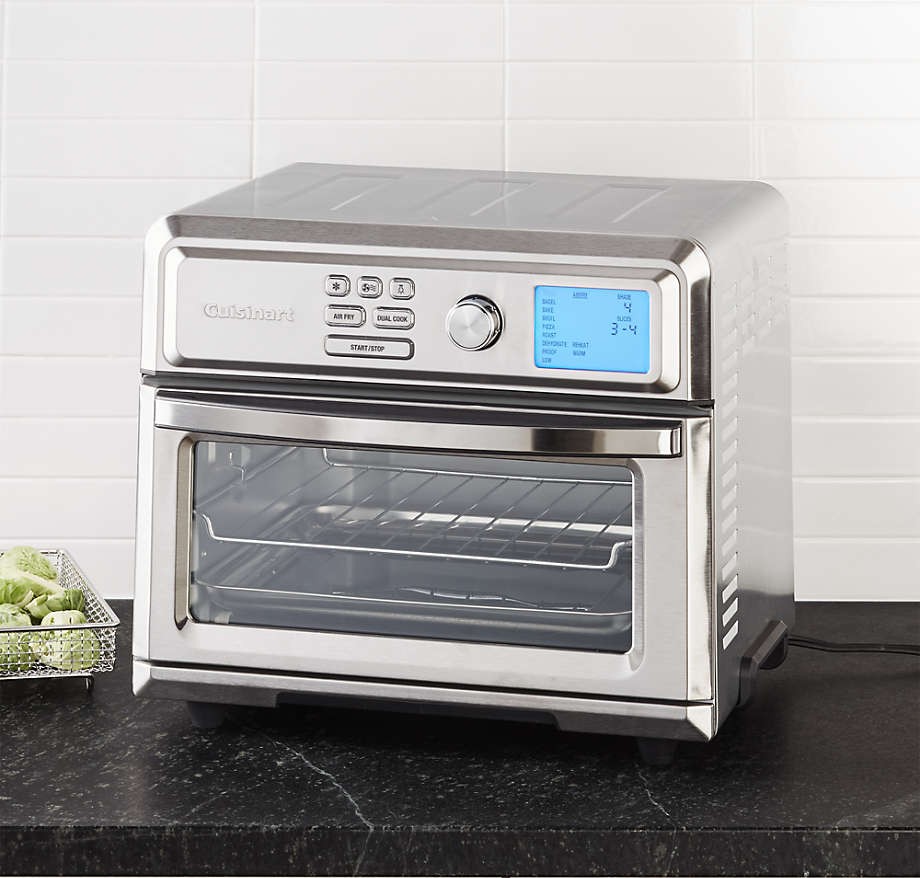 ---
While it's true that the Cuisinart TOB-260N1 is the best toaster oven from the brand, and it can essentially function as an air fryer, it doesn't have dedicated air frying capabilities. So, we feel the title of "best air fryer from Cuisinart" should go to an appliance that was designed to be an air fryer in the first place.
That appliance is the Cuisinart TOA-65 digital toaster oven.
Though this toaster oven isn't without its faults (which we'll get to), it shines as an air fryer. With the same 1800 watts of power as the Chef's convection oven being pumped into a smaller capacity, this oven is an absolute beast and can air fry wings, steak, fries, and anything else you fancy in double-quick time.
But you'll need to throw out your kitchen playbook as cooking food with this toaster oven is much faster than all your usual recipes and food's packaging would normally have you believe. However, once you get the times and temperatures dialed with a bit of practice, this toaster oven will be one of the most efficient air fryers on the market.
The TOA-65 has a bunch of other valuable features too (like the bake, roast, and defrost settings, attractive digital control panel, and low-temperature setting for bread proofing) and a couple of functions that aren't so good (it toasts unevenly, and there are some temperature regulations issues you'll need to get to grips with).
Even though the control panel is very pretty to look at, it's not the most intuitive design you've ever seen, but once you've been using the toaster oven for a while, operating it will become second nature.
This toaster oven is a great choice for someone who wants an air fryer first and foremost with the added benefits of the other features, as the air frying feature is the crowning glory of this particular oven. If you want an appliance where the air fryer function is secondary to you, the TOB-260N1 is the better choice.
3. Cuisinart Compact Toaster Oven (AFR-25)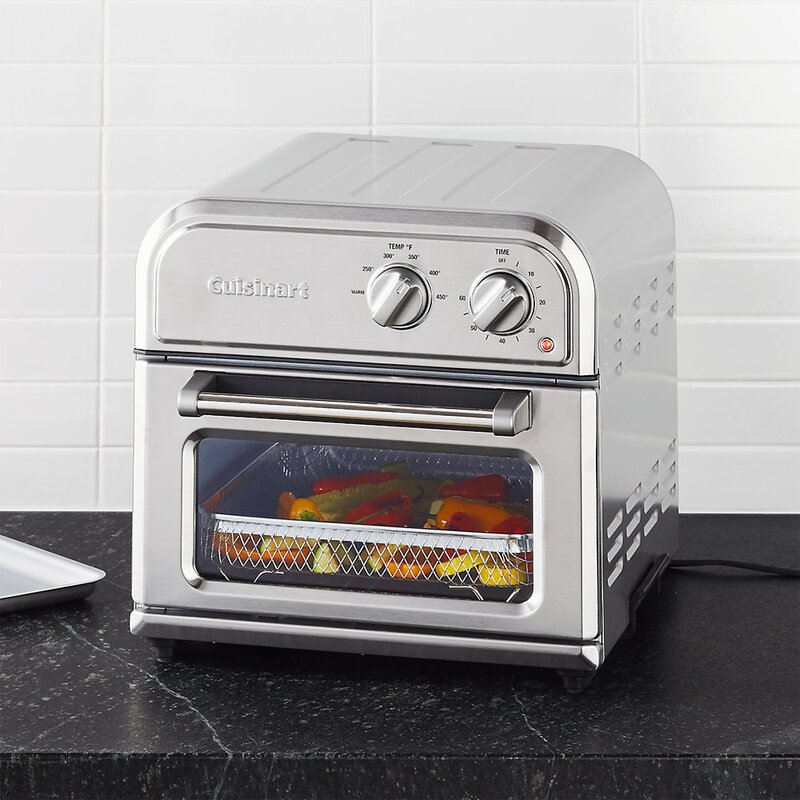 ---
There are few toaster ovens from Cuisinart that are more affordable than the compact AFR-25 air fryer. The ones that are are woefully incompetent and occasionally dangerous (we're looking at you TOB-40N), which is why this appliance is the best budget oven from the brand.
However, even though this appliance looks like a toaster oven and is sold (by retailers) as a toaster oven and cooks like a toaster oven, the AFR-25 isn't technically that kind of appliance.
Cuisinart markets this machine solely as an "air fryer" but the 1500 watts of power used in conjunction with the small capacity helps the AFR-25 cook in almost the same way as a convection toaster oven. And with a price point that is 50% cheaper than most other similar appliances from the brand, it gives consumers who are on a tighter budget a superb opportunity to buy a decent "toaster oven".
There's isn't much to this attractive stainless steel device; with only two operational dials on the control panel (time and temperature), it's effortless to use. Though, like many Cuisinart toaster ovens, it tends to cook too quickly, so a period of trial and error is required until you've gotten used to just how powerful this machine is.
This Cuisinart appliance doesn't come with any real accessories, and the tray and rack it does come with are challenging to clean, but when you consider just how affordable this unit, it should come as no real surprise.
Because the AFR-25 has a limited capacity, it's tailored more towards single people or folks who want a reasonably priced appliance for occasional use.
Cuisinart toaster oven comparison
TOA-60 vs. TOA-65
These two toaster ovens from Cuisinart are very similar (not only in name) but also have some fundamental differences that will be the deciding factor in which one is right for you.
Both these machines have the same 18-quart capacity and 1800 watts of power (which causes each device to burn food if left unattended). Once you've got their idiosyncrasies dialed, these ovens make excellent air fryers.
The 65 is effectively the updated version of the 60. The 60 is a more basic appliance with four analog operational dials, so it's far easier to use than its digital counterpart. However, the digital controls of the 65 are much more precise and give you more versatility and control. The digital model also has a couple of extra cooking features over the analog version.
It's up to you to decide whether ease of use or precision is more important in the kitchen.
Of course, your budget can also dictate which machine you opt for, and the TOA-60 is markedly more affordable than the TOA-65.
CTOA-130PC1 vs TOA-65
At first glance, you might think there is absolutely no difference aesthetically between these two Cuisinart models. Indeed, it takes a keen eye to notice the subtle changes the brand has made.
The only visible difference between these cookers is the door handle, with the CTOA model having a rounded handle fitted and the TOA-65 has a more angular handle. Despite having the exact same cooking capacity, the CTOA has marginally smaller dimensions yet, conversely, is a little bit heavier.
Looking at the features and accessories, you'll notice they're all the same. Power, capacity, warranty are all the same too, so what's the difference?
Well, the CTOA-130PC1 is only available at Costco (at a significantly reduced price point). That's it. Nothing else. They are essentially the same model. So if you're thinking of getting a TOA-65, check Costco for the CTOA-130PC1 first to save yourself some money.
TOB-260N1 vs. TOA-65
The TOB-260N1 is to the TOA-65, what the TOA-65 is to the TOA-60. A step up from the previous model.
While both models are digital appliances, both have an 1800 watt power output, and with similar price points, the 260N1 performs better across the board. We believe it is because the massive power these models produce is more suited to the far larger internal capacity of the TOB260N1 digital toaster oven. It has more space to distribute the heat evenly and has far fewer temperature regulation problems than the TOA-65.
So why do they cost (approximately) the same? Well, that's because the TOA-65 has a dedicated air fryer function while its sibling does not. But if you read the first part of the article, you'll already know that the Cuisinart Chef's convection oven can essentially function as an air fryer even though it doesn't have the title.
TOB-135N vs. TOB-260N1
Cuisinart's TOB-135N is the "lite" version of the TOB-260N1. It comes with a smaller power output, fewer features, fewer accessories, smaller cooking capacity, and a lower price point.
The smaller brother to the "Chef's convection oven" can do most (but not all) of the same things just at a smaller volume. The extra features the TOB-260N1 has (such as '+ 30 seconds' and 'sandwich' function) can be achieved by the 135N if you know the appropriate times and temperatures. They're nice to have but not essential.
While we consider the TOB-260N1 to be the best toaster oven from Cuisinart, the TOB-135N is an excellent alternative if you don't quite have the budget or if you don't need the larger capacity or already own some of the accessories.
How Do Cuisinart Toaster Ovens Compare to Other Brands?
There are tons of brands of toaster ovens available on the market, so how do Cuisinart's stack up against some of their rivals?
Vs. Breville
Breville kitchen products are some of the best on the market. While Cuisinart hasn't built their toaster ovens to rival Breville, they have certainly (in some instances) taken "inspiration" from their designs.
The toaster ovens from the Breville stable are premium, high-products that are superior in every way to Cuisinart, but that makes them far more expensive too (though there are a couple of products similarly priced).
If you have the budget, Breville is the way to go, though the Cuisinart Chef's Convection oven is an excellent challenger.
Vs. Ninja
Ninja are the new kids on the block as far as small kitchen appliances go, and they've taken the market by storm. Not only does the technology that goes into their toaster oven make for excellent performance, but they somehow seem to make massive appliances yet still maintain a reasonable price point.
Ninja products almost always have a superb aesthetic and top performance, making their products better value for money than Cuisinart.
Vs. Hamilton Beach
Hamilton Beach makes affordable toaster ovens that, while they're not as good as Cuisinart ovens, they're a decent alternative if you don't have the funds for a Cuisinart, Ninja, or Breville toaster oven.
These appliances usually have a smaller cooking capacity, lower power outputs, and fewer features. The performance of Cuisinart toaster ovens is more consistent, but when you consider how much money you'd save with a Hamilton Beach model, that's to be expected. If you can afford it, you'll get better results from a Cuisinart toaster oven.
Frequently Asked Questions
While some of the questions you might have are model-specific, below are some answers to general questions you might have about Cuisinart toaster ovens.
How Do You Use a Cuisinart Toaster Oven?
Cuisinart toaster ovens are generally like mini convection ovens that live on your work surfaces and countertops.
There's little difference between using a convection oven and a convection toaster oven other than the volumes of food you can cook at any one time. While the control panels on each model are different, the functions are similar.
Unless your model has speed convection, it will require preheating before you start to cook, and in most cases, with Cuisinart products, you'll need to constantly monitor your food as it cooks (at least until you get used to your new oven) to make sure it doesn't burn.
Almost all Cuisinart toaster ovens come with a baking pan/tray and some form of basket to cook in, though you can use your own accessories (assuming you can find ones that fit).
What Can You Cook In a Cuisinart Toaster Oven?
Essentially, you're only limited by your imagination. Whatever you can cook in a regular convection oven or air fryer, you'll likely be able to cook in one of these appliances.
That said, Cuisinart toaster ovens excel at cooking chicken wings, french fries, pizzas (though usually not at the size Cuisinart states), toast, bagels, and waffles.
The air frying function makes for healthier meals that you can cook with little to no oil.
Most Cuisinart toaster ovens come with a recipe guide to help you cook the best foods in the most efficient way.
How Do You Clean a Cuisinart Toaster Oven?
Unfortunately for Cuisinart, aside from one or two models, most of their toaster ovens come with racks and trays that aren't dishwasher safe. They're not overly challenging to clean unless you've got some particularly stubborn baked-on dirt and grease, and soaking them for 15 minutes hot soapy water will do the trick.
The oven's interiors are generally coated with non-stick, so you can easily clean them. However, depending on the model, it can be difficult to clean the top of the appliance when the heating elements are usually placed.