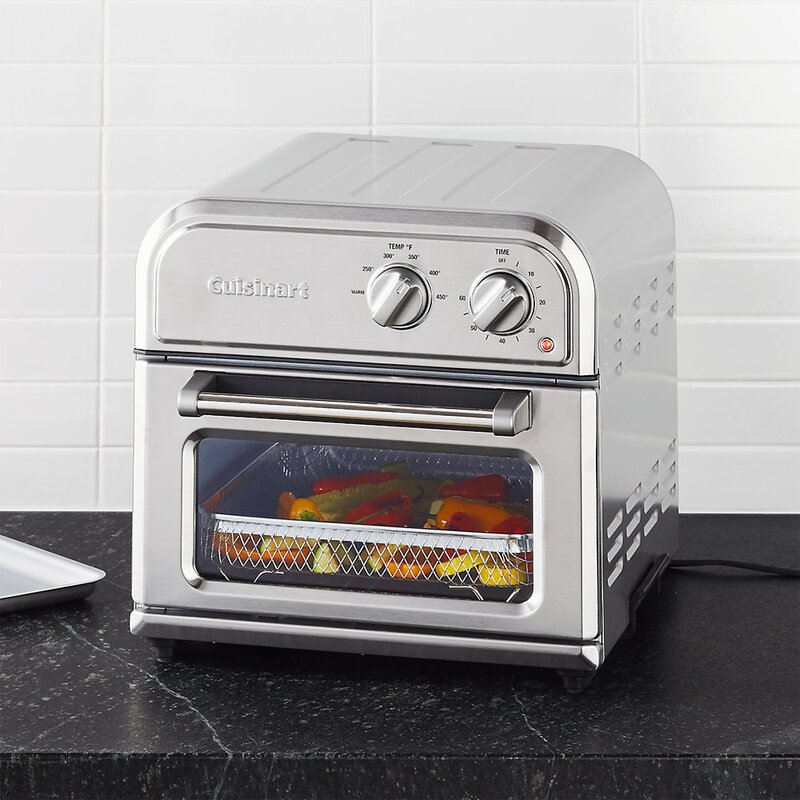 Disclaimer: I may receive commissions from purchases made via links at no cost to you
---
Quick review
The Cuisinart AFR-25 air fryer is a compact and affordable appliance that doubles as a toaster oven, even though that's not what it was designed to do.
It's easy to see why everyone thinks this stainless steel appliance is a toaster oven because the resemblance is uncanny. It's compact, with a drop-down door and both oven and air fryer racks to use for cooking.
With an impressive 1500 watts of power, it's possible that Cuisinart added a little too much juice into this air fryer as it tends to overcook food somewhat, though not to the same extent as the TOA-60 and TOA-65 do.
There are several design issues, like the basket and trays are difficult to take out of the oven (especially when it's hot). The timing dials don't have enough information on them for you to cook for precise periods of time.
However, this is one of the most affordable small air fryers, so some concessions will need to be made if you don't want to spend large sums of money on a more expensive air fryer toaster oven. It's also the best budget toaster oven from Cuisinart.
Cuisinart are missing a trick by not rewriting their cooking guidelines to include faster cook times and marketing their air fryer toaster ovens as super-fast appliances. Cuisinart could avoid the majority of complaints about this appliance with some accurate recipes.
Basic Information
Dimensions: 12.00″ x 11.75″ x 11.50″
Weight: 15.40 lbs
Wattage: 1500 Watts
Control Type: Manual
Temp Range: 180 – 450°F
Capacity: 9 Quarts (8.5 Liters)
Pizza Size: 8″ Pizza
Toast Capacity: 3 slices of bread
Preset Count: 4
Price Range: The Cuisinart AFR-25 has an extremely reasonable price point and is one of the most affordable compact appliances on the market.
Power: 1500 watts. While this is far from being the most powerful appliance in this genre, 1500 watts is a lot of juice when you consider the compact nature of this air fryer convection oven.
Temperature Range: 180°F to 450°
Capacity: Cuisinart says you can cook up to 2.5lbs of food inside this appliance (which is approximately 1.5lbs less than the Cuisinart TOA-65), yet they still market it as having a "large-capacity" which isn't entirely true. This machine is suitable for one or two people at the most.
Manufactured: The majority of Cuisinart appliances are produced and manufactured in China and France, though they are designed in the USA.
Warranty: 3-Year Warranty.
Design & Build Quality 7.5/10
The Cuisinart AFR-25 is somewhat of a paradox because it's not technically an air fryer toaster oven; at the same time, it is an air fryer toaster oven.
Allow us to explain.
Cuisinart doesn't market this appliance as a toaster oven, it's official name is the "Cuisinart AFR-25 Compact Air Fryer". If you look at their website, it makes no mention of it being a toaster oven at all.
However, the confusion arose because the overall design, control system layout, and stainless steel finish make this air fryer look exactly like a toaster oven. So retailers sell this compact air fryer as a toaster oven.
Fortunately, despite not being designed as one, this appliance actually functions as a toaster oven (which we'll cover shortly), though the performance isn't anything special.
Its footprint is tiny so that it won't take up much space on your countertop, and for the low price point, the build quality and durability offer decent value for money.
As this appliance is catered more towards single folks or couples, the capacity is small, and that's ok, but problems arise when you're getting the basket/tray out of the hot oven. There's limited space to manoeuver, and they can be tricky to remove. Remember always to use an oven mitt.
Any food that needs turning halfway through the cooking cycle will be hampered by the limited size too, and getting in and actually flipping the food isn't the easiest thing to do.
Unlike other more expensive Cuisinart toaster ovens, the AFR-25 does not have an interior light so continuously opening the oven door to check on the food gets tedious quickly.
Despite the enormous power output for such a small device, Cuisinart has done an incredible job producing a super quiet air fryer toaster oven. Out of all the positives surrounding this appliance, its silent running is the most impressive.
Though we didn't experience it ourselves, multiple reviews of the Cuisinart AFR-25 claim that after prolonged use, the dials and knobs on this machine tend to crack, melt, or fall off and need to be replaced.
Controls & Ease of Use 7/10
Using the control panel on the Cuisinart AFR-25 is one of the most simple to use systems there is. But with one slight downside; because this appliance was designed on a budget to keep the consumer price down, it only has two analog dials for operating this toaster oven.
One is the mechanical timer (limited to 60-minute cycles) which you twist to set the time cycle you want (and it ticks down like an egg timer), and the other is to set the temperature.
While using the control system is as simple as it gets, knowing what times and temperatures to use are problematic. The time parameters on the dials go up in increments of ten minutes with no markers in between, so if you need to use precise cooking times, you're going to have to guess.
Opening the door of the oven will disable the heat but not the timer, so you may need to add an extra minute or two at the end if you've opened the door to check on your food (which you'll have to do in the absence of an interior light).
Performance 7/10
As we have covered in our reviews of the Cuisinart TOA-60 and the Cuisinart TOA-65, this brand's products have a propensity to have relatively inaccurate temperature regulation, which causes the food to cook exceptionally quickly.
While you might think that this is a good thing, more often than not, people stick rigidly to what they know and end up with burnt food.
While the ARF-25 does suffer from the same affliction, it appears to be a lot less prevalent than it is with the two larger appliances, presumably because it has lower power output.
Unlike its big brothers, the AFR-25 only has heating elements at the top of the appliance, so a lot of flipping and turning is necessary to avoid unevenly cooked food.
Air Frying
The AFR-25 is the perfect air fryer for people who love crispy french fries as this machine can deliver golden brown fries in as little as ten minutes. But because there is only one heating element, you have to flip and mix the fries halfway through, or one side will be burnt and the other white.
Making chicken wings is a much more complex task as you can't mess around when cooking chicken, so you'll have to pay constant attention to make sure the meat is cooked throughout. Even if it looks done on the outside, chances are they'll need a little longer.
The Cuisinart manual recommends using oil or spray to avoid food sticking to the basket and tray, but to us, that defeats the purpose of buying an air fryer in the first place.
Toaster
Even though this isn't technically a toaster oven, the ARF-25 still does an OK job of toasting bread, waffles, and bagels. Yes, you'll get a little uneven toasting, but it's adequate for a device that wasn't designed to toast.
Roast
Roast sweet potatoes cook very quickly (about 15 minutes) in this device, giving the skin a crunchy, crispy texture, and the heart of the potato was soft and fluffy.
While you have to be cautious when cooking meat in the AFR-25, roasting vegetables is quick and easy, like the sweet potatoes, you'll be left with crisp, golden-brown exteriors with a tender middle.
Broiling
The temperature issues that plague Cuisinart air fryer toaster ovens are a blessing in disguise for broiling steak, and similar meats as cooking a perfect steak requires high heat for searing the outside while keeping the inside somewhat rare.
If you like your meat well done, you'll have to tinker with the settings a little.
Baking
If the erratic temperatures work well for broiling steak, then they're not great for baking sweet goods. Until you find the sweet spot in time and temperatures for baking cakes, cookies, and muffins, you'll find burnt edges around the tins and cases.
Pizza
Once upon a time, Cuisinart claimed you could cook a 12" pizza in this appliance (as they did with most of their ovens), but when consumers conclusively proved that in no way would a 12" pizza fit inside, they removed that text from their marketing blurb.
Truth be told, a 9" pizza is about the largest pizza you could hope to cook in the AFR-25 with reasonable results. Again, some trial and error will be needed for times and temperatures.
Results
Accessories 6/10
Due to the more budget-friendly nature of the Cuisinart AFR-25, this appliance doesn't come with much in the way of accessories.
In fact, this toaster oven comes with the bare minimum that it needs to function. An air frying basket and a baking pan that doubles as a drip tray.
The baking pan has a non-stick coating, and though the non-stick functions as it should, the coating will flake and peel over time, regardless of whether you wash it in the dishwasher or not (we'll come to that shortly).
Cleaning 7/10
Cuisinart states that the removable accessories that come with the AFR-25 are not dishwasher safe. While we can confirm this to be true of the non-stick baking tray (which will start to flake if you clean it in a dishwasher), the stainless steel air fryer basket is perfectly safe in the dishwasher.
After numerous cycles in the dishwasher, the basket remained as good as new and unaffected, which shouldn't come as a surprise as it's made from stainless steel.
Still, we recommend covering the baking tray in foil before each use to avoid a possibly lengthy clean-up process.
Inside the oven can be challenging to clean as the interior is small and difficult to see and reach. The fan and door hinges are particularly tricky to clean. We'd advised cleaning the removable parts as soon as possible after use, as once they cool down, they become more of a challenge to clean.
Cuisinart AFR-25 Air Fryer Toaster Oven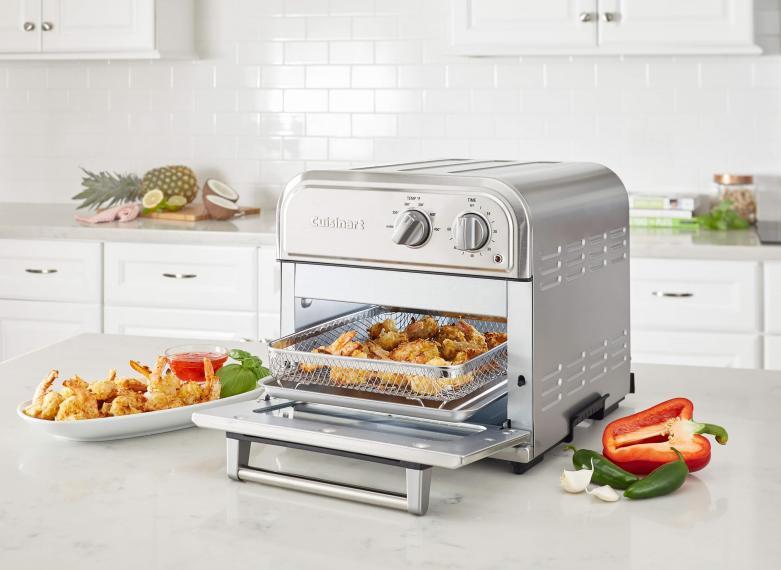 Cheaper
Black & Decker TO1760SS
Though it's less powerful and not as pleasing to look at as the ARF-25, Black & Decker's TO1750SS is a decent option at almost half the cost.

However, this little toaster oven has more cooking functions than its Cuisinart rival, which is impressive for the incredibly low price point.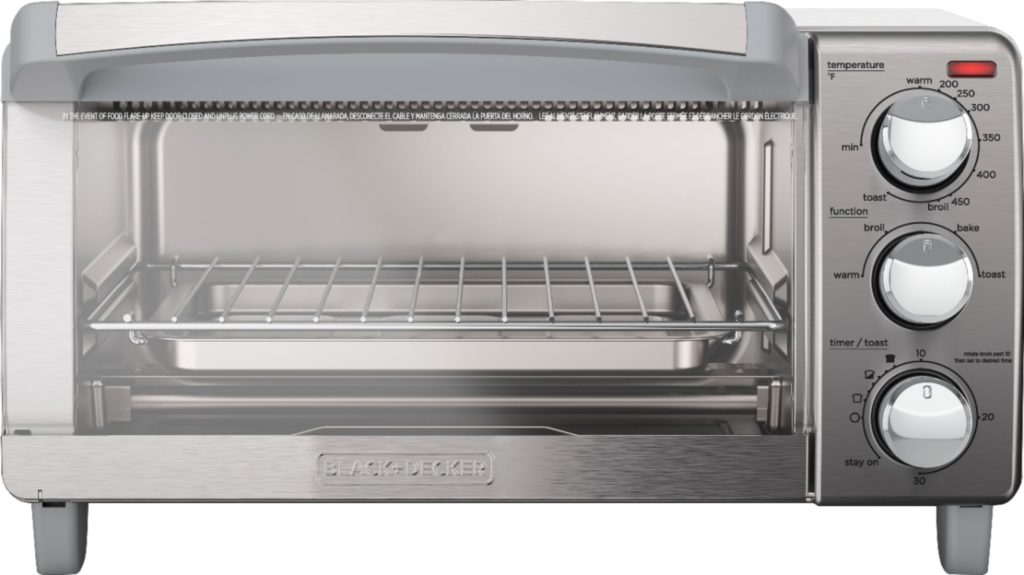 Similar price
Chefman Toast-Air
Chefman's Toast-Air small kitchen appliance has an analog control panel much like the Cuisinart, but with several features not found on the ARF-25 like 'bake' 'broil' and 'air fry.'

But the Chefman oven doesn't have the pedigree of Cuisinart, so there's a trade-off between functionality and reliability.

Higher price
Cuisinart TOB-60N1
If you have an affinity with Cuisinart appliances, you should consider the TOB-60N1 if you need a little more size and power in your kitchen.

While there isn't a massive difference in performance between the two, the ARF-25's big brother is better for larger families.