Disclaimer: I may receive commissions from purchases made via links at no cost to you
---
Quick review
The Cuisinart TOA-60 toaster oven is a fairly basic appliance with analog controls. It's large enough to accommodate 6 slices of toast or 3lbs of chicken wings.
The overall performance of this air fryer toaster is decent, however, the air fryer function itself was found wanting. On the face of it, the air fryer works but the temperature regulator seems off and it runs hotter than the dial would have you believe. This can lead to food burning if you try to cook with times and temperatures you're familiar with.
It does appear that the temperature settings are consistently wrong, so once you figure out how long you need to cook your food for and at what setting you'll have to choose, you'll be golden. However, it shouldn't be down to the consumer to figure that out, the settings should be right from the get-go.
Its low-to-mid-range price point offers decent value for money for an appliance that you'll use for simple everyday tasks, but if you plan on making more challenging meals, the TOA-60's big brother, the TOA-65 would be a more appropriate choice (though this appliance suffers from the same temperature issues).
Basic Information
Dimensions: 15.50″ x 16.00″ x 14.00″
Weight: 21 lbs
Wattage: 1800 Watts
Control Type: Analog
Temp Range: 250 -450°F
Capacity: 18 Quarts (17 Liters)
Pizza Size: 12″ Pizza
Toast Capacity: 6 slices of bread
Preset Count: 7
Price Range: The low-to-mid-range price point of the TOA-60 puts it slap bang in the middle, making the cost of this appliance more than fair.
Power: The Cuisinart TOA-60 has an 1800 watt power output which is exceedingly powerful and at the upper end of all toaster ovens. 1800 watts will help this appliance cook your food very quickly.
Temperature Range: 250°F to 450°F
Capacity: With an 18-quart capacity, this toaster oven can cook up to 4lbs of chicken, 3lbs of chicken wings, cook a 12-inch pizza, or six slices of toast. The cooking capacity is ideal for 2 to 3 people.
Manufactured: This Cuisinart toaster oven and its components were produced and assembled in China and France.
Warranty: 3 years.
Design & Build Quality 7.8/10
The outward appearance of the Cuisinart TOA-60 is sleek and pleasing to the eye. While there is nothing groundbreaking about how it looks, the stainless steel finish is very attractive (though the stainless steel is limited to the front face of the oven) and is also available in Navy and Cream, both of which look excellent too.
With an 18-quart internal capacity, this toaster oven is relatively spacious, but we feel it could have been better utilized if it were a little taller and had an extra shelf space.
The dials have a quality feel to them; they turn smoothly but offer some resistance so you can accurately set the time, temperature, and choose functions.
There's a large viewing window on the front drop-down door and an interior light for monitoring the food as it cooks, though it can be difficult to see when the rack or tray is placed in the top position.
Despite being partly manufactured in China, the build quality is decent, and there are very few consumer complaints about unit failure.
Available color options
From left to right order:
• Stainless steel (TOA-60)
• White (TOA-60W)
• Black Steel (TOA-60BKS)
• Navy (TOA-60NV)
• Cream (TOA-60CRM)
Controls & Ease of Use 7.8/10
The controls panel on the Cuisinart TOA-60 consists of a set of four analog dials. The lack of a digital panel might be off-putting to some, but we found the simplicity of the set-up to be easy to use, though not without its drawbacks.
As the dials are clearly marked, there can be no confusion about what they do, but they aren't an exact science. For instance, the timer dial is laid out in increments of 10-minute segments, so if you need to cook something for 12 minutes, you'll have to use your judgment.
There are seven functions on the TOA-60 which offer a solid amount of versatility. They are Warm, Broil, Toast, Bake, Air Fry, Convection Broil, and Convection Bake.
Performance 7.8/10
You'll need to rethink almost all your cooking times when you're using this appliance and be prepared to stand around and monitor your food until you've got used to just how fast this thing cooks.
Whether it has an inaccurate temperature regulator or the timer is wrong, if you go by the recommended settings your food will burn.
Once you get used to those setting, this toaster oven cooks insanely fast, but we think Cuisinart should make the adjustments to the appliance to take that responsibility away from the consumers.
Air Frying
We found cooking crispy bacon in the TOA-60 took around ten minutes and produced good results. However, the crispness wasn't as even as it would be if we cooked the bacon in a regular oven or skillet. If you go by normal cooking times you will burn your food with this oven. You'll need to adjust your times accordingly.
Making chunky homemade fries was really easy. The fries came out a beautiful golden brown, with a lovely fluffy center and a crispy finish. However, the fries need to be turned halfway through to make sure that the golden finish was all around the fries or you'll end up with a white underside.
We found that making chicken wings in the TOA-60 required less cooking time than the manual that came with the appliance said. This suggests that the thermostat or regulator is slightly off or the timer is inaccurate, as this wasn't the only food that cooked faster than usual.
Toasting
Making six slices of toast in this appliance is easy and straightforward. The toaster function works flawlessly and makes evenly toasted toast. Even if you need more than six slices of toast don't worry as this oven makes it extremely fast.
Waffles, bagels, and flatbread toasted in the same way. Quickly and evenly.
Baking
Baking cookies in the TOA-60 took a little trial and error. We found using the recommended temperatures tended to burn the cookies. The 'convection bake' setting was the optimal temperature to make a delicious batch of chocolate chip cookies.
Roast chicken in the oven is excellent. Crisp on the outside and juicy and tender on the inside. The baking function doesn't seem to have the same issue as the air fryer as it cooks at the suggested times without burning the food.
Broiling
The Cuisinart TOA-60 did an excellent job of convection broiling both chicken and steak. Both foods came out properly cooked (particularly important with chicken) without being too burnt or too dry.
Pizza
Cuisinart claims you can cook a frozen 12" pizza in the TOA-60, but we found this to be inaccurate. The only way a twelve-inch pizza would fit inside would be if we were to fold the pizza in half.
However, the results it produces on the smaller pizza were excellent with an even golden brown finish across the top of the pizza, and the crust was cooked to perfection. It's worth noting that the 1800 watt power output makes this appliance cook really quickly, and if you cook a frozen pizza on the setting recommended on the packaging, it will burn. So some trial and error are required.
Results
Accessories 7.8/10
Though there aren't many accessories with the Cuisinart TOA-60, we found the three racks and trays included in the box to be particularly useful.
The oven rack, air fryer basket, and baking pan are all solidly made and work well. However, we'd have preferred the baking sheet to be a little deeper.
There's a slide-out crumb tray to catch all the stray particles of food that drop down when you're cooking.
Cleaning 7.8/10
Cleaning this appliance can be a bit hit and miss. None of the removable parts are dishwasher safe (though we can't understand why a stainless steel basket would not be perfectly safe in a dishwasher).
The baking pan/drip tray is fairly easy to clean unless you've been cooking something fatty for an extended period of time, then that grease will burn on and become stubborn.
The sides of the oven's interior appears to have some kind of non-stick coating, and we found wiping it clean to be a breeze, though cleaning the top of the oven was more challenging as the heating elements can get in the way.
If you don't clean the top regularly it will begin to stain.
Cuisinart TOA-60 Air Fryer Toaster Oven
Cheaper
Ninja SP101 Foodi Convection Oven
Ninja's Foodi SP101 offers a remarkable amount of versatility and surprising capacity thanks to its low-profile design and innovative control panel.

What's even more remarkable is that this convection oven is way more affordable than the TOA-60 and performs better across the board.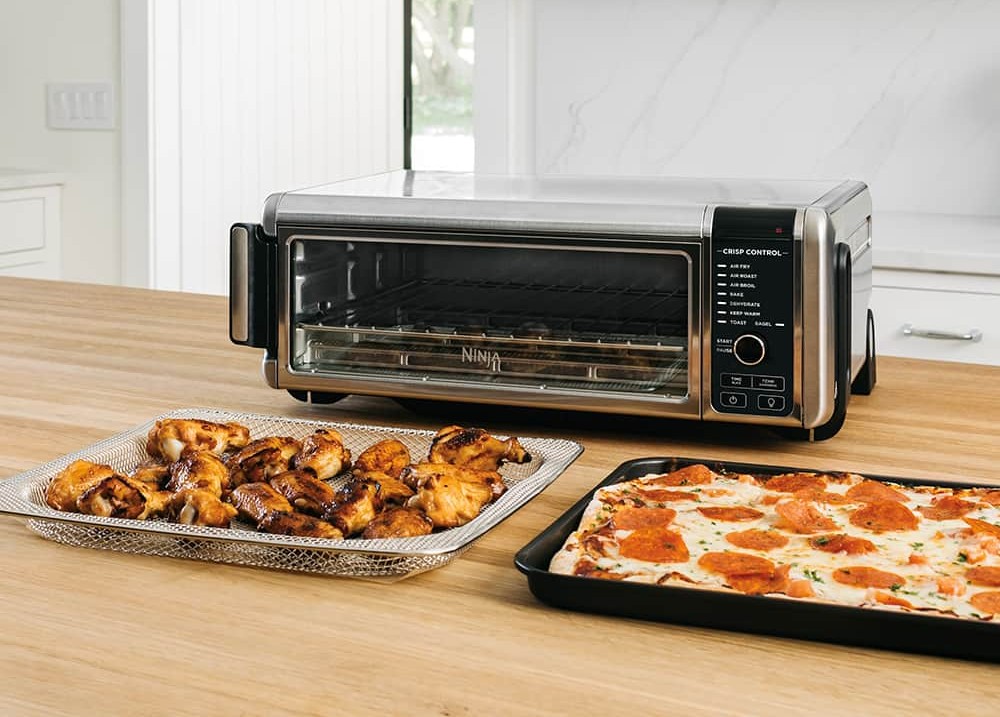 Similar price
Instant Omni 10-in-1 Combo.
Choosing between the Cuisinart TOA-60 and the Instant Omni 10-in-1 is all about personal preference.

The Instant Omni is the polar opposite of the timeless classic design of the TOA-60. Its sleek, modern, and digital construction will look at home in any contemporary kitchen.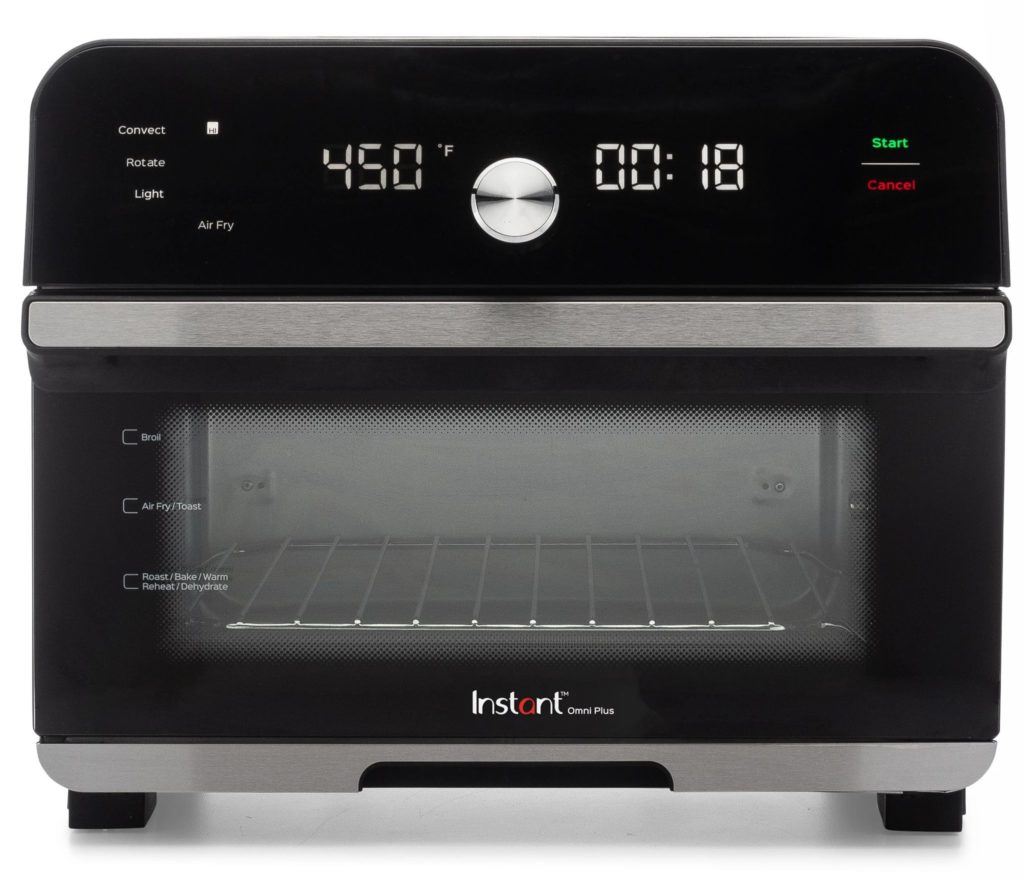 Higher price
Breville Smart Toaster Oven Air (BOV900BSSUSC)
The Breville Smart Toaster Oven is the pinnacle of appliances in this genre. It's also one of the most expensive.

But if you have the disposable funds, this version of the Breville Smart Toaster Oven is one of the most comprehensive air fryers, slow cookers, and dehydrators on the market. It's also exceedingly beautiful.