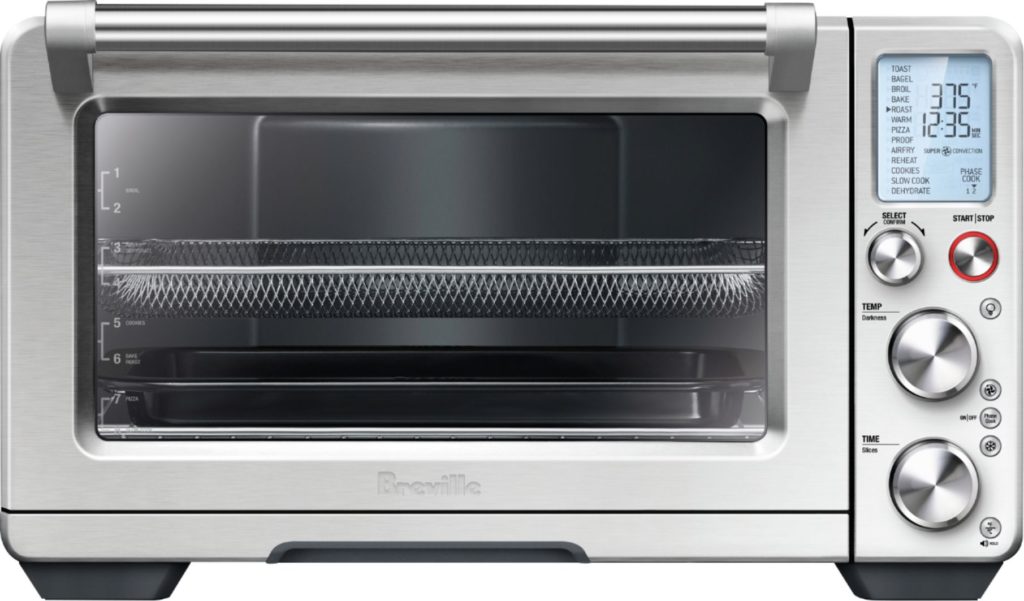 Disclaimer: I may receive commissions from purchases made via links at no cost to you
---
Quick review
The Breville BOV900BSSUSC Smart Air Fryer Toaster Oven is a premium small kitchen appliance created by one of the best brands in the business. It's the largest, most feature-packed, and most expensive toaster oven from Breville.
This multifunctional toaster oven has a massive capacity that Breville says can cater to up to 14 people. While we're not sure how accurate that is, it's definitely large enough for four to six people.
It's extremely powerful, too, with a decent temperature range, though it falls short of being able to reach 500F despite clocking an impressive 1800 watts of power.
With thirteen functions, this toaster oven is a "jack of all trades." Though it's also a "master of none," that's okay. It doesn't necessarily need to be the best at anything when it's so competent at so many things it can replace a whole host of appliances from your kitchen with ease.
The control panel may seem overly complex at first, but it will become second nature with a bit of practice.
You'll be able to cook all manner of food and meals with the Breville Smart Toaster Oven, as it can handle wings, fries, joints of meat, cookies, and pizza with ease.
Breville supplies a ton of accessories with this oven, which goes some way to justifying the massive price tag.
While the accessories that come with the oven are relatively easy to clean, the oven's interior certainly isn't, especially if you've been using the air fryer for cooking fatty foods, which can get a little messy.
No appliance is perfect, and the Breville Smart Air Toaster Oven has its deficiencies, but the brand did an excellent job at striving for perfection and ended up with a pretty great appliance.
Basic Information
Dimensions: 21.5" x 17.5" x 12.7"
Weight: 38.9 lbs
Wattage: 1800 Watts
Control Type: Digital
Temp Range: 80 – 480°F
Capacity: 29.9 Quarts (28.3 Liters)
Pizza Size: 13″ Pizza
Toast Capacity: 9 slices of bread
Preset Count: 13
Price Range: The Breville Smart Air Toaster Oven is one of the most expensive toaster ovens on the market. Like many of their products, this Breville appliance has premium quality, and they charge through the nose for the privilege of ownership.
Power: With 1800 watts of power, this toaster oven can complete most cooking tasks and is generally more powerful than most toaster ovens. There certainly are many appliances with more power than this one.
Temperature Range: 80F to 480F. The lowest temperature that this oven can achieve is perfect for proofing dough and dehydrating food. The upper limit of 480F is disappointing when rival products with 1800 watts of power can reach 500F.
Capacity: The enormous one cubic foot of cooking space on this toaster oven is almost unrivaled in the industry and can hold nine slices of toast, a 14lb turkey, a 13" baking pan or pizza, or a 12 cup muffin tray. Suitable for cooking for up to 6 to 14 people (depending on the variety of food you're cooking).
Manufactured: Breville toaster ovens are designed in Australia, manufactured in a number of different countries, and assembled in China. This admittedly is a turn-off to some people, but Breville clearly found an excellent team to do the job.
Warranty: The Limited 2-Year Warranty that comes with this appliance is disappointing, especially when you consider the hefty price tag that comes with it. While Breville products are excellent, their customer service is not.
Design & Build Quality 9/10
If you're familiar with Breville's small kitchen appliances, you're probably aware that their design team is one of the best in the business, both in terms of aesthetics and build quality. The Smart Toaster Oven is no different.
The brushed stainless steel exterior oozes quality, and even though the appliance has some serious weight to it, that heft lends itself to being built from quality materials.
Because this toaster oven has an enormous 1.0 cubic foot cooking capacity, it has an equally massive footprint as a result. When you consider the large footprint and that the oven weighs almost 40lbs, you'll need a permanent spot in your kitchen for it.
This toaster oven has a large drop-down door to access the sizable interior, which has a massive viewing window so you can keep an eye on your food (there's also an interior light you can switch on at any point, that also comes on any time you open the door). The viewing window also has handy markers to indicate which rack positions you should use in conjunction with the various features and settings, which is a simple yet effective addition.
Fixed to the top of the door is a chunky handle to make opening it easy. It also doubles as a support to rest on your countertop when the door is fully open.
As the years pass, you'll find the door hinges begin to squeak, but that can be resolved with a little oil/WD40. Round the back of the oven, you'll find two stoppers that prevent the hot exterior from touching any walls or cupboards that might be near your appliance.
Completing the gorgeous exterior is a cool-looking yet extensive control panel, which we'll cover in greater detail in the next section.
Inside the toaster oven, you'll find four rack positions so you can select the appropriate one for whatever food you're cooking, and the central positions are spring-loaded, so your shelf will pop out slightly when you open the door.
This toaster oven boasts an impressive six independent quartz heating elements (four on the top and two on the bottom) that promote even heating throughout. There's also a 2-speed convection fan built into the right-hand side to help circulate the heat.
Controls & Ease of Use 9/10
The control system on Breville's impressive toaster oven is, at first glance, pretty complex as it attempts to simplify the massive number of options this appliance has to offer.
There are three dials (Time/Slices, Temp/Darkness, and Select/Confirm) that are used for scrolling through the various selections, functions, and settings. Six buttons which are Start/Stop, Interior Light, Convection/Super Convection, Phase Cook, Defrost, and a button that lets you switch between celsius and Fahrenheit (you can also turn off the audio of the control panel by holding down the button). Of course, no Breville appliance would be complete without their famous pale blue LCD.
With thirteen selectable functions, this is one of the most versatile pieces of kitchen equipment on the market. Using the "select" dial, you can scroll between:
Toast
Bagel
Broil
Bake
Roast
Warm
Pizza
Proof
Air Fry
Reheat
Cookies
Slow Cook
Dehydrate
In the toast setting, you're able to choose how many slices you're about to toast and the shade setting. The times and temperatures aren't set in stone, and you can make tweaks here and there if the presets aren't exactly to your liking.
The bagel setting is similar to the toast setting; however, it'll only toast one side of your bagel.
In each of the broil, bake, and roast settings, there are "low", "medium", and "high" settings, which, again, can have their time and temperatures tinkered with if you so wish. You can also add convection and super convection to these settings if you have food that you want to cook exceptionally quickly.
Using the low-temperature settings on the Smart Toaster Oven, you can use the Keep Warm function to make sure your food is still hot until you and your family are ready to eat, or the proofing feature to get your bread dough to rise. You'll rarely find appliances with these features that actually work.
Many people will buy this appliance for the air frying function alone. As with most of the other settings, once selected, you can alter the time and temperature of the cooking cycles using the appropriate dials. However, the standard settings work perfectly well without any adjustments.
Reheating last night's takeout is a cinch with the reheat function, while this particular appliance offers a slow cooker feature for making those tender cuts of meat and aromatic stews. Because the internal capacity is so large, you can easily fit a 5-quart Dutch oven inside.
One unusual yet welcome feature is the dehydrate function that uses the low-temperature settings to dehydrate your ingredients.
The "phase cook" setting lets you program two different temperature settings into one cycle for foods like cheesecake or cheese-topped bakes and stews that usually need separate cooking cycles. This function probably won't get used too often, but it's there if you need it.
Performance 8.5/10
When you first buy your Breville BOV900BSS, you'll probably be eager to get cooking; however, Breville states you must run the oven for 20 minutes on the "pizza" cycle before cooking any food in this appliance.
Going through this process will help remove any residual coating that could be left on the heating elements. It might get a little smelly, but that's completely normal, and better to get it done than have your food taste/smell of chemicals.
The Breville Smart Air toaster oven has PID temperature control and Element IQ technology. Both these features work in tandem to intelligently and dynamically alter the internal temperature of the toaster oven based on the ambient temperature of wherever you have placed your cooker using sensors and microchips. So the heat will be remarkably consistent throughout the oven.
It's also worth noting that the exterior gets very hot to the touch when it's in use, but that isn't uncommon with this type of appliance.
Listed below are just a few of the foods you can cook in this appliance and how well it performs.
Toast or Bagels
Using the toast and bagels function of the Breville Smart Air Toaster Oven, you'll get toast that's relatively even and uniform. While it's not quite as good as a dedicated toaster, the toast setting is better than most toaster ovens.
Chicken Wings
While this appliance can air fry chicken wings to perfection (crispy skin and tender, perfectly cooked meat), the process it uses for air frying the chicken wings causes a lot of mess. We're unsure whether it's the high-powered nature of the fan that splashes fat from the meat around the interior, but unless you take precautionary measures with tin foil and a drip tray before cooking, prepare for a large clean-up job.
Cheese Burgers
Broiling up a batch of burgers is super easy. Much like the chicken wings, you'll get a golden brown finish on the outside with a juicy inside. However, the burgers will cook a lot faster than in a regular oven or skillet, so be prepared for some trial and error, or you'll end up with burnt meat.
Bread
You can make bread entirely from scratch in this appliance, using the low temperatures to proof your dough before cooking crunchy yet fluffy loaves. There are no instructions or recipe guide for making bread in this toaster oven, though, so some prior bread-making knowledge would be advantageous.
Pot Roast
You'll rarely find a toaster oven with a slow cooker function, and while this one isn't perfect, you can still slow cook an 8-hour pot roast with decent results. Much like the toast function, this isn't better than a dedicated slow cooker, but it's a nice option to have.
Pizza
Even though this oven already has a massive interior capacity, there's a circular indentation towards the rear of the oven to accommodate a large pizza better. If you're cooking fresh pizza, you'll need to play with times and temperatures to find the sweet spot. Frozen pizzas will cook much more quickly than the suggested times on the packaging.
Reheat/Leftovers
This function is a fan favorite, thanks to its ability to reheat all kinds of leftovers without drying them out or burning them.
Results
Accessories 8.5/10
There's no getting away from the fact that the Breville BOV90BSS comes with a massive price tag. Fortunately, the brand softens the blow somewhat with a nice selection of accessories.
Inside the box, you'll find:
13" non-stick pizza pan (though it will only last for 6 to 12 months before the coating begins to peel off)
Two stainless steel wire oven racks (that can be positioned, either way, creating multiple cooking angles)
Stainless steel broiling rack (9"x13")
Enamel roasting pan (9" x 13")
Air Frying/Dehydrating wire basket
Removable crumb tray
The manual that comes with this appliance suggests that you should wash all the accessories before making sure they're free of any plastics or toxins.
Cleaning 7/10
Cleaning this appliance comes in two stages and is equal parts easy and challenging.
Firstly, all the accessories, except for the pizza pan, are dishwasher safe and easy to clean. Even the wire basket shines up nicely after a stint in the dishwasher. If you don't have access to a dishwasher, pre-soaking the racks, baskets and trays should loosen up the grease and grime, and then you can go at it with any type of cleaning utensils.
While the accessories are easy to clean, the interior is most certainly not. As we previously mentioned, the air fryer function tends to splash fat from the meat and grease all over the interior, and if you haven't used a drip pan, you'll find a burnt mess on the crumb tray below.
The clean-up process is exacerbated by the fact that you can't use any harsh detergents or abrasive cleaning utensils on the toaster oven interior, or you'll damage the non-stick coating.
It's probably a good idea to use only a soft sponge on the exterior, too, as you won't want to ruin that gorgeous appearance.
Breville BOV900BSS Toaster Oven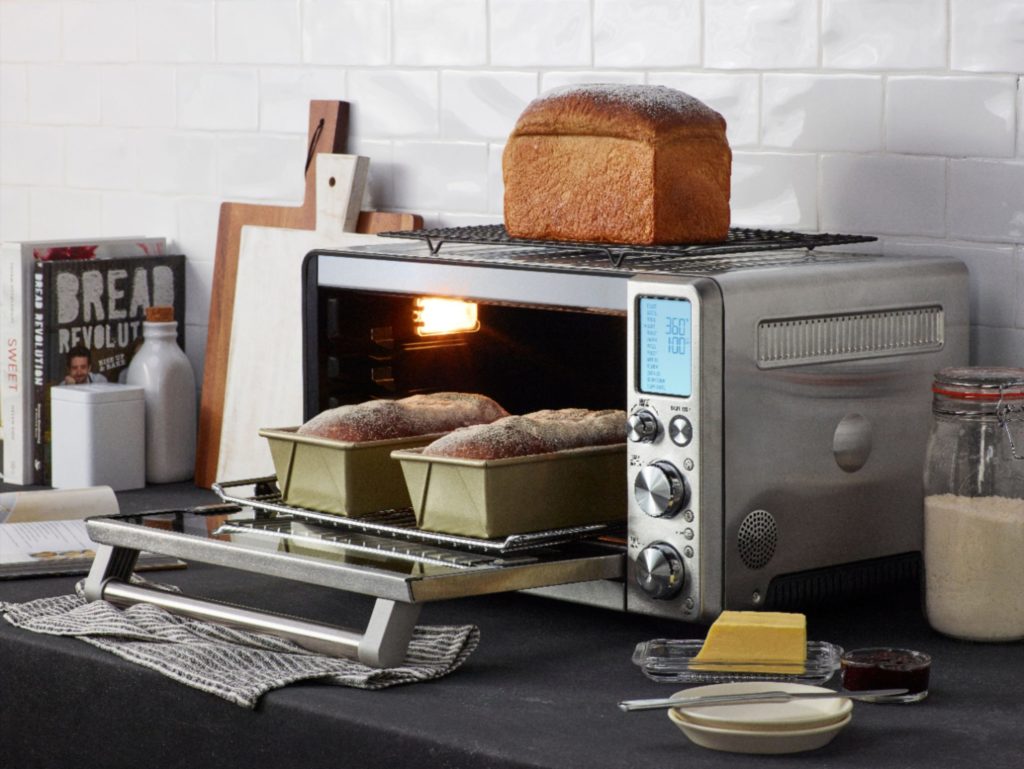 Cheaper
Instant Omni 10-in-1 Air Fryer Toaster Oven Combo
There aren't many toaster ovens that even come close to the price bracket of the Breville Smart Air Fryer Toaster Oven, though the Instant Omni tries its best to match it in terms of features.

The Instant Omni sets itself apart from the Breville beast with an innovative control system and an excellent range of accessories.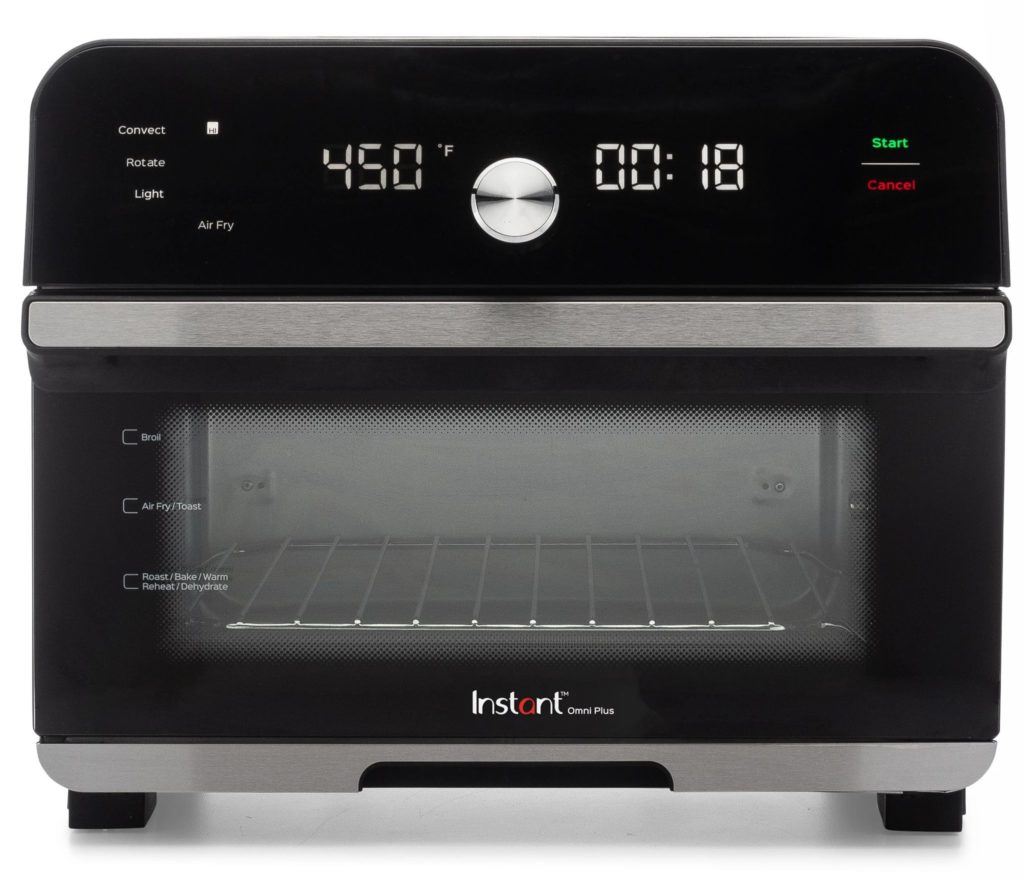 Similar price
Ninja DT201 Foodi XL Pro
Thanks to its cavernous cooking capacity and ingenious features and functions, ninja's Foodi XL Pro (DT201) is probably the best challenger to the Breville Smart toaster oven.

We think it's better looking too, and the control system (which is built into the handle) is super easy to use.