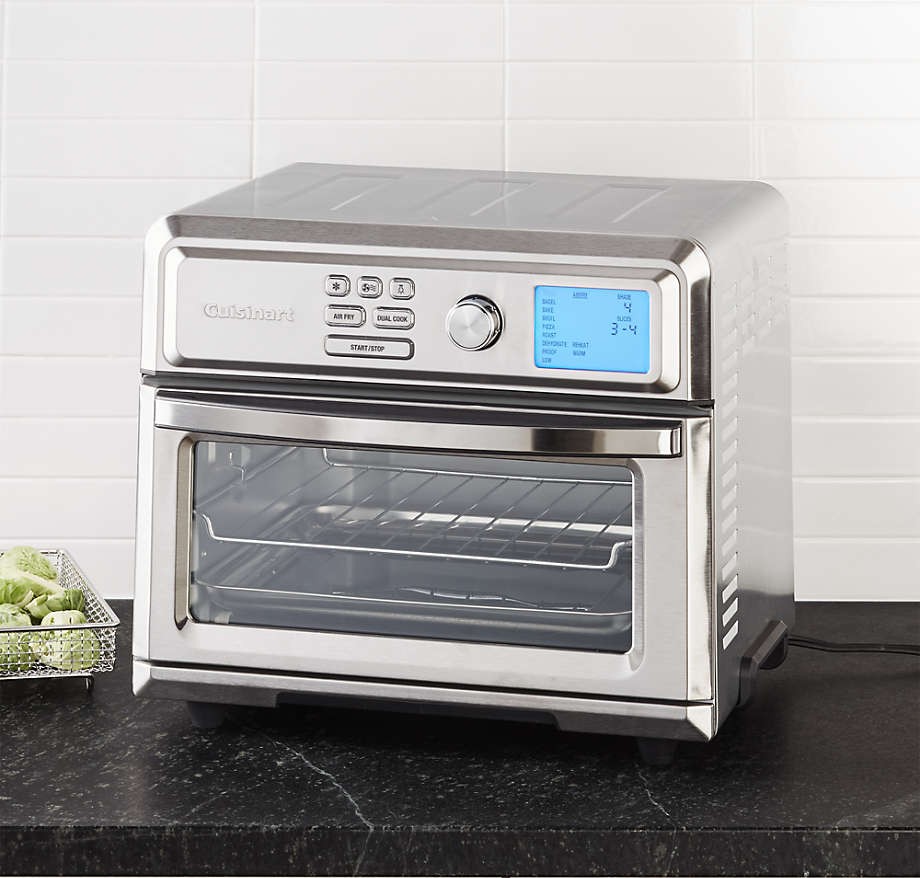 Disclaimer: I may receive commissions from purchases made via links at no cost to you
---
Quick review
The Cuisinart 'TOA-65 Digital Air Fryer Toaster Oven' is a high-powered multifunctional appliance that is a step above its little brother, the Cuisinart TOA-60. We have selected this as the best Cuisinart air fryer toaster oven.
This toaster oven excels at air frying and cooking foods in super-quick times to a beautifully even finish, (but it isn't without its complications). Wings, fries, and bacon come out crispy and delicious. You can cook a 4lb whole chicken (maximum size), a 1.5lb T-Bone steak, or a whole mess of chicken wing with ease.
While the air fryer has the potential to be superb (once you figure it out), the toaster function is one of this appliance's weak links. Toast, bagels, and waffles brown unevenly depending on their position in the oven.
The Cuisinart TOA-65, which comes at a mid-to-high-range price point, could have been a wonderful air fryer toaster oven but it falls short because the temperature accuracy seems a bit off.
That's not to say you can't cook with it, you can, but you'll have to throw all your recipe books out of the window and start again, as cooking with this appliance using recommended cooking times will burn your food.
You'll need some trial and error, and take notes of how long each meal takes to cook so you'll know the next time, but you'll need to constantly monitor every meal to begin with.
Basic Information
Dimensions: 17.00″ x 21.73″ x 15.75″
Weight: 28.50 lbs
Wattage: 1800 Watts
Control Type: Digital
Temp Range: 80 – 450°F
Capacity: 18 Quarts (17 Liters)
Pizza Size: 12″ Pizza
Toast Capacity: 6 slices of bread
Preset Count: 9
Price Range: This Cuisinart toaster oven has a mid-to-high-range price point but still offers reasonable value for money when you consider the decent quality, high power output, and excellent performance from this superb appliance.
Power: The TOA-65 has an enormous 1800 watt power output, putting it among some of the most powerful air fryer toaster ovens on the market. This Cuisinart appliance will never be found wanting and can tackle any cooking task you ask of it.
Temperature Range: 80F to 450F
Capacity: With an 18-quart capacity, the TOA-65 Digital Air Fryer Toaster Oven can cook six slices of toast, a 4lb whole chicken, or 3lbs of chicken wings. Cuisinart claims you can cook a 12" pizza in this oven, You can't.
Manufactured: While designed in the USA, most Cuisinart appliances are produced and assembled in China and France. Not everyone is a fan of China-made products, but it helps Cuisinart keep the costs down.
Warranty: Limited 3-Year Warranty.
Design & Build Quality 8/10
The overall design of the Cuisinart TOA-65 Digital Convection Toaster Oven is relatively similar to its little brother, the TOA-60, but with a more high-tech feel. In place of the analog dials found on the 60, are some stylish back-lit buttons and dials and a cool pale blue LCD.
The buttons and dials give reassuring feedback when you turn and press them, and the door is smooth to open.
Unlike the TOA-60, the stainless steel finish on the 65 extends all the way around the unit's body. There are vents on the back and side to help keep the appliance cool. There needs to be 2 to 3 inches of space between the vents and your walls/cabinets. The metal will get hot during use, but not so hot that you'll suffer severe burns if you touch it.
There are six elements in total on this toaster oven (four at the top and two at the bottom) and an air fryer fan to circulate the heat. Despite the extremely strong 1800 watt power output, the toaster oven runs remarkably quietly which is hugely beneficial for an appliance of this type.
On the stainless steel drop-down door for ease of access which has a large viewing window so you can keep an eye on your food (which you will definitely need). To further help you monitor your meals as you cook there's an interior light, which you will also need.
When the timer runs out (if you ever make it that far) the TOA-65 will let you know that your food is ready (or possibly burnt) with a notification chime. The appliance will automatically switch the heat off when the timer reaches zero.
This oven weighs in at a hefty 28.5 pounds, so you'll probably need a permanent home for it in your kitchen.
Controls & Ease of Use 8/10

One of the main issues with the Cuisinart TOA-60 was the analog dials wouldn't give you precise time and temperature measurements; it was more of an approximation which is not ideal. But this digital appliance lets you program the toaster oven to the exact second or degree.
There can be some confusion around the functions of some of the buttons if you don't read the instruction manual properly, as there are a couple of buttons that only have icons and no text telling you what their purpose is. The controls' overall functionality is a bit too complicated and takes a while to get used to it.
There are several options to choose from on the LCD before you begin cooking, they are Toast, Bagel, Bake, Broil, Pizza, Roast, Dehydrate, Proof, Low, and Warm. You use the dial located next to the display to scroll through the options and click the dial in to select your desired function. Depending on your choice there might be additional options such as "shades" if you're cooking toast, or different foods (fries, wings etc) if you select Air Fry.
The dial can also be used to manually select the temperature and cooking times if you'd prefer to use your own settings, as well as fan speed and defrost.
If you open the oven door during a cooking cycle, the appliance will turn off the heat and pause the time.
Performance 6.5/10
Air Frying
Cooking chicken wings can be a challenge to get right. The air fryer cooks so quickly that you'll need to keep an eye on the wings, so they don't burn. They can be difficult to fit in the basket and flip during cooking too. They take approximately 22 minutes at 400F, which is far faster than normal cooking methods, so be careful.
Cooking bacon is extremely fast and makes delicious crispy bacon. If you like it a little less crispy, this thing will cook bacon in just a couple of minutes. The TOA-65 also manages to cook bacon without producing plumes of smoke or setting off a smoke alarm.
You can cook frozen french fries (or fresh if you'd prefer) in around 10 minutes, which is a little faster than the suggested cooking time from Cuisinart because the air fryer is so effective.
Toasting
In a waffle test, the TOA-65 cooked six waffles at once, and the results were sporadic. Though the individual waffles were toasted evenly on the top, underneath the waffles were underdone, and the waffles to the back of the oven were more toasted than the ones at the front.
The lower shade settings were pretty good and produced nice golden waffles, but anything higher than that tends to overcook the food. Toast and bagels suffered from similar issues.
Baking
You can use the bake function for baking all kinds of sweet treats. The setting lets you quickly bake cookies, pie, or pastries to a delicious finish. Cooking a pie (using packet pie crusts) required the pie's edges to be protected with rim protectors to stop it from burning. The pie turned out great, but it needed constant monitoring.
Roasting
We found cooking a 4lbs whole chicken at 375F for 1 hour on the roast function to be the optimal time for a delicious well-cooked whole chicken with crispy skin and tender meat. Chicken isn't a food that you want undercooked, so it's vital to get this one right.
Cooking this bird caused the Cuisinart TOA-65 to give off a little smoke, but nothing too drastic. Maybe it was due to the longer cooking time, or that chicken was a lot closer to the heating elements than it would be in a standard oven.
Broiling
A 1.5lb T-bone steak will take some practice depending on your preferred tastes. Medium-well took approximately 21 minutes, but times will vary depending on the size of your steak.
Pizza
Cuisinart says that you can cook a 12" pizza in the TOA-65, but oddly they only sell an 11" pizza stone (separately) to work with this appliance. You can fit a 12" pizza inside, but it's a squeeze, and the base will be squished up against the side.
You can cook frozen pizza in under fifteen minutes which is far quicker than the packaging instructions suggests, and it cooks it to perfection, making the cheese golden brown and the base beautifully crunchy.
Defrost
The defrost function works surprisingly well, but disappointingly you can only use it on a select few frozen foods, only a select few as recommended by Cuisinart. These items are mostly bread-based such as bread, toast (though we're not sure who freezes toast), bagels, and pizza.
Results
Accessories 7/10
The TOA-65 comes with three different racks that you can use separately or in conjunction with one another for different cooking styles. There's an air fryer basket, baking sheet, and cooking rack. Each piece fits snugly inside the appliance and appears to be coated in some kind of non-stick.
There's also a slide-out crumb tray to catch all the food particles when you're making bagels or toast.
The basket is the most troublesome piece as food can get stuck between the grid. However, that problem occurs in almost all toaster oven baskets, not just the one on the Cuisinart TOA-65.
Cuisinart also includes a "quick reference guide" to refer to if you need some cooking information and recipe recommendations. The guide conveniently slides into the toaster oven's underside so that you can access it any time.
Cleaning 7/10
Thanks to the previously mentioned non-stick coating on the accessories, all three are easy to clean. Even the basket, despite food sticking to the grid, wipes clean with relative ease after soaking it in hot soapy water for a few minutes.
The basket and baking tray can also be cleaned in the dishwasher, but you risk damaging the oven rack and crumb tray if you try the same with them.
Cleaning the inside of the toaster oven is a different matter. It can be tricky to get to all the spots near the heating element, especially if you've been cooking something fatty that's prone to spitting and splashing. It's not hugely challenging, but it is more complicated than cleaning the racks.
Cuisinart TOA-65 Digital Air Fryer Toaster Oven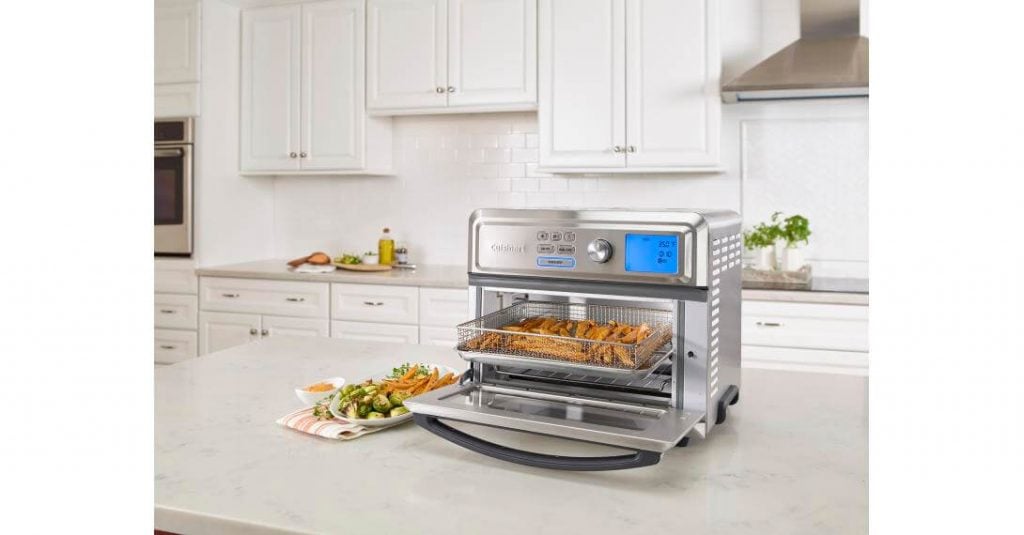 Cheaper
Cuisinart TOA-60
Cuisinart's TOA-60 is the analog version of the TOA-65. Most of the features are identical between the two, and power, performance, and reliability are very similar too.

You'll pay less for the TOA-60 only because it has dials rather than an LCD control panel.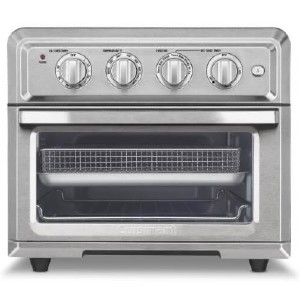 Similar price
Ninja DT201 Foodi XL 10-in-1
The Ninja Foodi XL is pound for pound, one of the biggest punchers on the market. For a price point comparable to the Cuisinart TOA-65, you'll get an ultra-modern appliance with a stunning design.

This massive air fryer toaster oven has one of the most well-thought-out control panels in the industry, and the features are extensive.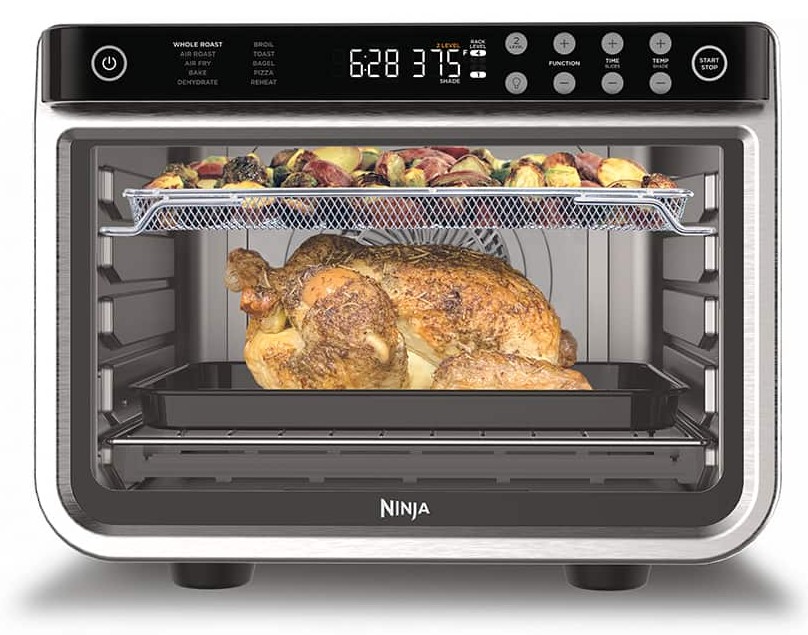 Higher price
Breville Smart Toaster Oven Air (BOV900BSSUSC)
The Breville Smart Air Fryer Toaster Oven is the best that money can buy, but you'll have to spend a lot of money to own it.

This stunning brushed stainless steel oven oozes quality both inside and out and can accomplish any cooking task you ask of it, thanks to Breville's Element IQ technology.