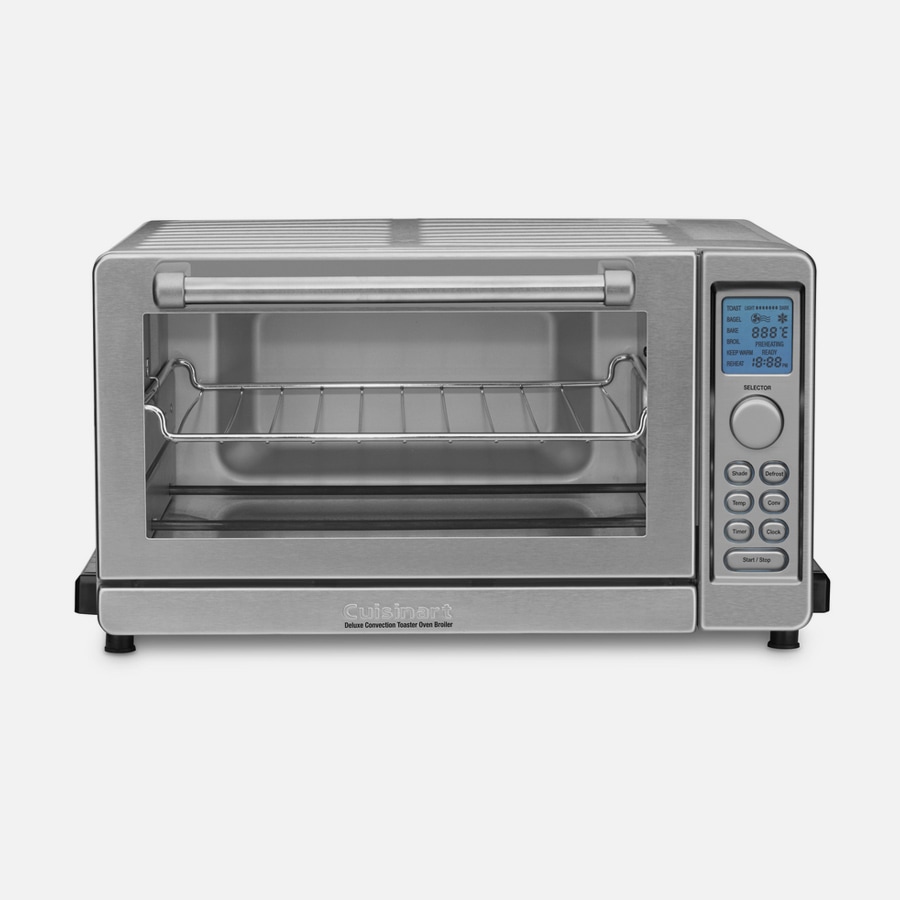 Disclaimer: I may receive commissions from purchases made via links at no cost to you
---
Quick review
The Cuisinart TOB-135N convection toaster oven and broiler is a reasonably priced appliance with an attractive stainless steel exterior. That exterior will get hot during use, but it's good-looking all the same.
With a number of different functions, this toaster oven can perform the tasks of many other small kitchen appliances such as a toaster, oven, grill, and microwave. Though most of the functions perform really well, the broil feature lets the machine down somewhat.
This powerful 1800 watt oven teams up with Cuisinart's "Exact Heat" and "Always Even" technology to make sure the heat is circulated evenly so your food is blasted by the same temperature from all directions.
If you need a large toaster oven, you might have to look at different models, as the TOB-135N sports a mediocre capacity that is best suited for approximately two to three people.
The control system is pretty to look at and is intuitive to use. The button configuration is neatly laid out for ease of use. However, that well-planned panel is negated over time by the text rubbing off the buttons, making them impossible to read.
Despite the poor build quality of the buttons (and a pointless clock on the LCD), the overall design is pretty good, leaving most consumers happy with their purchase.
Basic Information
Dimensions: 18.50″ x 15.35″ x 9.84″
Weight: 17.2 lbs
Wattage: 1800 Watts
Control Type: Digital
Temp Range: 150 – 500°F
Capacity: 18 Quarts (17 Liters)
Pizza Size: 12″ Pizza
Toast Capacity: 6 slices of bread
Preset Count: 7
Price Range: With a price point of around $150 – $200, this Cuisinart appliance is pretty reasonable when you consider its versatility and performance, which we'll get to shortly.
Power: Few convection toaster ovens are more powerful than the 1800 watts that this appliance kicks out. The enormous amount of power it possesses lets this oven cook exceptionally quickly.
Temperature Range: 150F – 450F (500F for broiling), though you can only increase the temperature in increments of 25 degrees
Capacity: With 0.6 cubic feet of space, the Cuisinart art says the TOB-135N has enough room to cook six slices of toast, a whole roast chicken, or a 12" pizza.
Manufactured: It might put some people off to learn that parts of this toaster oven are built and assembled in China and France. However, the design team works out of the USA.
Warranty: Limited 3-Year Warranty.
Design & Build Quality 7.5/10
The old adage "Don't fix what isn't broken" is certainly relevant to the exterior designs of Cuisinart toaster ovens. Their appliances in this genre all exhibit the same DNA, as most of them have similar stainless steel casing, large viewing window, neatly laid out control panel, and a hefty handle. With only minor tweaks between each design.
The TOB-135N certainly has all of these traits, externally at least, as this relatively attractive appliance would look right at home in most kitchens.
A roll bar handle doubles as a support for the door when it's open, while the pale blue LCD is almost like the one found on a premium Breville appliance.
Cuisinart kitted out the interior with a non-stick finish for ease of cleaning and three rack positions. The top rack position has a basic locking mechanism that stops you from accidentally pulling out the whole rack when you're checking your food, though we're unsure as to why it doesn't feature on the other rack positions.
There is no interior light in this appliance which makes it difficult to see inside when you're cooking, especially if you're preparing meals in the evening time or having poor lighting in your kitchen.
While the capacity specifications are correct in stating this oven can hold six slices of toast, a 12" inch pizza, or a whole chicken, the layout configuration means standard cooking trays won't fit inside this oven. We suspect this is by design so that you'll buy trays and pans directly from Cuisinart themselves.
Controls & Ease of Use 8/10
The TOB-135N's control panel is made up of seven backlit buttons, a pressable dial, and a pale blue LCD. Though the control system looks nice, the buttons are a little small, and the text can be difficult to read, especially if you don't have the best eyesight.
The text will rub away from the buttons over time, though some ingenious consumers have put light layers of clear nail polish on the buttons to combat that issue.
You initiate the control panel and LCD by turning the dial slightly, which will bring up your list of options (Toast, Bagel, Bake, Broil, Keep Warm, and Reheat). The selected option will blink so you know which choice you're about to make. Bake and Broil both have standard and convection options.
Once you've found your chosen function, depress the dial to select it.
The toast function has seven shade settings to choose from to cater to fans of all styles of toast doneness.
A defrost function lets you cook food from frozen; once you press the "defrost" button, a small snowflake will appear on the LCD to let you know you've chosen to cook frozen food.
If you're using the bake setting, you can select temperatures ranging from 150F to 450F to cook a wide array of different foods.
A two-hour maximum timer limits this convection toaster oven; however, there aren't too many dishes that require more than 120 minutes to cook, so while there might be occasions when you need to reset the timer, they will be few and far between.
There is a clock feature on this oven; however, Cuisinart recommends that you unplug this appliance when it's not in use which resets the clock, so the feature is basically useless.
Performance 7.5/10
The sides and top do get warm during use. Not so much that you'd suffer an injury if you touch it, but more than enough to notice, and for your kitchen to increase in temperature while you're cooking.
The "keep warm" feature will keep your food warm for up to two hours after it's finished cooking, which is perfect for families who can't always eat together.
There's also an auto shut-off feature to prevent your food from burning at the end of a cooking cycle.
Trademarked "Exact Heat" and "Always Even" technology helps this toaster oven maintain an even and consistent temperature that's conducive to perfectly cooked foods. This technology helps the TOB-135N avoid temperature regulation problems that have plagued other Cuisinart toaster, oven models.
Listed below are some examples of how well the TOB-135N performs in various cooking disciplines.
Toaster
Thanks to the even and consistent temperatures produced by the oven's technology, it toasts superbly well. Toast, waffles, and bagels are toasted evenly and to the correct shade according to Cuisinart settings. Many consumers say the TOB-135N toasts better than their dedicated toasters.
Baking
This toaster oven performs as well at baking as it does toasting. Cookies, cakes, and bread are baked evenly throughout, without the edges burning, which is a common problem when baking. This machine excels at making delicious baked potatoes.
Roast
Roasted meat and vegetables come out excellent from the TOB-135N. This toaster oven is able to produce crisp exteriors while maintaining tender and juicy meat and vegetables with soft insides.
Broiling
Despite being marketed as a broiler, the broil function is the weakest link in the TOB-135N's arsenal. For reasons unknown, broiled meat from this cooker comes out more like it was steamed, and the positioning of the rack tends to cause more fatty cuts of meat to splash grease on the heating element, causing smoke and making it more challenging to clean.
Pizza
Unlike past Cuisinart toaster ovens that claimed they could accommodate 12" pizzas but in reality, they couldn't, this particular model lives up to that claim.
A 12" pizza fits comfortably inside and can quickly cook a delicious pie to a golden brown finish with an excellent crispy base. The cook from frozen function also lets you make frozen pizzas without the need to defrost them first.
Results
Accessories 7.5/10
Cuisinart provides several accessories with the TOB-135N, they are an oven rack, baking/drip pan, broil rack, crumb tray, and recipe booklet.
The oven rack has inverted side pieces to use either way around, so you can raise your food closer to the heating elements by inserting it one way or creating more internal space by putting it in the other.
A few consumers have reported that the baking pan warped and became misshapen after a number of uses, though this wasn't something we experienced ourselves.
The broiling sits neatly inside the baking tray to allow air to circulate underneath your food. We're not sure if the rack is the reason this appliance doesn't broil very well. Maybe a broiling pan would have been a better choice from Cuisinart.
The removable crumb tray slides into the front of the appliance and can easily be wiped clean to make the clean-up process much more manageable.
If you're stuck for a few recipes, the book gives you a helping hand in identifying what foods can be best cooked in this appliance and at what times and temperatures. It's important to note that this oven doesn't function as your traditional oven might and that cooking times will probably be different than you're used to.
Cleaning 7.5/10
Inexplicably, Cuisinart continues to make accessories for their toaster ovens that aren't dishwasher safe. We understand that trays and racks with a non-stick coating can't be cleaned in a dishwasher, but we're confounded by the fact that their stainless steel racks can't either.
In this day and age, that's entirely unacceptable.
That said, this appliance is still fairly easy to clean. You can clean the non-stick interior with a damp cloth, though we'd recommend cleaning it as soon as possible after use to avoid grease becoming "baked on," which would become exceedingly difficult to clean.
The racks and pans all wash up pretty well with a bit of dish soap and hot water as long as they're cleaned not too long after use.
Cuisinart TOB-135N Toaster Oven
Cheaper
Black & Decker TO1760SS
If you're a little strapped for cash but still in need of a toaster oven, the Black & Decker TO1750SS is a fine alternative to Cuisinart's already low-priced TOB-135N.

You'll be giving up some internal capacity, some features, and it only has a 30-minute cook timer, but for the price, you get a no-nonsense appliance that does the basics.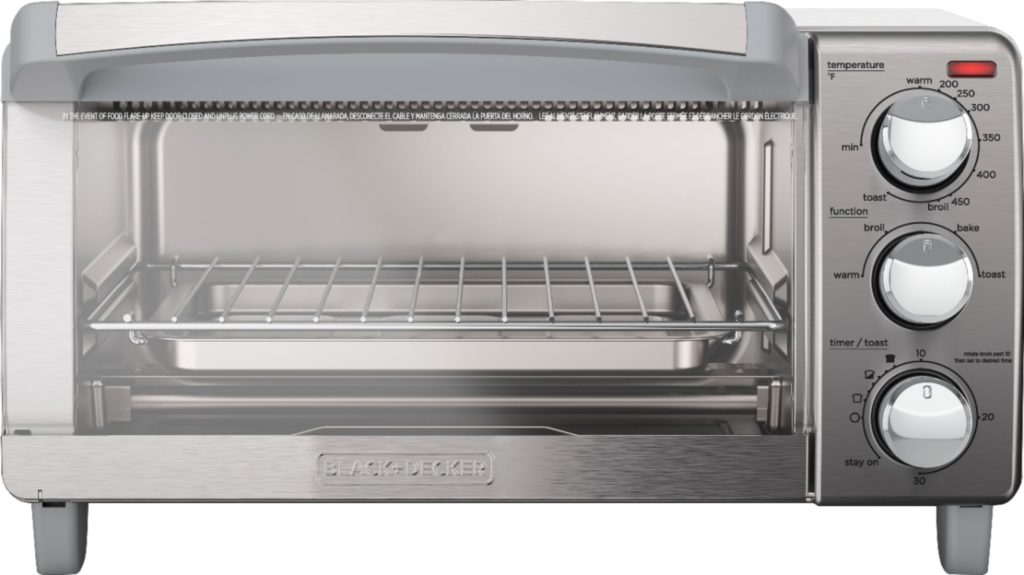 Similar price
Hamilton Beach 31107D
For a similar price to the Cuisinart TOB-135N, you could instead opt for the Hamilton Beach 31107D.

This toaster oven won't win any beauty pageants, and the control panel is basic, but it has dual racks for increased capacity and even comes with a rotisserie attachment which is mind-boggling at this price point.

Higher price
NuWave Bravo XL
The NuWave Bravo XL offers consumers a chance to own a large capacity toaster oven with air frying capabilities for a higher price point than the Cuisinart TOB-135N (but still relatively low for an air fryer).

It comes with ten cooking functions, a temperature probe and is large enough to cook a 13" pizza.