Disclaimer: I may receive commissions from purchases made via links at no cost to you
---
Quick review
Cosori's CO130-AO air fryer toaster oven is a super affordable appliance that is an excellent option for people on a budget looking for a large capacity machine.
Though the overall stainless steel appearance is a little generic, it's still relatively attractive and designed to be as simple to operate as possible, even though this machine has twelve cooking options (including a rotisserie set).
While the appliance is nice to look at, the exterior is a bit flimsy, but it doesn't negatively impact the toaster oven's performance.
This machine has a very attractive door, but a small design error means it doesn't open all the way, so it can be difficult to get larger trays in and out of the air fryer, especially on the bottom rack.
The air fryer toaster oven has a non-stick interior for ease of cleaning, three rack positions to use in tandem with the different cooking options, and a powerful motor.
Five independent heating elements and a two-speed convection fan work alongside each other to super-heat the internal heat for perfect evenly cooked meals. However, even though the 1800 watts power output is similar to rival models, the Cosori CO130-AO still cooks a little more slowly than them.
But if you can deal with waiting a few extra minutes for your food, this oven's price point can save you a lot of money.
This Cosori air fryer toaster oven comes with a decent variety of accessories, including a rotisserie set that cooks a crispy and juicy roast chicken, but it can cause a bit of a mess.
While the oven's interior cleans up relatively easily, the accessories can be much more of a challenge, and it's essential to keep up with their maintenance, or you risk damaging your cookware.
The Cosori CO130-AO might have a couple of issues, but when you consider its low price point, this air fryer toaster oven is pound for pound one of the best value for money appliances on the market.
Basic Information
Dimensions: 20.1″ x 16.5″ x 12.1″
Weight: 19.6 lbs
Wattage: 1800 Watts
Control Type: Digital
Capacity: 32 qt (30 liters)
Temp Range: 80 – 450°F
Pizza Size: 13″ Pizza
Toast Capacity: 6 slices of bread
Preset Count: 12
Price Range: The Cosori 12-in-1 air fryer toaster oven comes at a low-to-mid-range price point that we think represents excellent value for money for the multifunctionality and large capacity that this appliance provides.
Power: Like all respectable appliances of this size and nature, this machine comes with an 1800 watt power output that quickly gets this oven up to temperature and cooks efficiently.
Temperature Range: The adjustable temperature range of this small kitchen appliance is from 80F (ideal for proofing and keeping food warm) to 450F. You can change the temperature in increments of five degrees.
Capacity: This large Cosori air fryer toaster oven has a 32-quart (30L) internal cooking capacity that can hold six slices of bread, a 13" pizza, or a whole roast chicken. An appliance of this size is suitable for couples or small families.
Warranty: The 1-year limited warranty that comes with this appliance is disappointing; however, if you order direct from Cosori, there is a 30-day money-back guarantee that you can take advantage of.
Design & Build Quality 7/10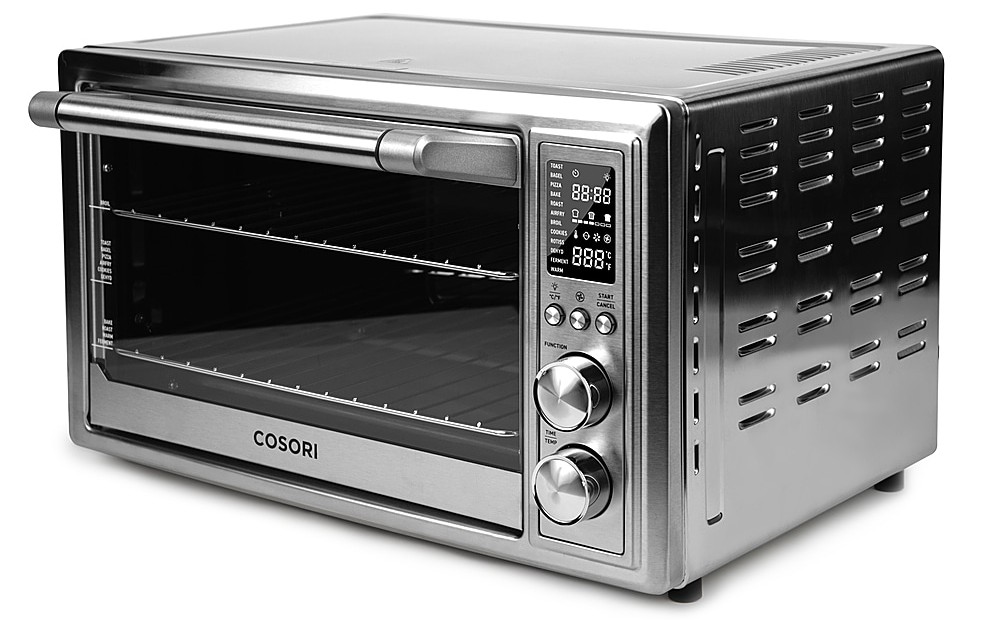 Cosori designed their CO130-AO air fryer toaster oven to rival similarly priced appliances on the market. And while this unit does have a bit of a generic appearance, Cosori did an excellent job of giving this oven a much nicer aesthetic than you'd expect from an air fryer of this price point.
Though the brushed stainless steel exterior looks nice and has a ton of vents to keep the metal cool (which don't work that well), it is a little flimsy and can make some weird and wonderful noises. Metal naturally expands and contracts as it gets warm, but because it's flimsy, expect a few 'pops' as it cools and heats. However it's not a sign of a defective appliance and in no way harms your toaster oven.
There's a small rubber stopper fixed to the back of the cooker to prevent the appliance from touching any walls or cabinets it may be positioned near.
The interior is coated with non-stick for ease of cleaning and has three rack positions. In addition, there's an indentation at the rear of the oven to help accommodate large pizza trays.
There are also five independent heating elements and a built-in two-speed convection fan that teams up with the 1800 watt power output to circulate the super-heated air for evenly cooked food.
Two attachments are fixed inside the oven to accommodate the rotisserie skewer and forks. While an interior light sits in the top right corner so you can better see your food while it cooks.
Cosori's CO130-AO air fryer has a unique door design which has no frame, and is mostly glass, which looks classy. However, the door has a problematic design flaw.
It seems as though the door's handle is a little bit too big, and when the door is fully open, it still sits at a slight angle which makes it very difficult to take trays out of the oven when they're on the bottom rack position.
The extra-large glass door also has the optimal rack positions marked on the window, so you'll know which level you'll need to use with each cooking function.
This air fryer does not pause the cooking cycle when you open the door (which is a relatively common feature on appliances of this type) and we feel this oven could benefit from that feature.
Controls & Ease of Use 8/10
The control panel on this Cosori air fryer toaster oven comprises three buttons and two dials and is super simple to use.
Most of the buttons and dials have a dual function. The left button is used for switching the interior light on or selecting Celcius or Farenheight as your temperature of choice. You'll use the right-hand button for starting or canceling a cooking cycle, while the central button switches the convection setting on and off.

The two dials on the control panel are used for setting the time and temperature (bottom dial) and selecting the cooking function that you want to use (top dial).
Listed below are the twelve cooking functions you can use on the Cosori air fryer toaster oven:
Toast
Bagel
Pizza
Bake
Roast
Air Fry
Broil
Cookies
Rotisserie
Dehydrate
Ferment (Proofing)
Warm
Even though the cooking functions and pre-sets are convenient, there may be times when you want to make slight tweaks to the times or temperatures. You can do this by selecting your pre-set, rotating the bottom dial to set your desired time, clicking it in, and choosing the temperature you want.
When you're setting the ovens cooking time using the dial, you can scroll straight past the maximum temperature and back to the lowest setting, which is a minor bugbear. Would it be so difficult for the number to stop when you reached the maximum temperature?
The most prominent downside to the control system is the lack of a power button, so the only way to switch the appliance off is by unplugging it from the wall.
Performance 7.5/10
A large majority of the cooking functions on this air fryer (but not all) require pre-heating. The pre-heat cycle will begin automatically when you press start and take between two and five minutes, depending on how hot the oven needs to be.
The LCD will display "Pre," and the Start/Stop button will flash red during the pre-heat cycle.
While it's not as fast to pre-heat as a Ninja appliance (which only takes one minute), it's still pretty rapid.
Once the pre-heat cycle has finished, the Cosori CO130-AO will hold its temperature, and a notification beep will sound until you put your food in the air fryer and press start.
French Fries
French fries are often a staple for air fryer toaster ovens because they are quick and easy to cook, and of course, they're delicious. Air frying fries in this appliance at 400F will take around 12 to 15 minutes, and the results are decent. A crispy outer coating with a fluffy inside for perfect French fries.
Chicken Wings
Thanks to the expansive air fryer basket, you can cook around 2.5lbs of chicken wings in one cooking cycle, which is almost twice as many as you could in one of the larger dedicated air fryers.
You can expect your batch of wings to be ready in around 20 to 25 minutes, though they'll take longer to cook from frozen, and they won't get that golden brown finish.
Pizza
Using the pizza function, this Cosori air fryer toaster oven will pre-heat your oven to 425F and cook your 12" pizza (that fits comfortably inside) to a beautiful golden brown finish in only 12 minutes. Add another minute or two if you prefer a darker finish on your cheese.
Toast
You can toast up to six slices of bread using this appliance (or nine slices if you use a smaller loaf), and it toasts relatively evenly on each piece of toast.
However, the slice closest to the middle of the oven will have a little darker shade than those positioned closer to the door or the back. Though, this isn't uncommon in toaster ovens and is only an issue for people who are extremely picky about their toast.
Bagels
Most people enjoy their bagels lightly toasted on the outside and more crunchy in the middle. Place your bagel cut side up, and the top heating elements stay on full while the bottom heating elements operate at a lower temperature.
Like the toast, any bagel closer to the oven's center will be darker than those close to the edge.
Rotisserie Chicken
While this feature is nice in theory, it feels like a little bit of an afterthought. The rotisserie chicken attachment works for cooking a beautifully juicy and tender chicken, but the whole process is a big clunky and unrefined.
The skewer and handle can be challenging to get into place, which isn't ideal when dealing with a scalding hot cooker, and unless you can perfectly balance your chicken on the forks, the rotation won't be very smooth.
It also causes a fair bit of grease spatters too. However, if you can make your peace with that, the results are crispy yet tender roast chicken.
Despite having multiple vents all around the exterior, this air fryer toaster oven gets exceedingly hot when you're cooking with it. So much so that you won't be able to touch it without burning yourself. So be careful.
It's not an uncommon problem with air fryers, but this one gets a little bit hotter than most.
This Cosori appliance runs pretty quietly, except when you're using the air fryer. Because air frying requires super-heated air and a high-powered fan, the noise reaches relatively high levels. It almost sounds like a small car.
Overall, this air fryer toaster oven performs pretty well, even if it takes a little longer to complete a task than a dedicated air fryer.
Accessories 8/10
Included in the highly reasonable price point of the Cosori 130-AO is a decent selection of accessories to help you cook all your favorite meals.
As this appliance is an air fryer toaster oven, you'll get an air frying basket (12" x 12"), 'food tray' (baking sheet), wire rack, removable crumb tray, rotisserie fork set, and a rotisserie handle.
The food tray has a layer of non-stick coating which is excellent for a quick clean-up process. However, this kind of cookware has a limited shelf life because non-stick coating generally begins to fail after six to twelve months of use.
In general, all the accessories are well made and an excellent addition to your kitchen, though the crumb tray is a little bit thin.
However, due to the large capacity of this machine, you probably already have many baking sheets and roasting pans that you can use in conjunction with the Cosori CO130-AO.
Included in the box is a small recipe book that lists ingredients, temperatures, and cook times to give you some inspiration for cooking with your new appliance.
Cleaning 6/10
Cleaning your air fryer toaster oven is something you'll need to do after almost every use. You'll get away with giving it a quick wipe down after making bagels, pizza, or toast, but if you're air frying or cooking greasy food, giving it a proper clean after every use is essential.
Failure to clean the crumb tray will result in rapid degradation of your cookware, and it will become more challenging to clean.
Fortunately, the oven's interior is coated with non-stick and is super easy to clean, which is just as well because the inside gets very messy when you use the rotisserie.
The crumb tray and air fryer basket are dishwasher safe and clean up well, but the food tray is not and will need a little more care and attention to clean.
The only challenging part to clean on this oven is the little nook where the door is hinged, which is a crumb magnet and a bit of a pain to clean them up.
Cosori Toaster Oven Air Fryer Combo (CO130-AO)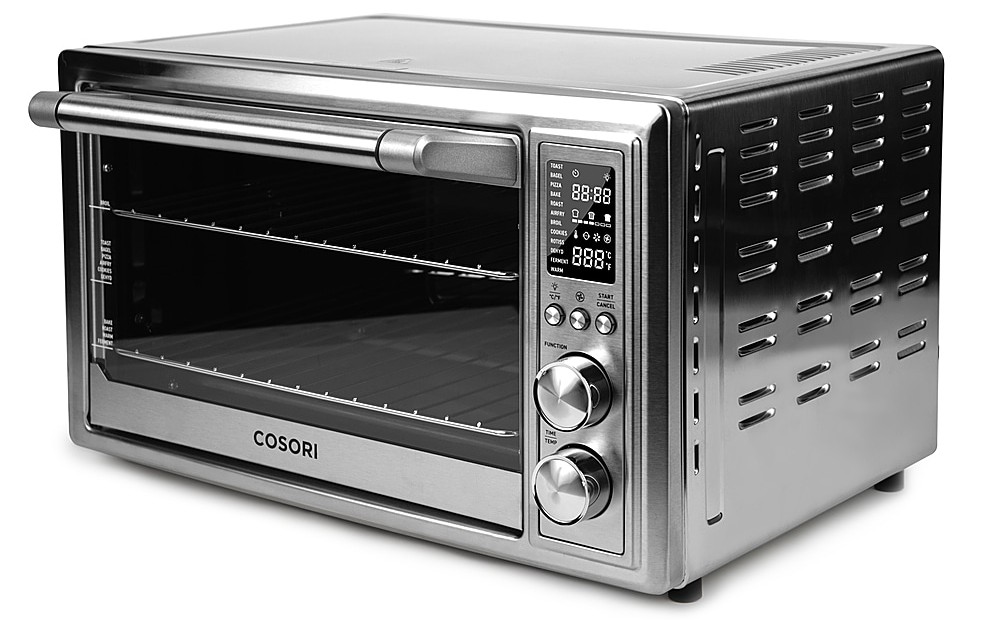 Cheaper
NuWave Bravo XL
When you consider the NuWave Bravo XL's price point, you have to stand in awe at the immense versatility of this air fryer toaster oven and its ten cooking functions.

This affordable appliance is ideal for families of four thanks to its large capacity and can cook a 13" pizza or a huge batch of chicken wings.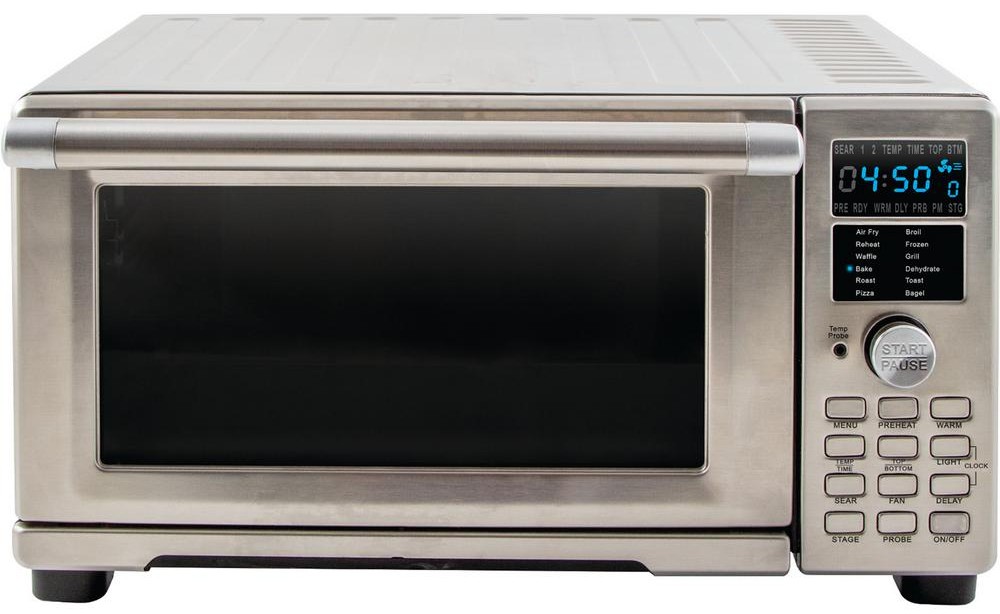 Similar price
Ninja Foodi SP101
If you like the look of the functionality of the Cosori CO130-AO but don't quite have the spare kitchen space, then the Ninja SP101 Foodi is an excellent alternative.

It does have two fewer cooking functions, but this stylish appliance has an innovative storage feature that's much more efficient than similarly priced models.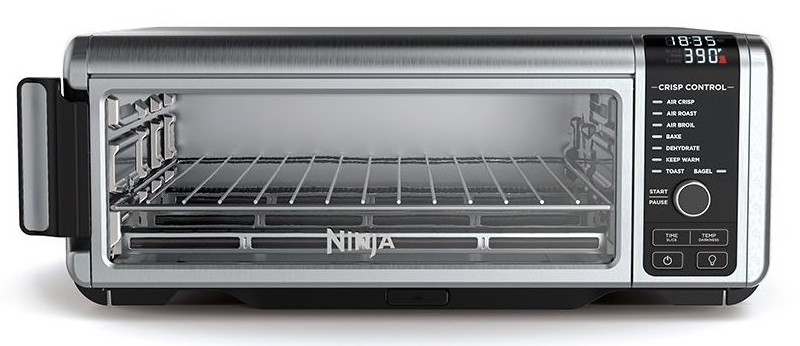 Higher price
Calphalon Performance Air Fryer Toaster Oven
The Calphalon "Performance" is one of our favorite air fryer toaster ovens thanks to its' gorgeous aesthetic and ingenious control panel, and LCD.

It's almost comparable to the Cosori in terms of cooking features with an impressive 12 features. This beautiful cooker is pretty big too, so it's perfect for cooking large meals.