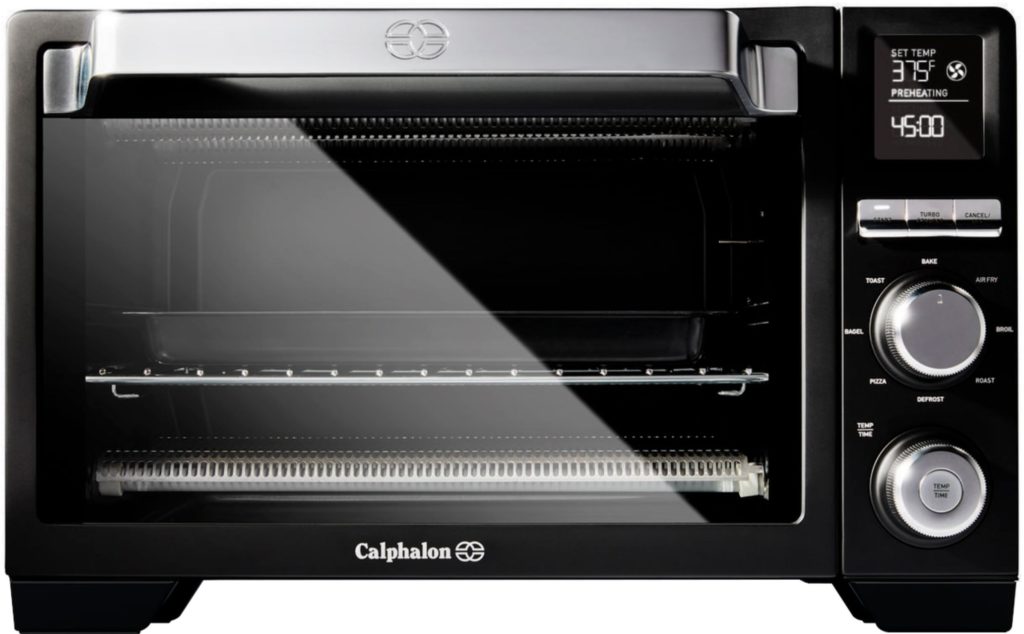 Disclaimer: I may receive commissions from purchases made via links at no cost to you
---
Quick review
The 'Performance Air Fryer Toaster Oven' from Calphalon is one of the best-looking appliances of this type that we've ever reviewed.
Calphalon took a standard kitchen appliance and made it stand out amongst its peers. While most other toaster ovens have generic stainless steel aesthetic and control systems, the Performance Air Fryer is not only unique; it's utterly beautiful.
The dark grey exterior looks luxurious and sleek, while the LCD has a classy appearance that is one of the true rivals to the famous Breville control system.
It has two beefy dials and three chunky buttons that feel smooth in their action but give enough resistance and feedback to give a real air of premium quality.
Even the door oozes class with the way it looks and sounds when it closes. It really is one of the most attractive air fryer toaster ovens on the market.
If the external components of this oven are utterly beautiful, then the power output is a bit of a damp squib. With only 1400 watts of power, the Calphalon air fryer struggles to pre-heat and cook.
That's not to say this oven can't cook good food, because it can; it just takes a lot longer than you would expect from an appliance with quartz heating elements and a turbo convection fan.
When the air fryer function is running, it's suspiciously quiet when compared with other appliances, which suggests it's not up to the job of super-heating and circulating the air as well as other machines.
While the accessories are nothing to write home about, they're better than the selection you'll get with some other models. The baking sheet in particular, is of poor quality.
On the plus side, cleaning this air fryer toaster oven is an absolute breeze thanks to an interior coating. Almost all grease and grime will wipe clean with ease, though cleaning near the heating elements can be tricky.
Overall, the Calphalon Performance air fryer is a stunning appliance that both beautiful and easy to use. If you're looking for an attractive oven to compliment your kitchen, few models on the market can compete with it.
However, if performance is at the top of your list, this air fryer toaster oven might not be the appliance for you, especially when you consider the price tag that Calphalon has put on it.
Basic Information
Dimensions: 17.68″ x 16.34″ x 14.39″
Weight: 24.18 lbs
Wattage: 1800 Watts
Control Type: Digital
Temp Range: 70 – 500°F
Capacity: 27 Quarts (26 Liters)
Pizza Size: 12″ Pizza
Toast Capacity: 6 slices of bread
Preset Count: 11
Price Range: This unit has a mid-range price point that should be considered average when you look at its versatility, functionality, and style.
Power: With a 1400 watts power output, the Calphalon Performance Air Fryer seems a little underpowered, especially when considering it's not a compact appliance.
Temperature Range: The temperature range of this air fryer toaster oven is a little disappointing (considering the price point) but to be expected considering the power output. You'll be able to cook using a range between 150F and 450F, which, in fairness, is pretty standard.
Capacity: What Calphalon calls a "large capacity" we call average. This appliance can toast six slices of bread or bake a 12" pizza, which is nothing spectacular but a decent size. The unit is suitable for couples or small families.
Warranty: A 1-year limited warranty seems to be standard these days, if not a little disappointing. Especially as electrical products tend to fail between the one and two years mark.
Design & Build Quality 8.5/10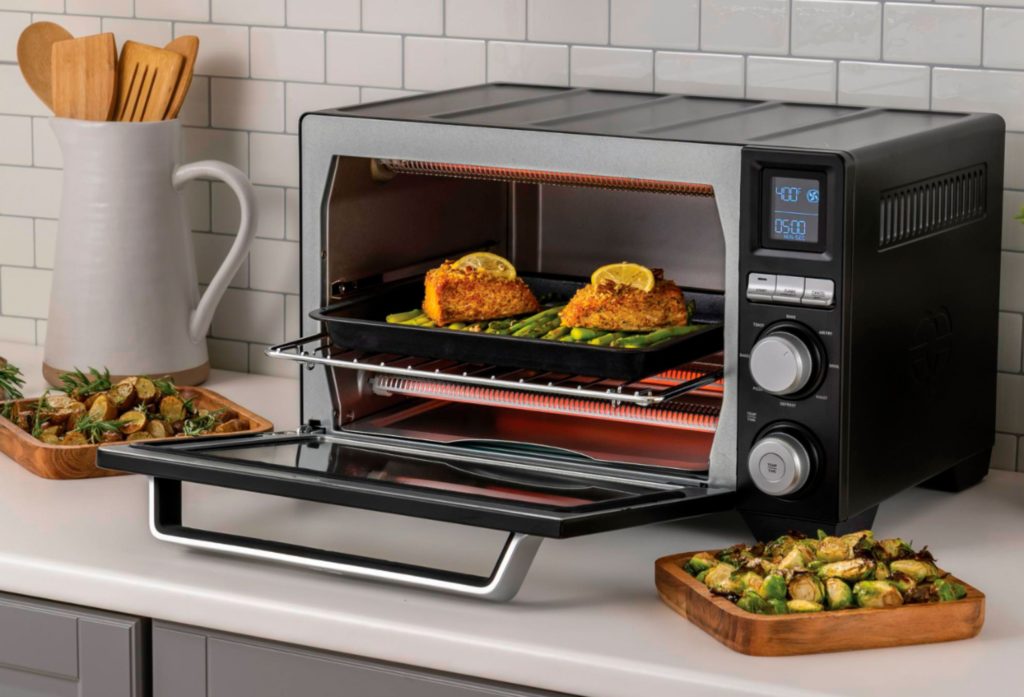 In a market saturated with silver stainless steel appliances, the Calphalon is a breath of fresh air. While it's true that this appliance's outer casing is made from stainless steel, this brand tweaked the color and design to make it distinctive and stand out from other air fryer toaster ovens.
The gun-metal grey stainless steel finish is gorgeous and gives the oven a sleek and stealthy appearance. Down each side are some vents to help keep the appliance from overheating, and the brand's logo is embossed into the sides, which looks really nice.
We won't go into too much detail about the control system just yet, but we want to mention the distinctive switches, buttons, and dials, all of which look excellent and feel robust to use.
The door's handle is big and chunky is has the logo pressed into it, which fills you with confidence when you pull the door open. The door itself closes with a satisfying thud, rather than a tinny rattle you find on most other products.
However, the handle sticks out just a little too much, so when the door is fully open, it rests on your countertop, stops it from opening to a 90-degree angle. This can make it tricky to remove food from the oven, especially when the rack is in the bottom position.
Inside the air fryer toaster oven, you'll find two rack positions to choose from and an interior light which makes seeing inside the appliances much easier when you're cooking.
This oven comes equipped with four quartz heating elements that Calphalon claims are 40% more efficient than standard heating elements. Unfortunately, we're not so sure that's true (more on that shortly).
Calphalon also coated the interior with non-stick for ease of cleaning. We know not everyone is a fan of non-stick, but it simplifies the clean-up process exponentially.
Overall, this air fryer toaster oven is beautiful to look at, solidly constructed, and for the most part, of decent build quality.
Controls & Ease of Use 8/10
The Calphalon Performance air fryer toaster has one of the nicest looking control panels of almost any toaster oven.
This oven has a beautiful LCD that stands out from the crowd. It has a black background while the text and numbers shine through. In addition, it has a classy layout that's sharp and easy to read.

Listed on the LCD are the cooking functions, which are:
Toast
Bagel
Bake
Air Fry
Roast
Broil
Pizza
Reheat
Keep Warm
Defrost
Dehydrate
There are two main dials on the control system and, essentially, five buttons though two have been incorporated into the dials.
Three distinctive switch-type buttons sit underneath the display and give sturdy yet confirming clicks when you press them. Their functions are essential yet straightforward; one switches the interior light on, the second starts cooking cycles, and the third is used to stop and switch off the appliance.
The sturdy dials are used for choosing your preferred function and setting times and temperatures, respectively. Each dial has a button built into its face. The button on the time/temperature dial switches between the time and temperature choices, while the button on the functions dial switches the turbo convection setting on and off.
Calphalon has created a control system that's beautiful to look at and intuitive, and straightforward to use.
Performance 7/10
Calphalon market this appliance as an air fryer, but there doesn't seem to be much difference between this appliance and the countertop toaster oven (which looks identical).
Despite Performance Air Fryer having a dedicated air fryer feature, that function doesn't operate differently from the 'Bake' option. Usually, air fryer toaster ovens run far louder when in air fry mode, but this one works with the same decibels.
In any normal circumstances, we'd chalk this one up as a win to the design team and engineers; however, the air fry function on this oven is pretty poor and inconsistent. And no more efficient than the bake setting.
It feels like they changed the name of one of the options on the countertop toaster oven and cranked up the price.
That's not to say this is a bad toaster oven; it's just an average air fryer.
The pre-heating function that's required for some of the cooking settings isn't great either. While it does get up to the right temperature, it takes ages to get there. Far longer than Calphalon claims.
Chicken Wings
In an air fryer toaster oven that has quartz heating elements and a turbo convection setting, you'd expect that the appliance would make light work of air frying some chicken wings. Unfortunately not.
While the Calphalon can make chicken wings, the air fryer seems weak, and the wings take far longer to cook than in a dedicated air fryer. The lack of power is evident in the air frying functions.
Toast
Even though toast isn't a particularly hard thing to cook, it's surprising how many appliances are inadequate at this simple task. The Calphalon can make perfectly even and browned toast, but it can take up to seven minutes to achieve.
Nachos
You can cook up a big old mess of nachos using the Calphalon Performance Air Fryer and the included baking pan. Using corn tortillas, beans, peppers, and cheese, bake them for 3 to 5 minutes using the broil function or until your cheese is melted to your satisfaction.
Banana Cupcakes
Team up the bake function with the super-convection setting for baking cupcakes and other sweet pastries. You'll be able to bake six cupcakes or muffins at once in about 18 to 20 minutes.
Calphalon sells their own branded cupcake tray, but any oven-safe tray will do, provided it fits in this toaster oven.
Pizza
Despite the compact nature of the Performance air fryer, you can fit a 12" pizza inside. Using the turbo convection setting, you can cook a pie that's every bit as good as you get from a regular convection oven. It might be worth your while investing in a pizza tray, though.
Chocolate Chip Cookies
If you like to bake cookies, this oven does a fine job of cooking up some crunchy yet gooey treats. However, because the capacity isn't overly massive and you only get one wire rack with this oven, you can only bake around six cookies at once, eight at a push.
As we've already mentioned, the Calphlon Performance air fryer is found wanting when you're using the air fryer functions. Most appliances of this size come equipped with 1800 watts of power, and the 400 watts deficit in this machine stands out like a sore thumb.
This toaster oven does cook evenly, and you can make fabulous meals in it; it just takes a lot longer to get there.
Accessories 6.5/10
The range of accessories that comes with the Calphlon Performance is relatively standard. You'll get an air fryer basket, wire rack, 'durable' non-stick baking pan, and a removable crumb tray.
There's nothing overtly outstanding about these pieces, but we have review other models that have had an inferior selection of accessories.
While most of the accessories are perfectly acceptable in terms of quality, the non-stick baking sheet is very poor. It will start to lose its effectiveness after only a few uses, and the coating will begin to fail within weeks.
Cleaning 8.5/10
This oven's interior has a dark grey anodized non-stick coating that matches the appliance's exterior. Aesthetics aside, this coating makes it incredibly easy to clean up after cooking.
Even after cooking particularly messy and greasy food, you should be able to wipe the interior clean with relative ease, as long as you don't leave it too long after cooking for the grime to cool.
The accessories are straightforward to clean, though the poor quality baking sheet will become troublesome to clean after losing its non-stick qualities. That said, any cookware you own that has peeling non-stick coating should be replaced immediately.
Calphalon Performance Air Fry Convection Oven