Breville is one of the world's leaders in producing high-end small kitchen appliances and more affordable machines, devices, and gadgets aimed at making our lives easier.
But this well-respected brand didn't always design and manufacture kitchen appliances; in fact, if they'd continued along their original path, the Breville brand we know and love today wouldn't exist at all.
As we take a deep-dive into Breville's origins and product history, we'll learn about what they've achieved, how they're operating today, and what they could bring to the marketplace in the future.
From their humble beginnings as radio manufacturers to the more coffee-centric (but certainly not limited to) brand they are now, let's begin our journey through the history of Breville.
Breville's Timeline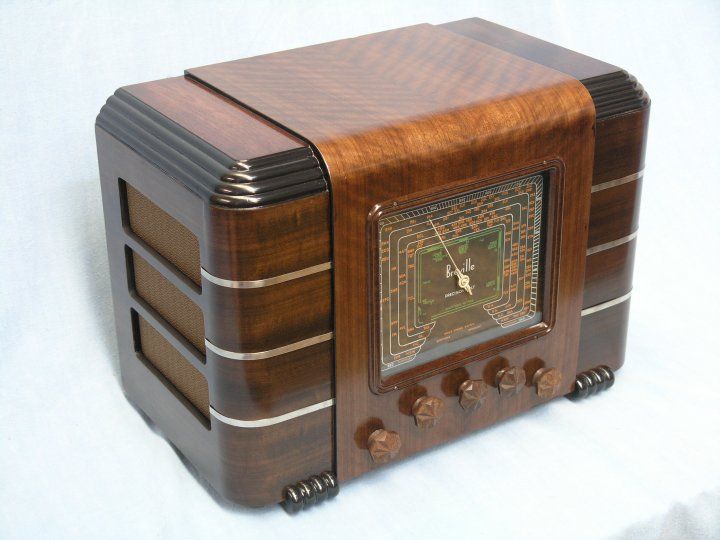 1932
Sydney, Australia. Bill O'Brien and Harry Norville made the historic decision to start a business together. O'Brien (who sold radios for a living) and Norville (a qualified engineer) combined their resources, and with £500 as their start-up capital, the duo began mass-producing and selling radios.
Money wasn't the only thing they combined either; Bill and Harry joined their surnames to create the brand's now-famous name. 'Breville Radios' was born.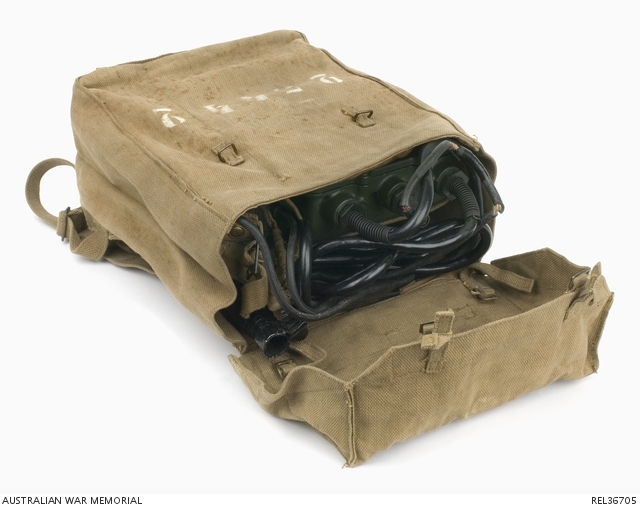 1940
With World War Two in full swing, Breville Radios put their technical knowledge and manufacturing prowess to good use to help with the war effort. Building mine detectors for the Allied forces, O'Brien and Norville no doubt helped save many lives.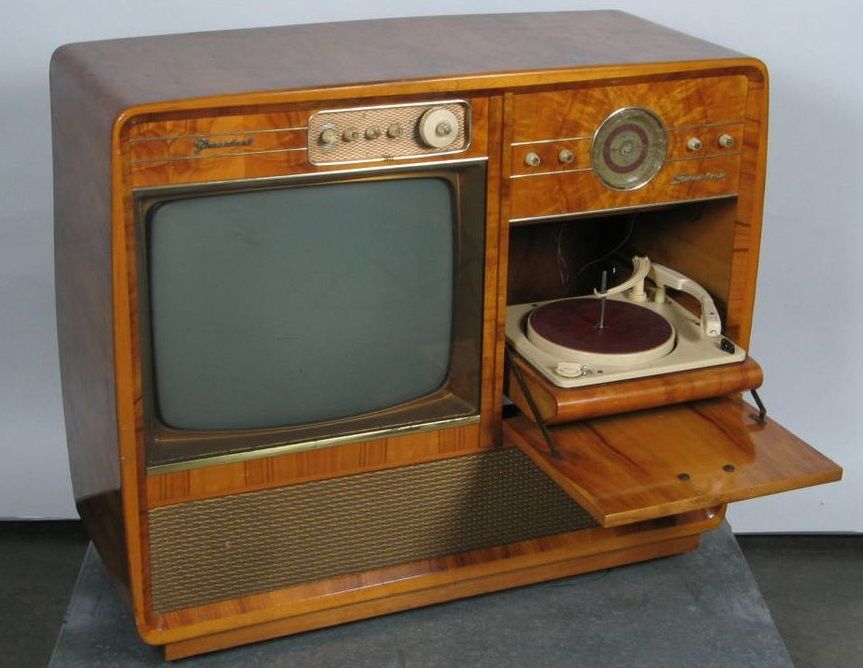 1951
As technology advanced and television sets overtook radio as the number one entertainment method around the world, O'Brien and Norville decided to sell their radio division.
With their focus shifting towards small kitchen appliances, the pair also formed a new company to stake a claim in the television industry and sold TV sets under the brand name 'Precedent'.
1955
Despite the ever-increasing popularity of television, O'Brien and Norville sold 'Precedent Televisions' to 'Electronic Industries Limited' and instead gave all their attention to the Breville arm of their business empire.
1960s
Throughout the 1960s, O'Brien's son, John, set about pushing the brand forwards and became the founder of the 'Breville Research & Development Centre'.
The enviable success of Breville's R&D center meant John O'Brien was able to lead the company to hold over one hundred active patents from a leadership position which he held until he sadly passed away in December 2003.
1974
As Breville fought to establish themselves as brand leaders, they stumbled upon the product that would put them on the map. The scissor action 'Snack n Sandwich' became an instant hit in Australia, achieving 10% penetration in its first year.
To this day, in Australia and the UK, grilled sandwiches are referred to as 'Brevilles', whether they were made in a Breville branded machine or not.
1977
Over the next five years following the success of the 'Snack n Sandwich', the Breville R&D Centre worked on their follow up appliances, the 'Kitchen Wizz' food processor and 'Scraper Mixer Pro', which were able to cut the food-prep time in kitchens down by 50%.
1987
Breville is credited with bringing one of the world's firstheated walled Electric Woks to the marketplace, revolutionizing the cooking genre.
1999
Building on the success of their sandwich maker, food processor, and heated wok, Breville focussed on extending their reach into more kitchen areas with the introduction of Panini Press & The Juice Fountain.
2001
Housewares International Ltd acquired the Australia, New Zealand, and Honk Kong arms of Breville and dropped their cleaning proprietaries to stake a claim in the small kitchen appliances market.
2002
Breville enters the American market for the first time in an attempt to compete with US-based giants KitchenAid and Cuisinart. Knowing these two companies have a monopoly on affordable kitchen products, Breville chose to cater to the high-end premium market.
2006
Such was the quality of Breville's product's in the early 2000s that their 'Breville 800 Class Citrus Press' was introduced into Australia's Powerhouse Museum of Applied Arts and Sciences thanks to its innovative design and build quality and as a 'model of exemplary design'.
2007
Breville's Smart Toaster was hailed a 'Design triumph' thanks to the lowering mechanism, 'Look and Lift' feature, and the genius 'A Bit More' button, all of which we'll look at more closely later in this article.
2008
After realizing the enormous impact and recognizability of the Breville brand name, Housewares International Ltd rebranded as 'Breville Group Limited' and partnered with Sage and Kambrook to help conquer the UK and European markets.
2011
A documentary named 'Fat, Sick, and Nearly Dead' aired on Netflix following the journey of Australian Joe Cross and his mission to lose weight. Despite mixed reviews, the film has been shown to have directly doubled the sale of Breville juicers as people tried to follow in Cross's footsteps.
Also, in 2011, Breville released the reimagined and redesigned 'Kitchen Wizz' food processor, bringing it into the 21st century.
2013
While home espresso machines are nice in theory, they never lived up to their coffee shop counterpart due to their inability to get up to pressure and maintain high temperatures. Breville's Dual Boiler espresso machine solved that problem and became an instant, yet expensive, hit.
2013 was also the year that Breville announced world-renowned English chef Heston Blumenthal as their 'Global Brand Ambassador' to test and promote their products
2016
Even though Breville was already dominant in the world of coffee makers and espresso machines, the Australian giants partnered with 'Nespresso' and the Nestlé Group to produce some of the most popular home coffee machines in the industry.
2017
In 2017, Breville released one of their most expensive products ever with the award-winning Oracle Touch. Retailing at over $3000, this premium espresso machine was hugely popular despite its massive price point, thanks to the appliance's ability to deliver cafe-like results.
2018
Breville's Sous Vide machine became one of the most compact yet effective sous vide machines that produce delicious yet tender food without the possibility of overcooking.
2019
Following on from the successful release of the Breville sous vide machine in 2018, the brand acquired the relatively new company (formed in 2012), ChefSteps, who were the minds behind the incredibly popular 'Joule' sous vide machine.
The purchase came only months after ChefSteps had to layoff a significant number of its staff due to an 'unexpected change' in funding.
2020
At first glance, Breville's new 3X' Bluicer' looks more like a science experiment than it does a small kitchen appliance; however, this innovative product combines the abilities of a juicer and a blender for a more complete 'bluicing' experience.
In a bid to improve their coffee-making products and strengthen their foothold in the American market, Breville bought the coffee-grinding company Baratza in a deal that cost the brand $60 million.
Breville Products & Manufacturing
While most people will be familiar with the Breville sandwich makers, coffee machines, and espresso makers, the Australian appliance designers make an extraordinarily diverse group of different kitchen appliances.
Listed below are the types of products they make:
Espresso & Nespresso Machines
Ovens & Multi-Cookers
Coffee Machines & Coffee Grinders
Kettles & Tea Makers
Food Processors & Blenders
Sous Vide
Bluicers & Juicers
Toasters & Bread Makers
Immersion Blenders
Mixers & Ice Cream Makers
Grills, Sandwich & Waffle Makers
Microwaves
Woks & Deep Fryers
Smokers
Surprisingly, though Breville's products are designed and engineered in Australia, many of their appliances are assembled in China.
Though it's clear that Brevile's machines are made from quality materials and to a high standard, it can still be considered a deal-breaker to some people that they're essentially made in China.
Breville: Inventors, Pioneers, & Innovators
Breville's innovation didn't stop in the 70s and 80s with the emergence of their flagship products; far from it, each year, the company implements some intriguing designs and features into its products that sets them apart from other brands.
With over 170 patents held by Breville's Research and Development Centre, here a just a few of the creative products and genius features that you can find in Breville's stable of appliances.
Smart Toasters: The Breville smart toaster saw the advent of the 'Lift and Look' feature, allowing consumers to have a peek at their toast to see if it's to their liking. The highly popular 'A Bit More' button adds additional time to the toasting cycle to give you toast precisely the way you want it.
The smart toaster also has a mechanism that lowers and raises the toast without using levers and springs.
Touchscreen Espresso Machines: Described by Breville as 'the next generation super-automatic espresso machine', the Oracle Touch is not only ridiculously expensive, it also simplifies the complex art of making espresso coffee. The automated touchscreen calculates the settings for perfect espresso without the need for barista training.
The Smoking Gun: This incredibly unique small kitchen appliance lets you cook smokehouse-style food without the need for a smoker or large barbeque. Not only does this clever device deliver delicious smoky food, but it's super compact and takes up very little space.
PID Control: Breville didn't invent this temperature control system or weren't even the first to fit the system to coffee machines. But Breville and Sage were pioneers in bringing this complicated temperature control system into small kitchen appliances, allowing consumers to have cafe-quality espressos and coffee in their own homes.
Smart Element IQ: Fitted to Breville's Smart Oven Pro, the Smart Element IQ intelligently transfers heat to any area of the oven that might be lacking in temperature to ensure all your food is cooked evenly and efficiently.
Awards
Breville has been the recipient of many awards over the years for its designs, innovation, and appliances. Listed below are just some (but by no means all) of the accolades they've had bestowed upon them.
2005 Australian Design Award – Breville 800 Series Espresso Machine
2007 Houseware Design Awards Best in Category – Breville 00ES Espresso Machine
Australian Design Award – Breville BES400 iKon Espresso Machine
2013 SCA Expo Best Product – Breville Barista Express
2017 SCA Expo Best Product – Breville Oracle Touch
Reddot Best of the Best – Breville Oracle Touch
2016 iF Design Award – Breville Thermal Pro Cookware
2018 Good Design Team of the Year
Good Design Gold Award – Breville Barista Touch
Good Design Award Winner – Breville Thermal Precision Brewer
Good Design Award Winner – Breville Juice Fountain Cold
Good Design Award Winner – Breville Creatista Uno
SCA Expo Best Product – Breville Barista Touch
2019 SCA Expo Best Product – Breville Barista Pro
Trends & Popularity
When comparing Breville (as a company) against some of its competitors, it's clear to see that though the brand has made tremendous strides forward (especially since their introduction into the American market), there's still lots of work to be done.
If we take a look at how Breville performs on Google Trends alongside rivals De'Longhi, Keurig, Cuisinart, and KitchenAid (the last two are immensely popular in the United States) you'll see that the Australian brand follows the natural trend of peaking at Christmas time, though has maintained a slow but steady climb while reeling in some popularity from Cuisinart and Keurig.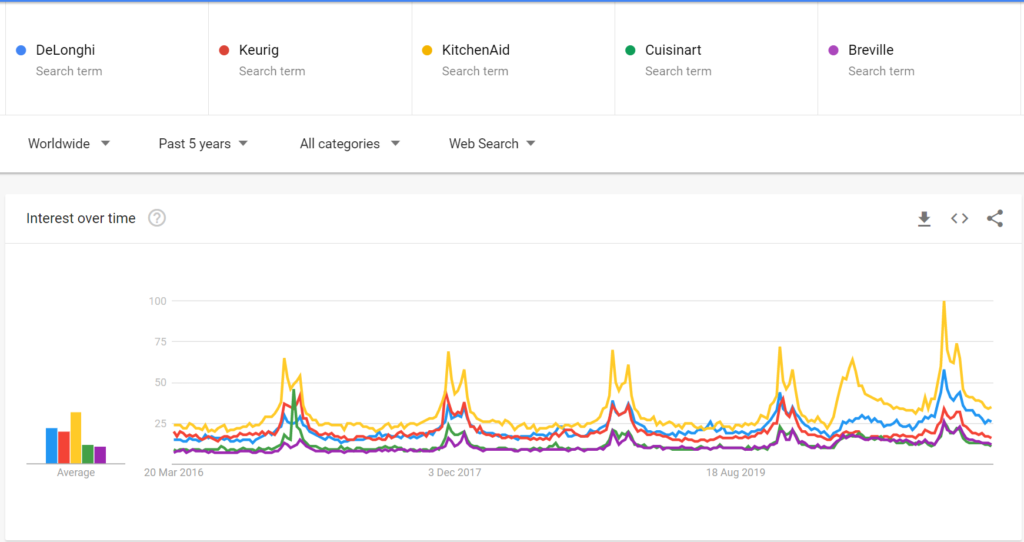 Breville trails both De'Longhi and KitchenAid by quite some distance in this simple trends search, though Breville products are a lot more niche and are aimed at the premium market. In contrast, KitchenAid offers more affordable products as a general rule.
Breville's Customer Support
While Breville leads the world in terms of design, creativity, and innovation, their customer support and services are the number one consumer complaint about the brand.
It's not enough for a company to rely solely on their products to speak for their business; a brand is built on the people who are the voice behind the appliances.
And when things go wrong (as they often do with every brand and product on the planet), Breville's voice is quiet and usually only heard after a three-hour wait.
Below are Breville's customer support review scores from three reputable sites and some snippets of those reviews.
The wait times and staff availability at Breville are not acceptable. It took 3 hours for me to speak to someone after I called rather than wait for a reply to an email I had sent to customer service weeks before (and still have not received a reply to).
Product Review Australia
1.9/5
Sent an email through, and it took them four months to respond only to say I would have to send it in again for repairs! No way, Breville, this is not white-glove service. This is dodgy for a $2300 machine. The phone queue for an hour, what a joke.
Have the decency to abide by consumer rights.
I sent them a copy of the transaction. They said call. NO ONE EVER answers the phone when you call. They tell you to leave a call back number, and THEY NEVER CALL YOU BACK.
This company has the WORST CUSTOMER SERVICE I've ever seen. I guess they want me to go to Macy's and purchase a new machine…because they need the money. I will NEVER DO business with them again.
Of course, there are some consumers that have had a positive experience with Breville's customer support. However, the overwhelming consensus is that the whole department is woefully inadequate and desperately needs a top-to-bottom overhaul.
What's Next For Breville?
While the global economic recovery from the coronavirus pandemic could take decades, online retailers continued to thrive throughout 2020 and into 2021. Though Breville produces high-end premium goods that are considered luxury items, the brand still made a healthy profit over the last 12 months despite the world's crisis.
Breville aims to build on its annual $66.2 million profit after expanding into the French and Spanish markets. However, they are holding their cards close to their chest regarding upcoming projects, with little-to-news of new appliances.
One thing is for sure; if Breville wants to improve their brand, they have to do more than continuously creating innovative features and products. They have to win their customers' hearts and minds by reviewing and reforming their customer services and support to really take their company to the next level.