Cooking for a large family can be a challenging affair that can often require complex mathematics to make sure all your food is ready at the same time.
Utilizing an air fryer or air fryer toaster oven in your cooking routine is an excellent way to speed up the cooking process and ensure your frustration is kept to a minimum. They're also a healthier way of cooking and pretty easy to clean if you use them properly.
In this article, I'll recommend the best air fryers for large families based on capacity, performance, and value for money.
The Largest Air Fryers For Large Families
If you absolutely, positively must have the largest air fryer possible, here are my top two recommendations for the largest, best-performing air fryer and the largest best-value appliance.
Biggest & Best
Breville Smart Oven Air Fryer Pro (BOV900BSS)

The Breville Smart Oven Air Fryer Pro not only has the largest internal capacity of any air fryer or air fryer toaster oven, but it's also the best performing appliance in this genre.

This behemoth toaster oven can handle massive amounts of food and cook them more quickly and evenly than any of its rivals, thanks to Breville's registered Element IQ Technology and PID temperature control system.

Best Value
Oacvien 9.8-Quart Large Air Fryer

If you're on a tight budget, you can still buy yourself a massive dedicated air fryer without spending vast sums of money.

The Oacvien 9.8-Quart Large Air Fryer is a fantastic supplemental cooking appliance thanks to its very low price point & sizable 9.8-quart cooking basket (whose efficiency is further enhanced by its square design).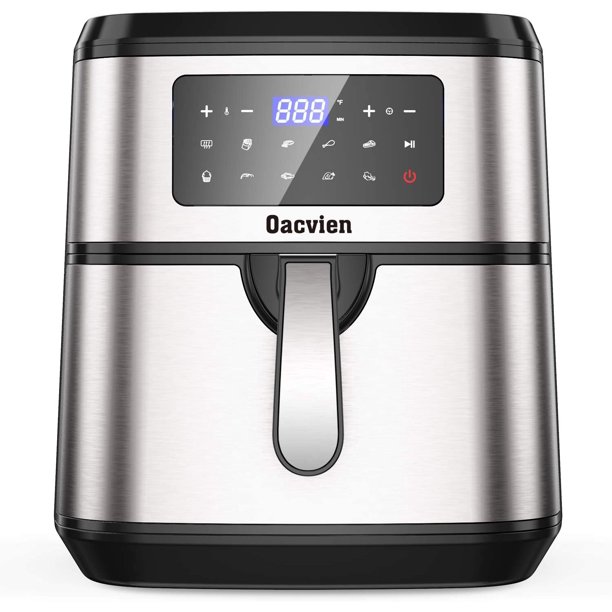 Best Air Fryers For Families of Four
When cooking for a family of four, you don't need the very biggest appliances to get by. Many dedicated 6-quart to 8-quart air fryers offer a large enough cooking capacity to suit your needs without spending extra money on an air fryer toaster oven.
You can use these appliances for cooking snacks for up to four people or use them as a supplemental cooking tool to aid your primary range to get full meals on the table simultaneously.
1. Cosori 5.8-Quart 12-in-1 XL Air Fryer (CP358-AF)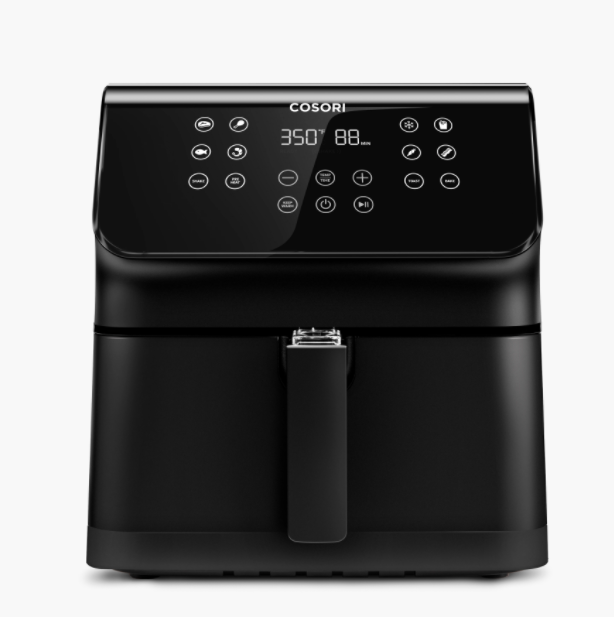 ---
While the Cosori 5.8-quart capacity immediately contradicts my recommendation of a needing 5-8-quarts of cooking space for a family of four, 0.2 of a quart is so negligible that it's negated by the amazingly low price point of this sleek air fryer.
The critical thing to remember when cooking with an air fryer is that you can't stack food on top of each other as you need to allow space around your ingredients for the super-hot air to circulate. Even with this in mind, you can easily fit up to 12-14 chicken wings along the bottom of this air fryer's square basket with enough room for efficient cooking.
Cosori's XL appliance is among the nicest-looking small kitchen appliances on the market with its digital display, tilted control panel (which makes it easier to view), and stylish matte-black finish. The powerful 1700W output makes short work of most cooking tasks.
2. Ninja Foodi 6-in-1 8-Quart Air Fryer DZ201
---
The Ninja Foodi 6-in-1 8-quart air fryer is this highly-rated brand's latest invention, and it's a beauty. The 8-quart cooking capacity is large enough to cook up to 4lbs of french fries, which is more than enough to serve a family of four.
Indeed, this air fryer's party trick (and what makes it excellent for larger families) is that the cooking capacity is split into two separate baskets, each with its own time and temperature settings. So while you're cooking 2lbs of french fries in one basket, you can cook enough burgers, wings, or chicken breasts for your whole family.
This Ninja air fryer is nigh-on perfect, and despite being large, heavy, and expensive, is one of the best performing air fryers on the market. If you can stretch your budget to buy the Foodi 6-in-1 8-Quart air fryer, you can have your family meals on the table with all the ingredients cooked at precisely the same time.
Honorable Mentions
PowerXL Air Fryer 7-QT Maxx Classic
Good size, easy to use, excellent value for money.
Ultrean 8-Quart Air Fryer XL
Most affordable air fryer of this size. Excellent choice for those on a tight budget.
Best Air Fryers For Families of Five
If your family has five members to cook for, you'll need something a little more versatile than an 8-quart dedicated air fryer. Fortunately, you have more choices at hand as you can either select one of the gigantic 9 to 10-quart air fryers or instead opt for a small air fryer toaster oven.
Before making your choice, you'll need to decide whether you want your air fryer to be your primary cooking appliance or not.
1. Oacvien 9.8-Quart Large Air Fryer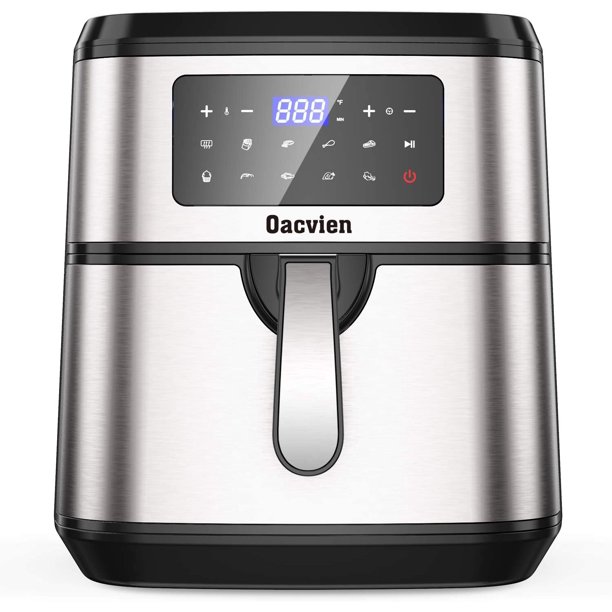 ---
If you opt for the Oacvien 9.8-quart air fryer, you're selecting (one of) the second-largest dedicated air fryers on the market, only outshone by massive 10-quart appliances like the LEDOSAKO 10-Quart Family-Sized Air Fryer. However, though the Oacvien fryer is marginally smaller 10-quarts, the difference in size is nominal, but the gulf in affordability and quality is palpable.
Oacvien designed this appliance with a square basket which utilizes the cooking space much more efficiently than fryers with round baskets. As a result, you'll have little problem cooking 16-18 chicken wings or 8 egg tarts in one go with this beast.
The impressive 1700w power output means this air fryer cooks quickly, though surprisingly, the exterior remains relatively cool even when cooking at the highest temperatures. Despite being a little bland to look at, the Oacvien 9.8-quart air fryer is one of the best dedicated air fryers for families of up to five members.
2. Ninja Foodi Counter-top Air Fryer Toaster Oven (SP101)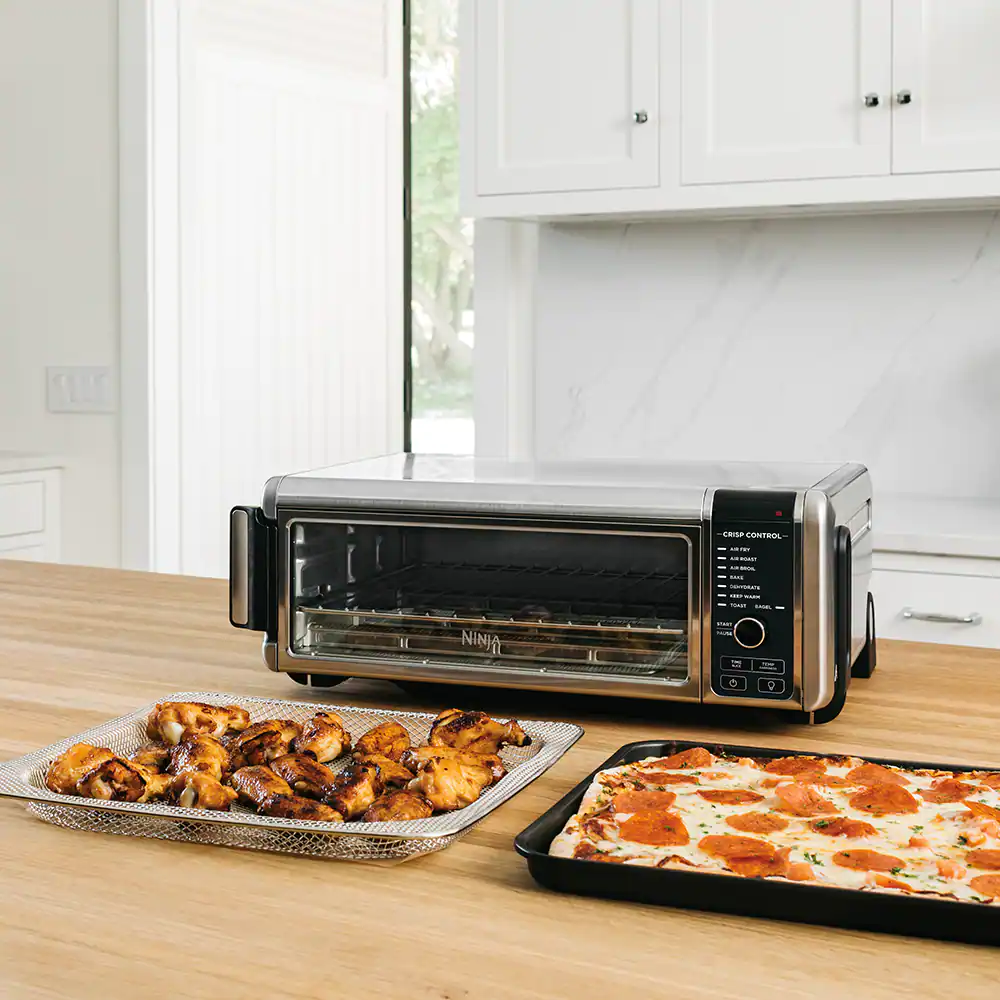 ---
If you're looking for something with a little more size and versatility than a dedicated air fryer, then the Ninja Foodi SP101 is an appliance you should consider. This unique air fryer toaster oven prefers to utilize width rather than height, so it's adept at cooking wider food items with less height, which is perfect for air frying.
This stocky unit can house a 13" pizza and up to 9 slices of bread, so you'll be able to leave copious amounts of space between your ingredients which is the ideal environment for even cooking.
The low-profile design means you'll easily fit it under your kitchen cupboards, and the SP101 has a unique flip-up storage facility and a removable back panel, so it's super easy to clean. You'd expect a contemporary appliance such as this to be expensive; however, it comes with a very reasonable price tag.
Honorable Mentions
LEDOSAKO 10-Quart Family-Sized Air Fryer
Gigantic cooking capacity, possibly the largest dedicated air fryer on the market.
Cosori CS130-AO 32-Quart Air Fryer Toaster Oven
Affordable large air fryer toaster oven with smart controls and Wi-Fi connectivity.
Best Air Fryers For Families of Six
The largest of families require the air fryer toaster ovens, and these absolute monsters are as big a cooking appliance as you'll find without buying a traditional cooker or range.
At this time, there are no dedicated air fryers that are large enough to cook enough food for a family of six because the baskets simply aren't large enough.
1. Breville Smart Oven Air Fryer Pro (BOV900BSS)
---
It should come as no surprise that the largest air fryer toaster oven on the market is the best appliance for cooking for a family of six. The cavernous 1 cubic foot capacity is unrivaled in terms of height, width, and depth.
This mammoth oven can roast a 14lb turkey, two 13" pizzas, 9 slices of bread, and even an entire 5-qt Dutch Oven, so you'll have no problems getting food on the table quickly for your family.
Not only is this air fryer toaster oven the biggest home appliance of this type, but it also boasts premium quality, performance, and durability. Thanks to the PID control and Breville's patented Element IQ temperature delivery system, the oven cooks food perfectly. Be prepared to pay big bucks for this high-quality machine, however.
2. Cuisinart TOB-260N1 Chef's Convection Toaster Oven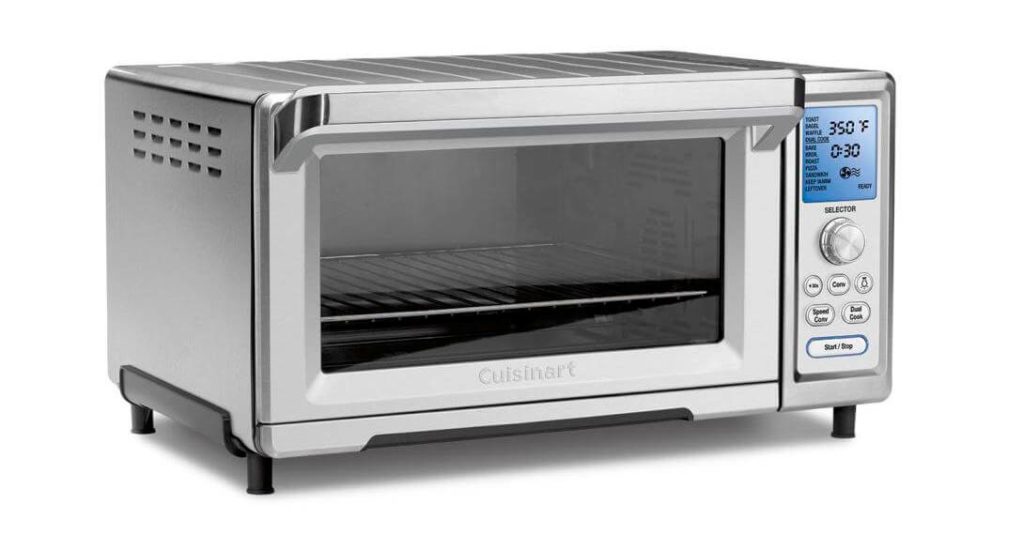 ---
If the Breville Smart Oven Pro is out of your price range, then you should check out the absolute monster that is the Cuisinart Chef's Convection Toaster Oven. With 0.95 cubic feet of cooking space, this Cuisinart appliance is a little smaller than its rival (but not by much), yet it is significantly more affordable.
Though not technically an air fryer, this appliance is one of the earlier models, and its "speed convection" setting functions precisely the same way as an air fryer would. As such, people have been buying this toaster oven as an air fryer ever since.
The well-thought-out design of the TOB-260N1 means that despite the fact that the marginally smaller capacity compared to the Breville, this hefty appliance still has enough room to roast a 5lb chicken, toast nine slices of bread, or quickly whip up two 13" pizzas.
Honorable Mentions
Ninja Foodi 10-in-1 XL Pro
Stylish, innovative, and downright humongous. An excellent appliance from a reputable brand.
NuWave Bravo XL Convection Air Fryer Toaster Oven
Huge 30-quart cooking space that utilizes a vast temperature range and comes with a free temperature probe.
Tips & Frequently Asked Questions
How to Get the Most Out of Your Air Fryer When Cooking for a Large Family
Pre-Heat Your Air Fryer: While not all air fryers require pre-heating, using a hot air fryer basket with help to stop food from sticking to the basket's surface.
Don't Stack Your Food or Overcrowd The Basket: It's worth mentioning one more time that you should NOT stack your food or put too much food in an air fryer basket, no matter how much room it feels like you're not utilizing. The pieces of food need to have space between them so that all their surface can come into contact with the hot air.
Use 1-Calorie Spray: People get into air frying because it's a much healthier alternative to frying food; however, air-fried food can sometimes lack that crispiness of traditionally fried food. Using 1-cal oil can crisp up your chicken, burgers, or bacon without adding tons of calories to your food. It can also stop food from sticking to the basket.
Shake The Basket or Turn Your Food Periodically: To ensure your food is evenly cooked, you should shake your air fryer baskets (or flip your food if you're using an air fryer toaster oven) so that each piece comes into contact with the super-heated air.
Give Your Appliance Room: The exterior of your dedicated air fryer or air fryer toaster oven is going to get very hot, so it's a good idea to leave a minimum of five inches around your appliance, so it doesn't overheat or damage your kitchen.
Line Your Basket or Baking Sheets With Foil: If you want an easier clean-up when you've finished cooking, put layers of tin foil inside your air fryer baskets which you can throw away afterward. You'll need to remember to shake and turn your food, though, or it will stick to the foil.
Cook Foods From Frozen: It's not only possible to cook food from frozen in an air fryer, it's practically encouraged. Check the food packaging or recipes for the optimal times and temperatures.
Don't Forget to Bake: Because these appliances are named "air fryers," hardly anyone uses them for baking. You can make delicious sweet treats such as donuts, pies, and cupcakes in these versatile machines.
Can You Cook Multiple Foods at the Same Time?
Yes … and no.
Much like any cooking appliance, the answer to this question lies in the context. While you can cook bacon and eggs in the same skillet, you couldn't, for example, fry and steak and an omelet simultaneously.
Large dedicated air fryers are more adept at cooking family-sized portions of the same food because the ingredients need to be spread out a little. It would be tricky to find the space to cook enough food of different sorts to feed a large family.
As previously mentioned, it's not a good idea to stack food on top of each other in an air fryer as the super-heated air wouldn't cook the food evenly. However, if you're cooking smaller portions or don't mind family members eating at different times, then there's no reason not to cook multiple foods simultaneously.
Of course, there's the option to buy the Ninja Foodi 6-in-1 8-quart air fryer, which the brand designed specifically to cook multiple foods at the same time using separate baskets with independent time and temperature settings.
Alternatively, large air fryer toaster ovens often have more than one rack position so that users can utilize two or more baking sheets simultaneously and still be able to spread the ingredients out.
If cooking more than one food at the same time is high on your priorities list, then air fryer toaster ovens are definitely your best bet.
Are Air Fryers Dangerous For Kids?
If you have a large family, the health and safety of your children will be continuously on your mind. When buying any new product, it's a good idea to assess the potential dangers it may pose to your family.
There are two areas of concern where children are concerned: Do air fryers cook food safe for children to eat, and can children help with cooking tasks while using an air fryer?
Is Air Fried Food Safe for Children?
From a technical standpoint, air-fried foods are no more dangerous to children than any other cooking method. On the flip side, the reduced fat content of food cooked in an air fryer compared with regular fried foods is significantly less calorific.
However, air frying food does not entirely negate the health ramifications of eating an imbalanced diet or consuming too much of any singular food (IE, eating chicken wings every day even if they're air-fried will be detrimental to your child's health).
Are Air Fryers Safe for Children to Use?
Even though air fryers don't actually use hot oil or fat for cooking foods, they can still be very dangerous and should not be used by children unless they're being strictly supervised.
The high-powered fans that circulate the heat inside these types of appliances can cause the exteriors to become very hot. While air fryers have varying degrees of external temperatures (some air fryers manage the external heat much better than others), almost all of them would cause burns to a child's hands and arms should they come into contact with the skin.