Best Overall
NuWave Brio 38001
Of all the NuWave air fryer appliances we have reviewed, the 'NuWave Brio 38001' is our favorite.

With the substantial cooking capacity, the rotisserie kit, and 100 recipe pre-programmed settings, this attractive unit comes out on top. But most importantly, the 3800 does not struggle with the delamination of the 'durable' Teflon coating of the basket as do the other models.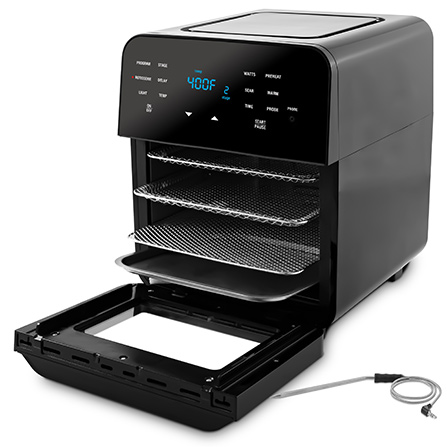 1. NuWave Brio 36011 3-Quart Air Fryer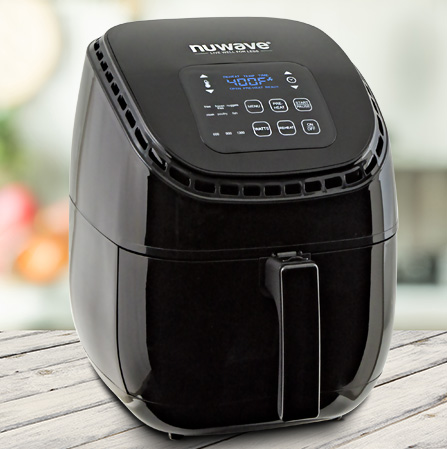 ---
This NuWave air fryer is one of the cheapest appliances of its kind on the market. It has a small cooking capacity, suitable for serving one to two people, and it has a very basic appearance.
As it is an entry-level device, don't expect high-end build quality or massive amounts of features.
Specifications
Dimensions: H13 inches x W8 inches x D8 inches
Appliance Weight: 14.6lbs
Capacity: 3-Quarts
Available Colors: Black
Dishwasher Safe: Selected Parts (Removable Drawer and Food Basket)
Wattage: 1300W
Min/Max Temperature: 100°F/400°F (Adjustable in 5°F Increments)
Looks 6/10
The NuWave 36011 is a reasonably low budget air fryer, and you get what you pay for. The aesthetics are uninspiring, and the plastics used don't scream high quality. However, when you consider the price point, that's to be expected.
The digital display is beautiful to look at; it makes good use of simple colors while the small food icons make choosing the right preset for the right food quick and easy.
Capacity 6/10
This air fryer oven is a modestly sized appliance suitable for dining alone or whipping up a meal for date night. Families with children are going to need something more significant. But again, for the low budget price tag, you're not going to get cavernous amounts of space.
Features 7/10
Presets: The 36011 has six presets that automatically set the appliance up for certain foods without the need for adjusting the machine manually. The presets are for cooking; Fries, Frozen Fries, Nuggets, Steak, Poultry, and Fish. Which are all fairly standard.
Auto Preheat: This setting will automatically warm your appliance up to the correct temperature to ensure your air fryer will be ready to go when you are.
Reheat Default Setting: If you have leftovers from last night's dinner or some takeaway that has gone cold, the 36011 makes it easy to reheat your food. With a single push of a button, it will warm your meal for 4 minutes at 360°F.
Auto Shut-off: This appliance comes with an auto shut-off safety feature that prevents the air fryer from operating when the pan/basket is not securely in place.
Performance & Cleaning 6/10
The general overall performance of the NuWave Brio 36011 is pretty good considering how much it costs. Most consumers report that the device is reliable and makes healthy and delicious food in a short space of time. However, there are multiple reports of the non-stick coating covering the basket and pan, peeling away after use, and even contaminating some users' meals.
There have been similar instances of the text on the touch-pad display controls rubbing away after extended use, leaving the buttons difficult to read.
Despite NuWave claiming that parts of the appliance are dishwasher safe, many customers still say it's not easy to clean and occasionally have to scrub the pan/basket after it has been in the dishwasher. One could speculate that the difficulty in cleaning could be contributing to the chipped/peeling Teflon coating.
Score 3/5
Should you buy the NuWave Brio 36011?
While not the lowest of the low budget appliances, this model is not without its issues. It does cook beautifully, but the peeling coating on the inner components should give you pause for thought. It is worth noting that not all consumers have suffered from faulty Teflon, and most people are delighted with their device.
For us, this air fryer is just a little more costly than we would like for an entry-level device, and it would be prudent to read some of the other reviews of similarly priced units we have on our site. Given the price, we think it's the best value air fryer you can get.
2. NuWave Brio 37001 6-Quart Air Fryer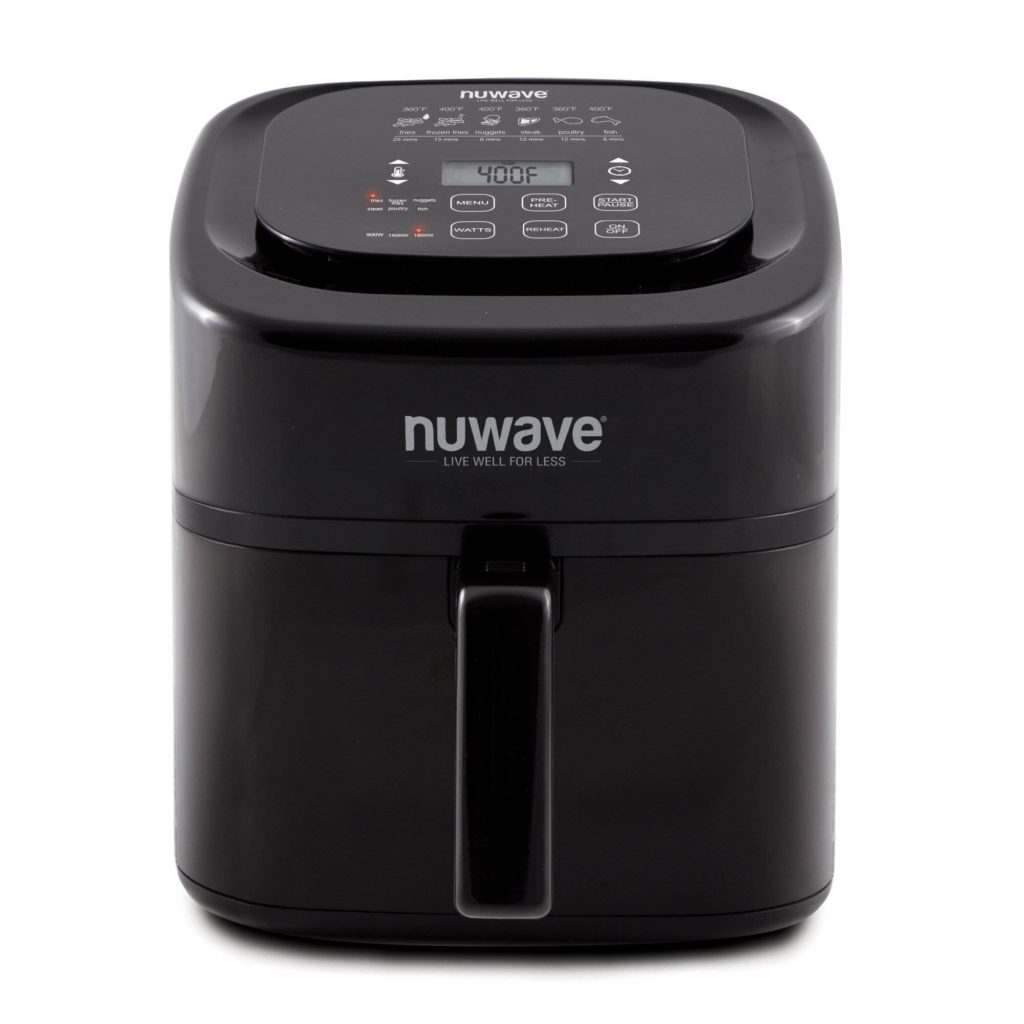 ---
If you're looking for something slightly more significant than the 3-Quart Brio, than the 37001 model could be the way forward. While the 6-quart fryer's overall footprint is only a fraction bigger than its baby brother, it has double the cooking capacity.
They are vaguely similar to look at as they have almost the same digital display, but the overall appearance of the 37001 is more appealing thanks to a slicker design and a shinier finish.
Specifications
Dimensions: H12.25 inches x W11 inches x D11 inches
Appliance Weight: 15lbs
Capacity: 6-Quarts
Available Colors: Black
Dishwasher Safe: Selected Parts (Basket and Cooking Rack)
Wattage: 900W / 1500W / 1800W
Min/Max Temperature: 100°F/400°F (Adjustable in 5°F Increments)
Looks 7/10
If the 36011 is an ugly sister, then the 6-quart model is almost Cinderella. The family resemblance is still there, but the overall appearance is much nicer at which to look. From the sleek curved lines to the glossy black plastic finish.
Yes, the digital display is almost the same, but that feature was the best part of the smaller model's aesthetics.
Capacity 8/10
With 6-quart capacity at its disposal, this NuWave model has plenty of room to make sizable meals for sizable families. The appliance also comes with a basket divider so consumers can cook two different foods simultaneously.
Features 7/10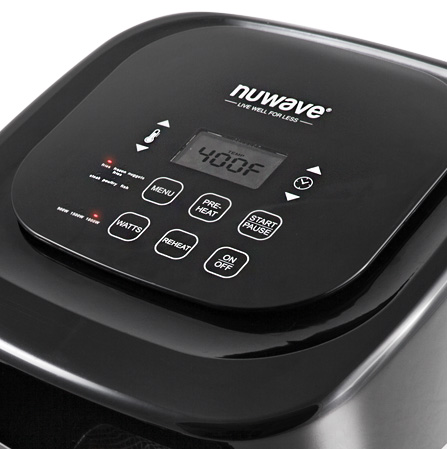 Presets: The 37001 has the same six presets as the smaller model that automatically sets the appliance to cook specific foods without the need for adjusting the machine manually. The presets are for; Fries, Frozen Fries, Nuggets, Steak, Poultry, and Fish.
Digital Timer: The digital timer allows you to program your device for up to 100 hours to ensure your meal is ready right on time.
Basket Safety Button: Safety features are essential when dealing with such high temperatures; this 'basket demounting button' ensures the basket comes out only when you desire.
Auto Preheat: This setting will automatically warm your appliance to the correct temperature for whatever meal you're about to cook.
Performance & Cleaning 7/10
Unfortunately, NuWave has not resolved the delaminating issues that plagued the 36011 as consumers report that this appliance suffers from the same affliction. Which could be a massive problem if you end up with an effected fryer.
The 6-quart unit has no issues as far as cooking performance is concerned, with owners of this device delighted with their crispy fries and tender chicken. NuWave has also made improvements with cleanability with reports that it is far easier to remove grease and grime.
Should you buy the NuWave Brio (Model Number #37001)?
This appliance has 50% more cooking capacity of the 3-quart unit for a price point that's only around a 20% increase. For that reason alone, it is worth considering. It's also better looking and easier to clean.
However, the delamination of the basket remains a concern. Should you be unfortunate enough to receive a faulty appliance (again, not all fryers have this problem), the 37001 could be rendered useless in less than a year.
3. NuWave Brio 38001 14-Quart Air Fryer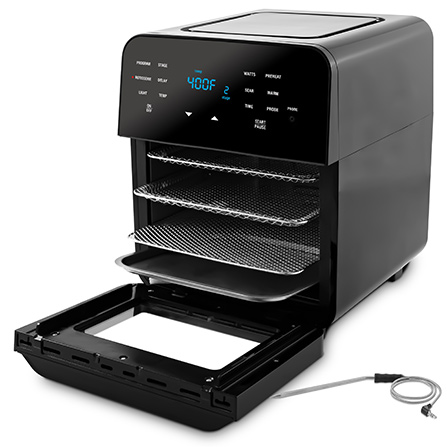 ---
NuWave's 38001 is one of their most giant air fryers in terms of cooking capacity. This 14-quart unit is programmed with 100 recipe settings and has an integrated probe that ensures your food is cooked correctly.
Use the wire racks for cooking three different foods simultaneously or equip the rotisserie kit to roast a whole chicken.
Specifications
Dimensions: H17.75 inches x W14.5 inches x D16.65 inches
Appliance Weight: 22lbs
Capacity: 14-Quarts
Available Colors: Black
Dishwasher Safe: Selected Parts
Wattage: 900W / 1500W / 1800W
Min/Max Temperature: 60°F/400°F (Adjustable in 5°F Increments)
Looks 8/10
The appearance of the 38001 brings to mind a traditional oven in a way the other appliances in this article just can't manage. From the handle position to the fryer window, it just looks like it should have tasty food inside.
The modern display panel is clear and intuitive and adds to the overall pleasant aesthetic.
Capacity 9/10
A family of four should be able to utilize a 14-quart capacity device to cook most meals comfortably. The standard layout is a three-rack system allowing the consumer to cook multiple foods at the same time.
However, some owners of this appliance believe the overall layout is a little inefficient and could have been better with more thought put into the design.
Features 8/10
Presets: The NuWave 38001 boasts 100 pre-programmed recipe settings with the ability to add a further 100 custom presets of your own. 'Reheat', 'Warm', 'Delay', 'Preheat', 'Sear,' and 'Stage' are all settings that help cook perfect meals.
Integrated Food Probe: When cooking food, especially chicken, it's essential to ensure it is cooked throughout before serving it up to your family. This probe helps put your mind at ease that your food is cooked correctly.
Rotisserie Kit: Cook a delicious, whole roast chicken that's crispy on the outside and tender on the inside using the rotisserie feature.
Dishwasher Safe Racks: NuWave say that the appliance's cooking racks are easily cleaned by running them through a dishwasher cycle. We'll discuss this "feature" in the Performance and Cleaning section of this review.
Performance & Cleaning 8/10
The 14-quart NuWave air fryer easily handles all kinds of different foods using the preset times and temperatures and features at its disposal. Most consumers are delighted with how the appliance makes quick and healthy meals with minimal fuss.
Unlike the two other options in this review, the 38001 has no issue with delaminating components as the racks, basket, and rotisserie kit are all made from stainless steel.
While all the removable parts are dishwasher safe, the process of cleaning is still not easy as the diamond structure of the racks tends to trap pieces of food and grease, meaning you often need to scrub them with a sponge to get them completely clean.
There have been known issues with door hinges coming loose, so it's good to be careful when opening and closing this appliance.
Should you buy the NuWave Brio (Model #38001)?
If you're in the market for a kitchen appliance that can capably handle all your grilling, baking, and frying needs, then take a closer look at this model.
A multitude of features makes it a versatile air fryer that is large enough to cook delicious family meals with ease.