When Philips Electronics introduced the first air fryer to the world in 2010, few people could have predicted just how popular this type of small kitchen appliance would become.
Fast forward to today, and this style of cooking has become so in-demand that some of the world's largest brands are incorporating air frying technology into their regular ovens, electric grills, and slow cookers.
However, in this article, I'm going to focus solely on the largest dedicated air fryers and air fryer toaster ovens because these particular types of air fryers not only offer the largest capacities but they're also unrivaled in their air frying performance.
Disclaimer: I may receive commissions from purchases made via links at no cost to you
Which is the Largest Air Fryer?
If your sole objective is to buy an air fryer with a larger cooking capacity than any other product on the market, then the Breville Smart Oven Air Fryer Pro (BOV900BSS) is the appliance for you. While a handful of air fryer toaster ovens have similar external dimensions as the Breville Air Fryer Pro, none can match its cavernous 1 cubic-foot internal capacity.
Large Capacity Air Fryer Toaster Ovens
Air fryer toasters ovens are undoubtedly the best appliance for you to get the maxim cooking space possible. They're generally less portable and have cooking functions other than air frying, but as they're larger, they take a little longer to pre-heat and cook. Air fryer toaster ovens tend to be more expensive too.
1. Breville Smart Oven Air Fryer Pro BOV900BSS
---
Breville's Smart Oven Air Fryer Pro is the pinnacle of large air fryer toaster ovens. This premium appliance boasts the largest internal cooking capacity (in which you can cook a 14lb turkey, 13" pizza, or toast an impressive nine slices of bread) of any air fryer toaster oven on the market.

The BOV900BSS isn't only the largest appliance in terms of cooking capacity; it also has the most substantial external dimensions and is far heavier than all the other appliances so that, it will need a permanent home in your kitchen.
Dimensions: 17.5 x 21.5 x 12.7 inches
Weight: 38.9lbs
Value For Money: While this air fryer toaster oven has the largest cooking capacity, it has the largest price tag to go along with it and is one of the most expensive air fryer toaster ovens on the market. The value for money is there, though, if you have the spare funds at your disposal.
Things We Love
It's of the Highest Quality: This air fryer toaster oven isn't only the biggest, it's also the best. Breville prides themselves on producing premium quality appliances that are made from high-grade materials and incorporate the most up-to-date technology.
First-Class Performance: Breville uses their registered Element IQ Technology and PID temperature control system in this air fryer so that you will cook your food more evenly and efficiently than with any other appliance.
Impressive Versatility: Even though you're here for the air fryers, this toaster can do so much more. It has thirteen different cooking functions: Toast, Bagel, Broil, Bake, Roast, Warm, Pizza, Proof, Air Fry, Reheat, Cookies, Slow Cook, and Dehydrate.
Dependability: Thanks to its high-quality materials and first-rate design, the Breville Smart Oven Pro won't let you down. This robust and durable machine will be there for you whenever you need it.
Attractive Yet Intuitive Control System: Breville using their iconic pale blue display and smooth control system on this air fryer toaster oven. It's not only pretty to look at, but it's also effortless to use.
What's Not To Like?
It's Very Very Pricey: If you're familiar with Breville products, you'll be aware that they charge premium prices for premium products. If you've never come across them before, be prepared to spend a hell of a lot of money.
Air Fryer Runs Hot: When using this kitchen appliance, be wary of the oven's exterior, which gets extremely hot when it's cooking your meals.
2. Cuisinart TOB-260N1 Chef's Convection Toaster Oven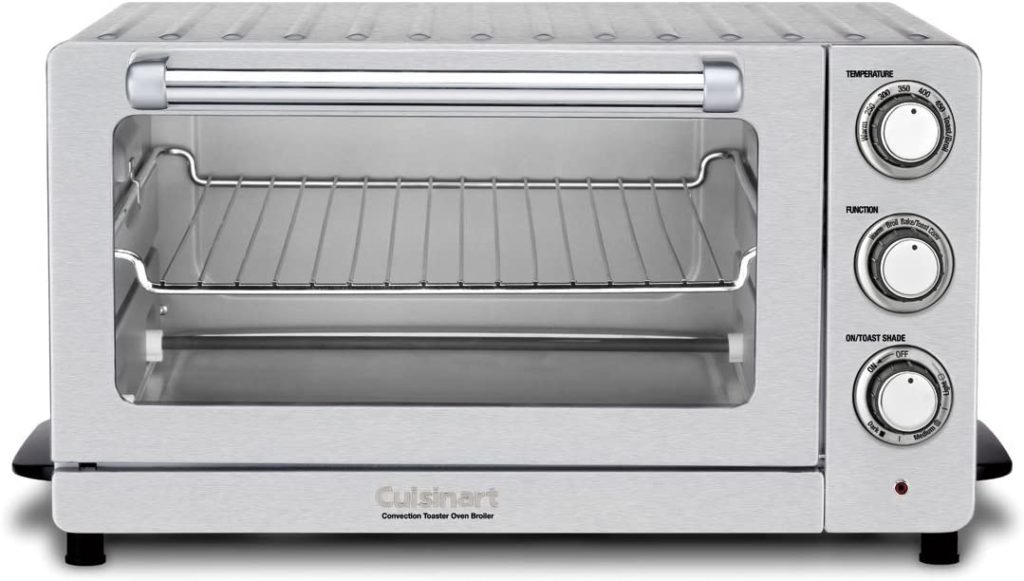 ---
Cuisinart's Chef's Convection Toaster Oven is the only appliance on this list that isn't actually an air fryer in the conventional sense. The TOB-260N1 is not marketed as an air fryer toaster oven; however, this massive machine operates in an almost identical way.
While the internal cooking capacity is not quite as large as the Breville Smart Oven Air Fryer Pro, this culinary behemoth still has a whopping 0.95 cubic-foot cooking space. These kinds of dimensions can hold nine slices of bread; there's enough room to roast a 5lb chicken, and thanks to the well-designed rack spaces, two 13" pizzas.
Dimensions: 20.87 x 16.93 x 11.42 inches
Weight: 32lbs
Value For Money: Because this machine isn't marketed as an air fryer toaster oven, it's significantly more affordable than the Breville Smart Oven Air Fryer Pro. It's approximately 25% cheaper than its rival with only marginally less space, making this appliance excellent value for money.
Things We Love
Excellent Performance: This Cuisinart toaster oven performs so well that it ranks as one of the best (if not THE best) toaster ovens to come out of this iconic brand. The TOB-260N1 has the guts to match its massive size with an enormous performance.
Straightforward to Use: Despite the complex appearance of this busy-looking control panel, the Cuisinart TOB-260N1 is incredibly intuitive and straightforward to use.
Excellent Selection of Accessories: You'll get a wide array of accessories with the TOB-260N1 to help you out in the kitchen. It comes with two oven racks, a baking tray/drip pan, a broiling pan, a removable crumb tray, 13" pizza stone, and a recipe guide to get you started.
It's Super Quiet: Air fryers and convection ovens are generally noisy beasts, primarily when operating on their highest power settings. The Cuisinart TOB-260N1, however, runs very quietly, so you won't wake up your family if you make a late-night snack.
Incredible Versatility: If you thought the Breville Smart Oven Air Fryer Pro had a lot of functions, this Cuisinart toaster oven goes one better with a massive fourteen cooking features. They are Toast, Waffle, Bagel, Bake, Roast, Broil, Pizza, Sandwich, Keep Warm, Leftovers, Defrost, Dual Cook, +30 seconds, and Speed Convection (which is technically Air Fry).
Internal Temperature Sensor: You'll never undercook or overcook your food again as this toaster oven comes with a sensor, so your food will be cooked perfectly even.
What's Not To Like?
Doesn't Come With an Air Fryer Basket: Because this appliance isn't technically an air fryer, there's no basket included, so you'll need to source one from a third party.
Text Rubs Off Buttons: After prolonged use, you'll find the text on the buttons begins to wear away, so you'll struggle to read what's written on them. You'll need to remember what each one does.
3. Ninja DT201 Foodi 10-in-1 XL Pro Air Fry Digital Toaster Oven
---
Ninja's 10-in-1 Foodi XL Pro is not only a modern kitchen marvel; it's also a massive appliance that utilizes its interior space as well as any other air fryer toaster oven on the market. Sure, it's not as cavernous as the Breville Smart Oven or even the Cuisinart TOB-260N1, but it's not far off.
And given the massive amount of accessories that come with this gorgeous appliance, you can cook multiple foods simultaneously so you can cook entire meals with ease. The roomy interior has enough space for you to cook a 5lb chicken alongside a full sheet pan of vegetables, a 12lb turkey, or a couple of 12" pizzas.
Dimensions: 17.09 x 20.22 x 13.34 inches
Weight: 33lbs
Value For Money: It's difficult to find any appliances that can match Ninja's ability to balance affordability and quality, and the Foodi XL 10-in-1 is no different. While this air fryer toaster oven isn't the cheapest large air fryer toaster oven on the market, it certainly gives you the best bang for your buck.
Things We Love
Contemporary Aesthetic: The Ninja DT201 Foodi Air Fryer Toaster Oven is my favorite of all these appliances in terms of appearance. Released in 2020, the Foodi XL has the most recent design, and it shows.
Rack Positions & Indicators: Not only does this oven have four rack positions so you can better utilize its massive interior, but it also has rack positions indicators that suggest the optimal position for your racks based on the food you're about to cook.
'True Surround Convection': In general, massive air fryers and toaster ovens take a long time to heat up. However, Ninja's impressive True Surround Convection technology makes light work of heating this hefty appliance.
Digital Display Handle: One of the coolest features of the Ninja DT201 10-in-1 Foodi XL is the digital display handle. This appliance's handle is home to the control panel, which not only looks awesome, but it frees up real estate so you can use the rest of the oven for cooking space.
Excellent Selection of Accessories: Included in this oven's price point is; a large air frying basket, a roasting tray with non-stick coating, two sheet pans, and two-wire racks, and a crumb tray.
What's Not To Like?
It's Very Loud: Unlike the Cuisinart TOB-260N1, which runs super-quietly, this beast sounds like a fighter jet taking off when you're using it on the highest power setting.
Accessories are Challenging to Clean: Though the selection of accessories that come with the DT201 is impressive, the downside is that most of them can be a pain to clean. So make sure you wash them as soon as possible after use.
4. Cosori CS130-AO 32-Quart Air Fryer Toaster Oven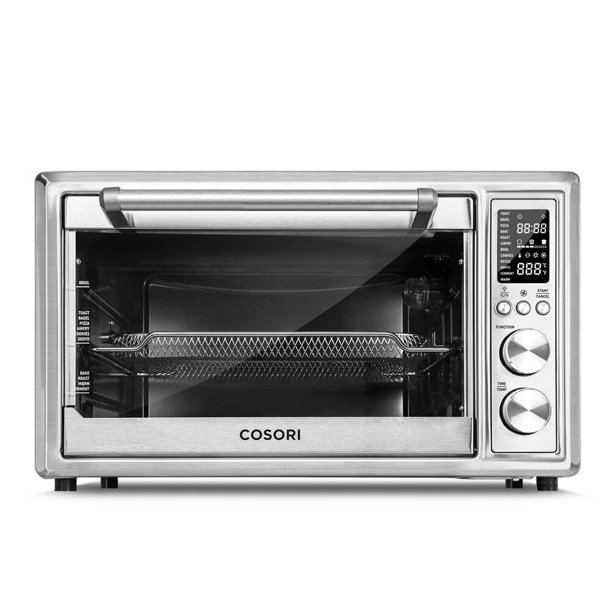 ---
The Cosori CS130-AO Air Fryer Toaster Oven is the ideal choice for folks looking for the largest air fryer appliance possible but on a tighter budget. While this sizeable cooker is the smallest of the large air fryer toaster ovens I've reviewed in this article, it is by far the most affordable.
While this air fryer is smaller than the Breville, Cuisinart, and Ninja appliances, it still has an extremely roomy interior, even if it doesn't maximize it efficiently. This decent-sized machine can rotisserie cook a 5lb chicken, toast six slices of bread, or bake a solitary 12" pizza. Not too shabby considering the price point.
Dimensions: 20.1 x 16.5 x 12.1 inches
Weight: 19lbs
Value for Money: Unless you absolutely need the largest air fryer toaster oven possible, the Cosori CS130-AO is an excellent choice for those looking for a quality appliance without spending the Earth. To add to the already superb value of this machine, it's the only cooker on this list with Wi-Fi connectivity.
Things We Love
Super Affordable: It's worth mentioning again that the Cosori CS130-AO is not only an enormous air fryer but also one of the most reasonably priced appliances of this size.
Smart Controls: Despite the relatively low price point, this air fryer toaster oven is the only appliance to feature on this list that is Wi-Fi compatible. You can control your air fryer through a cell phone app, Google Assistant, or Amazon Alexa. You will also receive notifications directly to your phone when your food has finished cooking.
Relatively Versatile: Despite the massive gulf in prices between the Cosori CS130-AO and the Breville Smart Oven Pro, the more affordable oven only has one less cooking feature than the super expensive machine. The features are Rotisserie, Dehydrate, Pizza, Roast, Air Fry, Toast, Bagel, Bake, Broil, Cookies, Keep Warm and Ferment.
Rotisserie Kit: If you love succulent rotisserie chicken, then this appliance might be right up your street. The rotisserie kit that comes with this machine lets you make perfectly cooked chicken every time.
Very Easy to Clean: Consumers are united in the opinion that this Cosori appliance is super easy to clean. The interior, exterior, and accessories should give you any problems when it's time to wash up.
What's Not To Like?
Cooks Slowly: Compared with similar products, the Corosi CS130-AO doesn't cook as quickly as its rivals.
Rotisserie Mess: While the rotisserie function is nice to have, it can be rather messy, especially if you don't have a very lean chicken. Fat and grease get catapulted everywhere. So, it's lucky the oven is easy to clean.
No Power Button: You can only turn this appliance off by unplugging it as there's no power button.
Large Capacity Dedicated Air Fryers
Dedicated air fryers are designed with the sole function of air frying in mind. They typically have a smaller footprint than air fryer toaster ovens, so they're easier to store. However, there are still some large capacity dedicated air fryers more than capable of catering to sizeable families. Because these types of fryers are dedicated to air frying, they cook more efficiently.
1. LEDOSAKO 10-Quart Family-Sized Air Fryer
---
This gigantic dedicated air fryer is the largest of all the appliances of this type. The basket on this machine is so massive that you can air fryer a 7lb whole chicken. The brand themselves claim it's possible to air fry a batch of fries large enough to feed up to ten people.
The gargantuan cooking space is also perfect for cooking smaller batches, as air frying is more effective when you can space the food out and allow the air to circulate.
Dimensions: 15.08 x 12.87 x 13.86 inches
Weight: 15lbs
Value for Money: While this model is on the pricey side for a countertop dedicated air fryer, there's no denying that pound-for-pound, you get an enormous amount of cooking space for your money.
Things We Love
Ten Cooking Functions: Though the number of cooking functions on dedicated air fryers is fewer than the amount you'll generally find on an air fryer toaster oven, the LEDOSAKO air fryer still has an impressive ten presets to help you cook. They are French Fry, Wings, Pizza, Beef, Fish, Chicken, Vegetables, Bake, Air Fry, and Reheat.
Square Basket: Many