Chefman Air Fryer Reviews
Best Overall
Chefman 6.3 Quart Digital Air Fryer+ Oven
Despite the Chefman 6.3-Quart Digital Air Fryer+ being their most expensive product in our review, it is our favorite for several reasons. It has a classy outward appearance and comes equipped with some great functional features and attachments.

However, given that it has a mid-to-high-end price point, this model may not be the pinnacle of small kitchen appliances, but out of the air fryers to come out of the Chefman house, it's the one we recommend.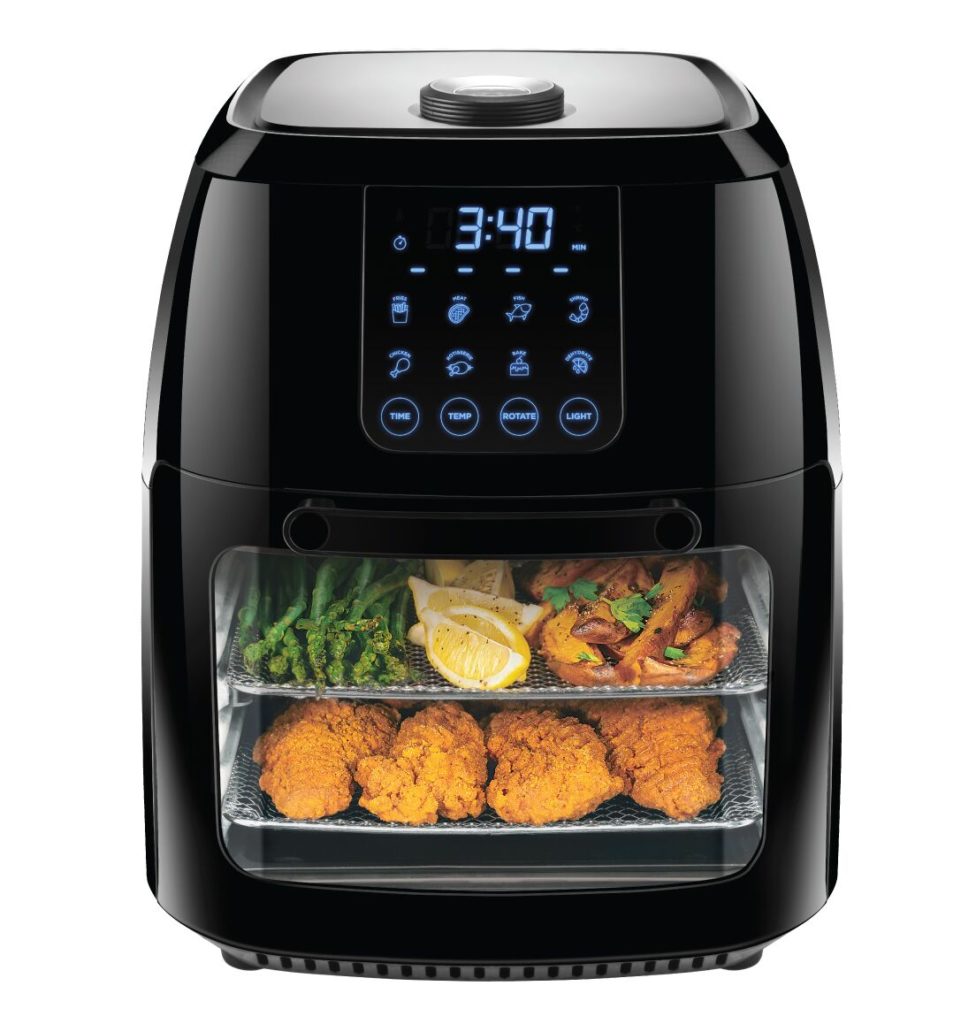 1. Chefman TurboFry Dual Control 3.6-Quart Air Fryer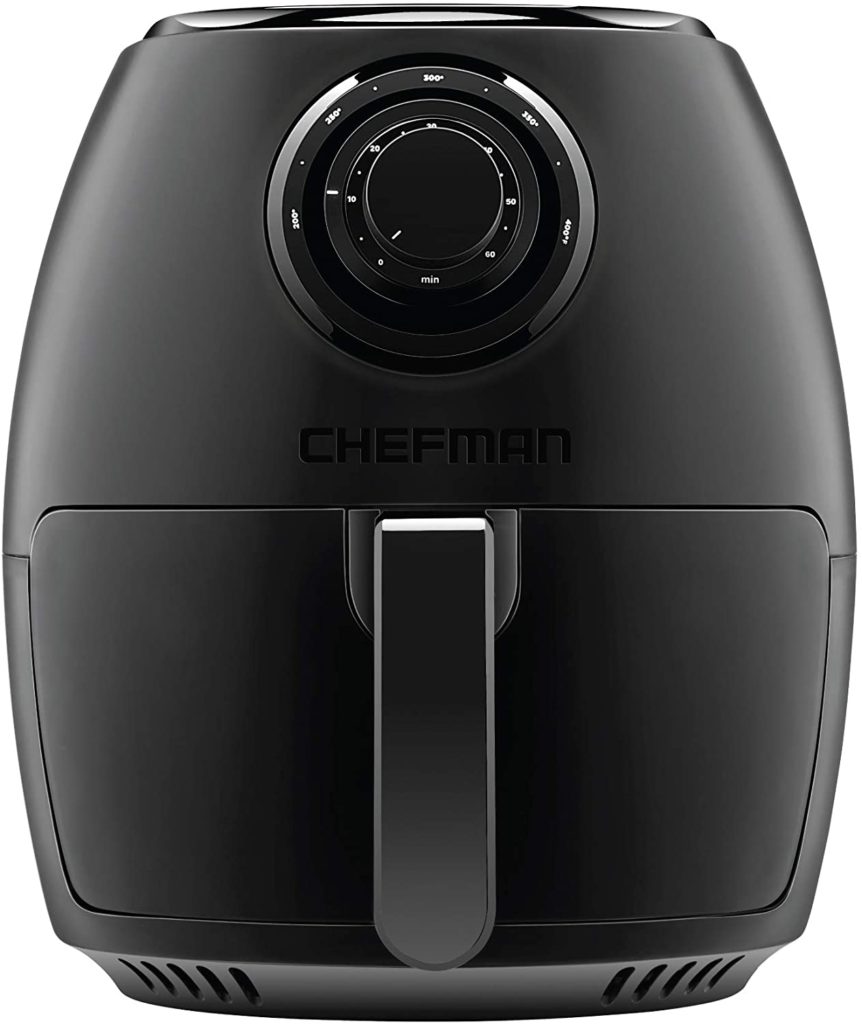 ---
If you are in the market for a small, entry-level appliance, the Chefman TurboFry 3.6-quart dual control air fryer might seem like it ticks all the right boxes.
It looks good and has a decent cooking capacity, but it is let down somewhat by a lack of features and a sub-par performance.
Specifications
Dimensions: 8 x 8 x 9.5 inches
Appliance Weight: 12.27lbs
Capacity: 3.6-Quarts
Available Colors: Black
Dishwasher Safe: Yes
Wattage: 1200W
Min/Max Temperature: 200°F/400°F
Looks 6/10
At first glance, the Chefman TurboFry is an attractive, sleek air fryer with a quality black matt plastic finish. On closer inspection, the materials used appear cheap and are more suited to the budget price tag.
The dual controls are not dissimilar to a combination lock you might find on the front of a safe. At the same time, the embossed "Chefman" logo is subtle and understated, giving the overall appearance a cool, almost secret agent-like aura.
Capacity 6/10
For an appliance with an entry-level price point, the 3.6-Quart cooking capacity is a touch above standard, making it capable of cooking for two to three people. That could have been improved upon had Chefman used a rectangular basket rather than circular.
Features 6/10
Dual Controls: Unlike other analog air fryers, this model has fused the time and temperature dials to make the setting system more intuitive. It also makes you feel like a safecracker. However, it doesn't just look cool; it feels smooth and more functional than conventional, separate dials.
Uses 98% Less Oil: Having the ability to cook healthy, low-fat foods is the single most appealing factor of using an air fryer. The industry standard for oil reduction usually resides somewhere between 75% & 80%.
Chefman makes the bold claim that their TurboFry appliance uses up to 98% less fat than traditional cooking methods, which would be a considerable advantage to anyone trying to cut down on fat and improve their health.
'Auto Shut-Off': This air fryer comes with an auto shut-off feature that will end the cooking cycle once the timer reaches zero. Perfect for consumers with bad memories who occasionally burn their food.
Dishwasher Safe: Not all air fryers are dishwasher safe, so we appreciate the models that are, as cleaning up after a meal is our least favorite part of cooking.
Performance & Cleaning 6/10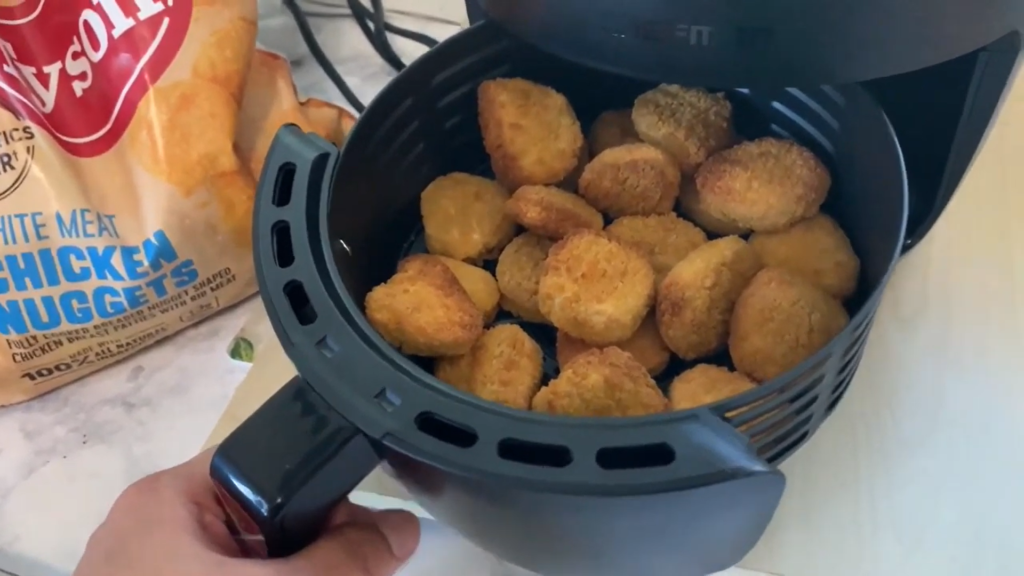 The TurboFry, an entry-level fryer, performs as well as you would expect. While not producing the crispiest foods, it is a decent gateway into the world of air frying. Though it is more adept at cooking fries, nuggets, and frozen processed foods than it is cooking thick, fresh meats.
Consumer reviews repeatedly voice concerns about the inadequate non-stick coating that, in some cases, begins to chip away after only short periods of use. Making the basket more challenging to clean and, more worryingly, can contaminate the meals of unaware users.
Should you buy the Chefman TurboFry Dual Control 3.6-Quart Air Fryer?
While the TurboFry isn't a bad appliance for its relatively low outlay, we feel there are better brands and models on the market with larger cooking capacities, more features, and, more importantly, cook higher quality food.
2. Chefman XL 6.8-Quart Air Fryer Oven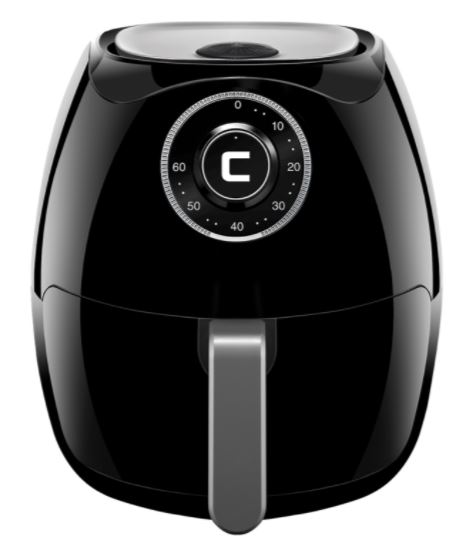 ---
The saying 'Don't judge a book by its cover' is particularly pertinent in the case of Chefman's 6.8-quart air fryer, as the inner workings of this appliance do not match the fantastic looking exterior, according to many consumers.
Blighted by performance and reliability issues, this large appliance doesn't perform as well as it should for its mid-range price point.
Specifications
Dimensions: 16 x 14 x 12 inches
Appliance Weight: 14.48lbs
Capacity: 6.8-Quarts
Available Colors: Black
Dishwasher Safe: Yes
Wattage: 1700W
Min/Max Temperature: 175°F/400°F
Looks 7/10
The 6.8-quart Chefman XL looks excellent. Its gloss plastic finish is complemented by the silver handle and white Chefman logo.
The timer dial has a "C" emblazoned across its chest like some kind of a superhero of the kitchen.
While the dial is attractive, its functionality is hampered somewhat by the vague design, with only two dots representing each period of 9 minutes on the timer. Estimating the cooking times when frying food such as chicken is less than ideal.
Capacity 8/10
With a touch under 7-quarts, this Chefman model has a substantial cooking ability making it ideal for creating healthy meals for up to four people. The size could have been increased had Chefman opted for a more efficient rectangular basket design.
Features 4/10
Innovative Space Saving Design: Chefman claim this 6.8-quart model has an "innovative space-saving flat basket design", but we can't figure out what that means or how it works, and Chefman offers no explanation on what this innovation is. So, while they list it as a feature, we're unable to give this model any bonus points.
Dishwasher Safe: As always, we're happy to speed up the cleaning process with a product that can be popped in the dishwasher.
Performance & Cleaning 4/10
A whopping 18% of 635 users rate this appliance at three stars or less, with a large portion of those consumers citing poor build quality (mainly issues with the handle) or reliability issues, with many people receiving faulty units that just stop working altogether.
On a positive note, issues with the non-stick coating chipping away from the basket found on the TurboFry appears to be absent in this model, making it much easier to clean.
Should you buy the Chefman XL 6.8-Quart Air Fryer Oven?
The seemingly substantial reliability issues we found when researching this product leaves us unable to recommend this 6.8-quart appliance. It looks great, runs quietly, and has a vast cooking capacity, but what good is that if these air fryers don't function as they should?
It's worth noting that many customers are delighted with their appliances and haven't encountered the problems we've mentioned; however, there are enough complaints to make us stop and think twice.
3. Chefman 6.3 Quart Digital Air Fryer+ Oven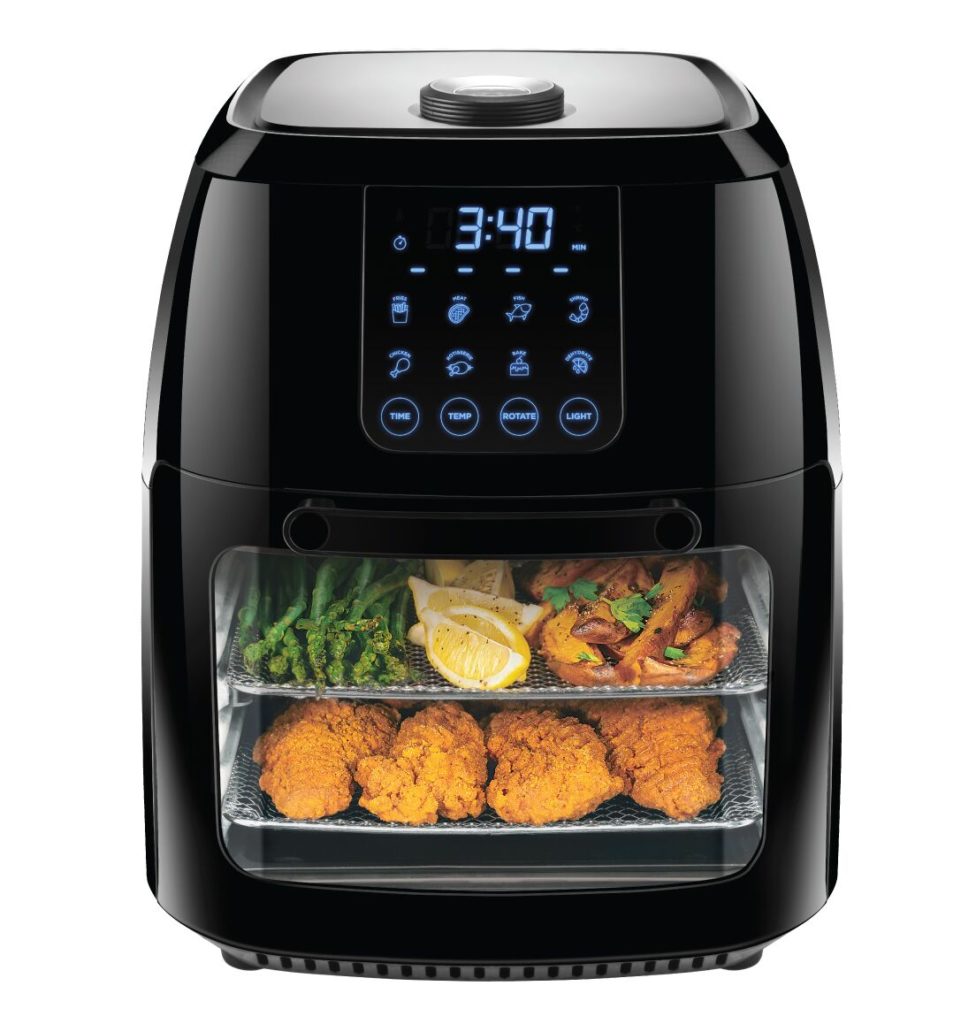 ---
Air Fryer ovens have a distinct advantage over the more traditional models with the ability to cook with two racks on separate levels, thus improving the cooking capacity. This 6.3-quart appliance has a substantial cooking capacity, which is encased in a sleek, black body.
It comes with a multitude of attachments and features to ensure this is an appliance worth considering.
Specifications
Dimensions: 11 x 10.5 x 14.75 inches
Appliance Weight: 19.41lbs
Capacity: 6.3-Quarts
Available Colors: Black
Dishwasher Safe: Yes
Wattage: 1700W
Min/Max Temperature: 90°F/400°F
Looks 8/10
The Chefman Air Fryer+ is an elegant device finished in a polished gloss black plastic that makes the appliance stand out. It comes with a large window built into the door, so you can view your food which is illuminated by the interior light.
A large LCD control panel decorates the front of the fryer using pale blue food icons and temperature settings, while an enormously flamboyant stop/start button sits on the top.
Capacity 8/10
Thanks to a two-tier rack system, Chefman has improved further on the 6.3-quart cooking capacity giving consumers double the capability. Either split the layers and cook different food groups or use the sizable racks to make pizza, the options are almost limitless.
The rotisserie spit and air fryer basket only add to the options available with this substantial appliance.
Features 8/10
8 Pre-programmed Settings: To give users a helping hand, Chefman has added eight food presets that set up the appliance with a touch of a button. The settings include Fries, Meat, Fish, Shrimp, Chicken, Rotisserie, Bake, and Dehydrate.
Rotisserie Spit: Unlike a conventional air fryer, the large oven-style interior can hold a rotisserie spit allowing consumers to make delicious and tender roast chicken.
Removable Drip Tray: Cleaning is the least fun part of cooking, so we're always happy when it is made easier. The removable drip trip makes getting rid of grease and grime a cinch.
Interior Light: Seeing inside the oven when it's in use is not a necessity, but it sure whets the appetite to watch your food turn golden brown as it sizzles away. The interior light facilitates just that.
Performance & Cleaning 6/10
The consensus is the Chefman Digital+ produces delicious, crispy, air fried food. Complaints about food quality are minimal; however, some consumers have concerns about build quality.
Numerous customer reviews repeat the claim that some appliances have a faulty door mechanism, causing the appliance door to randomly pop open, bringing the cooking cycle to a halt. It's worth noting that most devices don't have these issues, but there are enough customer complaints to cause a little worry.
While the removable parts are dishwasher safe, the racks and drip tray are not the easiest to clean, despite their non-stick coating. The positioning of the door also tends to accumulate crumbs and food particles in the hinge when removing food from the fryer, increasing the need for a more thorough cleaning.
Should you buy the Chefman 6.3 Quart Digital Air Fryer+ Oven?
Despite this being an expensive unit, we believe the value for money for this air fryer is adequate. If your budget allows and you require a 6.3-quart sized device, then this appliance is worth considering. Although it is worthwhile comparing this model against similarly priced air fryers to ensure you choose the right one.