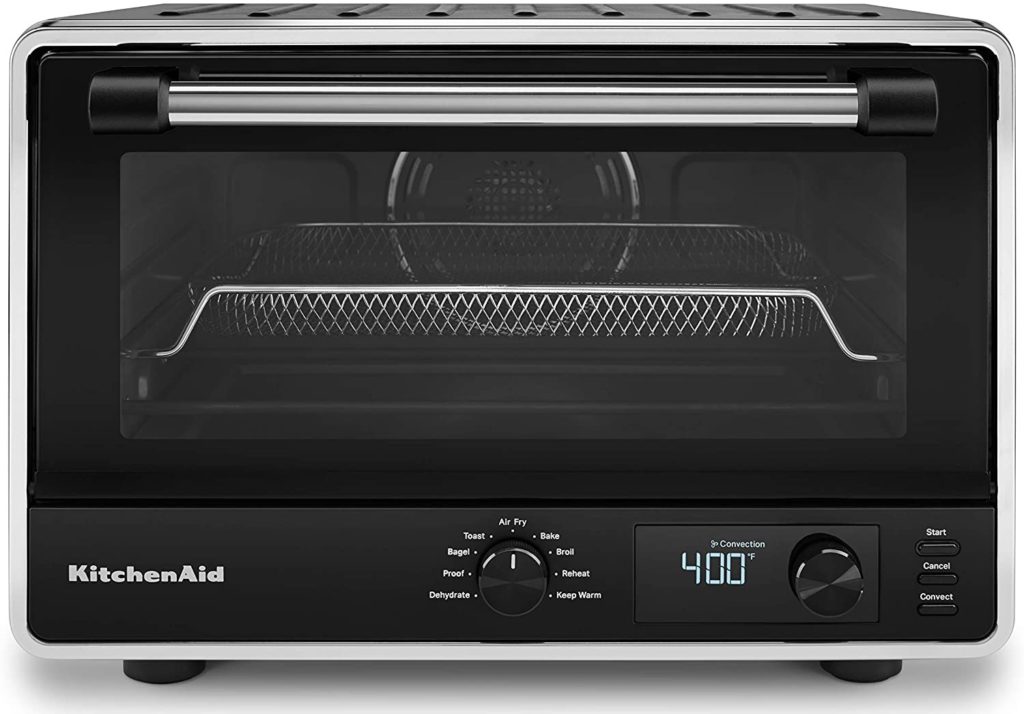 Disclaimer: I may receive commissions from purchases made via links at no cost to you
---
Quick review
KitchenAid's digital countertop air fryer oven might not be the best performing appliance of its type, nor the best looking. Still, this air fryer convection oven might just be worth your consideration.
This oven's outward appearance may have a couple of quirks and a relatively bland control panel, but it's completely different from almost anything else on the market.
The black exterior, wide silver trimmed door, and control panel positioned on the bottom give it a non-toaster oven-type appearance that makes a refreshing change.
The power output does feel a little underwhelming despite it rocking 1800 watts of power and a convection setting. You'll find you need to add a minute or two to your cooking cycle when you're cooking large volumes of food.
Brands often make control systems overly complicated which can be frustrating, but KitchenAid did a great job of keeping the panel intuitive and straightforward to use.
While the performance of this machine isn't anything to write home about, it's not terrible either. It might take a while to cook your food, but it tastes great and is cooked evenly once it's ready. Admittedly, it's very middle of the road, but that's not always a bad thing.
This countertop air fryer oven comes with a nice selection of accessories to help you cook a wide variety of meals, most of which are dishwasher safe and super easy to clean.
The oven's interior is easy to clean, too, and stays stain-free far better than most other appliances. However, there is a problem with crumbs accumulating in the door hinge, which can prove tricky to clean.
Overall the KitchenAid Countertop Digital Air Fryer Oven is a mid-level appliance that gets the job done with minimal fuss. Are there better ovens out there? Of course. Are there better-looking ovens? Absolutely.
But for the low-to-mid-range price point that comes with this appliance, you are guaranteed a well-built workhorse that you can rely on.
Basic Information
Dimensions: 17″ x 16″ x 11.3″
Weight: 21 lbs
Wattage: 1800 Watts
Control Type: Digital
Capacity: 22.1 quarts (21 liters)
Temp Range: 80 – 450°F
Pizza Size: 12″ Pizza
Toast Capacity: 6 slices of bread
Preset Count: 9
Price Range: The low-to-mid-range price point of this KitchenAid air fryer toaster oven is indicative of the affordability of many of the appliances that come from their stable. This price range represents great value for money for anyone looking for a mid-sized countertop oven.
Power: This countertop air fryer comes with 1800 watts of power. Most brands incorporate similar power outputs in devices of this size. Anything less usually results in subpar performance.
Temperature Range: You'll have a temperature range from 80F up to 450F at your disposal with the KitchenAid digital countertop air fryer. A room temperature setting is suitable for dehydrating food, while the upper limit of 450F is suitable for air frying, broiling, and searing.
Capacity: KitchenAid claims this oven has a large capacity when in reality, it's more mid-sized. The internal capacity is large enough to accommodate a 9" x 13" baking pan, cook a 12" pizza, or a full-sized chicken. A machine of this size is suitable for couples or small families. Alternatively, it's a great size to be used as an accessory appliance to work alongside your primary cooker.
Warranty: The limited one-year warranty that comes with this air fryer is disappointing; however, this warranty length is relatively standard among small kitchen appliances these days.
Design & Build Quality 7.5/10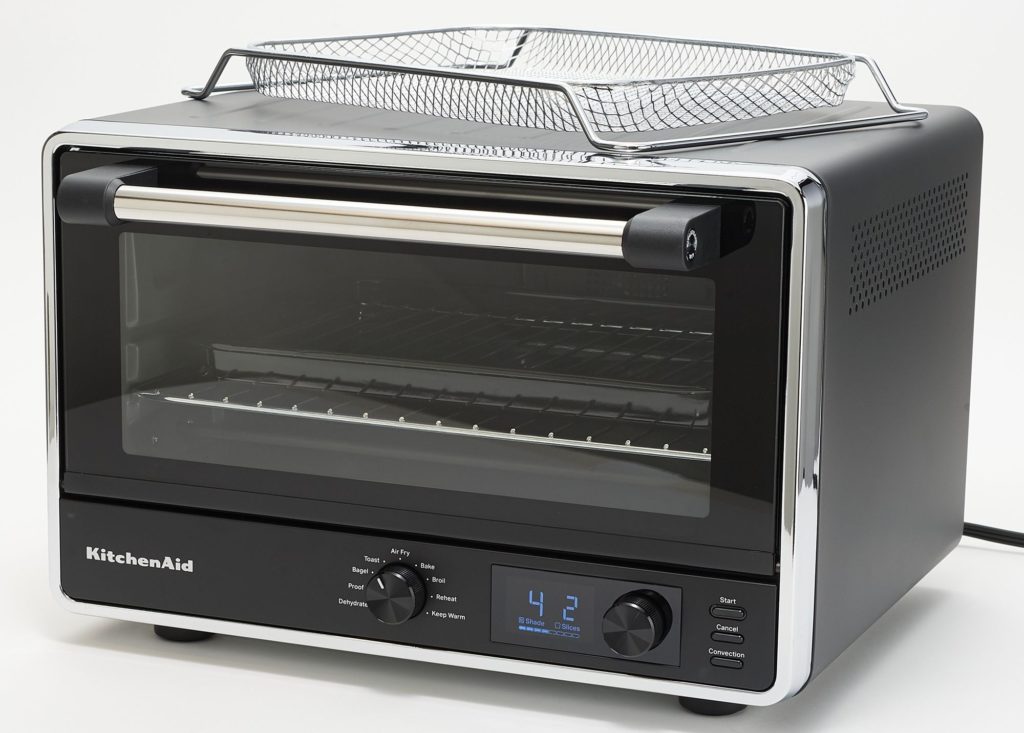 Though we're not against stainless steel appliances (in fact, done right, they can be utterly beautiful), we're always excited when a brand takes a break from the norm and gives us something a little different.
The KitchenAid KCO124BM digital air fryer oven is one such device. Though it isn't the prettiest machine we've ever seen, the black outer casing gives consumers that chance to own something a little different from the generic stainless steel look.
Down each side of this cooker are some small holes that act as air vents to help keep the appliance from overheating, though we think it needs a few more (or some larger vents) as this oven can run pretty hot. In addition, there's more ventilation on the back of the machine and a small amount underneath it.
KitchenAid recommends a minimum of 4 inches of clearance all around this cooker when you're using it to prevent overheating or damage to your kitchen.
Unlike many rival models, the door spans the entire width of the cooker, with the control system residing underneath. Unfortunately, the position of the control panel means the door needs to be closed before you can access any of the dials and buttons. This could be inconvenient to some people, but it's no big deal for the most part. And there's an attractive polish steel trim around the edges of the door.
The stainless steel handle is nothing to write home about, but it performs its job as you would hope.
What the internal capacity lacks in height, it makes up for in width, which is more beneficial to an air fryer as the food needs to be cooked in one layer. Two appliances could have the same overall capacity, but a wider, flatter cooking area is better than a narrower but deeper one.
The cooker's walls are coated with non-stick for ease of cleaning, and there are two rack positions that you can change between depending on the cooking function you're using.
This air fryer oven has four heating elements (two at the top, two at the bottom), and the convection fan is situated at the back of the appliance, which is better than being at the side.
Two final features round off this well-thought-out cooker. An interior light to help you see your food while it cooks (it stays on all the time) and an ambient temperature probe to make sure your appliance is running at the right temperature.
The overall aesthetics are relatively attractive, but we're more impressed with the thought that went into the design of this cooker to help with its cooking performance.
Controls & Ease of Use 7.5/10
This oven's control system on the KitchenAid KCO124BM is one of the more simplistic and minimalistic panels we've ever seen. It's not particularly attractive, but it is effortless to use.
Two dials, an LCD, and three small push buttons make up the control panel, and the three back-lit buttons are 'start', 'cancel', and 'convection'. The first two buttons are self-explanatory, while the third has a dual function.

Its primary function is to switch the convection setting on and off, but if you hold it in, you can switch between Celsius and Fahrenheit temperature scales.
You'll use the central dial to select the cooking option you want to use. The dial has a marker printed on it, which you'll point towards one of nine different cooking styles. They are:
Dehydrate
Proof
Bagel
Toast
Air Fry
Bake
Broil
Reheat
Keep Warm
The final dial is used for setting the times and temperatures of your cooking cycle. You'll twist the dial to increase or decrease times and temperatures. You can also skip the preheating process if you wish by pressing and holding the dial in.
All the buttons and dials give a distinctive beep when you press them, which is much more pleasant than the tones you find on most small kitchen appliances.
There is a keep warm setting on the appliance, but it's identical in every way to the bake function. We feel KitchenAid was just trying to pad out the feature a little.
Performance 7/10
Certain cooking functions require pre-heating before you begin cooking, and the KitchenAid digital air fryer will automatically program the cycle for you.
This clever device takes into account the internal temperature of your cooker and adjusts the time accordingly. So, if you're pre-heating from cold, the KCO124BM will program a longer pre-heat cycle than if you'd used the oven recently and it was still warm.
If you've tweaked any times and temperatures, a rudimentary memory will remember the last settings you used, though it will reset when you unplug the appliance from the wall.
French Fries
If you're buying this appliance for its air frying capabilities, chances are you'll be making French fries at some point. You'll be delighted with the results that this air fryer can provide in as little as 12 to 15 minutes. In addition, the large basket allows for a decent-sized batch.
Toast
You can toast from one to six slices in this oven, choosing between 8 shade settings. Though this model toasts bread very evenly, the shades selector toasts your bread a little darker than you would expect.
Chicken Wings
You can cook as many as 20 chicken wings using the large air fryer basket that comes with this oven. However, they will take longer to cook than a dedicated air fryer, and they don't finish as golden brown.
Bacon
Air-fried bacon is not only a healthier way to grill it; it's pretty quick, too (for an air fryer). It'll take around 15 minutes for crispy bacon, plus or minus a couple of minutes if you prefer your bacon lightly cooked or cremated.
Oddly, the air fryer will cook the bacon at the back of the pan more than that at the front, so it might be worthwhile spinning your rack halfway through.
Pizza
Your pizza will take around 20 minutes to cook (a minute or two longer if you prefer your cheese golden and base crunchy) if you pair the bake function with the convection setting. It does a pretty good job but feels a tiny bit underpowered.
In tests (using a third-party oven thermometer), we observed the pre-heating cycle took far longer than the suggested four minutes to reach the preferred temperature. In contrast, the actual temperature of the cooking cycle was lower than the LCD suggested.
It's worth noting that these tests were by no means controlled or scientific and were conducted using only basic kitchen equipment.
Compared to a dedicated air fryer, the KitchenAid KCO124BM super quietly and is a vast improvement on some appliances that sound like a jet engine.
Accessories 8/10
Despite the extremely reasonable price point of the KitchenAid KCO124BM, it still comes with a surprisingly varied range of accessories.
When you unbox your new air fryer oven, you'll find:
Standard Wire Oven Rack
A 'No-Flip' Air Fry Basket
Removable Crumb Tray that slides into the bottom of the oven.
Non-Stick Drip Pan
Grill Rack for the Drip Pan (Letting you utilize the two for cooking fatty cuts of meat, bacon, etc)
KitchenAid recommends spraying the air frying basket with a bit of oil before cooking with it to avoid food sticking to the grid.
The non-stick drip tray is relatively small and will only have a shelf life from 6 to 18 months, depending on how much you use it. But this is common with all non-stick cookware.
Cleaning 8/10
Keeping your appliances well maintained and clean is the secret to ensuring the device's longevity. So having an oven and accessories that are easy to keep clean is a huge tick in the 'win' column.
Though KitchenAid recommends cleaning all the accessories by hand in warm soapy water, the wire oven rack, the grill rack, and the drip tray are all dishwasher safe. They don't mention the air fry basket or crumb tray, but we can't see that it would cause them any harm. Though if you choose to wash them all in the dishwasher, do so at your own risk.
Cleaning the interior is easy, too, as the non-stick coating prevents food from becoming encrusted to the walls. It's essential, however, to clean the interior every time you cook greasy or messy food, or you risk baking the food on and making it more challenging to clean with every use.
The only challenging part to clean on this oven is the little nook where the door is hinged, which is a crumb magnet and a bit of a pain to clean them up.
KitchenAid KCO124BM Toaster Oven Air Fryer