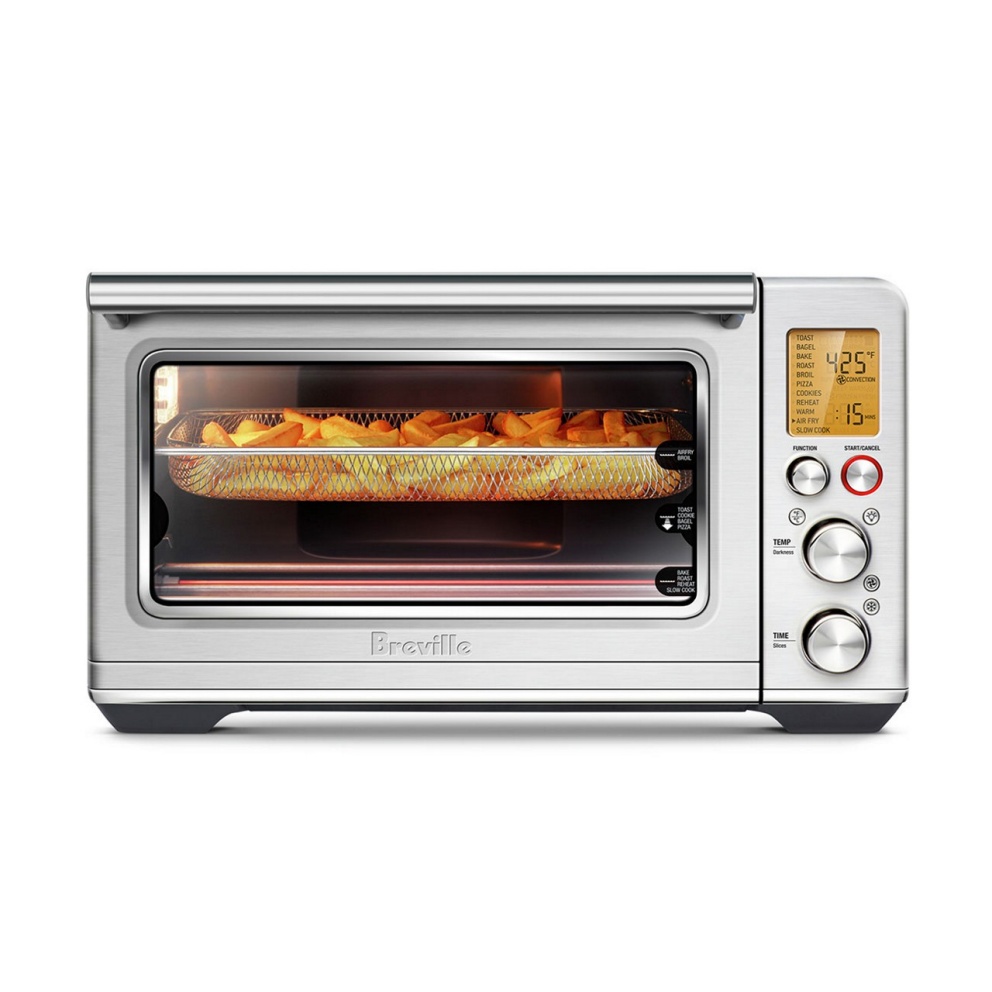 Disclaimer: I may receive commissions from purchases made via links at no cost to you
---
Quick review
The Breville BOV860 Smart Oven Air Fryer is the smaller sibling to the extremely popular Smart Oven Air Fryer Pro.
While this Smart Oven air fryer has a smaller capacity and fewer functions than its big brother, it's a good deal more affordable than it too. And it's still a very useful cooking tool.
The BOV860 comes in seven striking colors, and with 0.8 cubic feet of cooking space, is a decent size. If you're looking for an appliance to cook for a small family, the smart oven should suit your needs.
There are 11 different types of cooking methods on this appliance, making it super versatile and will replace many of the accessory machines you might have in your kitchen.
The Breville BOV860 can roast, bake, broil, and make cookies and pizza, though it really shines when it's used as an air fryer. The powerful 1800 watt power output and 2-speed super convection fan make light work of chicken wings, french fries, meatballs, and pretty much anything you can think of.
While this appliance is a great air fryer, there are certain drawbacks that you'll need to make your peace with if you want to make use of this smart oven. It can get quite messy when air frying because of the powerful fan, and that mess is not easy to clean up.
It's loud, too, though this is a common problem with convection ovens.
Breville supply some decent accessories to go alongside the main unit. While they are beneficial, we have to wonder about the longevity of each piece as they're not as well produced as the oven itself.
All in all, the Breville BOV860 Smart Oven Air Fryer is an excellent choice of small kitchen appliances. However, the price point is getting up towards the high end of the spectrum, despite being much more affordable than the larger option.
Basic Information
Dimensions: 18.5″ x 14.6″ x 11″
Weight: 28.6 lbs
Wattage: 1800 Watts
Control Type: Digital
Temp Range: 120 – 500°F
Capacity: 23.9 Quarts (22.7 Liters)
Pizza Size: 13″ Pizza
Toast Capacity: 6 slices of bread
Preset Count: 11
Price Range: The Breville Smart Oven air fryer sports a mid-to-high-range price point that isn't widely accessible to everyone in the search for a countertop appliance. However, if you're looking for Breville quality, it's a fairly reasonable price by their standards, considering the extensivity of this machine.
Power: There's an old phrase that goes "stick to what you know" and an 1800 watt power output has worked for Breville in the past, and they're not deviating from that plan now. An 1800 watt output is among the most powerful on the market.
Temperature Range: The temperature range of this appliance is 120°F (used for reheat and keep warm) up to 500°F (the upper limit is used for broiling).
Capacity: This smart oven has a cooking capacity of 0.8 cubic feet which is pretty big for a countertop oven. You can toast up to six slices of bread, 2.2lbs of French fries, bake a 13" pizza, or roast a 4.4lb whole chicken. The Breville Smart Oven is suitable for two to four people.
Warranty: A 2 Year limited product warranty is a little disappointing considering how expensive this machine is. However, it is a 100% improvement on Breville's cheaper appliances.
Design & Build Quality 8.5/10
With the Smart Oven Air Fryer (Model number BOV860), we've been given a rare treat by Breville; a choice of colors.
Most Breville appliances, be they coffee makers, toaster ovens, or air fryers, generally only come in one color, brushed stainless steel.
We're not saying that's a bad thing as their products are (mostly) stunning, but having a choice of seven different colors makes a refreshing change and lets people buy an air fryer to match their kitchen's decor.
The color options are: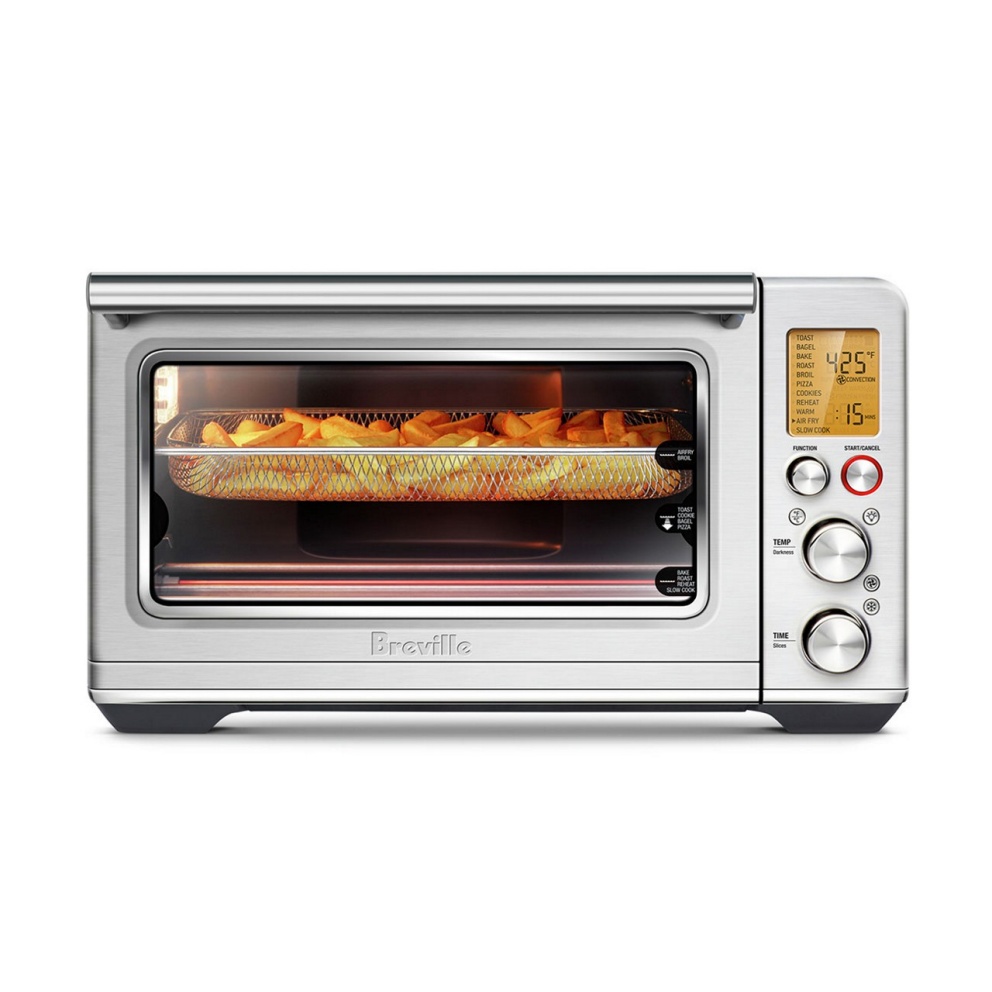 Despite the different color choices, this air fryer still has a recognizable "Breville" appearance. The control panel layout is not unlike those of the BOV800 and 900 toaster ovens (which we'll go into greater detail in the 'Controls and Ease of Use' section).
At first glance, the handle on the air fryer's door might seem the same as their other products, but upon closer inspection, it's smoother, more refined, and a little bit classier, like the type of rail that you might find on a trendy cocktail bar.
There's a large viewing window in the door, so you can watch your food cook and make sure it doesn't burn. Checking on your food is made even easier by the interior light. The light will automatically switch itself off 30 seconds after your press the button.
Inside the oven, there are three rack positions for use with the various cooking functions. Brellive conveniently lists the suggested position to use for each setting on the glass door.
There's a magnet fitted to the door, which works as an auto-eject for the wire rack. When you open the door, it will pull the rack out slightly, making it easier to remove. This feature is only applicable to the middle rack position.
The interior walls are coated with non-stick to make cleaning the appliance as easy as possible (we'll cover this in greater detail later on).
Controls & Ease of Use 8/10
The control panel on the Breville Smart Oven Air Fryer is very easy to use despite its ultra-modern appearance.
The control system consists of three dials, four buttons, and an LCD.
The three dials are for selecting the different functions, temperature control/darkness options, and time selection/number of slices.
Using the function dial, you can quickly scroll through the different features by twisting it left or right. You can choose between:
Air Fry
Toast
Bagel
Bake
Roast
Broil
Pizza
Cookies
Reheat
Slow Cook
Warm
The central dial is used for selecting your desired temperature or darkness of your toast and bagels. While the bottom dial is used for setting the time of your cooking cycle or the number of slices of pizza/toast/bagels you want to cook.
Using the four one-push buttons, you can turn on/off the interior light, switch between Celcius and Farenheight, choose convection or super convection, and finally let the appliance know whether you're cooking fresh or frozen food.
If you choose 'frozen foods', the Breville BOV860 will automatically extend the cooking time to make sure your food is cooked correctly.
Breville has installed their instantly recognizable pale blue LCD on this oven which is a firm favorite among consumers. The crisp design is easy to read, turns orange when you're cooking food, and reverts to its original color once the cooking process has finished.
Performance 8/10
The Smart oven air fryer comes complete with Breville's wealth of cooking technology to make sure it delivers the best performance possible. This oven is one of the many Breville cooking appliances that is equipped with their patented Element IQ technology that uses internal thermometers to locate disparities in the temperature. Once a difference has been detected, it will cycle the closest heating element on or off depending on whether the problem is a hot spot or a cool area.
The convection setting on this oven has a two-speed fan to give you greater control over your cooking times and temperatures and to circulate the heat at high speeds, which is essential when you're air frying.
You'll use the regular convection setting when baking and roasting as you would with a traditional oven, while 'super convection' uses the two-speed fan to superheat the oven and air fry food 30% faster than standard appliances.
Listed below are a few of the many foods you can cook with the Breville BOV860.
French Fries & Potato Wedges
These two foods are fan favorites with air fryer owners, and the Breville BOV860 produces crispy and crunchy yet tender potato-based snacks using the air fryer function.
You can achieve excellent results without using oil or fat (which is much healthier), but a little low-calorie oil will make them even better for those who prefer incredibly crispy fries.
Chicken Legs
Cooking chicken legs using the roast setting yielded mixed results. While the chicken meat was cooked well and was tender, the skin didn't crisp up as well as we hoped. However, that could be resolved with a quick blast using the broil feature.
Roast Chicken
The Element IQ system delivers additional heat to the bottom of the oven to compensate for the oven rack and baking pans that would, under normal circumstances, direct heat away from your chicken.
By taking this variable into account, Breville makes sure your roast chicken is more evenly cooked than it would be in traditional cookers and air fryers.
Toast
You can toast up to six slices of bread at one time, and your toast will come out relatively even, however, despite this unit's hefty power output, it still takes a lot longer to toast than a dedicated toaster.
Bagels
The bagel function suffers from the same issues as the toast setting. It works, just very slowly. However, the bagel function toasts more on one side than it does on the other, how bagels should be toasted. If you like your bagels toasted to the same doneness on both sides, use the toast function instead.
Cake
Combining the bake function with intelligent sensors, this air fryer lowers the internal temperature but delivers more heat to the bottom while gently browning the top of your cake for excellent results.
Pizza
The Breville Smart Oven Air Fryer can make short work of a 13" inch pizza with the help of the sizable capacity, convection cooking, included pizza tray, and indentation in the rear of the cooker that accommodates the tray.
If you like your pizza with a crispy base and beautiful golden cheese, you'll love the pizza setting. If you prefer a softer finish with your pizza, you'll need to alter the time setting and experiment with a different time cycle.
Reheat & Keep Warm
Both these functions are excellent and work well to either reheat your food or maintain their current temperature without drying out your meals or making them rubbery.
The air frying function is the primary cooking method for most people who buy this appliance. While it works really well (thanks in part to the Element IQ and Super Convection settings), it does cause quite a bit of mess inside the oven, especially when cooking meats or fatty foods.
It's noteworthy that the super convection setting is much louder when you're using it than all the other settings and functions because of the high-powered nature of the fan.
We think this is due to the close proximity of the recommended air fryer rack position and the heating elements.
Accessories 8/10
Breville includes a decent amount of accessories with the Smart Oven Air Fryer, which will help you cook wide and varied meals right out of the box.
What you'll get is a 13" pizza pan that has a non-stick coating, an enamel roasting pan that doubles as a drip tray, a wire rack, a grilling rack, and an air frying basket.
While the racks may appear to be stainless steel, they're actually only coated and will deteriorate over time. While this isn't something we experienced, several consumers have spoken to Breville about delamination issues, only to be told that the warranty does not cover accessories.
Cleaning 5/10
While Breville has done its level best to make sure this air fryer smart oven is easy to clean, they still fell some way short.
The oven's interior is coated with non-stick, though it isn't as effective as some of their other products.
We think this is because the high-speed super convection fan coupled with the upper-temperature limit of 500F is a recipe for disaster. Fat and grease are splashed everywhere, and it can be very challenging to remove.
It's not only the inner walls that are troublesome to clean either. Both the non-stick pizza tray and enameled baking pan are a nightmare to clean, especially if they've been allowed to cool before washing.
Even being dishwasher safe does not make these accessories any easier to clean when the grease and grime are baked on. The situation is compounded as Breville recommends against using any harsh chemicals or cleaning products through risk of damaging the non-stick coating.
That said, when cooking non-fatty foods, the clean-up process is far less challenging. A removable crumb tray catches all the stray particles with precision.
Breville BOV860 Air Fryer Toaster Oven