White kitchen appliances are timeless classics. They never go out of style, so I've researched the best air fryers that have a crisp white aesthetic.
Some of the industry's finest brands have produced excellent white models that are more widely available than other colored air fryers. Below you'll find what I love and dislike about my selection of favorite white air fryer ovens, dedicated air fryers, and air fryer toaster ovens.
Disclaimer: I may receive commissions from purchases made via links at no cost to you
1. Philips Twin TurboStar Technology XXL Air Fryer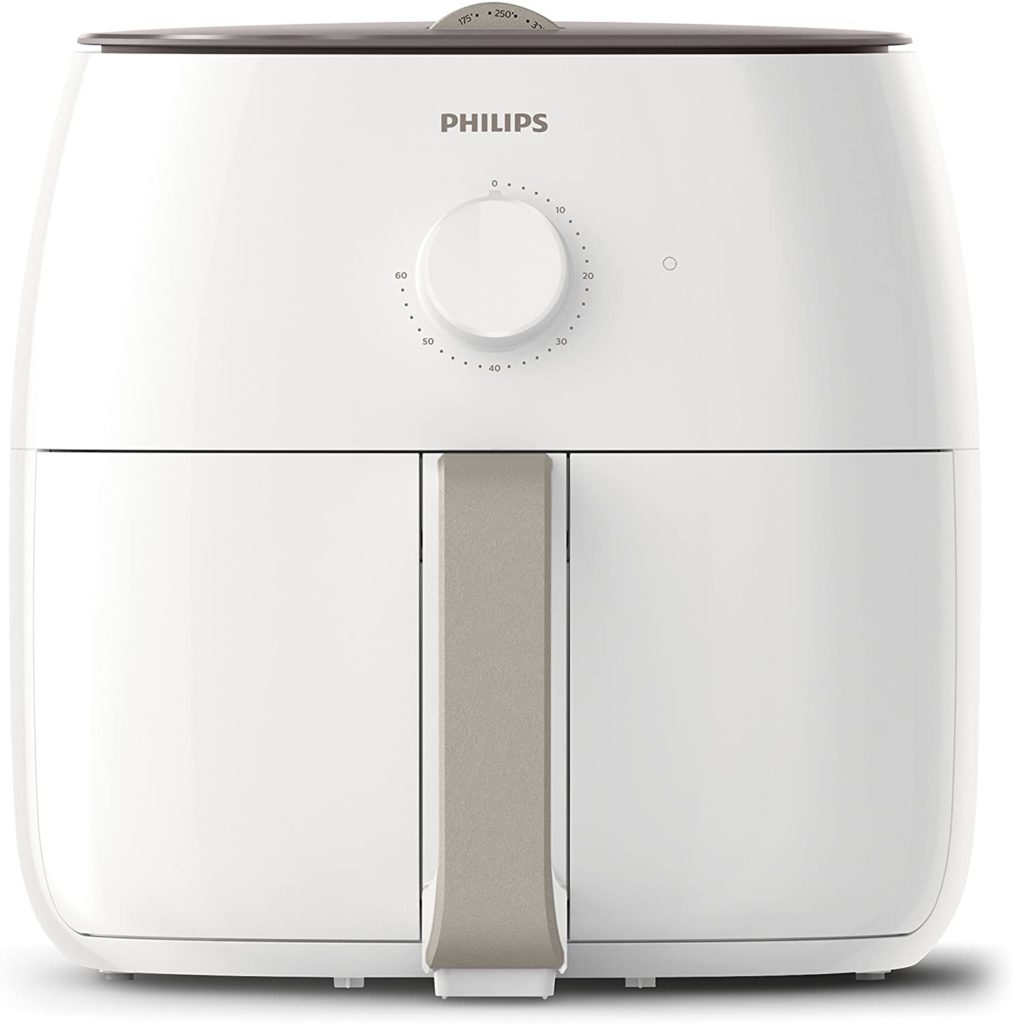 ---
The Twin TurboStart XXL white air fryer from Philips is a super-sleek air fryer with a classic aesthetic that would look excellent in an all-white kitchen.
This appliance produces decent-sized batches of beautifully cooked food with an easy-to-use control system. You won't get much in the way of features, but this air fryer will put a significant dent in your bank balance.
Things We Love
Instant Heat: The Philips Twin TurboStar can heat almost instantaneously, so you can get meals on the table more quickly than with a traditional fryer.
Square "Quick Clean" Basket: Square air fryer baskets are much more efficient than round or oval ones, providing consumers with more cooking space. This particular basket has removable non-stick mesh, so it's quick and easy to clean.
Superb Performance: Though it doesn't feel like you get much for the enormous price point for this machine, Philips delivers a first-class performance that is difficult to beat. Consumers adore how well this air fryer cooks fries, wings, and roasted veggies.
Easy To Use: The control panel on the Philips Twin TurboStar XXL is comprised of a time dial and a temperature dial. That's it. It couldn't be more simple to use.
What's Not To Like?
Basic Air Fryer: A simple-to-use air fryer is a bonus for some people, but for the considerable price point (which I'll talk about shortly), the lack of features and innovation on this air fryer is disappointing. There's not much to this appliance.
It's Extremely Expensive: When you factor in how basic this air fryer is, the price point of the Philips Twin TurboStar air fryer is astronomical. You could buy a large multifunctional Ninja air fryer toaster oven for a similar price.
Gets a Little Smoky: Air fryers are designed to be the healthier option, yet some recipes require a little oil. When using oil with this fryer, expect some smoke to pour out of the appliance.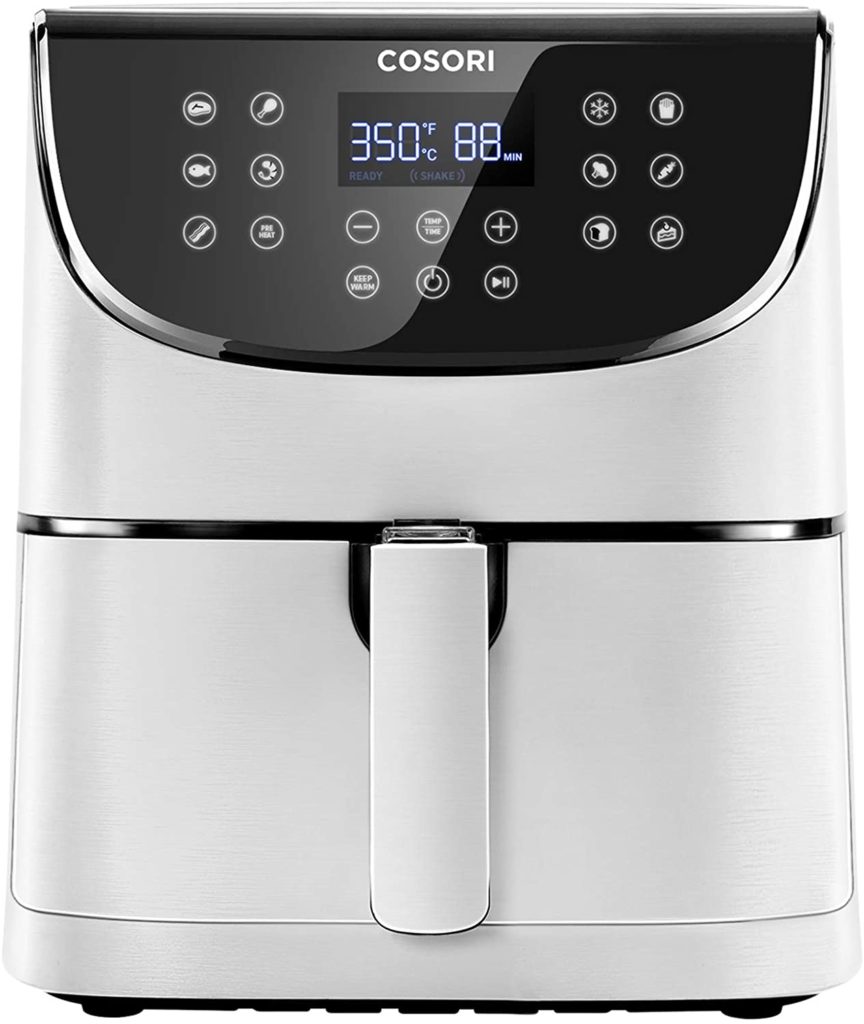 ---
The Cosori Air Fryer XL is one of the small kitchen appliances I recently spoke about in my 'Red Air Fryers Review'. While the red version has a soulful appearance, the white iteration looks crisp and clean.
This 5.8-quart air fryer is super functional thanks to 13 preset cooking functions and mid-sized cooking space. With a square air frying basket, angled control panel, and 1700 watts of power, it's effortless to use too.
Ultrean 5.8 Quart Air Fryer
While the Ultrean 5.8 air fryer does have some minor annoyances and frustrating limitations, this sleek white digital appliance has a lot to offer for such a meager price point.
Things We Love
Super Affordable: This Ultrean air fryer is the polar opposite of the Philips Twin TurboStar XXL. While the latter is very basic and super expensive, this bad boy is the same size but almost four times more affordable.
10 Cooking Functions: Cooking is a breeze with ten handy preset functions that automatically choose the time and temperature for the cooking cycle. They are Cake, Shrimp, Pork, Chips, Chicken, Steak, Fish, Pizza, Toast and Frozen Chips,
Reheat: Did you cook too much food for dinner last night? No problem, with the reheat function, you can revitalize your food and reheat your meal at the touch of a button.
Almost-Square Basket: I've extolled the efficiency of a square air fryer basket many times. The Ultrean air fryer comes with a square-ish basket. They provide a much larger cooking space than other shapes.
What's Not To Like?
It Gets Hot Underneath: A few consumers have noticed that this air fryer gets exceedingly hot underneath the machine when running at higher temperatures. Some even go as far as to use a silicone matt beneath it to prevent damage to their kitchen.
Maximum 30 Minute Cooking Cycle: While it's true that 30 minutes in the air fryer will be more than adequate for most foods, this half-hour maximum timer could be inconvenient for some recipes.
Vents in the Basket Trap Food: The holes in the side of the basket (there to help circulate air) are small enough to get particles of food trapped inside when you're emptying the basket. These particles can be tricky to clean.
3. Crownful 19 Quart 10-in-1 Air Fryer Toaster Oven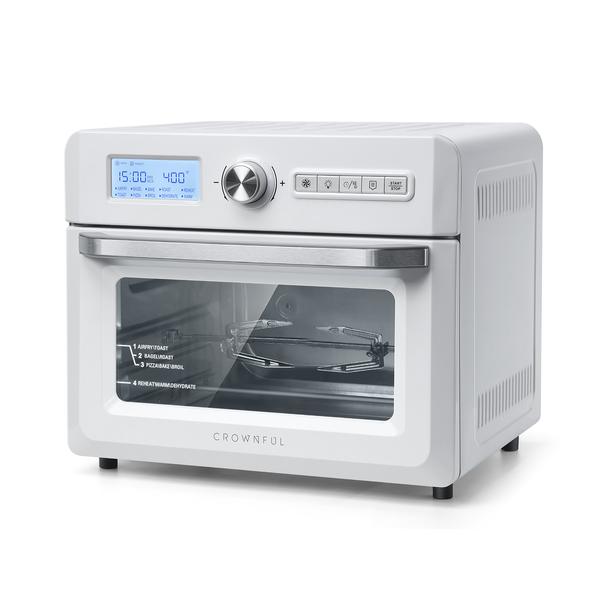 ---
Crownful's 10-in-1 white air fryer toaster oven is easily the largest appliance I've featured in this list, with an impressive 19-quart interior.
It's not only the large cooking capacity that makes this a versatile machine; it's also got an excellent array of cooking features and a ton of accessories.
Things We Love
It's Excellent for Large Families: With 19-quarts of space available inside the Crownful 10-in-1 air fryer toaster oven, there's tons of room to cook large meals. In some cases, three or four times more space than some of the other appliances on my list.
Loads of Accessories: Included with the Crownful 10-in-1 air fryer toaster oven are plenty of accessories to get you started. In the box, you'll find an air frying basket, removable crumb tray, wire rack, drip tray, skewer rank, rotisserie forks, handle, and a rotating basket.
More Versatile Than Dedicated Air Fryers: Yes, there are appliances with more than ten preprogrammed settings on the market, but this one has all the essentials. This toaster oven also has the advantage over dedicated air fryers of having more traditional oven-type cooking abilities.
The settings are Air Fry, Bagel, Bake, Roast, Toast, Pizza, Broil, Dehydrate, Warm, and Reheat.
Relatively Affordable Price Point: Though this oven is noticeably more expensive than some of the other air fryers I've looked at in this article, given the massive capacity, cooking functions, and accessories, the price point is pretty low considering.
Dual-Layer Cooking: Because of the multiple accessories and more than one rack position, you can cook numerous foods simultaneously, making it perfect for family meals.
What's Not To Like?
The Instructions are Rubbish: If you don't have an affinity with technology, you might struggle to get to grips with the Crownful air fryer toaster oven. The included instructions are ambiguous and, in some cases, completely incorrect (instructing you to use settings that aren't on this machine). I suspect the instructions were ported over from a different Crownful appliance.
Possible Reliability Issues: A small number of consumers have reported unit failure within six months of purchase. While these issues don't appear to be widespread, there have been enough complaints that it's worth mentioning.
Fortunately, it seems that Crownful has an excellent customer services team that tries to resolve problems as quickly as possible.
4. Kobi XL 5.8 Quart Air Fryer Oven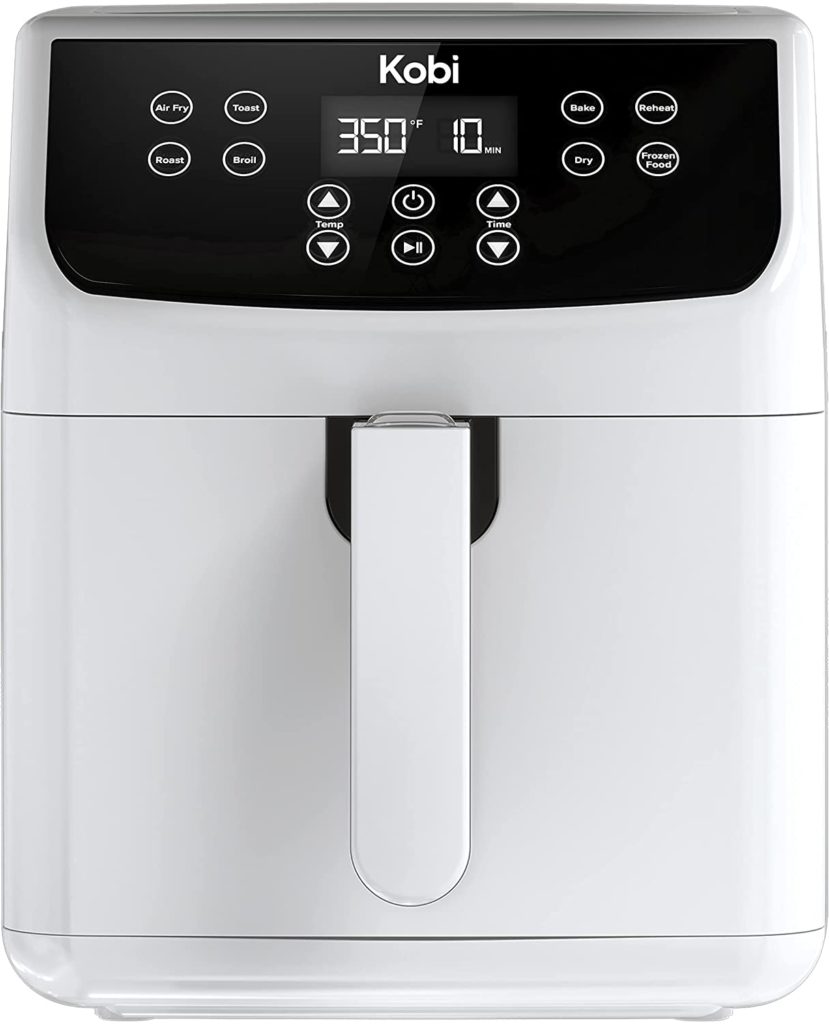 ---
The Kobi XL air fryer is a middle-of-the-road appliance. Even though there's nothing special about this machine (and it's marginally more expensive than similarly sized white air fryers), it provides a good alternative if the Ultrean air fryer isn't available to you or if you can't afford the Cosori model.
Though it's not very appealing to look at, there's little wrong with this reasonably basic air fryer oven.
Things We Love
Square Basket: This basket style is the most efficient design and provides more cooking space to the consumer.
Angled Display: While I'm not a fan of the overall appearance of the Kobi XL, the angled display works perfectly for an easy-to-use and more visual experience.
It's Powerful: With 1700 watts of power at its disposal, this air fryer oven is more powerful than some toaster ovens.
Over-Heat Protection: If, for whatever reason, your Kobi XL air fryer overheats, the internal computer will shut off until the air fryer has cooled, avoiding any potentially dangerous situations.
100 Recipes Included: Frequently, a brand will include a recipe book with their air fryers; rarely (if ever) do you get so many recipes with one machine.
What's Not To Like?
It Looks Boring: While the white finish of this air fryer looks sharp, the overall aesthetic is relatively dull and lifeless, with little to no variation on the control panel.
5. Dash Deluxe Electric Air Fryer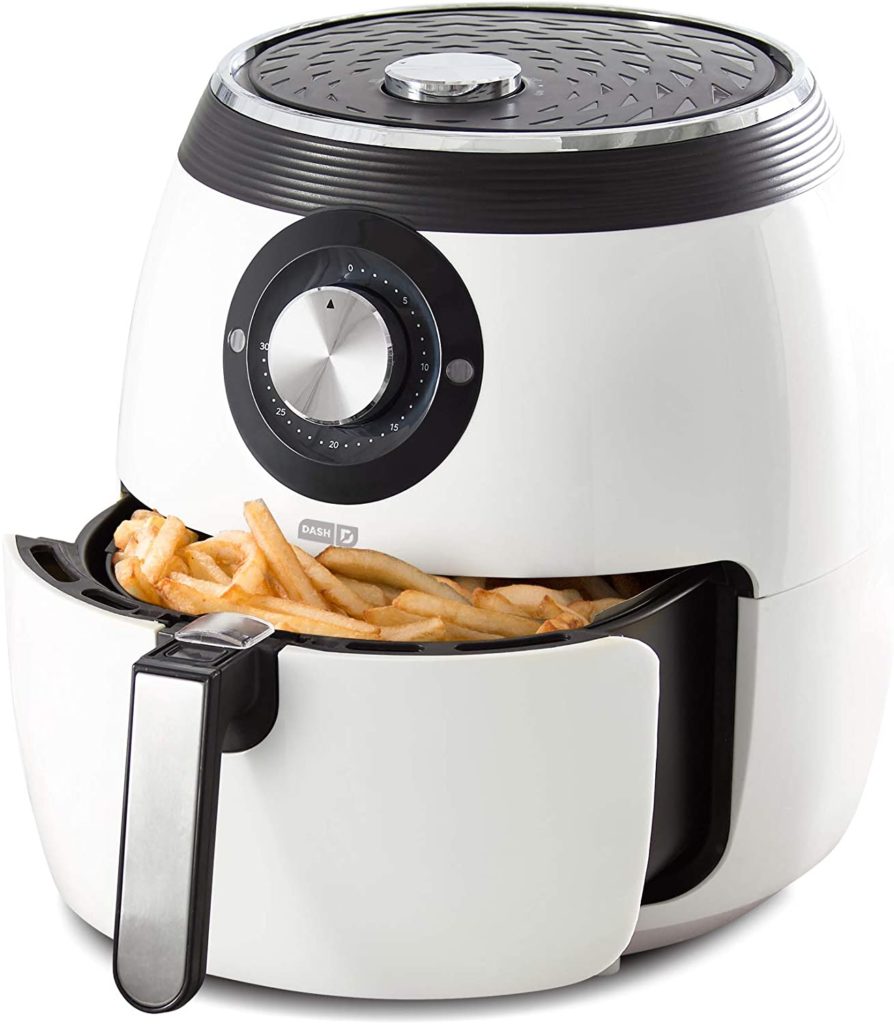 ---
The Dash Deluxe electric air fryer is a beautifully simplistic appliance that's solidly made. This fryer is efficient, powerful, and runs quietly. However, it isn't the cheapest model of this type and has one annoying flaw.
Things We Love
Contemporary Design: There's something about the appearance of this air fryer that really appeals to me. Even though the control system is as basic as it comes, the Dash Deluxe oozes style and suits any contemporary home.
Superb Build-Quality: This air fryer feels really solid and well put together. The handle is robust, the basket feels snug when you slide it in, and the dials feel smooth yet sturdy.
Oval Body, Square Basket: By now, you may have noticed that I'm an advocate of the more efficient square basket (which, happily, more brands are adopting). Well, Dash has incorporated the square basket into the aesthetically pleasing oval body.
Auto Shut-Off: This air fryer comes with an auto shut-off feature so you can set it cooking and go about your business. However, one major flaw could counteract this feature if you're not careful (which I'll get to shortly).
It's Relatively Quiet: Despite having an enormous 1700 watts of power, the Dash Deluxe runs relatively quietly when compared to similarly power appliances.
What's Not To Like?
It's Basic for the Price: Though not hugely expensive, the Dash Deluxe is one of the pricier models that doesn't have a digital display and one-touch cooking features.
Time & Temperature Dials Aren't Precise: Unlike a digital appliance, you can't input the exact times and temperatures into this air fryer. To make matters worse, the markings for the dials aren't fully numbered, so if your preferred time or temperature isn't one of the few marked settings, then you're going to have to guess.
6. Crownful 5 Quart Air Fryer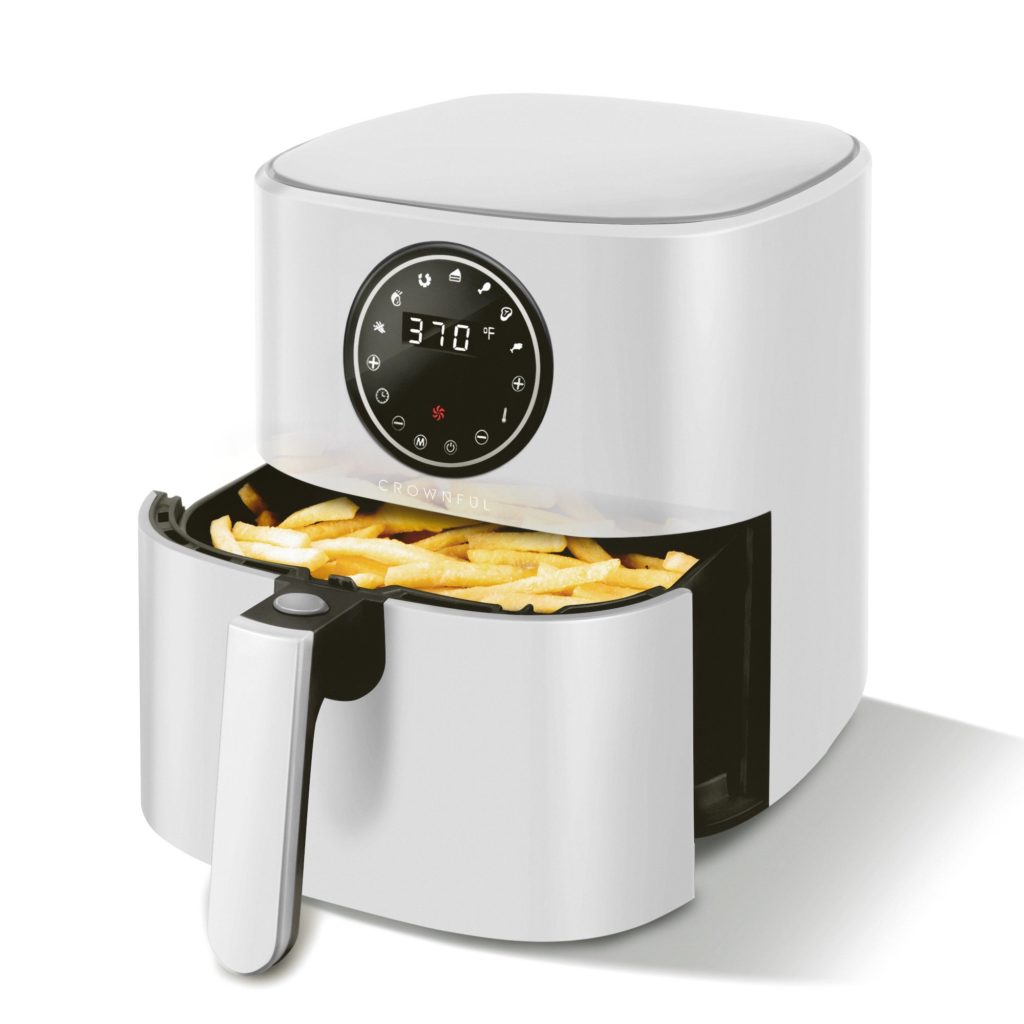 ---
This cheap and cheerful air fryer is an excellent option for those on a tight budget. It's easy to use and relatively efficient, though it's not going to win any beauty competitions, and there's one extremely annoying feature.
Things We Love
Very Affordable: This air fryer is the most affordable unit on this list. I like appliances that are financially low risk and give you an affordable gateway into new cooking methods.
Easy To Use: The one-touch digital control panel makes using this air fryer a breeze. The controls are responsive, neatly laid out, and trouble-free. Consumers love the ease of use.
Another Square Basket: I'm delighted to see more brands adopting the square basket to improve the quality of life when using these air fryers.
7 Pre-programmed Settings: With the lowest amount of cooking functions (of the digital appliances), you might wonder how it found its way into the 'pros' column. While it's true that seven isn't a lot when you consider the low price point, these one-touch features are a welcome addition. They are French Fries, Meat, Shrimp, Cake, Chicken, Steak, and Fish Fillet.
What's Not To Like?
I Don't Like The Appearance: Of all the air fryer ovens, air fryers, and air fryer toaster ovens on this list, the Crownful is my least favorite. I can see that it will appeal to some people, but for me, it looks like an oversized Alexa.
Obnoxious Beeps: If you're planning on cooking some sneaky midnight snacks, forget about it. The notification beeps on this air fryer are so loud they could wake up the whole neighborhood.
7. GoWISE USA 12.7 Quart 15-in-1 Air Fryer Oven
---
The GoWise USA 15-in-1 Air Fryer Oven finds the middle-ground between air fryer toaster oven and dedicated air fryer with a 12.7-quart capacity.
Though this oven is the most expensive appliance on this list, it's also the most functional and versatile.
Things We Love
15 Presets: With an impressive 15 cooking functions, this GoWISE air fryer oven should have you covered for most eventualities. The settings are Toast, Vegetables, Fries, Frozen Food, Baked Potato, Wings, Rotisserie, Bake, Pizza, Steak, Dehydrate, Chicken, Fish, Defrost, and Keep Warm.
If none of those do it for you, there's a manual setting so you can input your own times and temperatures.
Huge Selection of Accessories: To go alongside the massive amount of presets at your disposal, this 12.7-quart air fryer comes with ten accessories to help you cook an enormous variety of meals. They are a rotisserie tong, rotisserie rod, oven rack, drip pan, skewer rotisserie, rotisserie Cage, rotisserie steak cage, shallow mesh basket, and two mesh trays.
Stainless Steel Interior: While non-stick is much easier to clean than stainless steel, many people are wary of the non-sticking coating, and with good reason. This appliance is an excellent choice for people who don't want non-stick in their kitchens.
It's Easy To Clean: Contrary to the previous point, this unit is relatively easy to clean despite the stainless steel interior. Maybe not quite as straightforward as a non-stick coated appliance, but consumers are impressed nonetheless
What's Not To Like?
Clumsy Control Panel: Not only does the control panel on this air fryer oven look a little dated, but it can also be a pain to use. Instead of one-touch presets, you have to scroll through the list of cooking functions utilizing a single button. This can be very frustrating if you over-scroll as you can only go in one direction.
Made in China: If you've read any of my other air fryer reviews, you might be aware of my issue with GoWISE USA. If not, here it is.
While most (if not all) air fryers are made in China, GoWISE USA gives the illusion that their products are made in America when in actuality, they are not. If Chinese products are a deal-breaker, air fryers probably aren't for you but don't buy this model because you think it's made in the USA.