So you're looking for a red air fryer? You've come to the right place.
I recently wrote a review for the three best pink air fryers available on the US market. The lack of options quickly became apparent, and people looking for a pink appliance had their choices severely restricted.
Fortunately for you, the number of red small kitchen appliances is much more varied, and I've researched some of the best makes and models of red air fryers to cover all the bases.
I've included air fryer ovens, air fryer toaster ovens, and regular dedicated air fryers in this review.
Disclaimer: I may receive commissions from purchases made via links at no cost to you
---
Cosori's mid-sized digital air fryer is finished in a beautiful deep burgundy red matte plastic that gives this appliance a real air of quality.
It's not just a pretty face either; with a 5.8-quart cooking capacity and 13 cooking functions, the Cosori Air Fryer XL is one of the most functional dedicated air fryers on this list.
Things We Love
One-Touch Digital Control Panel: Cosori has designed an intuitive one-touch control panel that is not only easy to use but it's easy on the eye too.
Square Basket: A square air fryer basket is much more efficient than a round one as this type of design gives consumers more cooking space for the same footprint.
13 Cooking Functions: The Cosori Air Fryer XL has tons of versatility thanks to thirteen presets that will have you cooking all kinds of meals with one touch of a button. Steak, Chicken, Seafood, Shrimp, Bacon, Frozen Foods, French Fries, Vegetables, Root Vegetables, Desserts, and Bread.
Angled Display: This air fryer's display sits at an angle, so it's easier to view from above. Most other small kitchen appliances have an LCD on a vertical plane which you need to be at eye level to see properly.
Super Powerful: With 1700 watts of power, the Cosori Air Fryer XL exceeds many toaster ovens in terms of energy so that you can cook your food very quickly.
What's Not To Like?
It's Got a Screw Loose: Multiple consumers have complained of experiencing loose screws where the handle is joined to the basket, requiring constant tightening.
It's a Pain to Clean: Although many of the removable parts are dishwasher safe, the Cosori Air Fryer XL can be troublesome to clean because there are a few indentations where food and grease can get lodged.
2. Instant Vortex Mini 4-in-1 Air Fryer Oven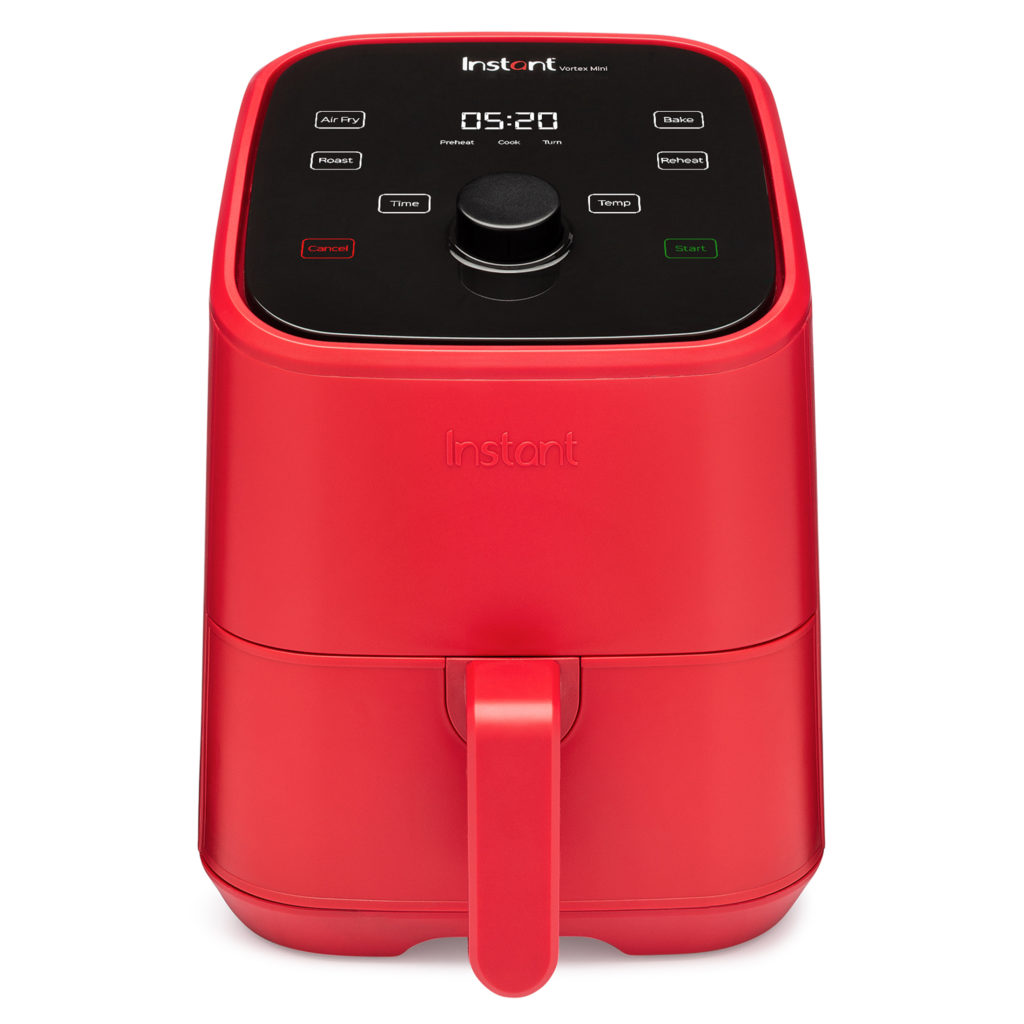 ---
This small Air Fryer Oven from Instant is an excellent compact appliance with a contemporary aesthetic which is ideal for single folks or someone who doesn't have much space in their kitchen.
While this air fryer has limited cooking functions, it's super easy to use, and I love the shade of red that this appliance comes in. Its reasonable price point also makes this oven a risk-free gateway into air frying for someone who wants to try it out without spending too much.
Things We Love
Affordable Price Point: The Instant Vortex Mini is super cheap compared with other top brands.
It's Super Cute: This compact air fryer is adorable. The matte red finish is lovely to look at, and Instant did an amazing job with the overall mini design.
Excellent Control Panel: Using this air fryer is a cinch, thanks to the intuitive control panel. Even though this appliance is small, the control system has lots of space and is super simple to use. The panel is angled, too, so it's easy to see.
It Runs Quietly: Air fryers and countertop convection ovens and can be extremely loud. The Instant Vortex is surprisingly quiet when in use.
Make Adjustments While Cooking: You can add time or change the temperature without missing a beat, as the Vortex lets you make adjustments without pausing the cooking cycle.
What's Not To Like?
Pointless Cooking Functions: The temperature range on three of the four cooking functions are exactly the same. Only the default temperature is different.
Basket Insert is a Little Tight: Fitting and removing the tray insert (that acts as a basket) is challenging, thanks to the tight fit.
Poor Basket Design: A regular air fryer basket is removable, so you can drain the grease before emptying your food. The tray insert design means you've got the tricky task of removing the tight-fitting piece with the food still sitting on it (or scooping the food out) before plating your meal, or you risk pouring grease all over the place.
Plastic Odor Lasts Longer Than Expected: Though Instant states in the manual that the Vortex air fryer will omit a strong plastic odor when you first use it, that smell hangs around longer than you would like.
3. OMMO 17-Quart Air Fryer Toaster Oven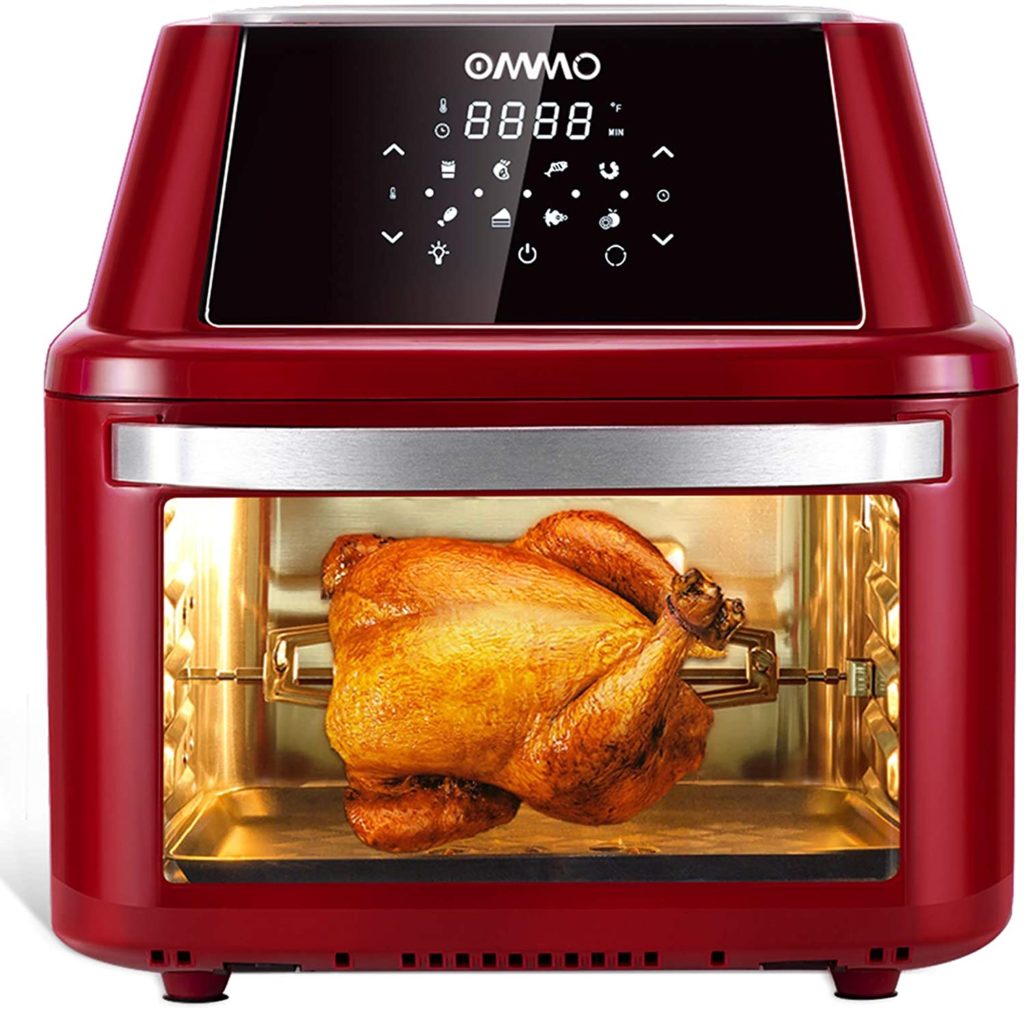 ---
OMMO's large capacity toaster oven is an appliance for folks with a sizeable family or looking for a machine to replace their traditional range.
This massive countertop appliance has multi-layer cooking capabilities so that you can cook multiple foods simultaneously. It is an excellent air fryer toaster oven for a family home.
Things We Love
It's Very Affordable: While the price tag might not appear low at first glance, the massive capacity and functionality of this toaster oven represent an extraordinary value for money when you compare it to other dedicated appliances.
Large Capacity: While the 17-quart capacity isn't the largest in terms of toaster ovens, compared to dedicated air fryers, this thing is downright gigantic and a great choice for families of four.
Enormous Range of Accessories: The OMMO air fryer toaster oven comes with many accessories to make this one of the most versatile appliances on my list. With the oven, you'll get two wire racks, a drip pan, a skewer rack, rotisserie forks, a rotating basket, and a multi-use handle.
Multi-Layered Cooking: Thanks to the considerable cooking capacity and numerous accessories, you can cook food on different levels of the oven and make entire meals all inside a single appliance. There are five levels to choose from.
8 Presets & 40 Recipes: While the number of presets isn't overly impressive (Baking, Chicken, French Fries, Steak, Fish, Shrimp, Rotisserie, and Dehydrate), there is an excellent range of times and temperatures. You'll also get 40 air frying recipes to get you on your way.
Open/Pause Function: The OMMO air fryer toaster oven will pause the cooking cycle when you open the door and resume when you close it. It's also impossible to start a cooking cycle while the door is open.
Perfect French Fries: Consumers absolutely love the french fries this oven produces with the rotating basket as it cooks them perfectly even every time.
What's Not To Like?
It Looks Goofy: OMMO tried to make this air fryer toaster oven in the shape of an old cast iron log burner or range, but it missed the mark by some distance. It looks weird, and the design is inefficient. However, I do like the shade of red.
Poor Handle Design: The bulky handle sticks out quite far, so when you open the door, it doesn't lay completely flat. It can be an issue when using the largest trays.
Cluttered Control Panel: The control system on this appliance is a bit messy. A little more thought into the design could have improved the user experience massively.
Challenging To Use: Alongside the cluttered control panel, the air fryer toaster oven, in general, can be a bit confusing. And the written instruction guide is ambiguous and of little help.
4. GoWise USA 7-Quart Digital Air Fryer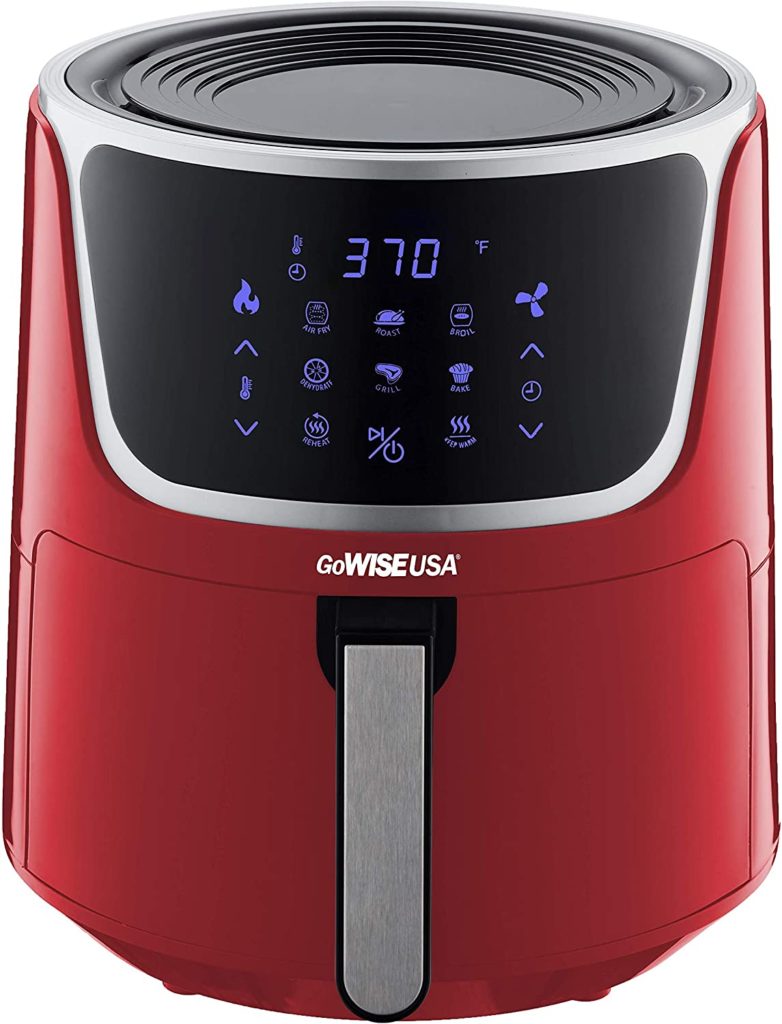 ---
The GoWise USA digital air fryer is a middle-of-the-road appliance that isn't overtly outstanding in any area. Still, it's a dependable, no-nonsense air fryer that will appeal to some.
This type of air fryer is best used as an accessory to your existing range than it is being your primary cooking appliance. There are very few consumer complaints about this machine.
Things We Love
It's Relatively Affordable: This mid-sized 7-quart air fryer won't break the bank. It isn't the most affordable appliance on the market, but it's great value for money for the size.
It Has a Basket Divider: Some of the best features are the most simple ones. Cook different foods separately, in the same basket with this nifty divider.
Includes 50 Recipes: Get your air frying cooking experience off to a flier with the handy 50 recipe guide included with this GoWise USA air fryer.
Super-Easy to Use: Using this air fryer is a cinch, despite the haphazard control system (though it's not nearly as messy as the OMMO toaster oven). Consumer says it's intuitive and convenient.
On-The-Fly Adjustments: A new stop/start button lets you make adjustments to your cooking cycle without the need to reset and start from the beginning.
What's Not To Like?
It's Made In China:

Truth be told, all of the air fryer ovens, air fryers, and air fryer toaster ovens I've listed here are made in China. However, GoWise USA gives you the impression that this air fryer is a US-made product. It is not.
5. Deco Chef 24-Quart Air Fryer Toaster Oven
---
This air fryer toaster oven is easily the most massive appliance on my list, but surprisingly not the most expensive, making it an excellent choice for large families on a tight budget.
This big red beast comes with tons of accessories, a customizable control panel, and an excellent temperature range.
Things We Love
The Symmetry: Understandably, brands like to mix things up to make them stand out from the crowd, but the results can be varied. Deco Chef kept the control system simple, and it looks crisp, clean, and is easy to use.
24-Quart Capacity: One of the biggest benefits of choosing this appliance is the cooking space. Cooking whole chickens and 12" pizzas is no problem for this machine. It's easily the largest on our list.
Custom Settings: You're not limited to the preprogrammed settings. Program your own and save them for future use.
450 Degree Temperature Range: While I'm unsure of the minimum temperature range of the Deco Chef oven (it must be low as it has a dehydrate function), it reaches up to 450 degrees, which is suitable for broiling.
Superb Functions & Accessories: The excellent range of accessories and functions betray the low price point. You'll get an oven rack, french fries basket, air fryer basket, baking tray, rotisserie forks, and removal handle to go alongside the French Fries, Pizza, Bread, Cake, Chicken, Steak, Rotisserie, Fish, Dehydration, and Keep Warm functions.
It's Extremely Versatile: With ten cooking functions, a wide range of accessories, and that enormous cooking capacity, there's very little you can't do with this air fryer toaster oven.
What's Not To Like?
Non-Adjustable Presets: While the custom settings are nice, you can't alter the presets during a cooking cycle. Toasting bread for 10 minutes at 450 degrees is a surefire way to make charcoal.
It Gets Very Hot: You'll need to leave space around this appliance as the outside gets hot when in use. Unfortunately, the Deco Chef toaster oven is massive, so you'll need a spacious kitchen to store it.
It Smokes & Smells of Plastic: When you first use this appliance, expect a ton of smoke and plasticky smells. It should dissipate over time, but it could take a while.
6. Dash Tasti-Crisp Digital Air Fryer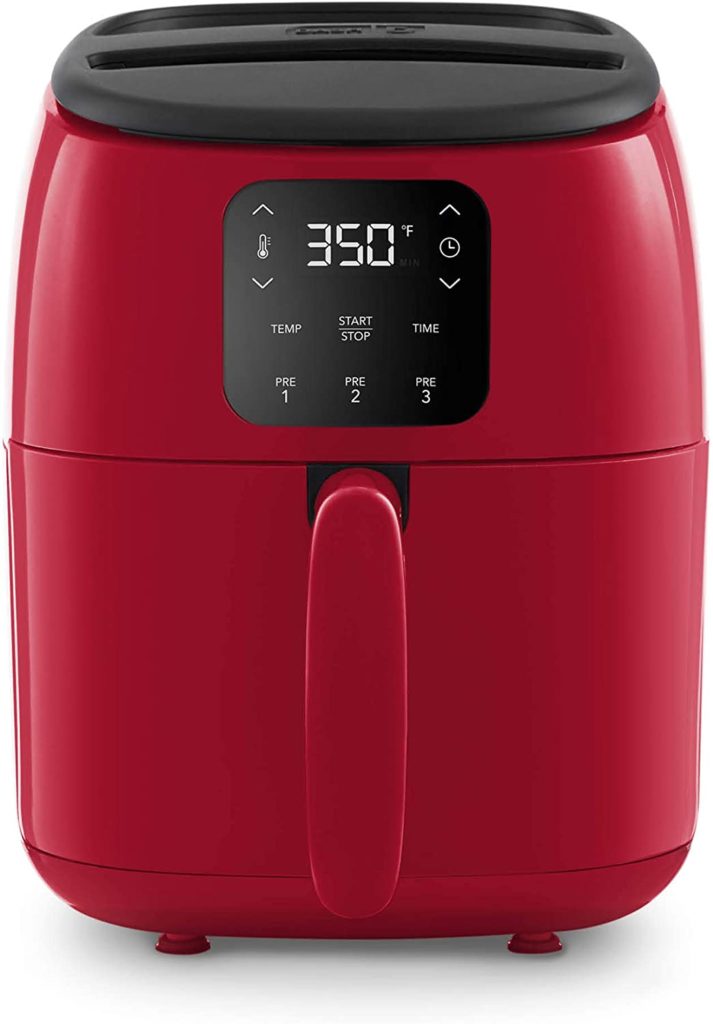 ---
At first glance, there's not much to this compact air fryer. It has a small capacity, limited features, and truth be told; it looks a bit bland. But the beauty of this appliance lies in its simplicity.
If you need a sizable fryer for family meals, this one isn't for you. But if you want a small, easy-to-use air fryer with excellent performance, the Tasti-Crisp from Dash is worth your consideration.
Things We Love
Safety First: Dash put a lot of thought into the safety aspect of this air fryer. The auto shut-off stops the machine from overheating, while an ergonomic handle and rubber feet make it easy to hold and prevent the fryer from sliding around.
First-Rate Performance: There's something about this compact Dash air fryer that makes its performance so good. I'd guess it's the size-to-power ratio that ensures this fryer cooks quickly and evenly.
It's Durable: It's difficult to get people on the internet to agree on anything, but consumers love how long-lasting and durable this little unit is (except for the non-stick coating, which we'll get to shortly).
Compact & Lightweight: If a small air fryer meets your needs, this little dude is well worth your consideration. It has a small footprint and is half the weight of similarly size devices.
Save Your Custom Settings: Though there are only three presets on the Dash Tasti-Crisp (the fewest of all the devices on my list), you can program your own times and temperatures and save them for future use.
What's Not To Like?
It Looks Boring: If you want a red air fryer, chances are you're looking for an appliance with some personality. While the Dash Tasti-Crisp isn't ugly by any stretch of the imagination, it's a bit bland to look at.
Non-Stick Coating Known To Peel: While not every consumer has suffered from peeling non-stick coating in the basket, enough people experienced it that it would be remiss if I didn't mention it.
It Beeps. A Lot: Most, if not all, air fryers have notification beeps, it seems the Dash Tasti-Crisp beeps at every available opportunity which can become quite tiresome.