If you're looking to add a splash of color to your kitchen and have your heart set on a pink air fryer, you'll have noticed that your options are exceedingly limited.
It appears that a majority of pink air fryers on the market are almost universally available in the Far East only.
But don't worry, we've searched every corner of the Western market to find three of the best pink air fryers available to buy in the States. Read on to find out what we love about them, and what we're not so keen on.
Disclaimer: I may receive commissions from purchases made via links at no cost to you
1. Kooc 4.5 Quart Pink Air Fryer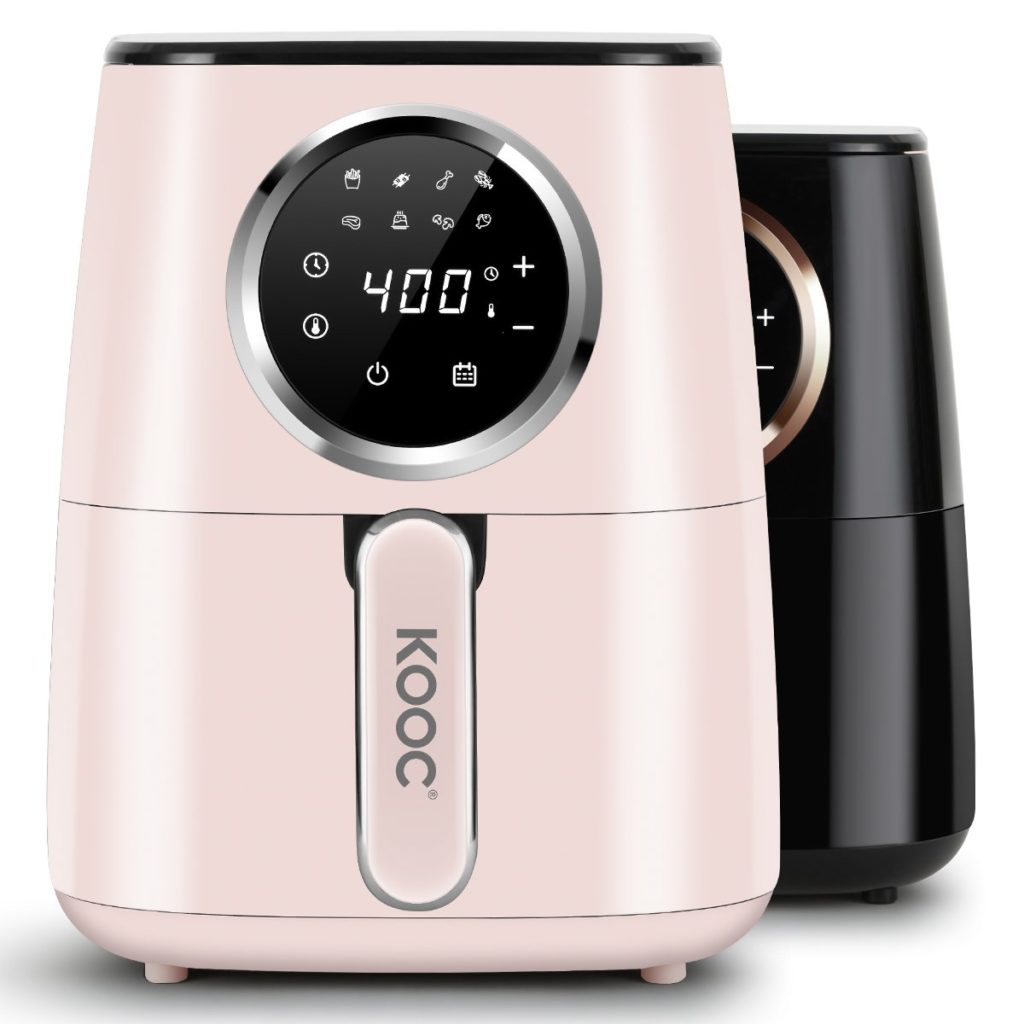 ---
The Kooc digital air fryer is a mid-sized appliance with a 4.5-quart capacity. The modern design is accompanied by a touchscreen LED control panel, eight cooking presets, and the whole air fryer has a subtle pale pink finish that gives it a classy appearance.
Here's what we do and don't like about the Kooc 4.5 Quart Pink Air Fryer.
Things We Love
It Looks Superb: We love the way this air fryer looks because it's not only the color that's subtle. The silver trimmed "portal"-style control panel, the beautifully laid out LCD, and even the sleek handle (which bears the company logo) look understated and stylish.
Excellent Performance: The Kooc pink air fryer isn't just a pretty face. Consumers are delighted with the way this thing works. You'll get perfect wings, fries, and fish every time. It's also easy to clean when you've finished.
8 Cooking Functions: With eight different functions, this mid-sized air fryer has a ton of functionality. The pre-sets are French Fries, Skewers, Chicken Legs, Shrimp, Steak, Cake, Vegetables, and Fish.
Touch-Screen 'Sky Eye' Control Panel: This wonderfully responsive and beautifully laid out touch screen control panel is super easy to use and further enhances the overall positive aesthetic.
Square Basket: Most air fryers have a circular or oval design. While it looks pretty, a circular basket is inefficient for cooking. The "quarts" of an appliance is based on the basket's depth. A circular and square basket measuring the same depth will have the same quarts rating, yet a square basket will have more cooking space.
Cord Storage: You'll find a compartment at the back of the air fryer to store your power cord to help keep your kitchen super neat.
'Power Cut Memory': Check on your food while it cooks without losing any cooking time. The Kooc air fryer automatically pauses when you pull the drawer out and restarts the timer when you put it back in.
What's Not To Like?
You Have To Pay Extra For Accessories: While this air fryer is reasonably priced, it's not exactly cheap. And that you have to pay extra for the accessory bundle is a little disappointing.
It Doesn't Reach More Than 400 Degrees: You may be restricted somewhat on the recipes you can cook. If your food needs to be cooked at over 400 degrees? Forget about it.
Short Power Cord: Though the power cord storage is a welcome feature, the power cord itself is a bit short, so you'll need to position it close to the outlet.
2. PowerXL Vortex 5 Quart Pink Air Fryer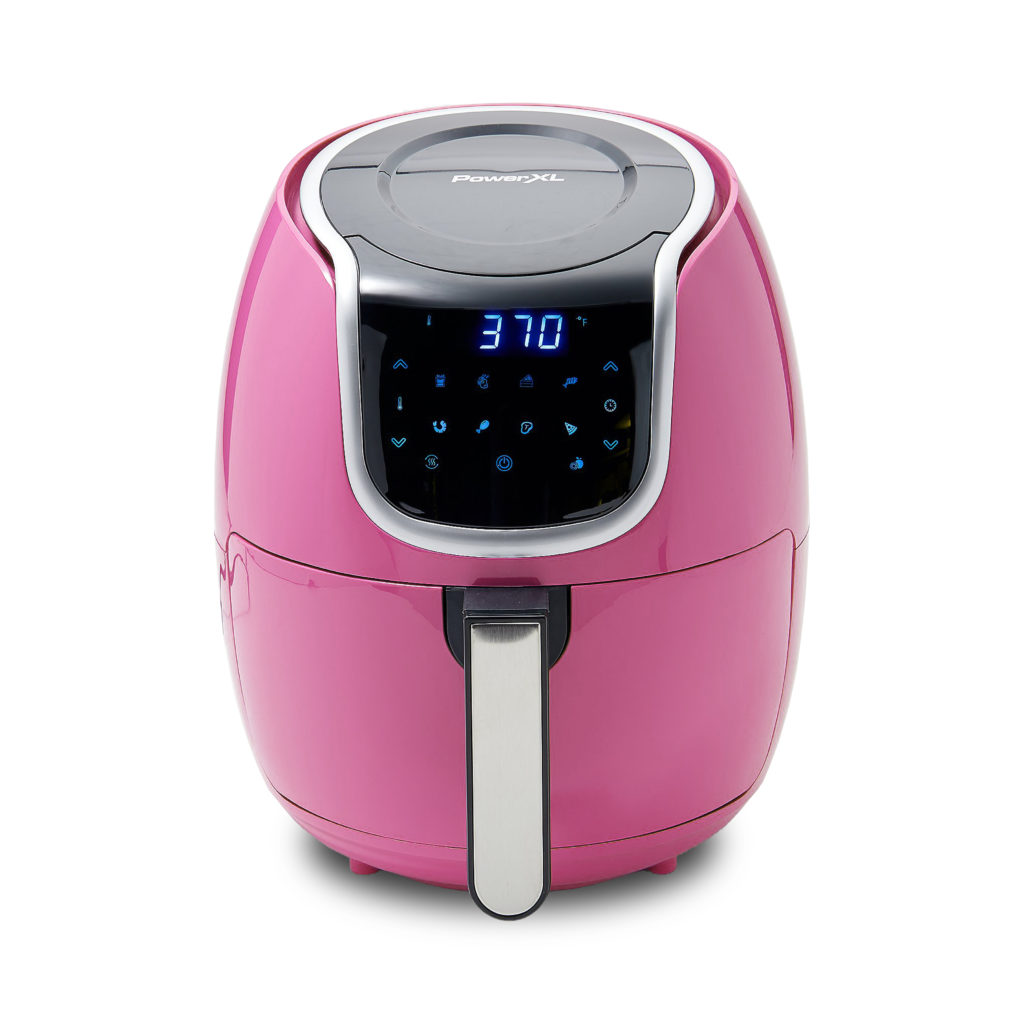 ---
PowerXL's Vortex pink air fryer is an oval style mid-sized appliance with a unique touch screen control panel, ten cookings functions, and an impressive 1500 watt power output. This air fryer is more suited to the extroverts out there, thanks to its outrageous style.
Let's take a look at our favorite and not-so-favorite things about this air fryer.
Things We Love
It's Pink!: Not surprising given this article is about pink air fryers, right? Well, this thing is really pink. It's bright and loud and has tons of personality. We understand that this style isn't for everyone, but we love it.
Decent Capacity: With a 5-quart interior capacity at its disposal, this air fryer has coyote most cooking space of all the pink air fryers and is suitable for cooking meals for three or four people.
All The Power: The PowerXL pink air fryer isn't only the largest appliance on this list. It's the most powerful too. Making it a quick and efficient cooker.
10 Cooking Functions: On top of being the largest and most powerful air fryer on our list, it's the most functional too, with an impressive ten preset cooking functions. They are French fries, Roast, Bake, Shrimp, Fish, Chicken, Steak, Pizza, Reheat, and Dehydrate.
Reasonably Priced: Considering the benefits and features accompanying the PowerXL Vortec pink air fryer, you'd be forgiven for thinking that this appliance will be super expensive. Well, it isn't. In fact, it's one of the more reasonably priced air fryers on the market.
What's Not To Like?
Circular Basket: As we pointed out when we discussed the Kooc pink air fryer, a circular basket is the least efficient design, and it compromises your cooking space.
Limited Temperature Range: Like the Kooc appliance, this air fryer maxes out at 400 degrees, which is suitable for most meals but is not perfect for everything.
3. Bella 2 Quart Blush Air Fryer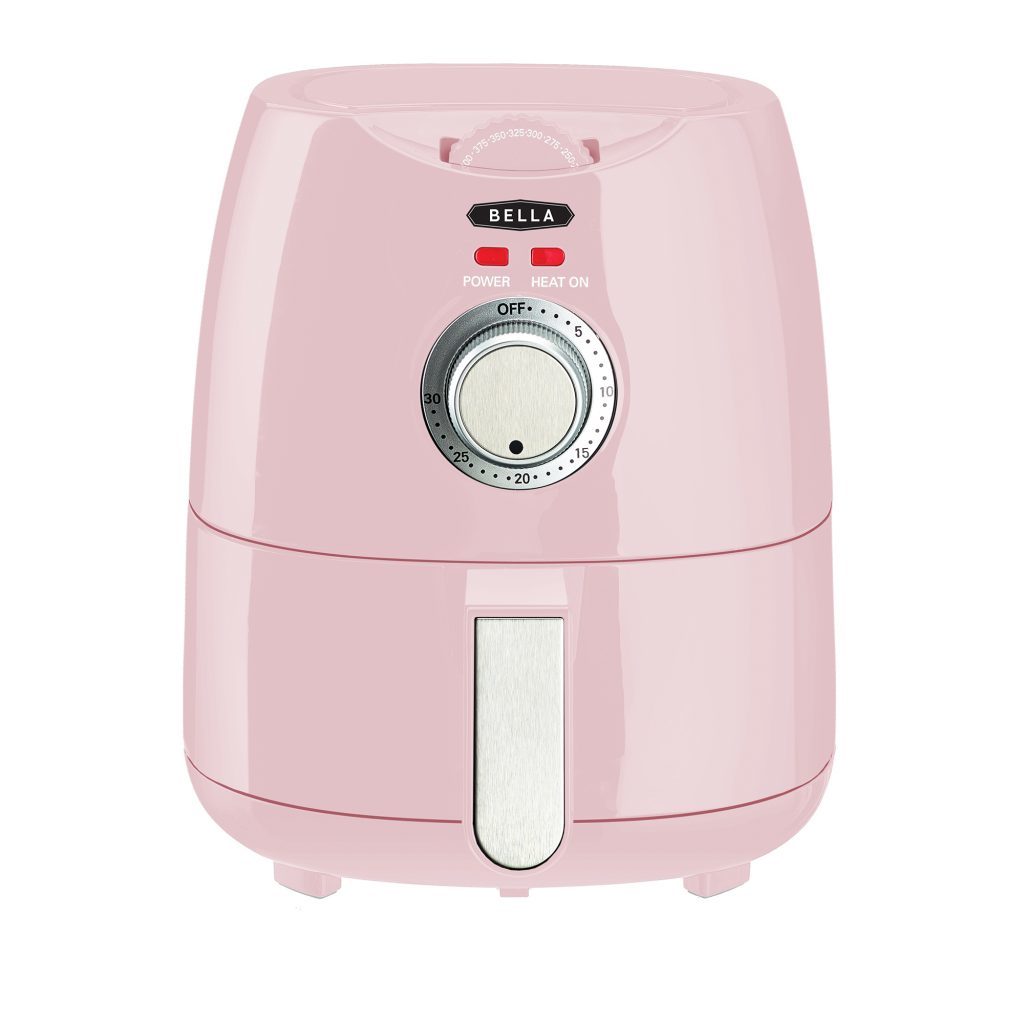 ---
The Bella 2 Quart Blush (pink) Air Fryer is a compact small kitchen appliance that has a basic design, easy-to-use analogue control system and a cute aesthetic that will be most suitable for single folks with limited kitchen space.
Listed below are the positives and negatives for this small air fryer.
Things We Love
It's Cute as a Button: This cute appliance might not be to everyone's tastes, but we like the compact nature, the subtle pink finish and the minimalist design. It looks like someone's pet piglet.
Super Easy to Use: Because the control panel consists only of a temperature dial and a time setting knob, it's really easy to use (as long as you know the correct times and temps for your food).
Square(ish) Basket: If you've been paying attention you'll understand the virtues of a square air fryer basket. While the basket for the Bella air fryer isn't perfectly square, it's an improvement on most circular products.
It Cooks Surprisingly Well: Despite this Bella air fryers small capacity and poultry 1200 watt power output, this appliance needs no pre-heating and cooks quickly and evenly.
What's Not To Like?
Poor Temperature Range: While the Bella 2 quart air fryer has the same upper limit as the other two air fryers on this list (400 degrees) the lower limit of 175 degrees is hugely limiting for food that needs low temperatures or keeping meals warm.
30 Minute Cooking Timer: You can only cook in increments of 30 minutes with this appliance. You'll have to restart the cooking cycle if your food requires more time.
Flakey Basket: Some consumers have experience the non-stick coating peeling off the air fryer basket after prolonged use.