Best Overall
Instant Vortex Pro 9-in-1 Air Fryer, 10 Quart
All of the air fryers that 'Instant' produce are decent appliances and are worth taking a look at; they meet a variety of different needs that consumers may have, however, our favorite is the Instant Vortex Pro 9-in-1 10-Quart Air Fryer.

With a 10-quart cooking capacity, superb outward appearance, and a multitude of different attachments and functions, it is worth spending a little extra money because it'll get a lot more in return.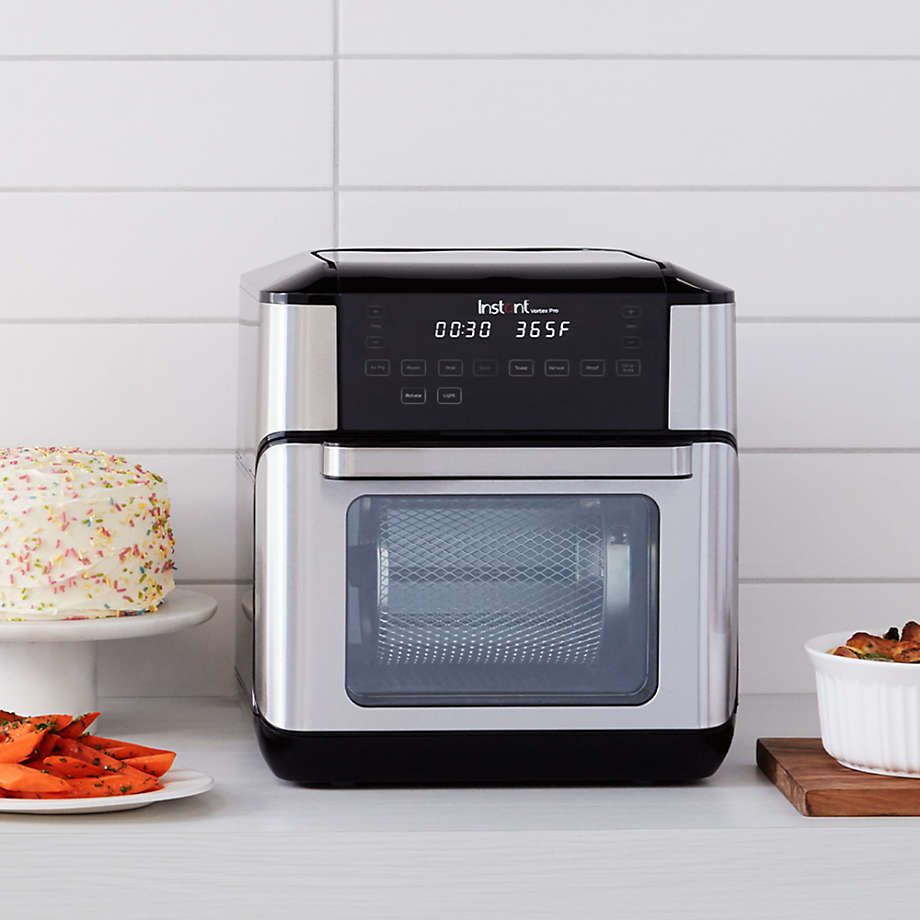 1. Instant Vortex Pro 9-in-1 Air Fryer, 10 Quart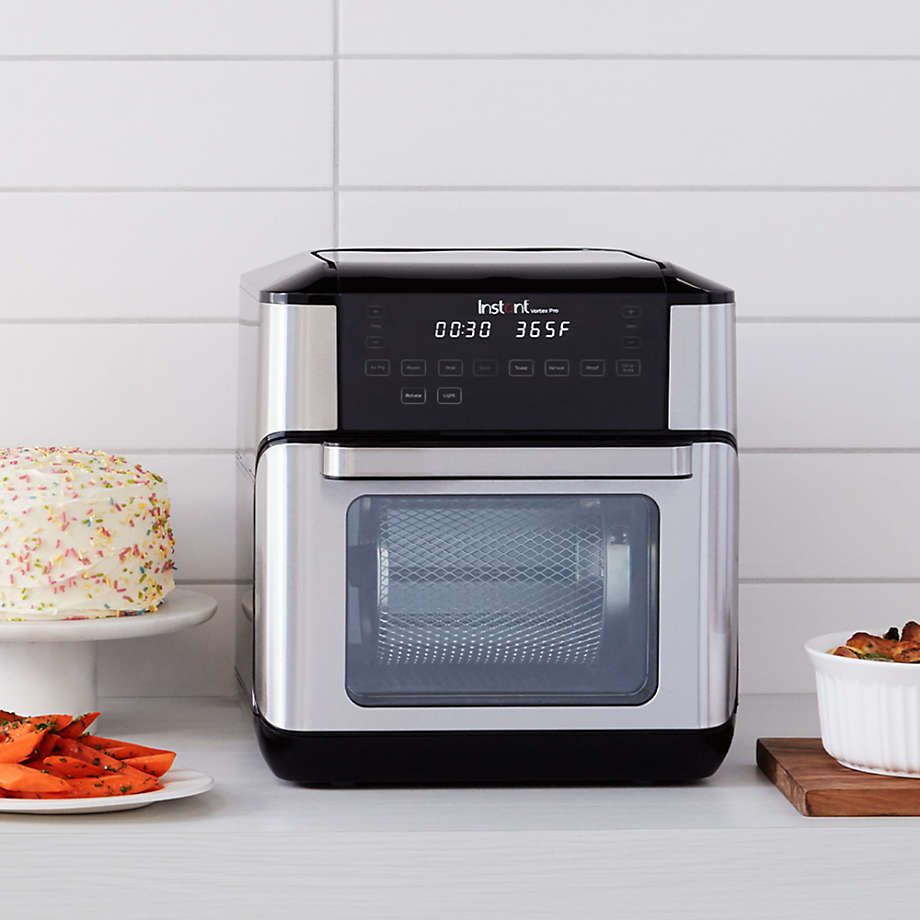 ---
This 10-Quart appliance, made by 'Instant', has nine pre-programmed settings to help the user cook a variety of foods to perfection.
It has a gorgeous stainless-steel exterior and a bright LCD for ease of use. However, that 'ease of use' will come following trial and error as Instant's instructions are far from clear.
The Vortex Pro air fryer oven comes with additional attachments such as the rotisserie spit and basket that give further cooking capabilities.
Specifications
Dimensions: H18 inches x W16.2 inches x D15.8 inches
Appliance Weight: 21.9lbs
Capacity: Quarts 10-Quarts
Available Colors: Stainless Steel
Dishwasher Safe: Yes
Wattage: 1500W
Min/Max Temperature: 100°F/400°F
Looks 9/10
This sizable air fryer gave the design team at Instant Pot an opportunity to provide the appliance with a traditional oven-type look for a device that will sit on work surfaces and countertops.
The fingerprint-resistant stainless-steel exterior is a classic appearance that will look at home in any modern kitchen, while the large LCD is bright, colorful, and easy to read.
Capacity 9/10
With 10-quarts of cooking capacity, the Vortex Pro is a substantially sized air fryer capable of cooking delicious meals for larger families. With different cooking functions, it's easy to roast even whole chickens inside the spacious interior.
Features 7/10
9-in-1 Fryer: Instant Pot has stepped up their game with additional presets on top of those featured on the Vortex and the Vortex Plus. Air Fry, Roast, Broil, Bake, Toast, Reheat, Proof, Dehydrate, and Rotisserie, all in one appliance.
Additional Utensils: Most air fryers usually come with a simple basket/grid combination; the Vortex Pro has lots of extra utensils, giving the consumer a variety of different cooking options.
Alongside the traditional cooking trays, owners can use the rotisserie basket or spit for succulent, crispy chicken or the drip tray to catch unwanted grease, making it easier to clean.
Double Tray Cooking: Unlike an ordinary air fryer basket, this appliance can simultaneously cook two layers of food using its dual trays, essentially doubling the cooking capacity.
Performance & Cleaning 7/10
The cooking performance for this air fryer is up to usual 'Instant' standards. The appliances are built to a good standard and rarely fail or malfunction. The different modes work as they should enabling the user to cook healthy meals quickly and easily.
While the cooking aspect of this device is as it should be, there are consumer reports of the overall build quality not being up to standard. Multiple reviews cite oven door failures, from loose hinges to the glass being fragile and prone to cracking.
The Vortex Pro is easy to clean as all the removable parts are dishwasher safe, while the drip tray helps with cleaning the rest of the utensils. If the use of a dishwasher isn't available, cleaning the utensils is relatively simple, using a sponge and warm water. However, the rotisserie basket is a lot more challenging to clean.
Should you buy the Instant Vortex Pro 9-in-1 10 Quart Air Fryer?
Despite being the most expensive air fryer that 'Instant' manufactures, it is still the best value for money. It has a much larger cooking capacity with an only slightly larger physical footprint.
With the Vortex Pro, there are more options for cooking different foods using a variety of attachments and utensils, giving it the edge over other 'Instant' models.
If you're in need of a large capacity device, then the Instant Vortex Pro is worth considering.
2. Instant Vortex Plus 6-in-1 6-quart Air Fryer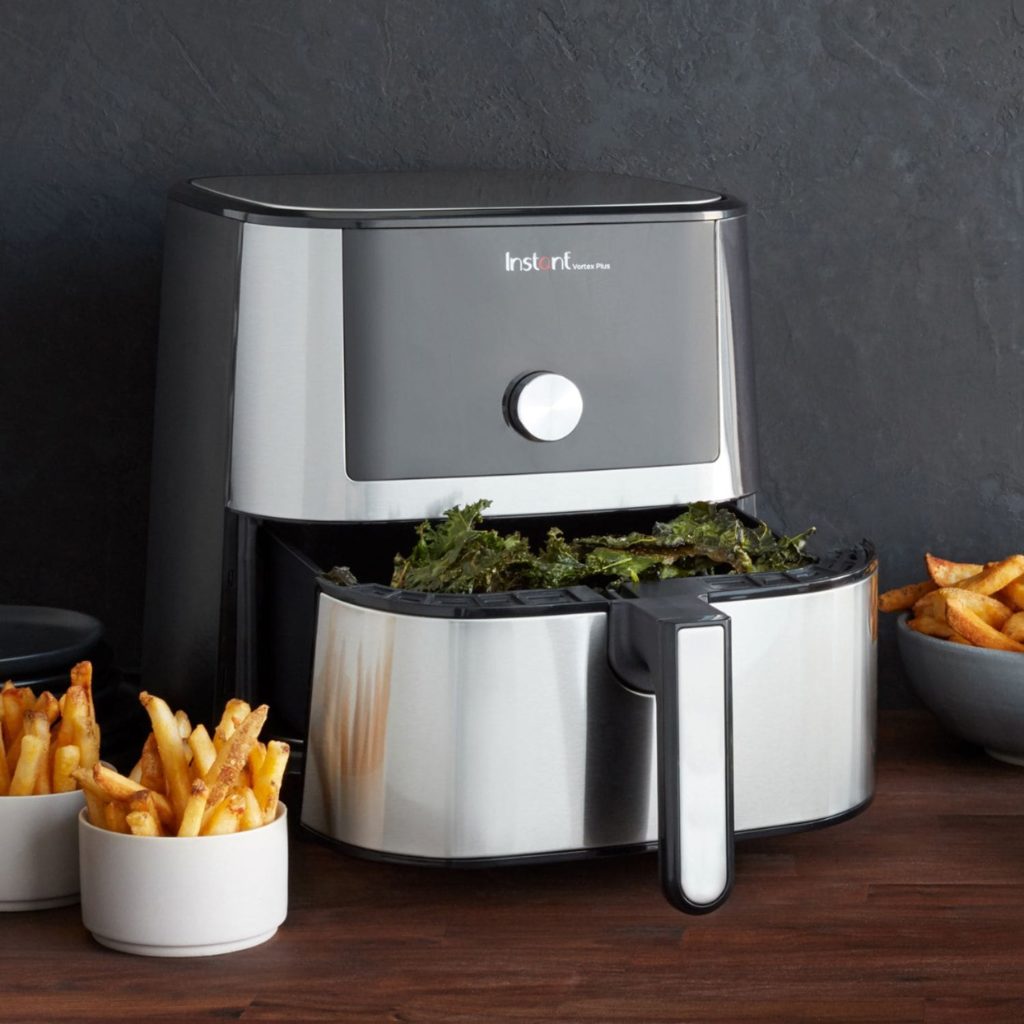 ---
This appliance is a step in the right direction for Instant Pot. It looks fantastic and has a reasonable size 6-quart cooking capacity, which is helped by the rectangular basket design.
It has a couple of useful features and superb LCD and timer dial, making it simple to use once you've figured out the instructions. It's also dishwasher safe, so it is easy to clean.
Specifications
Dimensions: H17 inches x W16.54 inches x D14.8 inches
Appliance Weight: 20.6lbs
Capacity: Quarts 6-Quarts
Available Colors: Silver
Dishwasher Safe: Yes
Wattage: 1500W
Min/Max Temperature: 100°F/400°F
Looks 8/10
The brushed-steel appearance of this air fryer is an almost classic kitchen look. The silver exterior is only limited to the front of the unit while the back and sides have black plastic. Nevertheless, it is a beautiful appliance.
The LCD is a wonderfully designed screen that is bold, colorful, and clear completing the Vortex Plus's overall appearance.
Capacity 8/10
Like the original Vortex, the Vortex Plus has a 6-quart cooking capacity used alongside a rectangular basket to give the air fryer maximum space efficiency, suitable for providing foods for around four to five people.
Features 6/10
6-in-1 Fryer: With the ability to not only air fry foods but also roast, bake, broil, reheat and dehydrate all your meals, the device is a little more expensive than the original Vortex, so a couple of extra functions is very welcome.
Customizable Cooking Times/Temps: Alongside the 6-in-1 cooking settings, this appliance can also save your preferred cooking temperatures and times, so you only need to input them once.
Notifications & Auto-Pause: The Vortex Plus does have the same features as the cheaper Vortex. The appliance will notify the user when it's time to add/turn the food and will also pause the timer when the basket is removed and resume the process when it is replaced.
Dishwasher Safe: One significant improvement over the original Vortex is the ability to put the basket and grid into the dishwasher for ease of cleaning.
Performance & Cleaning 8/10
It appears as though the overall Vortex Plus unit is the same as the Vortex, which is a sturdy, reliable air fryer that offers consistent cooking every time. It's also fairly loud, and the instructions are not clear enough, leaving the consumer to figure things out for themselves.
The extra features and customizable presets are what sets it apart from its younger brother. The other main benefit is the addition of being able to clean the basket and grill in the dishwasher. Even if the consumer doesn't have that capability, it is still relatively easy to clean using a sponge and warm soapy water.
Should you buy the Instant Vortex Plus 6-in-1 6-Quart Air Fryer?
While the Vortex Plus's general application isn't much different to the Vortex, it is a more attractive appliance, has a couple more features, and is easier to clean for a relatively small increase in cost.
If the 6-Quart basket fits the needs of your family, then this air fryer is worth considering.
3. Instant Vortex 4-in-1 6-quart Air Fryer
---
The Instant Vortex is a sleek 6-quart air fryer with a rectangular basket for a better cooking capacity. While the temperature dial is intuitive to use, the instructions for the overall appliance usage are not as informative as they ought to be.
The Vortex doesn't have many features, but it is a reliable appliance that cooks crispy, healthy foods using 95% fewer fats than traditional cooking methods.
Specifications
Dimensions: H16.3 inches x W15.1 inches x D14.9 inches
Appliance Weight: 15.87lbs
Capacity: 6-Quarts
Available Colors: Black
Dishwasher Safe: No
Wattage: 1700W
Min/Max Temperature: 100°F/400°F
Looks 7/10
The Instant Vortex 4-in-1 air fryer is an attractive appliance with a sleek, contemporary exterior made from black heat-resistant plastic.
The LCD makes good use of color to make it bright and appealing, while the silver dial in the center pops amidst the black background.
Capacity 8/10
With a 6-quart cooking capacity, this moderate air fryer is capable of producing meals for families of four quite comfortably. With its rectangular shape, it was designed to make the most of its exterior measurements. The quart measurement on air fryers refers to the basket depth, so a square/rectangular design will increase the unit's cooking capacity.
Instant Pot claims you could cook a '4 pound butterflied chicken' in this device with ease.
Features 5/10
4-in-1 Fryer: With the ability to not only air fry foods, but also roast, bake, and reheat all your meals, this is a versatile appliance that won't take up much kitchen space.
Notifications: The Instant Vortex has a notification system that will inform the user when the appliance is up to the correct temperature when it's time to add the food and give you a reminder when the cook cycle is about halfway through to turn the food if needed.
Auto-Pause: The auto-pause links to the notifications feature. When the appliance reminds you to add food or turn food, the timer will pause when the basket is removed, and once returned, it will restart the timer.
Performance & Cleaning 7/10
The overall performance of the Vortex 4-in-1 is excellent, with minimal device failure over time. The air fryer consistently makes tasty and healthy food. However, consumers report that with the first few uses of this appliance it will emit an unpleasant smell, so we recommend a thorough cleaning before starting it up.
While not the loudest air fryer on the market, it is worth noting that this model is not the quietest when used either.
The heat-resistant exterior stops the outside of the appliance getting too hot when in use, this will also prevent your kitchen from getting hot when cooking.
Unfortunately, the cooking basket is neither dishwasher safe, nor can it be submerged in water, which makes it more tricky to clean than it needs to be.
Should you buy the Instant Vortex 4-in-1 6-Quart Air Fryer?
While the Vortex is a reliable and attractive product, it lacks features and is overly challenging to clean. The user manual either lacks information on how to best use the air fryer or the information it does provide is convoluted and confusing.
The 6-quart cooking capacity is a sufficient size for most average-sized families, and for the mid-range price point, you'd expect nothing less. This Instant Pot product is a decent option, but considering its cost, we suggest comparing it against other brands first.