Bella Air Fryers Reviews and Comparison
Disclaimer: we may receive commissions from purchases made via our links at no cost to you
Best Overall
BELLA (14734) Touchscreen Air Fryer, 5.3 Quart, Stainless Steel
The Bella (14734) 5.3 Quart touchscreen air fryer is easily our favorite appliance from this brand. This machine is the perfect blend of size, functionality, and affordability, making it an excellent choice for couples and small families to cook delicious food.

Sure, it's a little on the large side, but the substantial power output, useful features, and efficient basket design make this air fryer the best bang for your buck.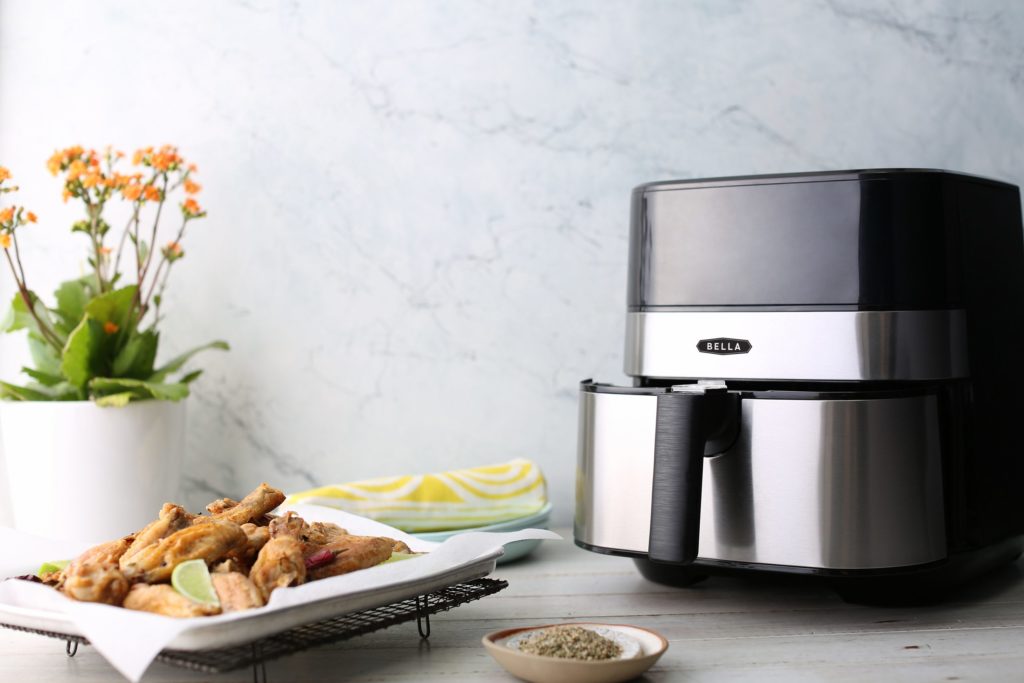 Best Value
BELLA Electric Hot Air Fryer, Healthy No-Oil Deep Frying, Cooking, Baking and Roasting, Easy Clean Up, Removable Dishwasher Safe Basket, 2.6 QT, Black
Bella's 2.6 Quart air fryer is the most affordable appliance of this type they produce. While the appearance isn't anything to write home about, the performance is. The tiny capacity won't fit much food inside, but the food it can cook is tasty and golden brown.
There aren't any features to speak of on this air fryer, but its ease of use will appeal to some people. However, you'll need knowledge of cooking times and temperatures for various foods as this device won't give you any help. Overall it's an excellent gateway into air frying.

Of the many different brands of air fryers, Bella produces appliances that find the middle ground between price and quality. Their products aren't the most technologically advanced, but what they lack in features, they make up for with cooking quality.
We're going to take a closer look at three of the best models from Bella to separate the wheat from the chaff and help you decide which appliance, if any, is the right one for you. We'll examine the design, capacity, features, performance, ease of cleaning, and reliability of each model.
1. Bella 5.3 Quart Touchscreen Air Fryer (14734)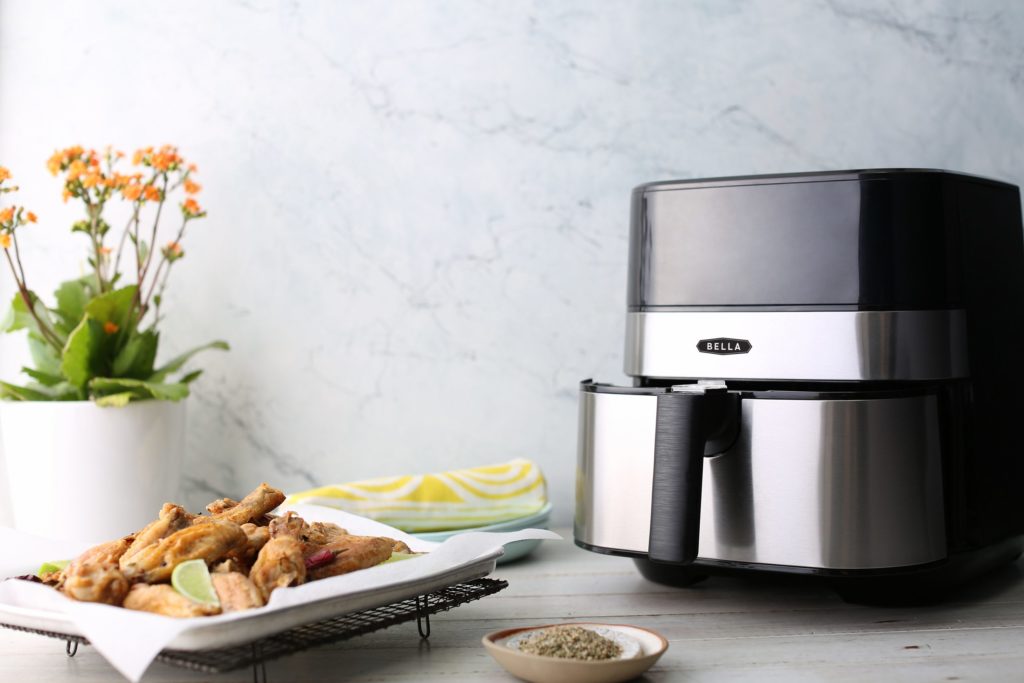 ---
Specifications
Dimensions: 16.14 x 14.37 x 14.25 inches
Appliance Weight: 16.6lbs
Capacity: 5.3 Quarts
Available Colors: Black & Silver
Dishwasher Safe: Selected Parts
Wattage: 1700W
Design
The Bella 5.3 quart air fryer is subjectively attractive and has a modern overall aesthetic. Its brush stainless steel and black plastic finish will look smart in any kitchen, while the cool touchscreen is large, responsive, and easy to see.
Though the 5.3 quart capacity is moderate, this appliance's overall size is disproportionate, and its footprint far exceeds that of most similarly sized devices. The hefty basket needs a sturdy handle, and fortunately, this air fryer is equipped with a substantial one.
Capacity
The 5.3 quart capacity of this Bella air fryer is the middle ground between substantial units and smaller devices that cater to people cooking solo meals or snacks. It's ideal for couples and small families.
Though Bella has maximized the capacity's efficiency by opting for a rectangular design instead of the more popular circular one that most brands tend to choose. A square or rectangular cooking basket gives you more cooking space for the same footprint measurements.
You'll be able to cook approximately 4.4lbs of chicken/meat or 6-8 servings of fries in this appliance.
Features
'Digital Touchscreen Interface': The control panel on this Bella air fryer is both neatly laid out and responsive, making it very easy to use. However, the presets are listed in the form of icons rather than text, and it isn't clear precisely what they all are.
Eight Preprogrammed Settings: This model comes with eight one-touch presets that automatically set the time and power to remove the guesswork from air frying. They include French fry, roast, shrimp, chicken, steak, fish, cheese melt, and bacon.
Custom Controls: Set your preferred time and temperatures to create your own recipes.
'Easy Check' Function: This particular feature lets you look in the draw mid-cycle to check on your food. It's an auto-pause function with a fancy name.
60 Minute Auto Shut-Off: The Bella 5.3 air fryer switches itself off after an hour of inactivity to avoid any nasty accidents and keep you safe in the kitchen.
Performance & Cleaning
With 1700 watts of power, the Bella 5.3 quart air fryer makes light work of fries, meats, and any vegetables you put inside. Consumers are delighted with the uniform and even crisp results they get with their device.
The downside of that tremendous power is how loud the air fryer is when you're using it. Cookers and other small kitchen appliances are relatively noisy anyway, but this takes the volume to the next level.
When you're using your Bella air fryer for the first time, expect a plasticky smell for the first few cooking cycles. The brand themselves acknowledge this will happen, though consumer reviews point towards it being worse than suggested.
Cleaning this product is easy as it's dishwasher safe, though be careful when scrubbing it by hand as the non-stick coating is prone to peeling.
Should you buy the Bella 5.3 Quart Touchscreen Air Fryer (14734)?
Bella's 5.3 air fryer is the best blend of size, power, and affordability out of the whole brand's range. The unit is a bit over-sized and a little loud when it's cooking food, but you can't argue with the results. Superb value for money for single folks, couples, and small families.
BEST VALUE BELLA AIR FRYER
2. Bella 2.6 Quart Air Fryer (14752)
---
Specifications
Dimensions: 10.34 x 13.07 x 12.89 inches
Appliance Weight: 5.9lbs
Capacity: 2.6 Quarts
Available Colors: Stainless Steel / Black / Navy / Red
Dishwasher Safe: Selected Parts
Wattage: 1500W
Design
This Bella air fryer is one of the more uninteresting (in terms of appearance) appliances you'll find on the market. Though this air fryer was designed to be a basic and affordable product, the design is minimalistic and bland.
The control panel comprises two simple dials alongside power and heat light indicators, while the most prominent feature is the large sturdy handle on the drawer basket. This air fryer is available in three other colors (black, navy, and red), which improve the appearance slightly.
Thanks to its compact and lightweight design, this air fryer is exceptionally portable.
Capacity
The 2.6 quart cooking capacity makes this one of the smaller products on sale. This isn't necessarily bad as many people want an appliance for cooking small meals and snacks. You can cook around 2.2lbs of meat in this air fryer or a few servings of fries.
Features
Auto Shut-Off Timer: Your Bella air fryer will close off automatically if you don't use it for an hour, giving an audible warning to let you know.
Analog Dials: These simple to use dials let you quickly set the time and temperature of your air fryer, making this appliance one of the easiest to use on the market.
Performance & Cleaning
Because this air fryer has such a small capacity yet a relatively large power output, this appliance cooks exceptionally quickly. It delivers excellent results comparable with those from a convection toaster oven. Consumers are in love with the chicken wings you can cook in the Bella 2.6 air fryer.
What they're not in love with is the challenge of flipping and removing your food from the tiny basket. The surface gets very hot, and there isn't much room to maneuver.
The dishwasher-safe basket and drawer are super simple to clean. Even if you don't have a dishwasher, these components will wipe clean with relative ease.
Should you buy the Bella 2.6 Quart Air Fryer (14752)?
The Bella 2.6 air fryer is an excellent low-budget appliance that's easy to use and cooks surprisingly great food considering its low price point. The power output to capacity ratio skews in favor of performance. While it's true that there aren't any features to help with cooking, this is a great entry-level option for single people or small cooking tasks.
3. Bella 10.5 Quart Air Convection Fryer Oven
---
Specifications
Dimensions: 14.96 x 14.96 x 16.92 inches
Appliance Weight: 19.7lbs
Capacity: 10.5 Quarts
Available Colors: Black
Dishwasher Safe: Selected Parts
Wattage: 1650W
Design
The Bella 10.5 convection air fryer oven is the best-looking appliance from this brand. The cubic design is toaster oven-like, and the exterior is finished in a sleek black plastic. A large viewing window complements the excellent overall appearance.
This air fryer has an extra-large digital control panel that is responsive and works well, though it suffers from the same lack of clarity as does the LCD on the Bella 5.3 Quart Touchscreen air fryer.
Capacity
With a 10.5 quart capacity, this air fryer is Bella's most substantial product and more suited to larger families and cooking big meals. You can cook up to 8lbs of food inside this beast.
Bella also supplies a dual cooking rack to optimize the already enormous capacity further and let you cook multiple foods simultaneously. The drop-down door helps with the ease of access to the cavernous interior.
Features
Multiple Cooking Methods: The convection capabilities of this air fryer mean you can air fry, dehydrate, grill, roast, bake and broil your food.
Pre-programmed Settings: This air fryer comes with several presets to help you along in the kitchen. They include pizza, fries, fish, wings, cake, and bread.
Rotisserie: Cook deliciously crispy and juicy chicken using the rotisserie feature on this air fryer.
Accessories: Alongside the rotisserie unit, Bella also supplies non-stick crisping trays, a baking rack, and a rotisserie holder for the added functionality of this air fryer.
Performance & Cleaning
The general performance of this unit is outstanding. The large capacity works in tandem with the substantial power output and multi-layered cooking features to help consumers produce delicious results that those with a functioning appliance absolutely love.
But therein lies the rub; not every person who buys a Bella 10.5 quart convection air fryer gets a functioning unit. Many people report ill-fitting trays that have been known to fall out far too easily, while others have experienced the LCD itself coming away from the central unit. Serious questions have to be asked about the quality control tests this appliance experienced before being allowed on the market.
Cleaning this device can be challenging too. Though all the racks, trays, and holders are dishwasher safe, the interior is tricky to clean (especially after using the rotisserie), and the non-stick coating has been known to peel away.
Should you buy the Bella 10.5 Quart Air Convection Fryer Oven?
The Bella 10.5 convection air fryer had the potential to be Bella's best air fryer appliance by far. Unfortunately, it has been let down by several build quality issues that make this air fryer difficult to recommend. While it does produce delicious food, the problems with poorly fitting trays, peeling non-stick, and loose LCDs aren't worth the higher price point when the other Bella products are superior in cooking and reliability.
[toc]