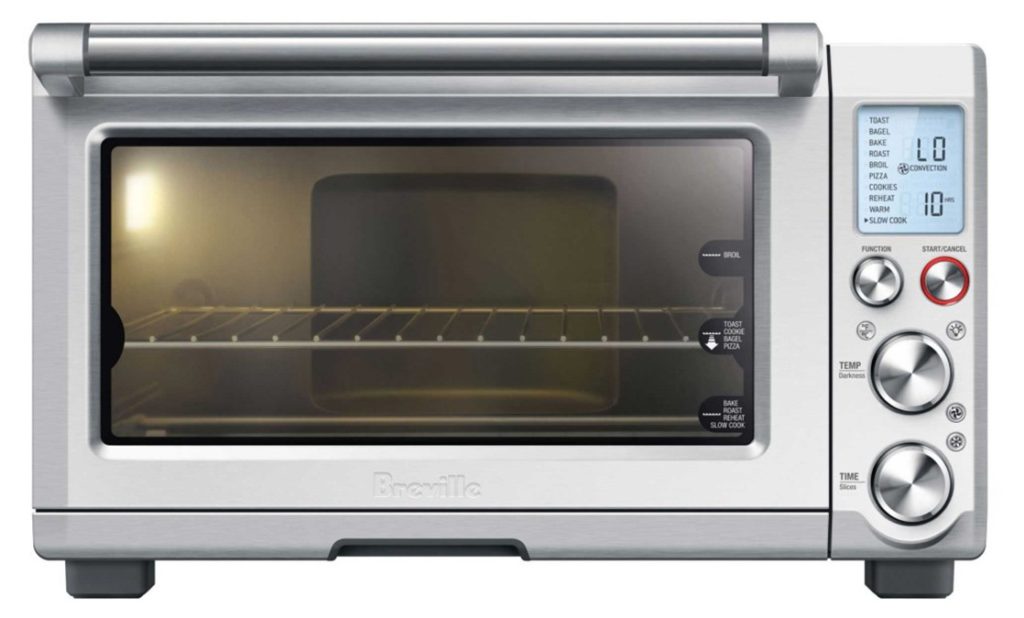 Disclaimer: I may receive commissions from purchases made via links at no cost to you
---
Quick review
The Breville BOV845 Smart Oven Pro is one of the brand's countertop ovens that is, on the face of it, remarkably similar to their other products.
There isn't much to differentiate the BOV845 from other Breville models regarding power output, functions, and capacity. At the same time, they gave them all very similar names making it challenging to tell them apart.
However, Breville took a different aesthetical path with their BOV845BKSUSC model and gave it a gloss black finish. While it's nice to have a different appearance to set it apart from other models, we feel it isn't quite as attractive as the stainless steel finish.
With a mid-to-large capacity, an 1800 watt power output, and ten cooking functions, this is a very capable model. However, the omissions of air frying capabilities and super-convection settings are notable absences.
This smart oven excels as a slow cooker and a toaster.
You can slow-cook all your tender cuts of meat, chillis, and curries at low temperatures for up to ten hours, which is very convenient if you want to start cooking dinner before you go to work.
The toaster feature works as well as any dedicated toaster and is a fan favorite for making toast, bagels, waffles, and garlic bread.
Breville's standard control panel is, as always, intuitive and relatively straightforward to use, and the LCD is well thought out and simple to read.
The accessories that come with this appliance are limited. Some of the pieces are of subpar quality, which is both frustrating and disappointing considering the steep price tag that comes with this Breville model.
Cleaning this appliance is a mixed bag. Parts of it won't give you any trouble at all, while the interior (particularly near the heating elements) can be a pain in the neck to clean.
Basic Information
Dimensions: 14.5″ x 18.5″ x 11″
Weight: 22 lbs
Wattage: 1800 Watts
Control Type: Digital
Temp Range: 120 – 500°F
Capacity: 23.9 Quarts (22.7 Liters)
Pizza Size: 13″ Pizza
Toast Capacity: 6 slices of bread
Preset Count: 10
Price Range: Breville's appliances are notoriously expensive. While the mid-to-high price point is the middle of the road as far as Breville machines go, it's still quite expensive compared to rival brands.
Power: All of Breville's countertop ovens come equipped with 1800 watts of power. That's a lot of energy for a compact appliance, which is beaten by very few rival ovens.
Temperature Range: The lower limit of the temperature range for this countertop oven begins at 120°F, which is used to keep food warm and for slow cooking. The maximum temperature is 500°F that you can use for broiling casseroles, steaks, and pasta bakes.
Capacity: The internal cooking capacity of the Breville BOV845 Smart Oven Pro is large enough to cook a 13" pizza, toast six slices of bread, or slow cook with a 4.4qt Dutch oven. This mid-sized capacity is suitable for two to four people.
Warranty: The limited 1-Year warranty that comes with this oven is hugely disappointing when you consider the hefty price point. Breville's customer support is well known for being particularly poor, making the short warranty even more worrying.
Design & Build Quality 8/10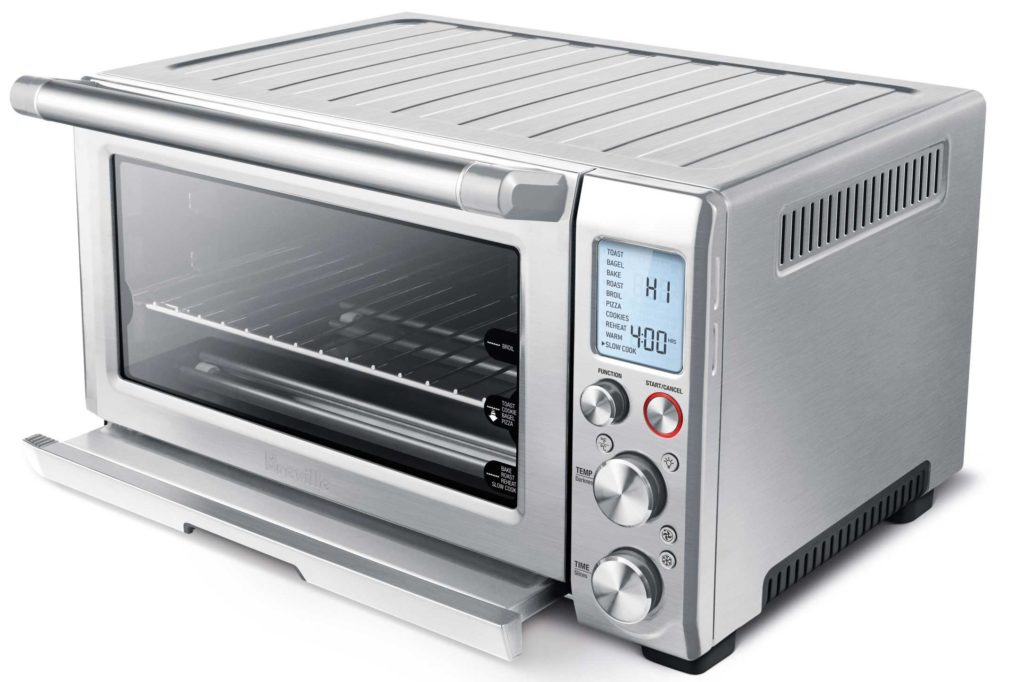 If you like Breville appliances but have become frustrated at stainless steel appliances saturating the market, the BOV845BKSUSC could be right up your alley.
While we don't think it's quite as attractive as the brushed stainless steel, it's refreshing to see the brand trying out a different look and it will appeal to some people.
Despite having similar control panels and layouts as its brothers and sisters, the black exterior gives it a completely different appearance.
The whole unit sits on four rubberized feet to stop it from sliding around your countertop. While round the back of the oven, you'll find a cord management system that doubles as a buffer to keep the appliance away from your wall.
At the front, you'll find a door with a good-sized viewing window so that you can watch your food cooking. There's an inner light that makes checking on your meals even more accessible.
Inside the oven, you'll find five quartz heating elements (three at the top, two at the bottom) that are powered by an enormous 1800 watts output and controlled by Breville's "Element IQ" technology (more on that later).
You have three choices of rack position, which you'll change depending on the function you're using, and Breville has kindly printed the recommended positions on the front of the glass door.
A magnet fixed to the inside of the door will partially pull out the oven rack when you open the door making it easier to get your food out when it's hot. This only works when you're using the central rack position, though.
There's an indentation to the rear of the inside of the oven, which helps accommodate the 13" pizza tray that accompanies this model.
Controls & Ease of Use 8.5/10
Breville has spent many years perfecting the control systems of their appliances to make feature-heavy ovens as straightforward to use as possible.
As a result, the control panels on all their ovens look incredibly similar.
The panel on the BOV845 consists of three turnable dials and five one-push buttons, and their traditional pale blue LCD.
You'll use the top dial to scroll through the various cooking functions, which are:
Toast
Bagel
Bake
Roast
Broil
Pizza
Cookies
Reheat
Warm
Slow Cook
The central dial is used to select your preferred temperature if you want to use custom cycles or tweak the existing functions, and you use it to choose the darkness of your toast and bagels.
The dial at the very bottom of the control panel is used for setting the cooking time or the number of pizza or toast slices you want to cook.
Simple one-touch push buttons round out the control system that you use to switch between Celcius and Farhengiht, turn on the convection setting, switch the interior light on and off, or let the appliance know that you're cooking a frozen meal.
If you choose the frozen food feature, the CPU will automatically add more time to the cooking cycle. The amount of time it adds depends on which cooking feature you're using.
And of course, there's the Start/Cancel button that needs little explanation.
If you choose to make tweaks and adjustments to the pre-programmed cooking settings, the Breville BOV845 will remember your changes for the next time. If you want to restore them to the original setting, unplug the machine from the wall, and everything will get reset.
Performance 7.5/10
The 1800 watt power output and five independent quartz heating elements are the beating heart of the Breville BOV845, which utilizes patented "Element IQ" technology.
This system uses internal sensors to seek out areas of the oven that has discrepancies in temperature. Onboard CPUs will cycle the independent elements on or off to compensate for differences in heat, creating an even temperature throughout.
However, while this system does an excellent job of regulating the temperature inside the oven, the outside gets really hot when cooking at high heat.
There is an auto-preheat system in place, which works quickly, though as there's no visible timer, you'll need to watch out for the interior light coming on (which signals the oven is ready) so you don't put your food in too early.
Toast & Bagels
While no appliance can toast bread perfectly (especially toaster ovens), the Breville Smart Oven BOV845 comes as close to toasted perfection as you can get.
While the toast function toasts the bread to the same doneness on each side, the bagel setting toasts the outside of the bagel a little more lightly than the inside.
French Garlic Bread
Make delicious baguette garlic bread in a little under 8 minutes. The middle of the bread will stay light and fluffy and moist from garlic butter, while the already crusty bread will be super crunchy.
Roast Chicken
The "Element IQ" technology really comes into its own when roasting a chicken. The even temperatures are excellent for delivering perfectly crisp chicken skin while maintaining tender and succulent meat.
Slow-Cooked Food
The mid-to-large cooking capacity can hold a 4-quart Dutch oven. You can slow-cook from between four to ten hours for amazing pulled pork, stews, and casseroles using the low-temperature range.
Steak
While the broil function works well with fish or browning off a casserole, it's not ideal for cooking steak if you like your meat rare to medium-rare.
Using the recommended rack position, you won't get a thick cut of meat between the pan and the heating elements, either.
Pizza
Cooking pizza in a convection oven should remove the need to rotate your pizza halfway through. However, we found for perfectly even pizza; you'll need to turn it midway through the cooking cycle, especially if you're cooking fresh pizza.
The issue was less pronounced with frozen pizza using the dedicated frozen foods button.
Keep Warm
The "Keep Warm" feature automatically switches on when your food has finished cooking and will keep your food warm without drying it out.
Reheating Food: The reheat function is one of our favorites and perfect for people who have a habit of cooking more food than they need. The low-temperature range gently reheats the food without drying it out or negatively impacting the flavor.
Results
Accessories 6.5/10
You don't get many accessories with this convection oven, which is a little disappointing considering the price point which is getting up there.
As standard, you'll get a 12" x 12" oven rack, which is essential for using this oven. A 13" non-stick pizza tray. A 12" x 12" enamel baking pan/drip tray, and an enamel broiling rack.
Multiple consumers have reported having issues with both the pizza tray and the broiling rack. The non-stick coating on the pizza tray is known to come away over time (though this is common in non-stick cookware), while the broiling rack is prone to warping under intense heat and close proximity to the independent heating elements.
While these accessories are easy to replace (indeed, you probably have cookware in your kitchen already that you can use with this oven), you'd expect better quality when you're spending such a large amount of money.
Cleaning 6/10
All the accessories and removable parts of the Breville BOV845 Smart Oven Pro are dishwasher safe and relatively easy to clean. Three of the accessories have either enamel or non-stick exteriors, which speeds up the cleaning process.
But as with all non-stick coated products, using harsh or abrasive chemicals and cleaning products to remove grease and grime will accelerate the deterioration of the pans, and you'll need to replace them sooner.
The removable crumb tray helps you avoid any tricky to clean breadcrumbs and food particles getting stuck in hard-to-reach areas, and it wipes clean with relative ease.
The interior also has a non-stick coating and is mostly easy to clean, especially if you wipe it down as soon as possible after cooking (being careful not to do it while the interior is super hot.
However, cleaning near the top heating elements can be particularly awkward and challenging to clean, so you'll need to be careful not to damage the essential parts.
We recommend cleaning the inside of the glass viewing window regularly too. If you neglect this area of cleaning, you'll find that grease quickly builds up on the glass, and the longer you leave it, the more difficult it will become to remove.
Delete this
Breville BOV845BSS Toaster Oven
Cheaper
Calphalon Performance Toaster Oven
If you're looking for a toaster oven that can rival a Breville product in terms of beauty, then the Calphalon 'Performance' toaster oven could be for you.

While it doesn't reach the heady height of the Smart Oven Pro in terms of performance, it's a suitable appliance in its own right and has an air fryer too.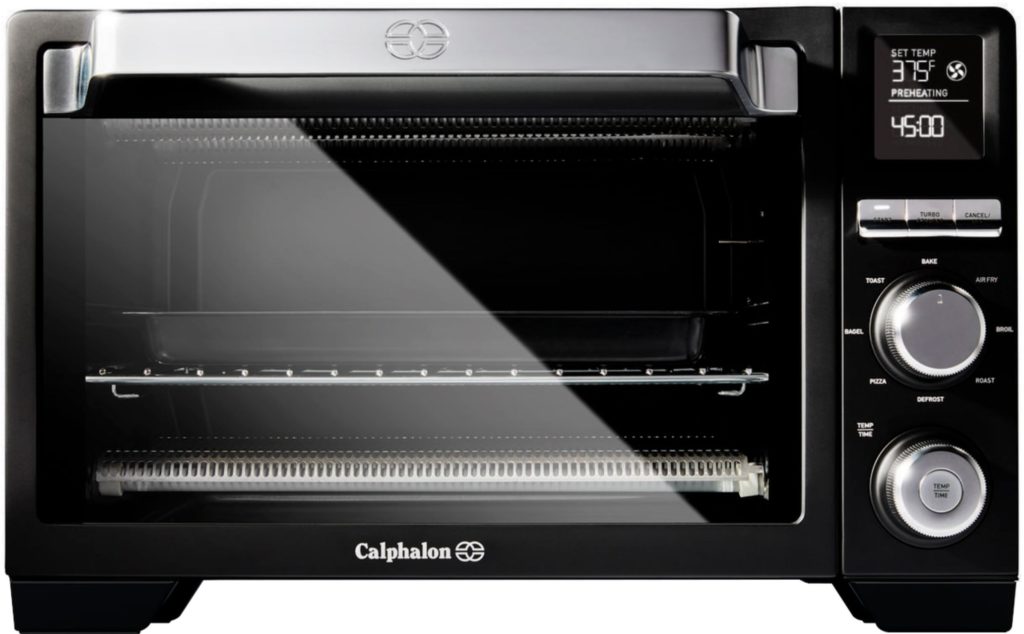 Higher price
Breville Smart Toaster Oven Air (BOV900BSSUSC)
The Smart Oven Air from Breville is the more expensive big brother to the Breville Smart Oven Pro.

They are essentially the same model. However, your extra money gives you air frying capabilities that you don't get with the Pro.