Disclaimer: we may receive commissions from purchases made via our links at no cost to you
Best Overall
Toshiba EM131A5C-BS
Few microwaves find the sweet spot between appearance and functionality as does the Toshiba 1.6 Countertop Microwave (B071WCB1T6). There's a reason it's one of the most popular small kitchen appliances on Amazon.

With a beautiful outward appearance, functional selection of features, and even an 'Eco Mode' for those people concerned about the environment, this Toshiba microwave is worth every penny of low price point, and then some.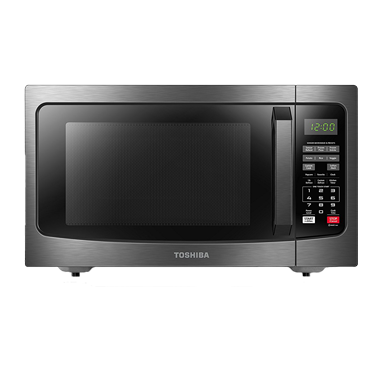 Best Value
Toshiba EM925A5A-SS
Getting 'value for money' isn't about buying the best examples of a product but finding a balance between quality and affordability. The Toshiba 0.9 countertop microwave is the epitome of the phrase.

Despite its super low price point, this microwave functions well, has some useful features, and is eco-friendly, with a trade-off being its slightly smaller capacity and lower power output than more expensive appliances.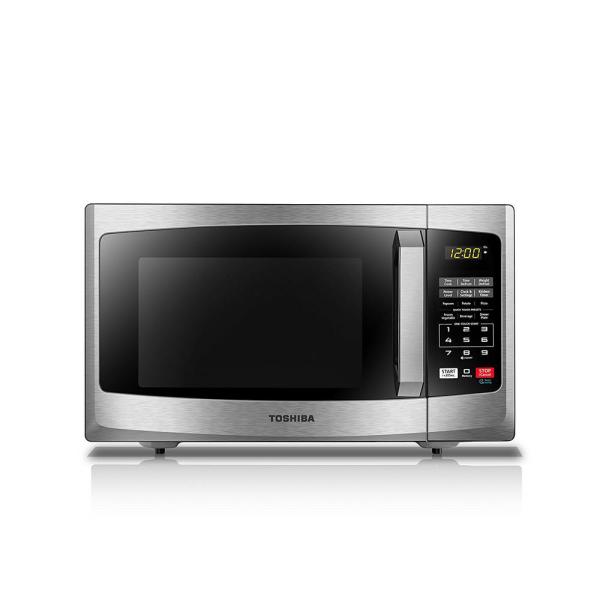 If you don't have the time to prepare and oven-cook complicated meals, and you need something more convenient, then microwaves are excellent tools for quickly and efficiently heating, defrosting, melting, or reheating food for your family.
Toshiba has been in business for over 140 years, and in that time, it became one of the world's leaders in home and small kitchen appliances. Today we're going to look at their range of microwave ovens and talk about our favorites. We base our opinions on affordability, appearance, build quality, durability, and performance.
Let's get started.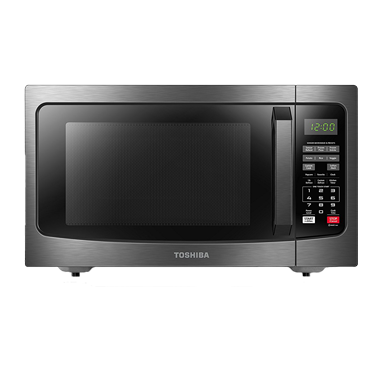 ---
Specifications
Type: Countertop
Dimensions: 17.14 x 20.51 x 12.83 inches
Appliance Weight: 34lbs
Capacity: 1.6 cu.ft
Turntable: Yes
Available Colors: Black Stainless Steel / Stainless Steel (EM131A5C-SS)
Wattage: 1100 Watts
Design, Construction & Capacity
Toshiba may have been around for years, but they design modern looking appliances that suit all contemporary kitchens. The black stainless steel finish is sleek and stealthy, which, unlike many rival brands, is fingerprint resistant to keep your appliance looking fresh.
The LCD is large and easily visible, the control panel is laid out neatly, and the buttons are written in a clean, bold font that's easy to read. While they're easy to read, they're not easy to press. The buttons are somewhat unresponsive and take a little more pressure to register the touch than you'd hope.
A mid-sized 1.6 cu.ft capacity is a good return on investment considering this Toshiba microwave's affordable price point.
Features
Sensor Cooking: Sensors in the microwave detect humidity levels in your food and adjust the time and power settings to ensure your food is cooked perfectly.
One-Touch Presets: The Toshiba 1.6 countertop microwave comes equipped with a bunch of presets to remove the guesswork from cooking. They include frozen pizza, frozen entree, potato, rice, veggie, popcorn, and 1lb defrost.
Soften/Melt: Softening hard foods is a precarious task; this 'soften/melt' feature ensures you'll never overdo it again.
Eco Mode: The Eco Mode will reduce the stand-by running costs by up to 50% compared to rival models. Saving you money on your utility bills and protecting the environment.
Easy-Clean Interior Coating: A scratch, stain-resistant coating inside this Toshiba microwave makes the clean-up process a breeze.
Silent Mode: If you don't like the obnoxious notification beeps that often accompany microwave ovens, you can switch to silent running mode for a more peaceful experience in the kitchen.
Performance
The Toshiba 1.6 microwave is one of the most popular countertop appliances on Amazon, outselling their rivals by thousands. One of the primary reasons for its popularity is first-class performance.
With 1100 Watts of power, this microwave makes easy work of cooking and reheating. However, that same power seems to be a little overbearing on defrosting settings, which many consumers say goes past defrosting and steps into 'cooking' territory. It will require a period of testing to determine the optimal settings.
Should you buy the Toshiba 1.6 Countertop Microwave?
If you're looking for an effective microwave that looks great, has plenty of practical features, and won't break the bank, you could do worse than considering this appliance. Very few small kitchen appliances on the market offer a comparable value for money as the Toshiba 1.6 countertop microwave. We think it's the best countertop microwave made by Toshiba.
Best Value TOSHIBA Microwave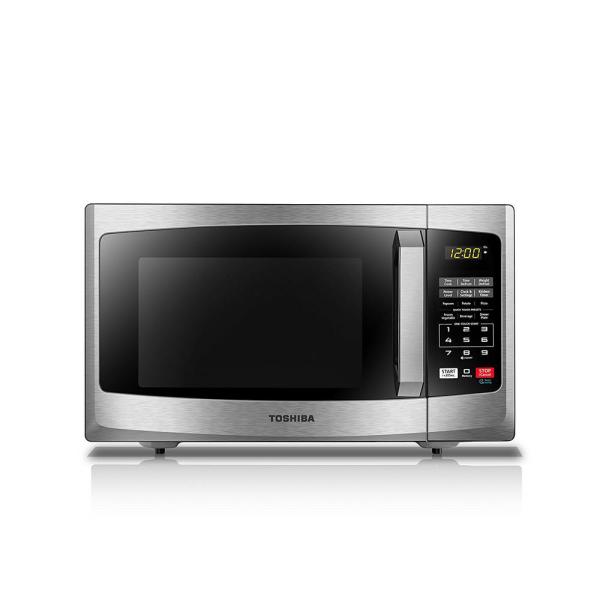 ---
Specifications
Type: Countertop
Dimensions: 15.91 x 19.15 x 11.48 inches
Appliance Weight: 27.3lbs
Capacity: 0.9 cu.ft
Turntable: Yes
Available Colors: Stainless Steel / Black Stainless Steel (EM925A5A-BS)
Wattage: 900 Watts
Design, Construction & Capacity
There are many similarities between the outward appearance of this Toshiba microwave and the exceedingly popular B071WCB1T6 model. The general design is the same, though the appearance of the control panel buttons is marginally changed to reflect the minor difference in features.
The stainless steel finish is exquisite, though disappointingly, it only makes up the front of the appliance while the sides and top are made from less attractive materials.
With only 0.9 cu.ft of cooking space, this Toshiba microwave is a compact appliance that won't take up much space in your kitchen. It's relatively light too, which is appealing to many people. However, because it doesn't weigh much, you'll find you get some movement from this microwave when you open the door, as the handle/door mechanism is a little stiff.
Features
Preset Menu: Six pre-programmed settings for cooking your favorite foods. These include popcorn, potato, pizza, frozen vegetable, beverage, and dinner-plate.
Silent Mode: Turn off the notification beeps for a quieter experience.
Energy Saving Mode: The 'Eco Mode' reduces the amount of energy this appliance consumes in 'Stand By' by up to 50% to make your microwave more energy efficient, reduce your utility bills, and protect the environment.
Easy Defrost: Defrost your food based on time or the weight of the products you're using.
One-Touch Start: Select between one to six minutes for a quick and easy start.
Child-Safety Lock: Safety features are essential to keep small people safe.
Add 30 Seconds: Quickly add extra time to your cooking.
Performance
The 900 Watts of power that accompanies the 0.9 cu.ft microwave is more than sufficient to ensure everything that goes into this compact appliance is heated, defrosted, or reheated efficiently. Small amounts of food on dinner plates and in bowls take very little time to get up to optimal temperature.
While the cooking performance of this microwave is good, the performance of the interior light is not. Many consumers have found that after 1 to 2 years of ownership, the light inside begins to flicker before dying completely. The consumer can't replace it without returning the appliance to the manufacturer.
This issue doesn't seem to be linked to the longevity of the functionality of the microwave, but enough consumers have encountered this problem that it's certainly worth mentioning.
Should you buy the Toshiba 0.9 Countertop Microwave (EM925A5A-SS)?
Compact and basic microwaves are very popular with people who have smaller kitchens, only want a microwave for occasional use, or are looking to downsize from larger appliances. The Toshiba 0.9 countertop microwave is a highly rated basic machine that's fast, efficient, eco-friendly, but most importantly, it's very affordable.
3. Toshiba ML-EC42P Countertop Microwave
---
Specifications
Type: Countertop
Dimensions: 21.77 x 21.5 x 12.99 inches
Appliance Weight: 53.5lbs
Capacity: 1.5 cu.ft
Turntable: Yes
Available Colors: Black Stainless Steel
Wattage: 1000 Watts
Design, Construction & Capacity
All three of the Toshiba microwaves we've looked at in this article are easy on the eye, though we think the Toshiba 1.5 ML-EC42P(BS) is the most attractive of them all. The sleek black stainless steel finish is fingerprint resistant, and the cool curves of the window add a nice contrast.
This appliance's control panel has a classic appearance and is neatly laid out, though the abundance of listed features could be daunting to some. To make matters worse, the instruction manual is poorly written and ambiguous, which doesn't adequately explain how to use all the features.
The internal LED is bright and allows you to keep a watchful eye on your food as it cooks. Unfortunately, many customers have had issues with the LED failing over time, which requires considerable time and effort to get it repaired.
With a 1.5 cu.ft internal capacity, this Toshiba Microwave is a mid-sized appliance that is suited to couples and small families.
Features
Air Frying: With air frying capabilities, the Toshiba 1.5 countertop microwave is one of the few combination microwaves with this feature. It comes with presets for frozen french fries, frozen oven rings, frozen chicken nuggets, and chicken wings. You shouldn't expect results that real deep fryer will bring.
Convection Oven Capabilities: This appliance isn't just a microwave and an air fryer; it's got convection capabilities so that you can cook crispy food too. There's a selection of presets to work alongside the oven: chicken legs, chicken tenders, coconut tenders, fish sticks, spring rolls, and mozzarella sticks.
Eco-Mode: Like the two other Toshiba appliances we've viewed today, this microwave uses 50% less energy while on 'stand-by' than traditional models.
Sensor Cooking: An internal sensor automatically adjusts power levels and cooking time-based on the food's humidity.
Position Memory Turntable: The turntable inside this microwave will return to its original starting position, so you'll find any dishes, mugs, or cups will have the handles exactly where you left them.
Performance
The standard microwave option functions as you would expect, with the 1000 Watts power output easily coping with heating and reheating tasks with minimal fuss. Consumers are especially pleased with how this Toshiba appliance defrosts evenly without starting to cook your food. However, it's deafeningly loud when in operation.
The 'convection' option, too, works relatively well, giving you the ability to cook crispy and juicy chicken more quickly than you can in a traditional oven. Unfortunately, when using the convection oven, this appliance omits a particularly strong plastic smell. That odor doesn't contaminate your food, though it's an unpleasant assault on your nostrils.
Having an air fryer feature is rare for a microwave, and while it's nice in theory, the results are ok at best and not a real substitute for a dedicated air fryer.
Should you buy the Toshiba 1.6 Countertop Microwave (ML-EC42P(BS)?
Considering the significant number of features and cooking methods included with the Toshiba 1.6 Countertop Microwave (ML-EC42P(BS), the price point is relatively low, though it feels like the company has tried to cram too much into a small space, which causes confusion among consumers.
However, despite our concerns with some aspects of this appliance, it's still an excellent choice of the microwave for a reasonable price.