Best Deep Fryers Make Crispy Food Without much Hassle
Disclaimer: we may receive commissions from purchases made via our links at no cost to you
Best Overall
T-fal 3.5-Quart Deep Fryer (FR8000)
T-fal's FR8000 deep fryer is our favorite appliance of this type, thanks to its intelligent oil filtration system that removes the fatty odors and automatically drains and cleans the oil so you can use it multiple times s too.

Though the basket is a little shallow, the T-fal deep fryer can still produce restaurant-quality food and is super easy to clean.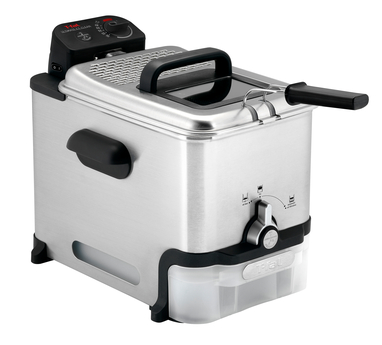 Best Value
Presto FryDaddy 1-Quart Electric Deep Fryer (05420)
The Presto FryDaddy is a super affordable yet deceptively accomodating deep fryer. Though this compact appliance has only a single quart cooking space, the lack of a basket means you can cook more than you'd think. It's perfect for single people or couples and is super easy to clean.

Though deep-fried food is somewhat frowned upon, it's ok to indulge yourself from time to time with a batch of crispy fries, spicy chicken wings, or some soft and sweet donuts.
Home deep fryers are a great way to treat you and your family to some delicious deep-fried food without leaving the comfort of your house. Air fryers have boomed in popularity but their performance is still lacking for truly crispy foods. We're going to look at some of the most highly rated deep fryers on the market, comparing capacities, features, performance, and reliability to determine which one is right for you.
1. T-fal 3.5-Quart Deep Fryer (FR8000)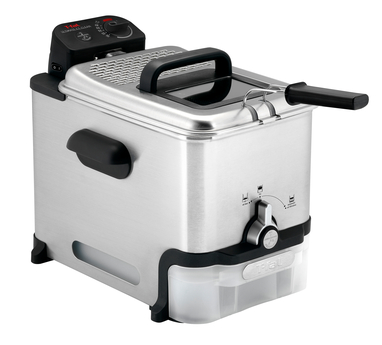 ---
Specifications
Dimensions: 18.3 x 13.7 x 14.8 inches
Appliance Weight: 12.4 lbs
Capacity: 3.5 quarts
Available Colors: Silver
Wattage: 1700 Watts
Things To Love:
Patented Oil Filtration System: T-fal's patented EZ Clean system automatically filters your oil to make it reusable again and again, saving you time and money.
Restaurant Quality Results: Consumers are delighted with the food this deep fryer produces. However, it's essential to choose quality oils to cook with.
Super-Fast Heating: You won't have to wait long to cook delicious deep-fried food as the T-fal 3.5-quart fryer gets up to temperature fast and retains heat superbly.
Dual Position Basket: Like commercial fryers, the T-Fal deep fryer has a secondary holder to drain your food when it's finished cooking without leaving a mess.
Easy To Clean: Cleaning fryers can be a messy business; however, almost every component of the T-fal deep fryer (aside from the power cord and heating element) is removable and dishwasher safe.
Stay-Cool Handle: While this unit's exterior might get hot during use, the stay-cool handle lets you steady the ship without burning your hand.
What's Not To Like?
Not As Deep As It Looks: Many consumers are disappointed at how shallow this oil container is compared to how it looks, making it difficult to fry larger portions of food.
Incorrect Oil Levels: Eagle-eyed consumers have noticed that the Min/Max level window is inaccurate, and you'll need more oil to fill the appliance than the manual suggests.
Final Verdict
T-fal's 3.5-quart deep fryer is one of the best-selling, highly-rated products of this type on Amazon. This excellent appliance quickly cooks deep-fried food to the highest standard, while the filtration system keeps your oil fresh, so you can use it again and again and still get consistently delicious results.
The patented EZ Clean system doesn't only save you money on oil but also makes the whole unit super easy to clean, giving it a massive advantage over other appliances. It's worth noting that despite having a good-sized capacity, this T-fal fryer's cooking space is a little shallow, which makes it challenging to fry larger items.
2. Presto FryDaddy 1-Quart Electric Deep Fryer (05420)
---
Specifications
Dimensions: 8.38 x 8.13 x 7.38 inches
Appliance Weight: 3 lbs
Capacity: 1 quart
Available Colors: Black
Wattage: 1200 Watts
Things To Love:
Super Affordable: The Presto FryDaddy is one of the most affordable deep fryers on the market and an excellent low-risk gateway into deep frying.
Deceptively Spacious: With only 1 quart of cooking space, this is a relatively small machine, but the absence of a basket (we'll cover that shortly) means you can still cook enough food for a decent-sized meal.
Straightforward To Use: There are no complex control systems, dials, and switches on this appliance; just turn it on, and the FryDaddy will take care of the rest.
Compact & Lightweight: This portable deep fryer has a tiny footprint and only weighs 3lbs, so it's easy to move and store.
Easy To Clean: An effective non-stick coating makes the clean-up process simple. Just remove the oil and wipe it clean. There's no messy basket to clean either.
Snap-On Lid & Magnetic Power Cord: Store your oil odor-free thanks to the snap-on lid, while a magnetic power cord is an excellent safety feature to help you out in emergencies.
What's Not To Like?
Heats To Only One Temperature: While the simplicity of the Presto FryDaddy is appealing, the lack of temperature dials limits your cooking options somewhat.
Lacks a Basket Strainer: While it's true that the lack of a basket increases the cooking capacity and reduces the number of components you need to clean, it makes it far trickier to remove your food from the fryer.
Final Verdict:
Presto's deep fryer is a favorite for small families or individuals who prefer to deep fry in lower quantities. It's easy to use and lightweight. It has a magnetic power cord that you can easily detach in emergencies and for easier cleaning.
Presto cut a few corners to keep the price point low. It doesn't have a basket strainer, so removing food from the fryer is a challenge. There is no heat setting, which means it only heats to 375 degrees, and there's no thermostat to let you know when the oil is hot enough to use.
However, the Presto FryDaddy deep fryer easily gives you the best bang for your buck for the super affordable price point.
3. Secura 4.25-Quart Electric Deep Fryer (L-DF401B-T)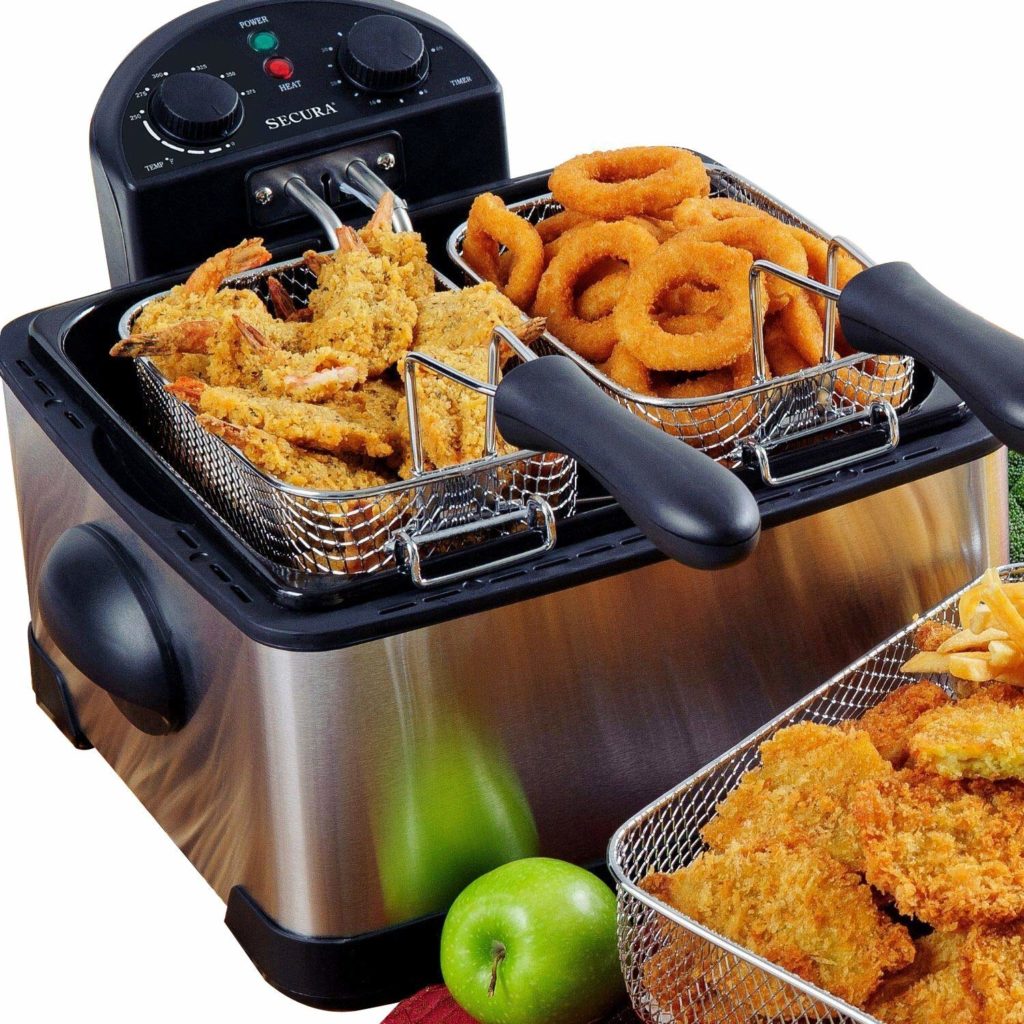 ---
Specifications
Dimensions: 15.5 x 14.5 x 9.5 inches
Appliance Weight: 11.65 lbs
Capacity: 4.25 quarts
Available Colors: Silver
Wattage: 1700 Watts
Things To Love:
Cooks More Than One Food Type At Once: The Secura deep fryer comes equipped with three baskets (2 small, 1 large), so you can cook two different foods at the same time, like wings and fries.
Large Capacity: This deep fryer is the perfect choice for big families as the 4.25-quart capacity can cook huge batches of food.
Removable Oil Tank For Easier Cleaning: Cleaning deep fryers is a messy business, but Secura has simplified the process with a removable oil tank, making cleaning far more manageable.
Adjustable Timer & Auto Shut-Off: Unlike the Presto FryDaddy, this deep fryer allows you to set the cooking time and will automatically shut down when it's finished.
Stay-Cool Exterior: Deep fryers geet extremely hot, but the stay-cool exterior keeps your hands and any nearby cupboards safe.
What's Not To Like?
No Heating Protection Under The Fryer: While the stay-cool exterior works well, it's limited to the sides of the appliance. Underneath the fryer still gets very hot, so be careful where you place it.
Quality Issues: The addition of three baskets is a massive plus for this appliance, but their quality is not. The same can be said for the timer dial, which has been known to break easily.
You Have To Set The Timer To Heat The Oil: There's no warm-up feature on this deep fryer; in fact, you can't heat the oil without setting the timer, which is a minor annoyance.
Final Verdict:
Secura's deep fryer is a versatile appliance that can cook multiple foods simultaneously thanks to separate food baskets and a large cooking capacity. With a removable oil tank, this deep fryer is easy to clean, and a couple of safety features are reassuring too.
However, some build quality issues ruin what an otherwise excellent appliance. The baskets aren't stainless steel and prone to rust, the timer dial is weak and prone to failure, and the stay-cool exterior doesn't extend to the underside. All in all, it's a disappointing end to a promising deep fryer.
4. Cuisinart 4-Quart Deep Fryer (CDF-200P1)
---
Specifications
Dimensions: 12.75 x 18.25 x 12.5 inches
Appliance Weight: 11.5 lbs
Capacity: 4 quarts
Available Colors: Stainless Steel
Wattage: 1800 Watts
Things To Love:
Cooks Quickly and Evenly: The Cuisinart deep fryer is fast and efficient, cooking your food more quickly than most other devices.
12 Minute Heating: It takes only 12 minutes for this deep fryer to heat its 4-quart capacity.
Dishwasher Safe: Aside from the prominent electrical parts, all the components that come into contact with food are dishwasher safe, so this fryer is a cinch to clean.
Built-in Timer: With a built-in timer, you can 'fire & forget', as much as you dare with a deep fryer.
Temperature Indicator Light: The Cuisinart deep fryer lets you know when the oil reaches the required temperature.
What's Not To Like?
Thermostat Inaccuracies: Thermostat readings have been shown to be off by as much as 50 degrees, leading to undercooked food or food that's burnt to a crisp. However, this isn't an issue with every unit.
Large Capacity, Shallow Depth: This Cuisinart fryer suffers from the same affliction as the T-fal appliance. It has a good overall capacity but is too shallow to cook larger items without turning them halfway through.
Some Sharp Sections Inside: There's a couple of rough areas on the interior of this deep fryer that could cause some serious damage to your hands or arms if you're not careful.
Challenging To Empty: There's no lip or pour spout on this device which makes removing old oil a nightmare.
Power Cord Issues: The magnetic power cord is a bit too short and falls away too easily.
Final Verdict:
With a rapid heating element, dishwasher safe components, and evenly cooked food, the Cuisinart's deep fryer had the potential to be an excellent fryer, but the poorly designed cooking capacity and inaccurate thermostat make it difficult to recommend this product, especially when you consider the higher than average price point.
5. Hamilton Beach 3-Quart Deep Fryer (35033)
---
Specifications
Dimensions: 10.2 x 6.82 x 8.9 inches
Appliance Weight: 8.6 lbs
Capacity: 3 quarts
Available Colors: Stainless Steel
Wattage: 1500 Watts
Things To Love:
Reasonable Price Point: Though not as cheap as the Presto FryDaddy, this Hamilton Beach deep fryer won't put a huge dent in your bank account and has a superior cooking capacity.
Splatter-Free Vented Window: Check on your food while it cooks without oil splashing all over your work surfaces with this handy viewing window.
Hooked Basket: Drain the fat from your food with ease, thanks to the hands-free hooked basket.
Adjustable Temperature With Light Indicator: Pick your preferred cooking temperature with an easy-to-use dial, and the Hamilton Beach deep fryer will let you know when it's ready to use.
Removable Heating Element: Take the heating element out of the fryer and give it a deep clean to reduce nasty odors and prolong the life of your fryer.
What's Not To Like?
Inaccurate Temperature Setting: While the adjustable temperature setting is a nice feature, a few consumers have complained that it's not accurate, leading to burned food.
No On/Off Switch: Oddly, there's no on/off switch on this deep fryer, so you'll need to unplug it from the wall to turn it off.
The Timer Isn't Back-Lit: Viewing how long remains in a cooking cycle can be tricky as the timer is not back-lit.
Final Verdict:
The Hamilton Beach deep fryer could have been the best value appliance on our list were it not for the inaccuracies of the temperature gauge. That doesn't mean this isn't a good fryer; it will just need a little trial and error when you first start using it.
Many excellent features on this deep fryer make cooking and cleaning super easy and for an affordable price point. That's assuming you can make your peace with the inaccuracies of the product.
[toc]