Disclaimer: we may receive commissions from purchases made via our links at no cost to you
Best Overall
Toshiba's EM131A5C-BS
Toshiba's EM131A5C-BS powerful microwave can make light work of all your cooking, defrosting, and reheating tasks, and it's packed with only useful features that are easy to use thanks to the clear and concise control panel.

While this Toshiba appliance's operation is simple and effective, the defrost function might take a little getting used to as it's slightly overpowered. Despite the impressive quality of this microwave, it comes with a surprisingly affordable price point.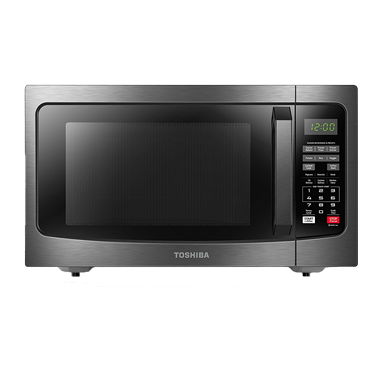 Best Value
Amazon Basics Countertop Microwave
The 'Amazon Basics' range is well named. They're affordable yet straightforward products that leave out complicated and expensive features to bring consumers appliances that perform the primary function with minimal fuss.

This compact microwave might feel a little underpowered, but it can achieve decent results if you give it simple tasks to do. With the added bonus of voice activation, the Amazon Basic microwave is one of the most wallet-friendly appliances you can find.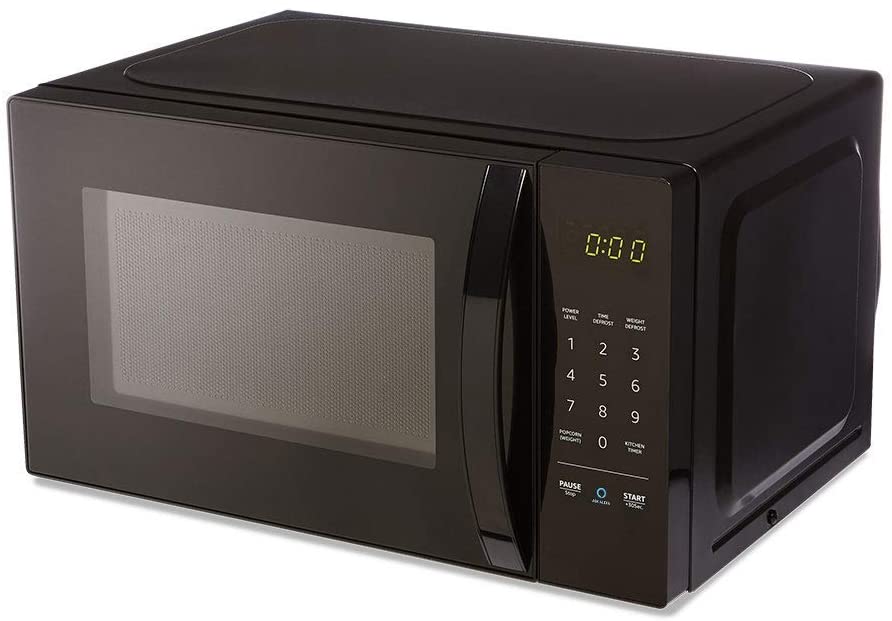 Microwaves are excellent tools for quickly and efficiently heating, defrosting, melting, or reheating food for your family. Countertop appliances can be easily positioned wherever you want in your kitchen (as long as there's a power outlet nearby). However, they take up workspace in your kitchen, so choosing the right appliance to fit your needs is essential.
Today we're going to look at a wide range of our favorite countertop microwaves to help you make the right choice. We base our opinions on affordability, appearance, build quality, durability, and performance.
Best Countertop Microwave
1. Toshiba EM131A5C-BS Countertop Microwave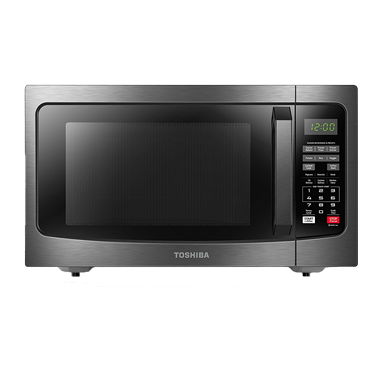 ---
Specifications
Type: Countertop
Dimensions: 20.5 x 17.1 x 12.8 inches
Appliance Weight: 33lbs
Capacity: 1.2 cu.ft
Turntable: Yes
Available Colors: Black Stainless Steel / Stainless Steel (EM131A5C-SS)
Wattage: 1100 Watts
Things To Love:
Stylish Appearance: Toshiba seems to have the knack for producing excellent looking appliances. Their microwaves share a DNA and have similar exterior designs that look stylish, with stainless steel finishes and sharp control panels.
Powerful Appliance: With 1100 Watts of power, there is more than enough energy to quickly and easily cook, reheat, or defrost food, especially when you consider its modest capacity.
Sensor Cooking: A built-in sensor detects humidity levels inside your food to determine how long and what power level the microwave needs to be on. This type of sensor is usually reserved for higher-end appliances.
Auto-Defrost: Input the weight of your food, and the Toshiba (EM131A5C-BS) will calculate the time and power levels to most efficiently defrost the contents.
Eco-Mode: When in standby mode, this Toshiba appliance uses 50% less energy than other standard microwaves.
Easy to Clean: The interior is made from a toughened, hard-wearing material that's both scratch and stain-resistant.
Sound On/Off: Run your microwave (somewhat) silently by switching off the control panel audio and notification beeps.
What's Not To Like?
Aggressive Defrost Cycle: While the auto-defrost feature is a useful function, the 1100 Watts of power seems to be too much, and the defrost cycle goes too far. A little testing is needed to find the best settings.
Stainless Steel Finish Only on the Front: The beautiful black stainless steel material used on this Toshiba microwave exterior is only present on the machine's face. The top and side are made from an inferior looking material.
Final Remarks
Toshiba's EM131A5C-BS countertop microwave represents the very best of affordable small kitchen appliances. It's beautiful (for the most part), intuitive, and crammed full of helpful features. While it's not perfect, it's as close as you'll get for such a small price point.
Best Value Countertop Microwave
2. Amazon Basics Countertop Microwave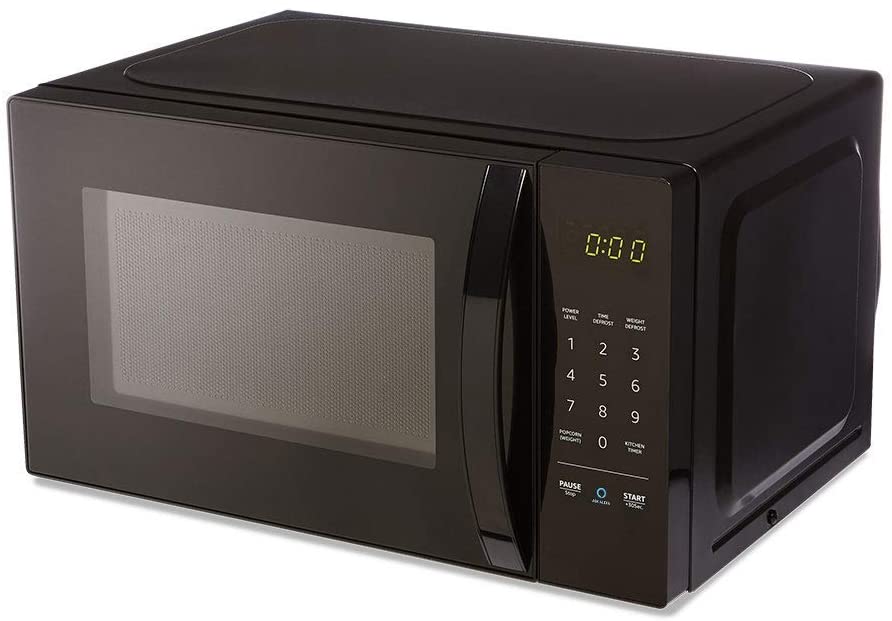 ---
Specifications
Type: Countertop
Dimensions: 17.3 x 10.1 x 14.1 inches
Appliance Weight: 21.9lbs
Capacity: 0.7 cu.ft
Turntable: Yes
Available Colors: Black
Wattage: 700 Watts
Things To Love:
Super Affordable: There's no need to spend hundreds of dollars on expensive high-end microwaves if all you want is a basic appliance to reheat pizza and warm cups of coffee. Even if you choose an Amazon Basic 0.7 microwave that comes with an Echo Dot, this microwave is cheaper than most.
Compact Design: Not everyone wants a massive microwave to cook meals for their whole family. Some folks only need a small appliance for occasional use or have limited kitchen space. This Amazon Basics microwave fits the bill.
Voice Activated: If you own an Echo device (or buy this appliance that comes with one), you can use voice activation to get your cooking and reheating underway quickly.
Popcorn Preset: Popcorn is a staple of the microwave, and this pre-programmed setting makes cooking perfect popcorn easier.
Child-Safety Lock: This simple safety feature ensures little hands are kept away from potentially hot food.
Add 30 Seconds: If you're not satisfied that your food is sufficiently hot enough, quickly extend the cooking time by 30 seconds with the single push of a button.
What's Not To Like?
Takes a While To Heat Food: Because this is a small microwave with a lower than average power output, it'll take longer than most other appliances to cook, reheat, and defrost your food.
Final Remarks
As the name of this Amazon Basics microwave suggests, the bells and whistles on this tiny appliance are minimal, as is the cooking space. But this product is aimed at people who want a small microwave for small and occasional cooking tasks. Don't expect anything special, but for the ridiculously low price point, this microwave represents tremendous value for money.
3. LG NeoChef LMC2075ST Countertop Microwave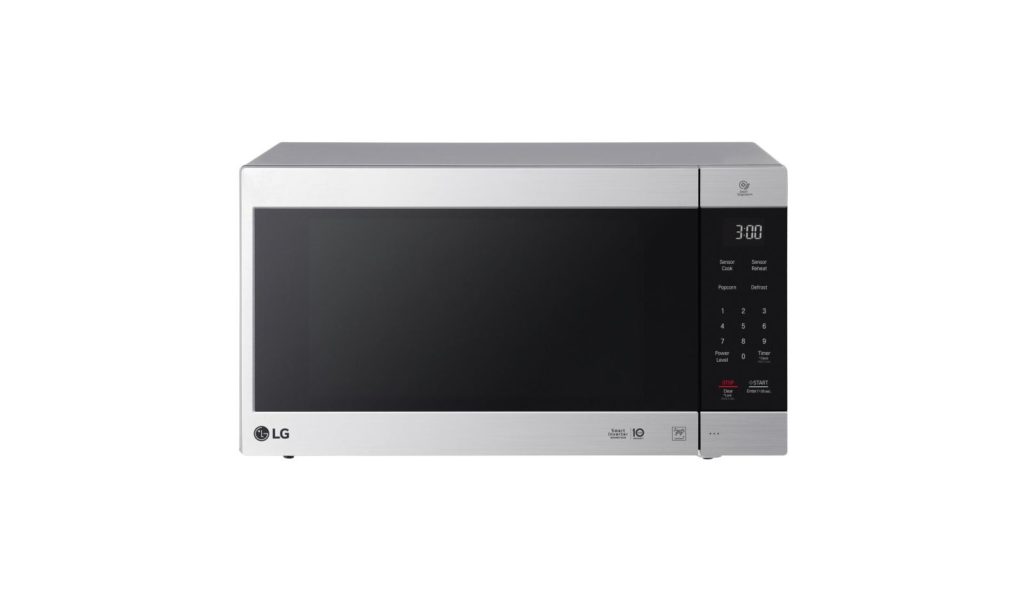 ---
Specifications
Type: Countertop
Dimensions: 23.8 x 13.5 x 19.8 inches
Appliance Weight: 36.4lbs
Capacity: 2.0 cu.ft
Turntable: Yes
Available Colors: Stainless Steel / Black Stainless Steel (LMC2075BD)
Wattage: 1200 Watts
Things To Love:
Big & Powerful: The enormous 2.0 cu.ft of cooking space and substantial 1200 Watts of power ensures this microwave can tackle any cooking tasks, large or small, with ease.
Cooks Evenly: The LG' sensor cooking technology' will adjust the time setting depending on humidity levels to help you avoid under/overcooked food. While the 'Smart Inverter' delivers variable power when cooking for more evenly cooked meals.
EasyClean Technology: A unique 'EasyClean' anti-bacterial coating makes keeping this appliance sparkling clean a cinch.
'SmoothTouch' Glass Control Panel: This beautiful control panel is easy on the eye and super responsive for ease of use.
Secret Door Button: The door release button is integrated into the appliance's front, hidden from view, making you feel like a secret agent when you're using it.
What's Not To Like?
Not Many Features: This LG Microwave is relatively expensive for a countertop appliance, but it doesn't have many features. Because it's super powerful, you'll need a lot of trial and error to find the right settings for you.
Door Doesn't Open Past 90 Degrees: It's challenging to put larger trays and dishes into this LG microwave as the door doesn't open widely.
Fingerprint Magnet: The stainless steel exterior picks up fingerprints so easily you'll be regularly cleaning your appliance. The lack of a handle compounds the situation.
Final Remarks
The LG NeoChef (LMC2075ST) 2.0 countertop microwave is an enormous appliance in terms of both cooking space and power. Its size and efficiency make it an excellent choice for large families, though you don't get much in the way of features despite the high price point.
4. Panasonic NN-SN686S Countertop Microwave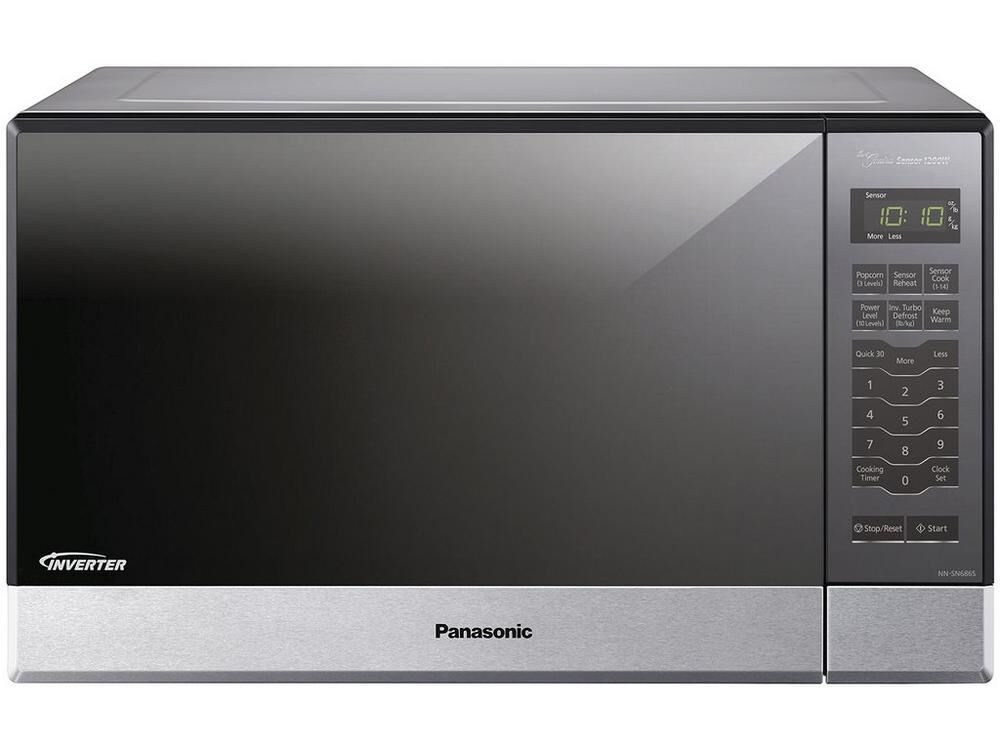 ---
Specifications
Type: Countertop
Dimensions: 15.81 x 20.69 x 12.25 inches
Appliance Weight: 20.5lbs
Capacity: 1.2 cu.ft
Turntable: Yes
Available Colors: Stainless Steel / Black (NN-SN651B) / White (NN-SN651WAZ)
Wattage: 1200 Watts
Things To Love:
Looks Great: Panasonic's space-age microwave has a superbly futuristic design that will suit most modern kitchens.
Turbo-Defrost: The 'Turbo-Defrost' feature on this microwave is a firm favorite amongst consumers. The powerful wattage alongside a smaller capacity means this appliance can defrost frozen goods faster than most other devices.
Genius Sensor & Inverter Technology: Using food type rather than weight, the 'Genius sensor' is more effective than other cooking technology. At the same time, the inverter delivers the correct amount of power for evenly cooked food.
'Keep Warm' Function: Panasonic's NN-SN686S microwave will keep your food warm until you're ready to eat.
What's Not To Like?
Super Loud: While the 1200 Watt power output helps this Panasonic microwave perform excellently, it's ridiculously loud when you're cooking or defrosting.
Control Panel Not Back-Lit: While we think the control panel looks superb, that design falters at night time as it doesn't have a backlight, which makes it difficult to see.
Fingerprints Everywhere: Like many stainless steel appliances without a special coating, this microwave picks up fingerprints like crazy.
Final Remarks
The Panasonic NN-SN686S is a small to mid-sized appliance backed up by a mammoth 1200 Watt power output for ease of cooking. To ensure this powerful machine doesn't ruin your food, Panasonic has included some impressive technology that ensures your meals are cooked, defrosted, and reheated to perfection. It comes at a reasonable price too.
5. GE JES2051SNSS Countertop Microwave
---
Specifications
Type: Countertop
Dimensions: 24 x 13.75 x 19.5 inches
Appliance Weight: 48lbs
Capacity: 2 cu.ft
Turntable: Yes
Available Colors: Black / Stainless Steel (JES2051SNSS) / White (JES2051DNWW)
Wattage: 1200 Watts
Things To Love:
Great for Large Families: With 1200 Watts of power and a substantial 2.0 cu.ft internal capacity, this microwave is an excellent choice for people with large families who are looking for a new appliance.
Delayed Start: Choose a time in advance when the microwave should start cooking so your food is ready to eat when you get home.
Control Lockout: Guard against accidental activation of this super responsive control panel with this sensible safety feature.
Beeper Volume Control: This simple function allows you to choose the volume of your microwave's notification beeps to make them less annoying.
Weight & Time Defrost: This microwave automatically sets the optimal defrosting time based on your food's weight.
What's Not To Like?
Relatively Expensive: While the price point of this microwave doesn't reach the heights of over-the-range or built-in appliances, it's still relatively expensive for a countertop device.
Super Loud: Frequently, microwaves with high power outputs can be pretty loud during use. Even by usual standards, this particular appliance goes beyond the norm.
Small Buttons: There are many buttons on this GE microwave to accommodate all the features; unfortunately, they're pretty small, which could prove challenging for folks with large hands. The haphazard layout doesn't help matters.
Final Remarks
While the price point of the GE (JES2051SNSS) 2.0 countertop microwave is considerably higher than all the other appliances we've looked at today, it's still a solid and dependable appliance that's an excellent choice for people who need a substantial cooking space. Sure, it's a little loud, and the buttons are too small, but it'll cook your food quickly and efficiently with minimal fuss.
6. Nostalgia RMO4AQ Retro Countertop Microwave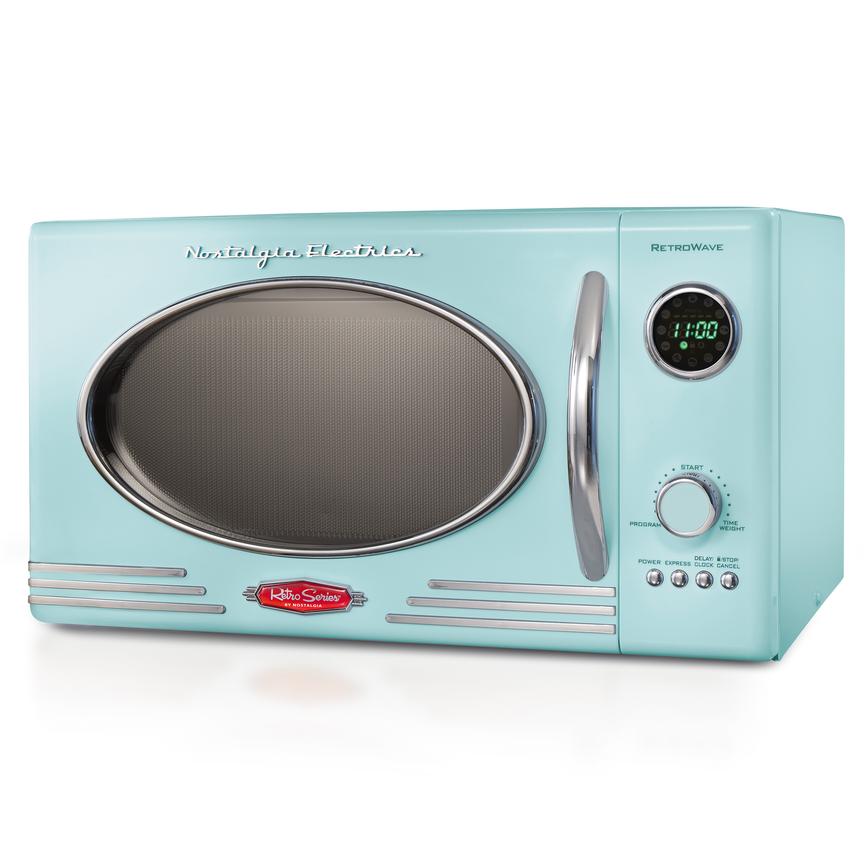 ---
Specifications
Type: Countertop
Dimensions: 19 x 17.9 x 11 inches
Appliance Weight: 30lbs
Capacity: 0.9 cu.ft
Turntable: Yes
Available Colors: Aqua / Ivory / Jet Black / Metallic Retro Red / Seafoam Green
Wattage: 800 Watts
Things To Love:
Retro Appearance: The Nostalgia 0.9 Retro microwave is all about the styling. This brand nailed the 1950s design with soft pastel colors and Cadillac-esque chrome trim. If you want to stand out from the crowd, this appliance is for you.
Simple to Use: A straightforward dial and four-button control scheme make this microwave one of the easiest to use appliances on the market.
Twelve Presets: Nostalgia have you covered with pre-programmed settings of all your favorite foods. They include beverages, popcorn, frozen entrees, vegetables, potatoes, rice, bread, pizza, dinner plates, fish, chicken, and beef.
Delayed Start: You can pick and choose your cooking times with this handy feature, that makes sure your meals are ready when you are.
What's Not To Like?
Underpowered: With only 700 Watts of power, the Nostalgia Retro microwave is a little underwhelming in performance.
It's Loud: There's no getting around it; this retro microwave is ludicrously loud despite its low power output.
Inadequate Rubber Feet: The rubber feet on the bottom of this appliance are too hard, and because this microwave is lightweight, every time you open the door, the whole appliance moves.
No Interior Light When You Open The Door: While the interior light comes on when you start cooking, there's no illumination when you open the door, which should be a standard feature in microwaves by this point.
Final Remarks
Make no mistake, the Nostalgia (RMO4AQ) 0.9 Retro countertop microwave is all style over substance, but what style it is. While it won't win any prizes in performance, it can achieve reasonable results with basic kitchen tasks. So if you need a small microwave for performing small jobs but want to look fabulous doing so, this funky microwave is worth your consideration.