Disclaimer: we may receive commissions from purchases made via our links at no cost to you
Best Over the Range
Sharp R1874T Over-the-Range Convection Microwave
While not the most expensive Sharp microwave, the 1.1 Over-the Range Convection appliance is still extremely pricey. However, the enormous price point is offset by the substantial versatility on offer, as convection capabilities double this microwave as an oven.

It's extremely heavy and difficult to install, but once it's in place a vast selection of presets will have you cooking all kinds of meals quickly and efficiently.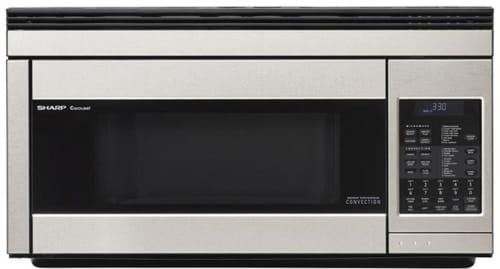 Best Countertop
Sharp Carousel ZSMC1842CS Countertop Microwave
The Sharp Carousel 1.8 Countertop (ZSMC1842CS) microwave might be a relatively basic model with only a few toys and gadgets to play with, but its massive capacity and ease of use ensure it's a perfect choice for families who want quick and easy meals.

It's a bit of a plain Jane, but the capacity-to-price tag ratio is off the scale, making this the best value for money Sharp microwave on the market.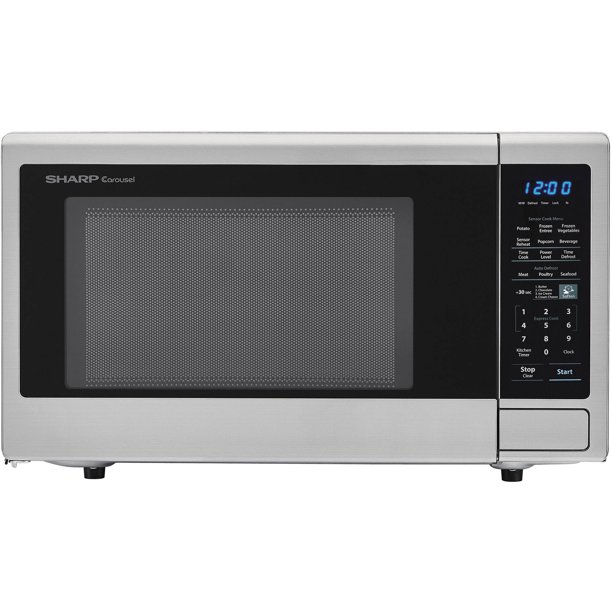 If you don't have the time to prepare and oven-cook complicated meals, and you need something more convenient, then microwaves are excellent tools for quickly and efficiently heating, defrosting, melting, or reheating food for your family.
With over 100 years of experience in the electronics industry, Sharp produces a wide array of small kitchen appliances. Today we're going to look at their range of microwave ovens and talk about our favorites. We base our opinions on affordability, appearance, build quality, durability, and performance.
Here we go.
1. Sharp R1874T Over-the-Range Convection Microwave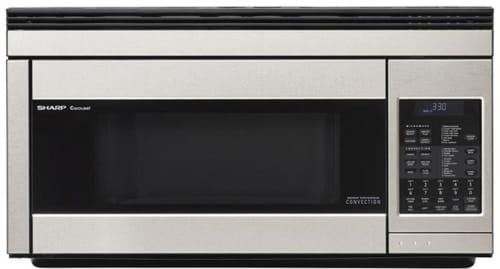 ---
Specifications
Type: Over-the-Range
Dimensions: 29.93 x 16.34 x 15.28 inches
Appliance Weight: 72lbs
Capacity: 1.1cu.ft
Turntable: Yes
Available Colors: Stainless Steel
Wattage: 850 Watts
Design, Construction & Capacity
This Sharp Over-the-Range microwave might be relatively expensive, but the external appearance backs up that high price point with a high-end stainless steel finish that would look at home in Gordon Ramsey's kitchen.
Its control pad is an extensive bank of buttons, features, and settings that give this appliance a ton of versatility, though the enormous volume of options could be daunting to some people.
This appliance comes equipped with an interior light, though it's pretty dim, so don't expect to see much of your food while it's cooking.
Despite only having a relatively small 1.1 cu.ft of space (which is adequate for single people or a couple), the Sharp R1874T weighs a massive 72lbs, so you'll need a second pair of hands to help you if you plan on installing it yourself (which consumers say is a difficult task).
Features
4-Way Convection System: Convection microwave allows you to bake, roast, broil, and brown food cooked in your microwave.
Twenty-Five Pre-Programmed Settings: Remove the guesswork from cooking with these presets, which includes, but isn't limited to: bacon, hotdogs, chicken, cakes, and fish.
Hi-Rack: Cook different foods simultaneously with the dual-layer cooking system.
Smart & Easy Sensor: An automatic system that adjusts power and time setting based on the food you want to cook.
Built-In Exhaust System: This exhaust system (which includes a hood-light and fan) will eliminate smoke, odors, and steam to keep your kitchen smell fresh.
Ceramic Turntable: A stylish turntable that you can cook directly on.
Performance
There's a large number of people who don't like microwaves because the food it produces is often pale and doesn't crisp. The convection capabilities of the Sharp Over-the-Range R1874T negates that problem and delivers beautifully browned food like that you'd get from an oven.
Though the convection feature has a steep learning curve and the multitude of settings can be a lot to get your head around, once you figure it out, this appliance will cover all your cooking bases.
Should you buy the Sharp 1.1 Over-the-Range Convection Microwave (R1874T 850W)?
As far as microwaves go, the Sharp (R18724T) appliance is not particularly spacious, is relatively low, is ludicrously heavy, and is very expensive, so why would anyone buy it?
The answer lies in the convection. If the capacity and price point fit your needs, this microwave can be your primary cooking appliance. While it's massive and expensive compared to other microwaves, it's much smaller and more affordable than a traditional oven.
2. Sharp SMD2470AS Drawer Microwave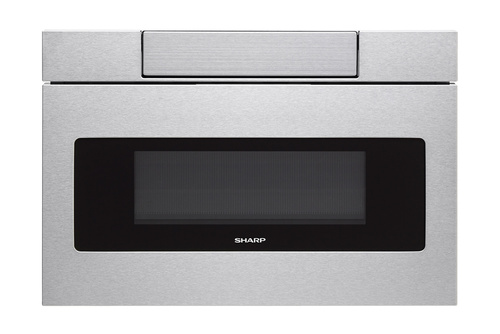 ---
Specifications
Type: Drawer
Dimensions: 26.19 x 23.88 x 15.41 inches
Appliance Weight: 74lbs
Capacity: 1.2 cu.ft
Turntable: No
Available Colors: Stainless Steel
Wattage: 950 Watts
Design, Construction & Capacity
The 'Sharp 1.2 Drawer Microwave (SMD2470AS)' is the ultimate luxury small kitchen appliance. The high-end stainless steel exterior is only outdone by the sleek concealed control panel and an automatic, easy glide drawer that oozes class.
Its control panel flips open easily and sits at a 45-degree angle for ease of use, while the drawer slides out at the touch of a button and closed with a slight nudge, which is convenient when your hands are full.
With a 1.2 cu.ft capacity,, this Sharp microwave is average in size. Though you can use the space more efficiently thanks to the easy slide drawer. This microwave can ultimately save your countertop space.
Features
Easy Touch Automatic Drawer: This smooth-gliding drawer opens and closes at the touch of a button or with a gentle pull or push for hands-free closing. The action is so smooth you won't spill any food when it opens.
Concealed Control Panel: Like something from a James Bond movie, this microwave's control panel folds away when it's not in use. It has a crisp layout that's easy to use as it's set at a 45-degree angle.
Pre-Programmed Settings: Handy presets perform all the calculations for you. They include potatoes, popcorn, vegetables, beverage, melt/soften, and defrost.
Add 30 Seconds: Add an additional 30 seconds to your cook time if your food isn't quite ready.
Performance
Under its luxurious skin, this microwave is a standard appliance with a simple 950 Watt power output. While it's not terrible, and it performs as a regular microwave should. It heats evenly and as quickly as you would expect.
There are only a few features and settings to help you out, which are functional but minimal.
Should you buy the Sharp 1.2 Drawer Microwave (SMD2470ASY)?
Everything fantastic about this microwave is superficial, aesthetical, and nothing to do with performance, though it performs adequately. Its stunning drawer mechanics and concealed control panel give the Sharp 1.2 (SMD2470ASY) microwave a feel of absolute luxury.
While this particular model is easily the most expensive Sharp microwave we've looked at today (it's not even close), this appliance has a mid-range price point when compared to similar drawer-style microwaves from other brands. It's perfect for high-end kitchens, but don't expect anything out of the ordinary in terms of performance.
Best Sharp Countertop Microwave
3. Sharp Carousel ZSMC1842CS Countertop Microwave2470AS Drawer Microwave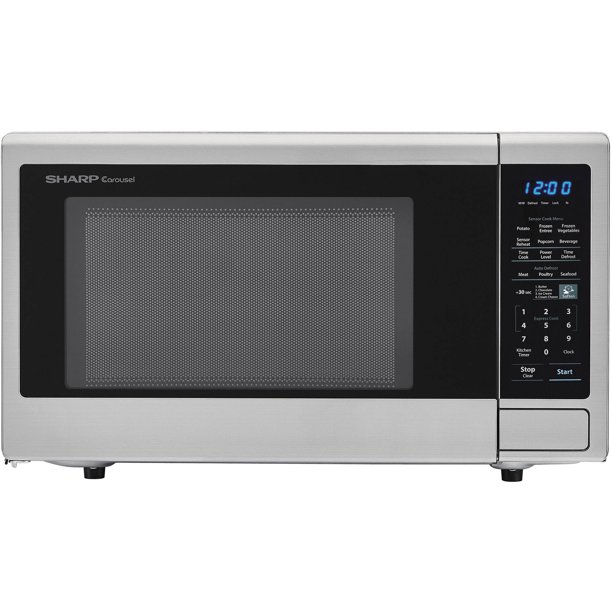 ---
Specifications
Type: Countertop
Dimensions: 23.2 x 18.9 x 13.3 inches
Appliance Weight: 39.2 lbs
Capacity: 1.8 cu.ft
Turntable: Yes
Available Colors: Stainless Steel
Wattage: 1100 Watts
Design, Construction & Capacity
At first glance, the Sharp 1.8 Carousel countertop microwave is a regular looking appliance with no eye-catching features. The second glance is the same as the first. It's not unpleasant; it just is what it is.
The stainless steel finish looks nice enough, though it is scratch resistant, which will keep your appliance looking new for longer, and the control panel has a neat layout. Though the 'Butter, chocolate, ice cream, cream cheese' button is written in a minuscule font that even folks with the best eyesight will struggle to read. The situation is made worse over time as the text has been known to wear off the buttons.
A massive 1.8 cu.ft capacity will be suitable for large families, though it will take up a hefty amount of space on your countertop.
Features
One-Touch Presets: One-Touch presets allow you to start cooking quickly with the single push of a button. The presets include butter, chocolate, ice cream, soften, cream cheese, potato, popcorn, frozen entree, frozen vegetables, reheat, and beverage.
Auto-Defrost: Thawing meat and fish is made easy with the auto-defrost function, which regulates power and time for evenly defrosted food.
Child-Safety Lock: Exactly as it sounds, a lock to keep your children safe.
Easy Clean Exterior & Scratch Resistant Door: Sharp helps you keep your microwave looking new with an 'easy clean' brushed stainless steel exterior, while the glass in the doos has a scratch resistant coating.
Add 30 Seconds: A handy feature to quickly add a half minute to your cook-time.
Performance
This large capacity appliance has just the right amount of power to efficiently cook large meals in the fastest possible way. Sharp makes excellent microwaves that you can rely on, but that doesn't mean there aren't a couple of performance issues.
While there are many useful features, a couple of them are problematic. You'll need to pay close attention when using the 'soften' feature as it's known to melt (or boil) foods really quickly. The 'beverage' feature is at the opposite end of the spectrum and doesn't heat drinks to a high enough temperature.
Should you buy the Sharp Carousel 1.8 Countertop Microwave (ZSMC1842CS)?
This Sharp microwave is an unremarkable model, but it's well priced for such a large capacity appliance and will last a long time, cook quickly and efficiently (with the exception of a couple of the features) and is ideal for big families, especially those on a tight budget.
4. Sharp Carousel ZSMC1131CW Countertop Microwave
---
Specifications
Type: Countertop
Dimensions: 20.3 x 14.8 x 12 inches
Appliance Weight: 30 lbs
Capacity: 1.1 cu.ft
Turntable: Yes
Available Colors: White
Wattage: 1000 Watts
Design, Construction & Capacity
The overall appearance of the Sharp Carousel 1.1 (ZSMC1131CW) microwave is simple yet attractive. While most popular appliances these days have a stainless steel finish, Sharp opted for an iPhone-like white finish that's crisp and clean.
Using black text on the stark white background, the control buttons are easy to read and offer a nice contrast as does the green LCD.
With a modest 1.1 cu.ft capacity, this compact microwave is ideal for small kitchens and single people. Though you'll need to place this appliance relatively close to a power outlet as the cord is not only short, but inconveniently placed at the top of the microwave.
Features
Auto-Defrost: With three different presets, you can easily defrost meat, poultry and seafood.
One Touch Cook: In the 'One Touch Cook' section of the control panel, you'll find presets for potatoes, fresh vegetables, frozen vegetables, frozen pizza, popcorn, beverage, defrost, and reheat.
Time Cook: Sharp says the 'Time Cook' function helps with longer cook times, though we think they could have come up with a better name for it.
'Express Cook': Instant one-touch settings for custom time lengths of up to six minutes.
Child-Safety Lock: Keep your little ones out of harm's way with this safety feature.
Performance
Advertised as a small/medium microwave, this appliance is definitely on the smaller side, though it has a substantial 1000 Watts of power so it'll never be lacking in energy for the less substantial meals this machine can hold.
Of course, such immense power in a small footprint means there's a bit of a volume issue and causes this microwave to make a hell of a racket when it's in use.
But overall, this basic appliance punches its weight in terms of cooking performance.
Should you buy the Sharp Carousel 1.1 Countertop Microwave (ZSMC1131CW)?
The Sharp Carousel 1.1 countertop microwave is a perfect choice of appliance for consumers looking for a no-nonse, compact microwave for everyday kitchen related tasks. It may be small but it packs a mighty punch, for quick and easy cooking.
While the power output may be substantial, the price point most certainly isn't.