Disclaimer: we may receive commissions from purchases made via our links at no cost to you
Best Overall
GE Profile PWB7030ELES
The GE Profile PWB7030ELES 1.7 Built-In Microwave is the largest, most powerful, and most versatile appliance of all the machines in this review, and as you might have guessed, that means it's the most expensive too.

Its convection capabilities let you bake, roast, and crisp foods in a way that most other appliances won't, and while it can prove tricky to clean, you won't be disappointed with the cooking results of this impressive microwave.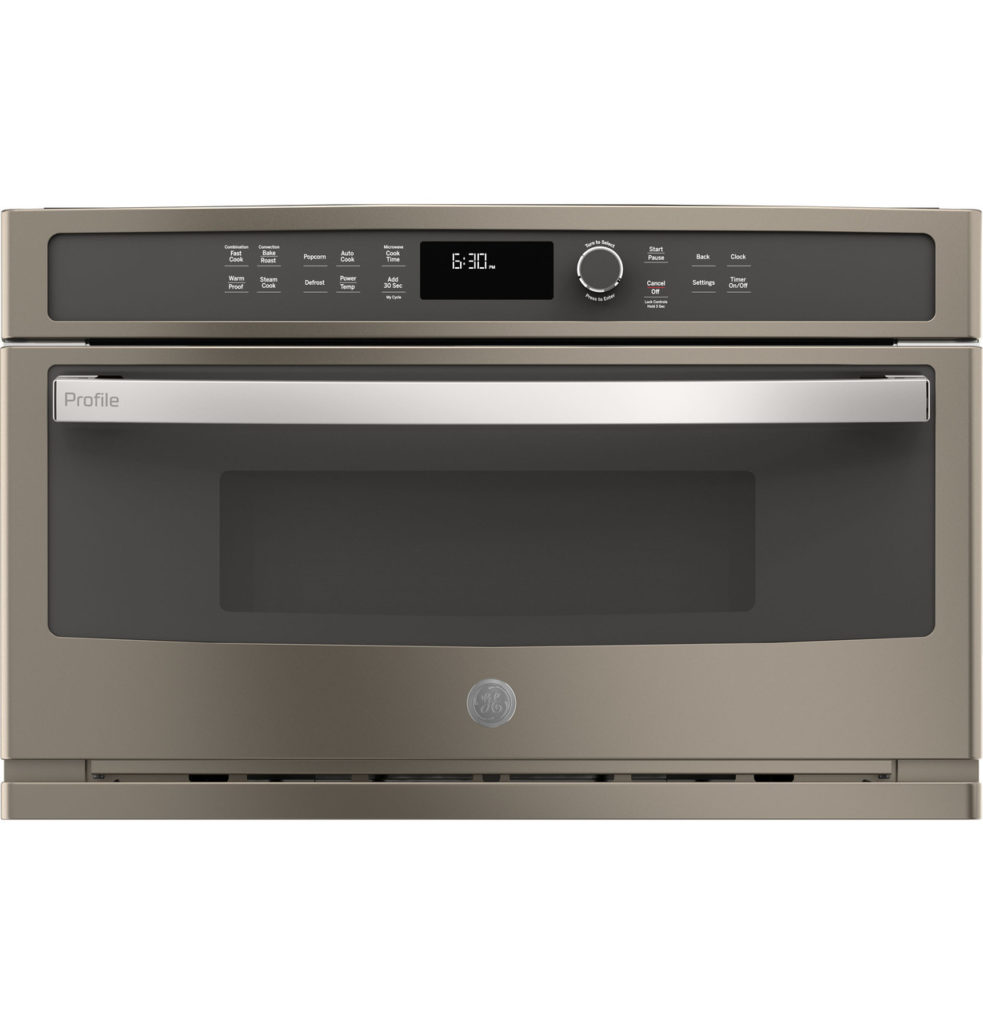 Best Value
Frigidaire FGMO226NUF 2.2
If you're looking for a built-in microwave but don't want to (potentially) spend thousands of dollars, then the Frigidaire FGMO226NUF 2.2 appliance could be just the ticket. It comes with an enormous capacity and cooks relatively well for such a low price point.

Frigidaire helped keep the price point low by including only essential features to ensure adequate performance. There are limited features, and the door is a little clunky, but considering the GE Profile is four times as expensive, you can't go wrong with this one.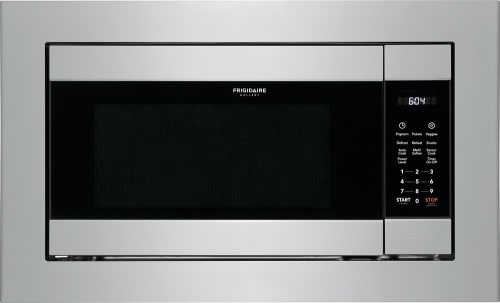 Built-In microwaves aren't only premium looking appliances that give your kitchen a more high-end aesthetic; they're also effective space-savers and usually come with substantial capacities, powerful wattage, and innovative features.
Of course, this step up in quality means the prices are considerably higher than traditional countertop models. Even the cheapest appliances will cost many hundreds of dollars, so it's essential to choose the right microwave to fit your needs.
In this review, we're going to look at five highly rated built-in microwaves to help you choose the right one for you; we base our opinions on affordability, features, capacity, versatility, consumer ratings, and durability.
1. GE Profile PWB7030ELES Microwave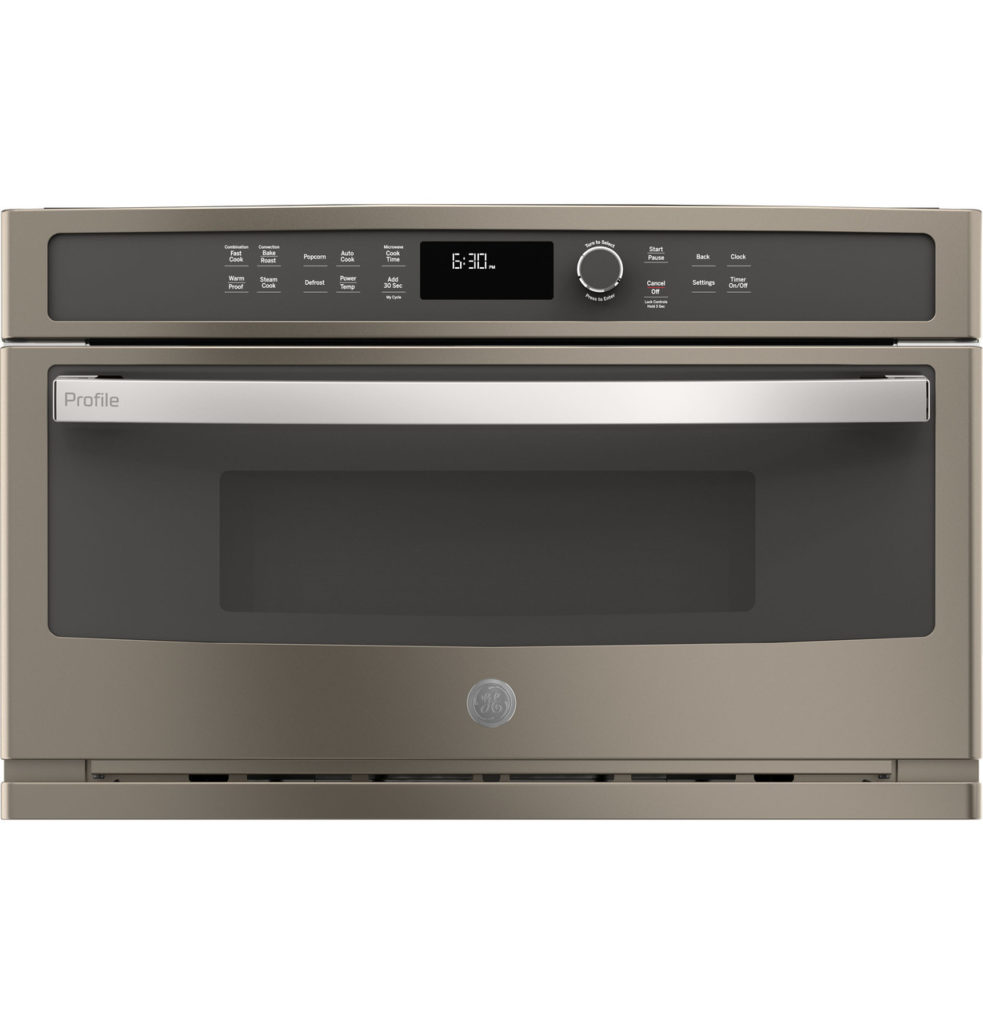 ---
Specifications
Type: Built-In
Dimensions: 29.8 x 19.1 in x 24.7 inches
Appliance Weight: 75lbs
Capacity: 1.7 cu.ft
Turntable: Yes
Available Colors: Stainless Steel / Fingerprint Resistant (PWB7030ELES)
Wattage: 1920 Watts
Things To Love:
Impressive Power: With 1920 Watts, this appliance is one of the most powerful microwaves on the market.
Convection Cooking: This GE microwave has convection cooking capabilities, so not only can you cook your meals quickly, you can achieve a delicious, crispy finish on meats.
'My Cycle': You're not limited to pre-programmed cooking cycles using the GE profile. The 'My Cycle' feature lets you program your own custom settings.
Premium Appearance: GE's design team nailed the appearance of this kitchen appliance. The stainless steel exterior is accentuated by its sleek curves that you won't find on rival machines.
Dual-Layer Cooking: This microwave comes with an additional rack that allows you to cook multiple foods simultaneously.
Warm/Proof: The warm/proof function is perfect for people who love to bake their own bread.
Steam Cooking: Specially designed sensors ensure you can steam cook your vegetables to perfection.
Glass-Touch Control Panel: The control panel on the GE Profile built-in microwave isn't only aesthetically pleasing, it's also ultra-responsive and easy to clean.
What's Not To Like?
Challenging to Clean Interior: If you're not very tall, you might struggle to reach the back of the microwave to clean it because of the drop-down door.
Lots of Button Pushing: While not completely devoid, there is a distinct lack of 'one-touch' options in the GE microwave. All too often, you'll need to push multiple buttons and dials to begin a single cycle.
Final Remarks
The GE Profile PWB7030ELES 1.7 built-in microwave represents the best of all worlds in the built-in appliance niche. While it's not 'cheap' per se, the price point is reasonable for a premium quality product. The 1.7 cu.ft capacity is spacious without being overbearing. This appliance's features are capable of many styles of cooking.
Best Value Built In Microwave
2. Frigidaire FGMO226NUF Built-In Microwave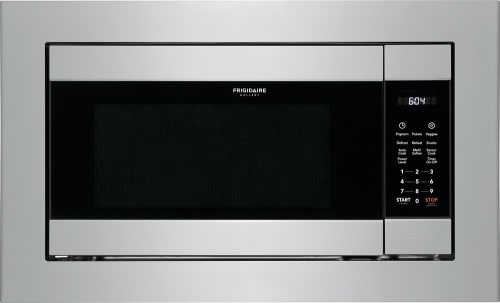 ---
Specifications
Type: Built-In
Dimensions: 19.63 x 24.44 x 13.63 inches
Appliance Weight: 59.9.1lbs
Capacity: 2.2 cu.ft
Turntable: Yes
Available Colors: Stainless Steel
Wattage: 1200 Watts
Things To Love:
Very Affordable: Built-in appliances are the pinnacle of quality, and as such, they command enormous price points. The Frigidaire FGMO226NUF is by far the most affordable built-in microwave on our list.
Enormous Capacity: This monstrous microwave can easily house even the largest meals with 2.2 cu.ft of cooking space. One of the most substantial appliances you can buy.
Sensor Cooking: This microwave can detect your food's humidity levels and adjust the power levels to ensure perfectly cooked, hassle-free meals.
Pre-Programmed Settings: Some 'one-touch presets' remove the guesswork from cooking. They include veggies, potato, popcorn, defrost, reheat, snacks, and soften/melt.
Add 30 Seconds: Not sure your food is properly cooked? Add 30 seconds to the cooking cycle with the push of a button.
What's Not To Like?
Limited Features: Because the price point of the Frigidaire is so low, you'll find there aren't many bells and whistles on this microwave.
Difficult to Install: Many consumers have complained that they struggled to install this microwave into their kitchens, which can be frustrating if you're not a DIY specialist.
Door Issues: Not only does this microwave's door close with a bang, the 'open' button feels cheap and loose.
Final Remarks
It would be difficult to find a built-in microwave with comparable power and cooking space for such an affordable price point, which is why we had no problems naming the Frigidaire FGMO226NUF appliance the 'best value built-in microwave'. Sure, you have to make some concessions because of the super-low price, but this microwave is the logical choice if you're on a tight budget.
3. Bosch HMD8451UC Built-In Drawer Microwave
---
Specifications
Type: Drawer
Dimensions: 23.8 x 16.3 x 23.3 inches
Appliance Weight: 80lbs
Capacity: 1.2 cu.ft
Turntable: No
Available Colors: Stainless Steel
Wattage: 1000 Watts
Summary
The Bosch built-in microwave is the most stylish appliance on our list. However, not only does it look superb, but it has a premium 'feel' to it too. Its control panel is sleek and responsive, while the built-in microwave drawer function is as smooth as silk (though that smoothness comes at the cost of speed), which opens at the slightest touch of a button.
We have named it as one of the best Bosch microwaves available. While it stacks up nicely against other built-in models from different brands, we feel the GE PWB7030ELES has more to offer in terms of versatility and cooking space for a similar(ish) price point.
4. Sharp SMD2470AS Drawer Microwave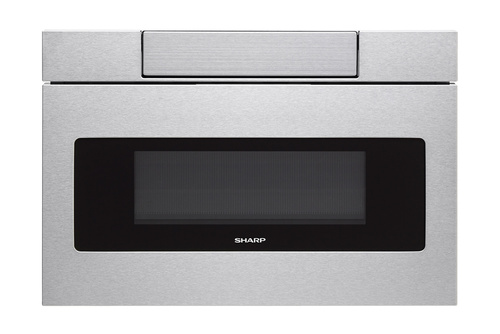 ---
Specifications
Type: Drawer
Dimensions: 26.19 x 23.88 x 15.41 inches
Appliance Weight: 74lbs
Capacity: 1.2 cu.ft
Turntable: No
Available Colors: Stainless Steel
Wattage: 950 Watts
Summary
The second and final built-in drawer microwave on our list, the Sharp 1.2 SMD2470ASY, offers consumers the chance to own a premium appliance for a reasonable price. While not quite as attractive as the GE 1.7 Profile microwave, this appliance has the advantage of a sleek concealed control panel that flips around as and when you need it, like something out of a James Bond movie.
There aren't many features on this microwave and it has a relatively low power output, but it still performs well enough that it featured in our review of the best Sharp microwaves, where we look at each model in greater detail.
5. Panasonic NN-SN966S Countertop/Built-In Microwave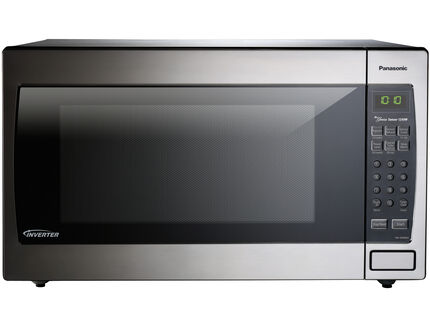 ---
Specifications
Type: Countertop / Built-In
Dimensions: 19.44 x 23.88 x 14 inches inches
Appliance Weight: 37lbs
Capacity: 2.2 cu.ft
Turntable: Yes
Available Colors: Stainless Steel
Wattage: 1250 Watts
Summary
While the Panasonic NN-SN966S is not explicitly designed to be a 'built-in' appliance, you can purchase some add-ons which transform this traditional countertop into a more premium-looking device. This is the best microwave with 'trim kit', though the trim pack's cost almost doubles the unit's price.
That said, even with the added price of the trim, you still get a colossal microwave with excellent performance for a reasonable price. In fact, it performs so well that we named it 'Best Overall Panasonic Microwave' when we took a closer look at the brand. However, the Frigidaire FGMO226NUF is a similarly priced appliance and is actually a dedicated built-in appliance and the better option, in our opinion.