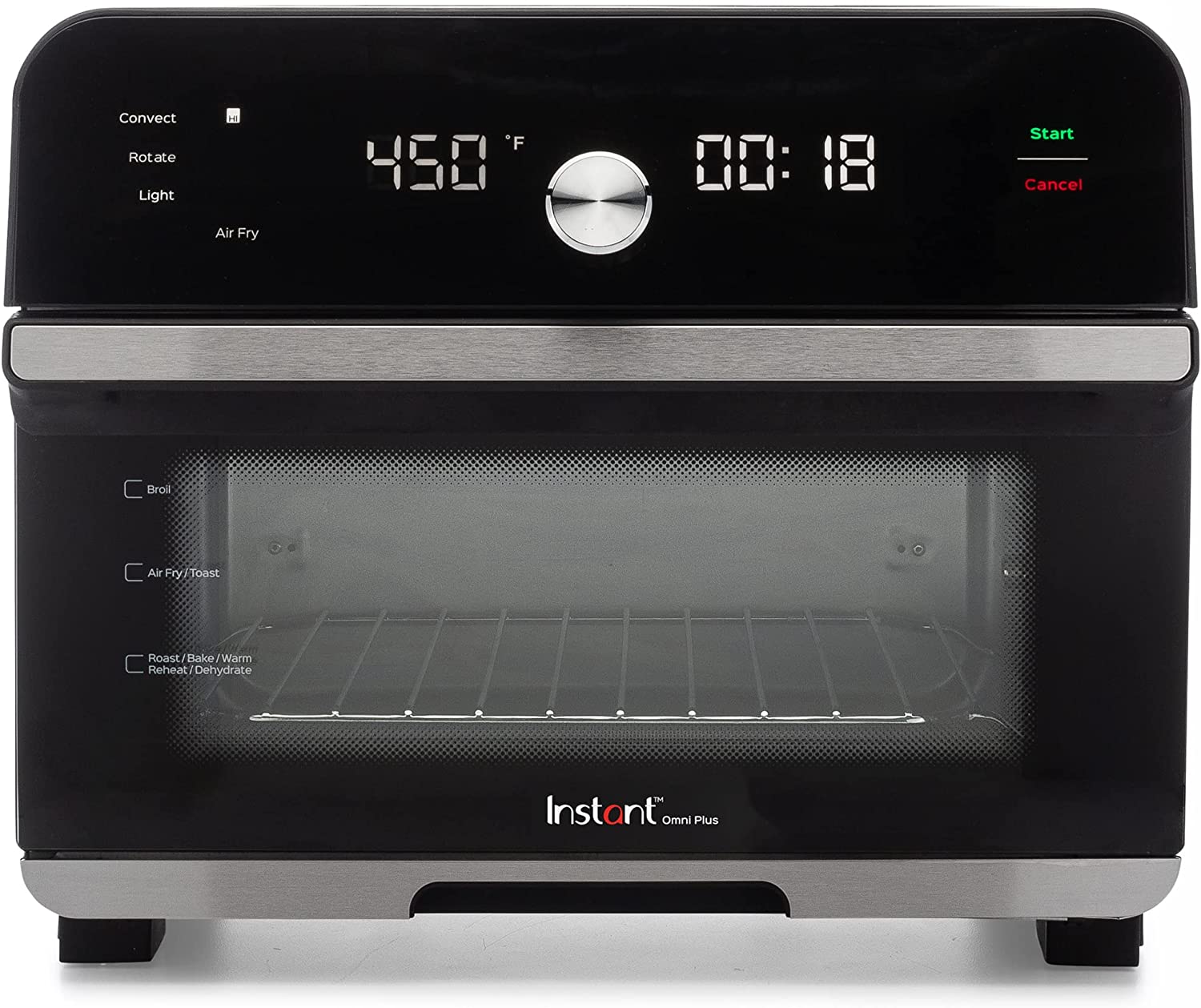 Disclaimer: I may receive commissions from purchases made via links at no cost to you
---
Quick review
Instant's latest iteration of the Omni air fryer toaster oven is here.
The Omni Plus 10-in-1 is the new challenger to their original Omni Plus 11-in-1 air fryer toaster oven. Despite being smaller and having one less cooking feature, it promises improved controls and performance.
Whether or not you choose the Instant Omni Plus 10-in-1 Air Fryer Toaster Oven over the older Omni Plus XL 11-in-1 appliance is dependent entirely on your budget.
Yes, the newer version is slightly smaller, and it doesn't have the 'Slow Cook' or 'Proof' cooking functions, but what it lacks in size and versatility it more than makes up for in the design and performance.
When compared with other brands, this Instant appliance stacks up relatively well. It has a middle-of-the-road price point but delivers excellent performance. Sure, there are different models with better thought-out control systems, but this device is pretty to look at and will help you get beautifully cooked meals on the table more quickly.
Packaging – 7/10 (Would Be Much Higher Without All The Plastic)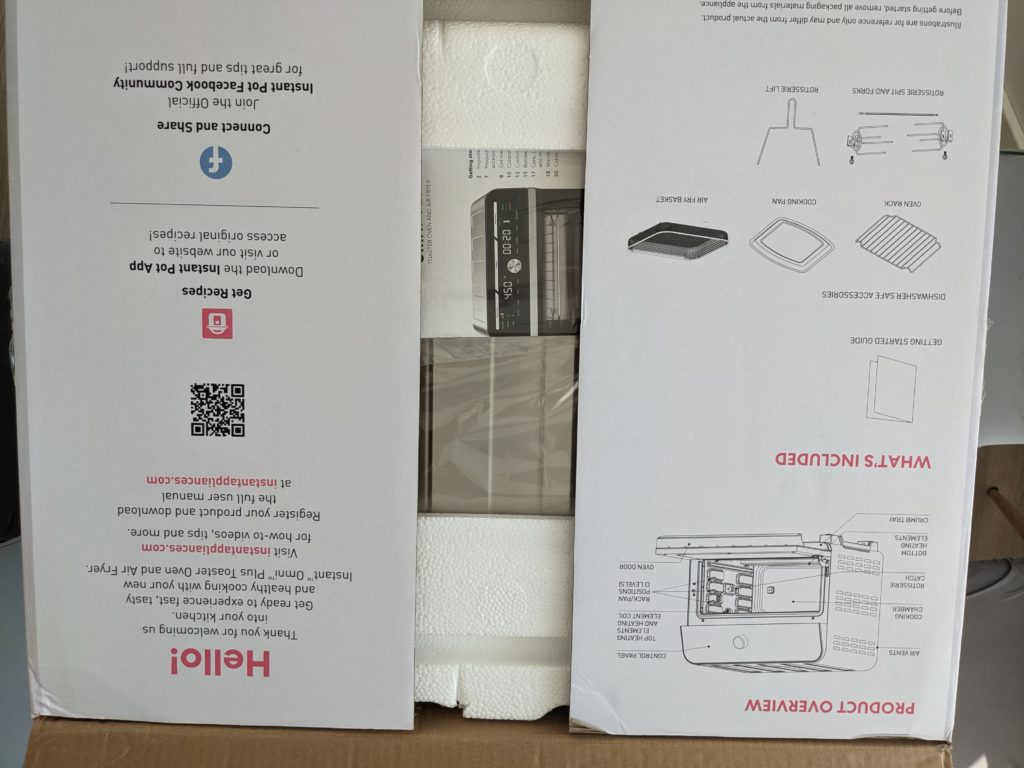 The toaster oven is packaged very well. It uses a double box with foam inserts so the probability of damage during shipping is very low. Ev
Though Instant packages their products well, they use way more plastic than I'm comfortable with. Considering the current climate crisis, they should look at more environmentally friendly alternatives.
The whole box, the appliance, racks, trays, accessories, and even the manual are all sealed in their own plastic bag. It really is unacceptable in this day and age.
Two strong styrofoam inserts keep the toaster oven from moving around inside the box during transit, and overall, Instant does a decent job of ensuring your toaster oven reaches you in working order.
That being said, the model I received was damaged (or previously used) when it arrived. There was no visible damage to the packing, so my toaster oven was in this condition before it was sent, which brings into question Instant's Quality Control processes.
Scratches were visible on multiple surfaces, and the stabilizing feet were crooked so that the appliance didn't sit evenly on my countertop. It was clear to me that this oven was not new and had been used before.
In the box I have found:
Instant Omni Plus Air Fryer Toaster Oven
Crumb Tray (Pre-installed)
Wire Rack
Baking Pan
Air Fryer Basket
User Manual
The user manual has a pleasing aesthetic and is well laid out. The instructions themselves are well written and very easy to follow. I feel that Instant could have included a few recipes in the manual to help out first-time air fryer toaster oven users.
However, there is an Instant recipe app (though most of the recipes are for the Instant Pot) that could help you out if you're stuck for ideas.
Design and Build Quality – 7/10 (8/10 If It Had Been Brand New)
The aesthetical design of the Instant Omni Plus 10-in-1 Air Fryer Oven combines simplicity with a contemporary feel that gives it a striking and modern appearance. Unfortunately, the simplistic appearance of the control panel doesn't entirely transfer into ease of use.
With a sleek black polished front, the Omni Plus looks almost stealthy, while the stainless steel top and sides give the appliance the familiar feel we find on so many small kitchen appliances. While the overall appearance is pleasing, it can be a bit of a fingerprint magnet.
While I'm sure a brand new unit will look sparkly and clean, the model I received did have lots of marks and scratches, suggesting that you can damage the exterior relatively easily.
Physically, the Instant Omni 10-in-1 weighs in at just under 30lbs, so it's a bit of a beast. The heaviness is compounded by the fact that the appliance is front-heavy, making it very awkward to carry, so it's wise to find it a permanent home, so you don't have to move it around continuously.
Instant gave this toaster oven a healthy 18-liter capacity; however, the dimensions of this appliance don't give it as much height as you might find in similar brands. So cooking taller foods could prove problematic, especially if they're required to be cooked on the top shelf. The heating elements are very close to the top rack position, so cooking fatty foods up there can leave you with a smoke-filled kitchen.
The internal capacity has enough space to toaster six slices of bread, bake a 12" pizza, or rotisserie cook a whole 4lb chicken.
The overall "feel" of the appliance feels very high-quality and worthy of the price point. However, it does have one weak link. Despite being double-glazed, the door on the front of the Instant Omni Plus feels a bit flimsy and lightweight. You don't get a satisfying clunk when you close the door, more of a tinny rattle that betrays the otherwise premium feel of this oven. It's not a deal-breaker but something to be aware of.
However, the door has the suggested rack positions printed on it depending on which cooking function you want to use which is a nice touch.
Controls and Ease of Use – 7/10
Instant attempted to give the Omni Plus 10-in-1 toaster oven a simplistic yet intuitive control system to make this appliance extremely easy to use. They succeeded for the most part with only a couple of minor gripes.
The most prominent benefit of the Omni Plus's control panel is the massive LCD, which is crisp, clean, and easy to read. You'll be easily able to read everything going on with your oven, which is immensely helpful.
The LCD itself is laid out nicely and neatly with minimal clutter to simplify the user experience and combines an analog dial with touchscreen controls, which unfortunately leads me to my first complaint about this appliances controls.
The central knob controls the appliance's temperature, and while it gives a satisfying click with every turn, it can be very finicky and temperamental to use. When you're setting your required temperature, the first three turns of the dial will alter the temperature by one degree, while any follow-up twists will adjust the temperature in ten-degree increments. This function can be incredibly frustrating.
It's baffling why Instant chose this set-up as very few recipes, and foods need to be cooked with odd temperature settings. Changing the temperature in five or ten-degree increments would have been much more helpful.
Given that you choose the time and cooking functions via the touchscreen panel, would it have been so difficult to have a digital temperature setting panel too?
The touchscreen itself is very responsive, though it might take some getting used to as the control system isn't exactly intuitive. Though, after a bit of practice, you probably won't notice it as much. It's not immediately apparent that you have to touch the respective display first and then alter the settings to set the time or the temperature. However, after you've figured that out and operated it for the first time, it's easy to use after that.
Unsurprisingly (given the appliance's name), the Instant Omni Plus 10-in-1 Air Fryer Toaster Oven has ten cooking functions to choose from. While there are appliances on the market with up to 50% more settings, this particular oven has the most important settings.
They are:
Air fry
Broil
Bake
Roast
Dehydrate
Reheat
Rotisserie
Toast
Warm
Convection Oven
By far, the most annoying feature on the Instant Omni Plus oven is the notification beeps. And they're everywhere.
Every single action you take when you're operating this appliance results in a notification beep. Whether you're opening or closing the door, twisting the temperature dial (every single twist lets out a beep), choosing a cooking function, or setting the time, you'll be met with a loud, high-pitched beep.
If that wasn't enough, the Omni Plus also beeps when you start a cooking cycle, to alert your when you need to turn your food, when there's one minute left, AND when it's finished cooking. Worst of all, there seems to be no way you can turn the beeps off. At the very least, it would have been nice to have the option to turn them down.
One of my favorite features of the Omni Plus's control system is how it shows you what stage the cooking cycle is at on the top of the display, so you know if you should be preheating or cooking.
Overall, the control system is a bit hit and miss. Some features are decent, others not so much.
Performance – 9/10
The crowning glory of the Instant Omni Plus 10-in-1 air fryer toaster oven is the way it performs, and when all things are considered, that's the most important aspect of a small kitchen appliance.
But let me get the solitary negative aspect out of the way before I get on to the good stuff.
When you fire up this oven for the first time (and possibly a few more times after that), you're going to get a plasticky, toxic smell that can be almost overwhelming. This problem is not only symptomatic of Instant appliances; it's relatively common among virtually all cooking devices.
However, the smell from the 10-in-1 is very intense, and while some consumers say it never entirely goes away, I found that it dissipated entirely over time.
Cooking with this small kitchen appliance is an absolute joy, thanks to the helpful cooking features and this unit having one of the most consistent temperature systems that I've tested.
The oven's internal temperature remained even throughout the entire internal capacity and heated super-evenly in seconds, so you'll get delicious meals on the table more quickly than with other rival products.
In my toast test, the slices came out beautifully even, aside from one slice, which was much less toasted than the others. I attribute this to some slight damage (it has a large gap on the left-hand side) to my toaster oven, which allowed heat to escape near the front.
I also believe that this unwanted gap caused my crumb tray to be exposed to the escaping heat because it gets very hot during a cooking cycle. This issue isn't a common complaint among consumers, so I believe it's down to the defect.
The rotisserie function cooks chicken exceedingly well though it can be tricky to get right. Though you can cook a whole 4lb chicken, the smaller internal capacity means you'll need to tie it pretty tight to stop it from rubbing against the sides. It can also get pretty messy, so it's a good idea to place some foil across the bottom elements (which won't be on when using the rotisserie function) to make the clean-up process more manageable.
The Omni Plus can cook a 12" thin crust pizza in under ten minutes with a golden brown finish if you fancy some comfort food. Bacon, onion rings, cupcakes, and brownies are an absolute breeze in this appliance.
Accessories – 8/10
The Instant Omni Plus comes with a decent selection of very well-made accessories and of premium quality, which are in line with this oven's price point.
The included accessories are:
Air Fryer Basket
Enameled Baking Sheet
Cooking Rack
Rotisserie Spit
Rotisserie Lift
Built-in Crumb Tray
All the accessories (except for the non-stick enameled baking sheet) are made from stainless steel and feel sturdy to the touch. I anticipate that they'll last as long as the toaster oven does, if not longer.
I'm very impressed with the quality of the accessories.
Cleaning – 8/10
The toaster oven's exterior is relatively easy to clean, which is a blessing because as I've already mentioned, this appliance picks up fingerprints and grease marks like crazy. If that sort of thing bothers you, you'll be continuously wiping your oven down.
Instant has coated the interior with a non-stick material that makes the clean-up process super simple, which again is excellent to see, especially when cooking a rotisserie chicken that will splatter fat all over the interior. So having an easy-to-clean interior is a must.
All the accessories (bar the non-stick tray) are dishwasher safe and couldn't be easier to clean. The only downside to cleaning the Instant Omni Plus is any grease that finds its way close to the heating elements will be difficult to reach.
One note of caution, you'll need to wash the crumb tray regularly, or it will become almost impossible to get clean. Because the tray is out of sight, it's easy to forget that it's there, but if you allow hot grease to drip down and then reheat it a bunch of times, it will become glued to the surface, and you'll never get it off.
Omni Plus 10-in-1 Air Fryer Combo
Instant Omni Plus 10-in-1 vs Instant Omni XL 11-in-1
When small kitchen appliance brands bring out a new model, it's usually bigger, better, and more functional than the previous iteration. However, the new 10-in-1 Omni Plus is marginally smaller, has fewer cooking functions, and costs more than its predecessor.
So how does the new kid on the block compare with the old-timer?
Price: The new Instant Omni Plus 10-in-1 air fryer toaster oven is approximately 25% more expensive than the XL 11-in-1 appliance.
Capacity: The new Instant model has slightly smaller internal dimensions than its big brother (15cm x 32.4cm x 30cm vs 18cm x 34.3cm x 30cm). Though the size difference is pretty nominal won't impact too much on how much you can cook.
Build Quality: The build quality of the new 10-in-1 appliance is superior to its older brother. Instant really paid attention to the finer details and listened to customer feedback. For instance, the older model had an issue with the rack position text on the door rubbing away over time, so the newer oven has the text sandwiched between two panes of glass so it will never disappear.
The new Omni Plus is also way more attractive than the older appliance, which now looks old and dated.
Controls: While the control system on the 11-in-1 appliance is initially easier to use, the physical aspect of using it can be a little clunky, and there are further build quality issues where the button text rubs away over time. The newer Omni Plus model, while far from perfect, is more sustainable, will get easier to use with practice, and has no quality issues.
Performance: The primary improvement Instant has made with their newer model is in terms of performance. Despite having the same 1800 watts power output, the 10-in-1 has superior performance and outperforms its sibling in terms of even heating and efficiency.
Accessories: The accessories that come with both these appliances seem almost identical. The minor differences are that the original Omni Plus has a marginally larger baking sheet, while the newer Omni Plus has an air fryer basket with just a bit more room. The most significant difference lies in the rotisserie forks, which Instant has vastly improved upon. The newer fork set comes with four prongs at each end (which are also longer) over the original two at each end. The newer accessory makes for a much more stable cooking experience.