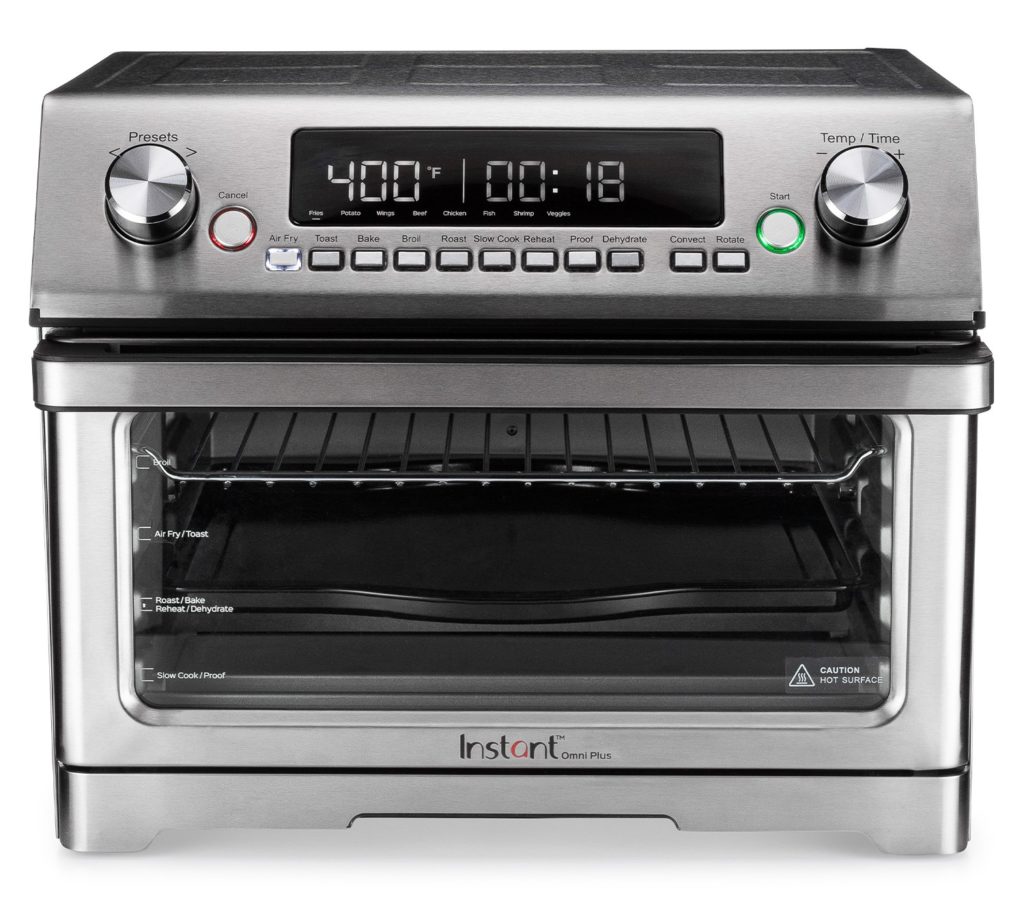 Disclaimer: I may receive commissions from purchases made via links at no cost to you
---
Quick review
This model has been discontinued and Instant has released an updated version: Instant Omni Plus 10-in-1
The Instant Omni Plus Air Fryer Toaster Oven is an excellent 11-in-1 cooking appliance that is stylish and affordable.
This beefy toaster oven might weigh in at a hefty 26lbs and take up a considerable amount of countertop space, but with 11 cooking functions and 12 pre-programmed settings, it can remove the need for other small kitchen appliances.
The Instant design team gave the Omni Plus an attractive stainless steel finish and retro-like control panel that will look excellent in most kitchens.
Inside the oven, there are four rack positions, a place for a rotisserie attachment, and an interior light that comes on every time you open the door.
While the control system looks pretty and the labeled buttons are straightforward to use, there many features and functions on this air fryer that are not marked; in fact, if you don't read the manual, you would never even know they are there.
These "secret" functions are unnecessarily complicated to use and can cause confusion and frustration.
With 1800 watts of power and two heating elements, this toaster oven performs exceptionally well. Coupled with a good-sized capacity, the Omni Plus can produce delicious meals for couples or small families.
This air fryer toaster oven comes with a decent amount of accessories. The stand-out accessories are the rotisserie spit, fork, and lift that help you cook wonderfully tender and evenly cooked whole chicken.
The most notable drawback when considering the Instant Omni Plus toaster oven is how challenging it can be to clean.
Sure, the accessories (which are dishwasher safe) and the parts of the interior that have a non-stick coating scrub up really easily.
However, the oven's ceiling isn't non-stick and makes it harder to clean, and there's an indentation in the door's glass that attracts dirt and is super hard to remove, which makes it far more challenging to clean than you would hope.
Basic Information
Dimensions: 17.68″ x 16.34″ x 14.39″
Weight: 24.18 lbs
Wattage: 1800 Watts
Control Type: Digital
Temp Range: 70 – 500°F
Capacity: 27 Quarts (26 Liters)
Pizza Size: 12″ Pizza
Toast Capacity: 6 slices of bread
Preset Count: 11
Price Range: The Omni Plus 11-in-1 toaster oven comes with a mid-range price point that's indicative of the Instant brand and represents excellent value for money for anyone in the market for a multifunctional toaster oven.
Power: There aren't many toaster ovens that boast more power than the Instant Omni Plus's 1800 watts, making this cooker one of the most powerful appliances you can buy.
Temperature Range: Instant lists the temperature range of this cooker at "room temperature to 450°F". The lower limit is suitable for proofing, keeping food warm, and reheating. In contrast, the upper limit is a little disappointing considering the immense power this oven possesses.
Capacity: This Instant toaster oven is suitable for approximately two to four people with a mid-sized capacity (27 quarts) that can accommodate toast six slices of bread, roast a medium whole chicken, or bake a 12" pizza.
Warranty: The 12-month warranty that comes with the Omni Plus Toaster Oven is the bare minimum that Instant could get away with.
Design & Build Quality 8/10
Thanks to its unique styling, the Instant Omni Plus Air Fryer Toaster oven is a superb-looking appliance that somehow manages to appear both contemporary and retro.
Appliances with stainless steel exteriors are very popular because of their ability to look at home in any kitchen, and the finish on the Omni Plus looks beautiful.
You'll find air vents down both sides of the air fryer toaster oven to prevent it from overheating, yet you'll need to leave at least five inches of space around all sides of this toaster oven when you're cooking.
We love the control panel and LCD on the front of this toaster oven, which looks almost like an old VHS recorder.
The Instant Omni Plus has a large drop-down door fitted with a chunky handle that span's the door's width. This oven emits a short beep every time you open and close the door. The beep to let you know the door is shut makes sense, though we think the opening beep is unnecessary.
There's also a large viewing window and an interior light (which we have an issue with that we'll get to shortly), so you can keep an eye on your food while it cooks.
There are four rack positions inside the Omni Instant Plus, so you can optimally position your tray so that your food cooks perfectly. The suggested rack positions are printed on the door, so you know where to place the oven rack when you're using each feature.
In addition to the four rack positions, there is space for the rotisserie attachment so you can spit roast chicken or other kinds of meat. Each time you open the door to check on your chicken, the Instant Omni Plus will reverse the rotation, so your bird cooks evenly.
The oven's interior has a non-stick coating, which Instant maintains is not PTFE or Teflon. Bizarrely, Instant did not apply the coating to the oven's ceiling, which is generally the most problematic area to clean, but we'll cover this in greater detail in the "Cleaning" section of our review.
You'll find two heating elements inside this air fryer toaster oven, one at the top and one at the bottom. While this promotes a more even heat than a solitary element, it's not quite as versatile as appliances that have multiple elements in both top and bottom positions.
The Instant Omni Plus Air Fryer Toaster Oven is a well-built appliance that's robust and reliable. Consumer reports of unit failure are minimal, and the longevity of this product is decent.
Controls & Ease of Use 7/10
As the name of this Instant product suggests, there are 11 cooking functions you can use with this air fryer toaster oven, they are:
Air Fry
Toast
Bake
Broil
Roast
Slow Cook
Reheat
Proof
Dehydrate
Convection
Rotate (Rotisserie)
The control panel comprises two clickable dials, 13 push buttons, and a stylish LCD. The buttons are back-lit and give a reassuring click when you press them.
Eleven of the buttons are used for selecting the cooking functions, while the other two are "Start" and "Cancel". Why Instant felt the need to have two separate buttons to start and stop this device is a little baffling.
The two dials let you set the temperature and cooking time if you like to be independent, or choose between twelve "smart" presets, which are:
Fries
Potatoes
Wings
Beef
Chicken
Shrimp
Veggies
Fish
Bread
Bagel (You can select different shades too)
Pizza
Cake
However, this appliance does not have an option to select how much of a particular food you're cooking, so you'll need to tweak the times and temperatures accordingly.
While the control system of the Instant Omni Plus Air Fryer Toaster oven is extensive, there are relatively few instructions that make using the system challenging and sometimes frustrating.
For instance, while there are options to turn the interior light on/off or switch between Celcius and Farenheight, there's nothing to indicate that it's an option. It's only by reading the manual (or this review) that you'll find you can alter these settings, but even then, it's overly complicated.
You can also turn the notification beeps off by holding in both dials for three seconds (but only when you're in standby mode), which, again, you'll only know if you've done some research.
Bizarrely, the LCD will constantly have the word "OFF" displayed when it's not in use.
The Omni Plus's LCD will also let you know when it's time to turn your food (when need) about halfway through the cooking process.
One notable downside to this appliance is the notification beeps which are obnoxiously high pitched and loud (aside from the chimes to let you know the oven has finished its pre-heat cycle, which is far too quiet).
Performance 8/10
First things first, you'll get an initial plastic smell right out of the box when you switch this unit on for the first time. It's not uncommon with toaster ovens, and the scent will dissipate over time.
The multiple cooking functions of the Instant Omni Plus make this an incredibly versatile machine. Below is a look at just a few of the many foods you can cook in this appliance the results it produces.
French Fries
Homemade French Fries made in the Omni Plus are good, but they're not great using the standard presets. The French Fries looked pretty nice, but they weren't as crispy as you might like.
You might achieve better results if you tinker with the settings slightly, but the suggested times/temperatures are slightly off.
Southern Fried Chicken Wings
Chicken wings are a staple for any self-respecting air fryer and using Omni Plus's air fryer function, you can have crispy yet tender chicken wings in around 25 minutes.
Remember to always use your drip tray to avoid unnecessary mess.
Toast
From a product with "toaster" in its title, this oven is surprisingly poor at toasting. While the Omni Plus toasts evenly, it takes quite a long time and dries out the bread more than we would like.
Rotisserie Chicken
If you like roasted chicken, then you'll love the rotisserie function that lets you cook up to a 5lb chicken, constantly rotating the bird to make sure that it's cooked evenly throughout. There is a 4 minute pre-heat time before you can start cooking, and the rotisserie chicken will take about an hour and fifteen minutes.
Cookies
Baking cookies at approximately 330F should take around fifteen minutes. However, you'll need to rotate your cookies halfway through the cooking cycle as the Instant Omni Plus tends to cook better towards the back of the appliance.
Proofing
If you like to make bread or pizza dough, the proofing function is a valuable tool. It can be challenging to get your dough to rise (particularly if you live in very cold or very hot climates), but the 'room temperature' lower heating limit lets your dough rise perfectly over a 2 to 4 hour time period.
Pasta Bake
You can make a delicious 'cheesy pasta bake' using the slow cook function in approximately an hour and fifteen minutes. Of course, it is possible to make pasta bake more quickly than this, but you avoid any burnt pieces of pasta using this method.
Pizza
Unlike some rival products, when Instant says that this appliance can accommodate a 12" pizza, they mean it. The standard setting does a decent job of cooking a frozen pizza, though you will need to rotate it halfway through if you want it to be cooked evenly.
If a setting requires pre-heating, that will occur automatically. However, the notification beeps that inform you when it's ready are quiet and easy to miss.
There doesn't appear to be a way to turn off this oven's convection setting which reduces the functionality of this appliance every so slightly. However, you can switch between high and low convection settings.
Accessories 7/10
While the accessories that come with the Instant Omni Plus Air Fryer Toaster Oven are by no means the most extensive set of accessories, there is one noticeable addition that sets it apart from other appliances.
The rotisserie spit, forks, and lift.
The spit and forks let you cook food by continuously rotating your meat on the spit, while the lift helps you load and unload food without burning yourself.
In addition to the rotisserie set, you'll get a standard oven rack, an air fryer basket, and a cooking pan/baking sheet. While there's nothing overtly special about the rest of the accessories, they appear to be of decent quality.
However, the cooking pan has a non-stick coating that will last approximately six months to a year as a general rule of thumb.
Cleaning 6/10
All the accessories are dishwasher safe and easy to clean. However, the cooking pan tends to stain if you've cooked food that might splash fat or grease (rotisserie chicken for example). The tray will be clean, but the fat will stain it slightly.
The parts of the interior that have a non-stick coating are relatively straightforward to get clean. But inexplicably, the interior's ceiling does not have the layer.
Cleaning the top of a toaster oven is challenging at the best of times, but the lack of a layer of non-stick makes it even more difficult.
There is a groove around the viewing window that is a magnet for crumbs, grease, and food particles which can be a nightmare to remove.
Overall, cleaning the removable parts is simple, but cleaning the interior is much more complicated than you'd hope.
Instant Omni Plus 11-in-1 Air Fryer Toaster Oven