Gourmia Air Fryer Reviews
Best Overall
Gourmia 6-Qt. Stainless Steel Digital Air Fryer
We usually offer our recommendation of a model when looking at different brands of air fryers; however, out of the two Gourmia appliances on offer, they have very different reasons to be considered.

We could only recommend the unremarkable yet reliable GAF718 if it were to be used for small meals for one to two people. In contrast, the much more attractive but equally reliable GAF685 comes with a higher cooking capacity but costs almost twice the price.

If you're considering a Gourmia air fryer, then your personal needs will be the deciding factor.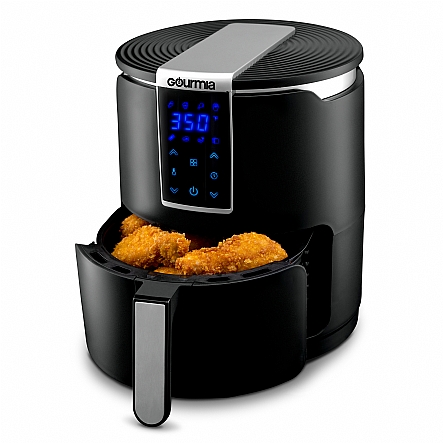 1. Gourmia GAF265 4-Quart Air Fryer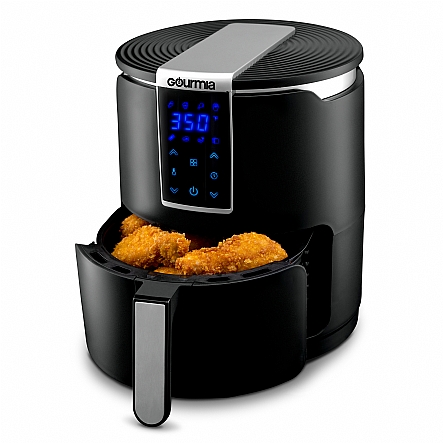 ---
This mid-sized air fryer is an attractive appliance that functions as it should with little to no issues. It has a fantastic looking LCD and a basket that is dishwasher safe.
It is relatively expensive for what you get in return as the GAF265 has only a small amount of features and a modest cooking capacity.
Specifications
Dimensions: H13.31 inches x W10.16 inches x D12.36 inches
Appliance Weight: 3.99lbs
Capacity: 4-Quarts
Available Colors: Black
Dishwasher Safe: Yes
Wattage: 1200W
Min/Max Temperature: 100°F/400°F
Looks 8/10
Appearance isn't the be-all and end-all, but it's nice to have a good-looking appliance in your kitchen, and this air fryer does not disappoint. The cylindrical body isn't the most efficient design (we'll circle back to that later), but the black plastic exterior and silver trim gives the appliance an attractive appearance.
The touchscreen LCD adds a hint of class to the front, and the lights are resplendent in royal blue.
Capacity 6/10
While the overall look of the GAF265 is very appealing, the actual design is somewhat inefficient. The body of the appliance is cylindrical, so compared to a square-shaped air fryer with the same measurements (height, width, and depth) it will have a smaller capacity despite having the same exterior footprint.
That said, the 4-quart capacity is a modestly sized device that can cook for around 2 to 3 people with no problem.
Features 5/10
Recipe Presets: Gourmia's 4-quart air fryer comes with eight presets programmed into the device. With the touch of a button, you'll have the correct times and temperatures for your desired food. Those presets are; Fish, Cake, Poultry, French Fries, Bacon, Steak, Shellfish, Bread.
Auto Pause: Like GAF228, this model also has the auto-pause feature to ensure that your cooking time isn't compromised when removing the basket to check the food or give the contents a shake.
Dishwasher Safe: Unlike the cheaper model, the basket for this appliance can be put in the dishwasher, making it easier to clean.
Performance & Cleaning 8/10
There is little question that Gourmia focuses more on the performance of their air fryers over functions, features, and extras. There are relatively few complaints from consumers regarding unit failure or problems with their appliances. At the same time, most customers are delighted with how the device cooks their foods reliably and consistently.
Cleaning the product is made simple with the 'Dishwasher safe' basket. For those that don't own a dishwasher, simply use a soft sponge and warm soapy water to get the job done. There are no complaints from consumers about it being difficult to clean.
Should you buy the GAF265?
While marginally better than the GAF228, with a larger cooking capacity, a much more pleasing design, and eight presets, it is almost double the cost of its smaller sibling.
It's not a bad appliance, were you to be given one you would be delighted with this air fryer; however, there are far better examples of these small kitchen appliances on the market for a similar price point.
2. Gourmia GAF718 7-Quart Air Fryer
---
"Simplicity is the ultimate sophistication" – If Leonardo Da Vinci's quote is accurate, the Gourmia GAF 2.2-quart air fryer must be one of the most sophisticated appliances available.
It isn't, but it is an entry-level air fryer, which is simple to use and has a low budget price tag. It has relatively few features, but it will perform the way it should.
Specifications
Dimensions: H11.14 inches x W8.36 inches x D10.23 inches
Appliance Weight: 6.64lbs
Capacity: 2.2-Quarts
Available Colors: Black
Dishwasher Safe: No
Wattage: 1000W
Min/Max Temperature: 175°F/399°F
Looks 5/10
The GAF228 is an entry-level air fryer, and it is one of the cheapest appliances on the market. Because it is so inexpensive, some allowances must be made, and consumers must accept that this is not a high-quality product.
This air fryer's design has been kept as basic as possible, presumably to keep the cost of this device down. It has a simple black plastic body with a silver handle and trim, while the LCD is small and unobtrusive.
Capacity 5/10
This 2.2-Quart is one of the smallest air fryers on the market in terms of cooking capacity. That's not necessarily bad if you're new to air frying, live on your own, or are looking for an appliance to supplement your oven.
Just be aware that you will not be able to cook full meals for four with the Gourmia GAF228.
Features 3/10
Auto Pause: When cooking specific meals, the recipe may require the need to shake the contents of the basket halfway through. The GAF228 auto-pause feature will send the LCD into sleep mode while the basket is removed, pausing the timer, and then resuming the cycle upon returning the basket. While it does sound like a commonsense feature that should be present all models, there are a few appliances on the market that don't feature a similar function.
Performance & Cleaning 7/10
To keep the cost of the GAF228 down, Gourmia have focused on air fryer performance, resulting in 90% of customers rating this appliance from 4 to 5 stars. It air fries meat, fish, French fries, bread, and pizza as it should.
As there are no presets for the LCD, this appliance is straightforward to use, which many consumers find appealing.
The cleaning process is a bit more complicated than as with other models since the basket is not dishwasher safe. It will need to be cleaned by hand using a soft sponge and warm soapy water.
Should you buy the GAF228?
While there is virtually nothing wrong with this air fryer, it is difficult to recommend an appliance that offers little in return for the price tag. It isn't overly expensive. It does adequately perform the task it sets out to do. However, for a similar outlay, there are plenty of other appliances on the market that do the same job but will have a few more bells and whistles.