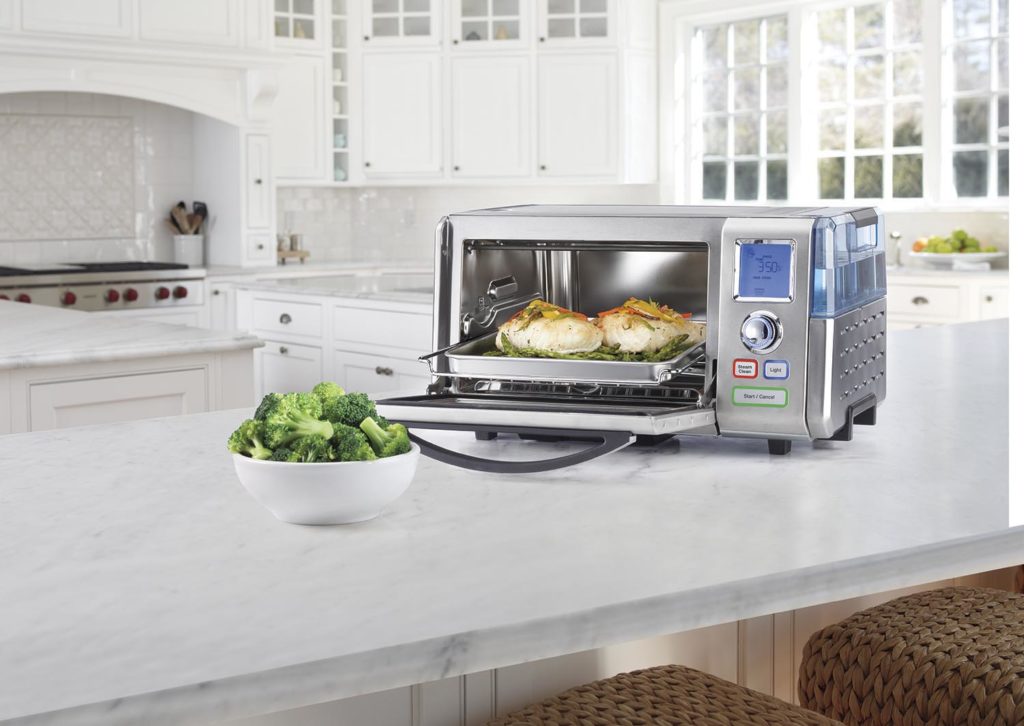 Disclaimer: I may receive commissions from purchases made via links at no cost to you
---
Quick review
The Cuisinart CSO-300N convection steam oven was designed in an attempt to rival Breville's countertop appliances but at a reduced cost. And they almost pulled it off.
Almost. This attractive convection steam cooker has clearly taken inspiration from Breville's design team with a striking stainless steel exterior and backlit control panel.
However, the "feel" of the appliance doesn't live up to the "look" as it feels flimsy to touch and far more tinny than you would like. The control panel is nicely designed and is intuitive to use, with the pressable dial shouldering the brunt of the work.
With 1800 watts of power and a 47oz water reservoir, this appliance can sustain a continuous 2-hour steam cycle before running out of water, at a temperature range of 150F to 500F, depending on the function you're using.
The performance of the Cuisinart CSO-300N is, on the face of it, top-notch despite its relatively reasonable price point, so what's the catch?
It appears that the high-tec nature of this appliance doesn't come without its pitfalls, as many consumers have suffered faults with their ovens. The most common complaints are leaking water tanks and units that stop cooking altogether, usually within one to two years of purchase.
Keep reading for a greater in-depth look into the CSO-300N oven and why it just might be worth the risk.
Basic Information
Dimensions: 19.5″ x 14″ x 11″
Weight: 24.2 lbs
Wattage: 1800 Watts
Control Type: Digital
Temp Range: 125 – 500°F
Capacity: 18 Quarts (17 Liters)
Pizza Size: 12″ Pizza
Toast Capacity: 6 slices of bread
Preset Count: 9
Price Range: Cuisinart convection steam oven has a mid-to-high price point, that despite being quite a large initial outlay, still represents decent value for money (as long as you get one that works).
Power: With 1800 watts of power, this convection oven can reach temperatures of up to 500F for broiling and maintain a steady flow of steam for up to two hours.
Temperature Range: This appliance has a temperature range between 125F and 450F for convection baking, 225F and 450F for steam baking, 300F and 500F for broiling, and 125F and 400F for the bread function.
Capacity: With 0.6 cubic feet of cooking space, Cuisinart says you can easily cook a four and a half pound chicken or 12" pizza.
Manufactured: Cuisinart products are generally manufactured and assembled in China and France but designed in America.
Warranty: This model is covered by a Limited 3-Year Warranty. However, Cuisinart requires that you send the product back to them at your own cost and include $10 for return shipping.
Design & Build Quality 7/10
The Cuisinart CSO-300N convection steam oven is one mighty fine-looking appliance. The brushed stainless steel casing looks high-quality, and the whole oven has the appearance of a high-tech microwave.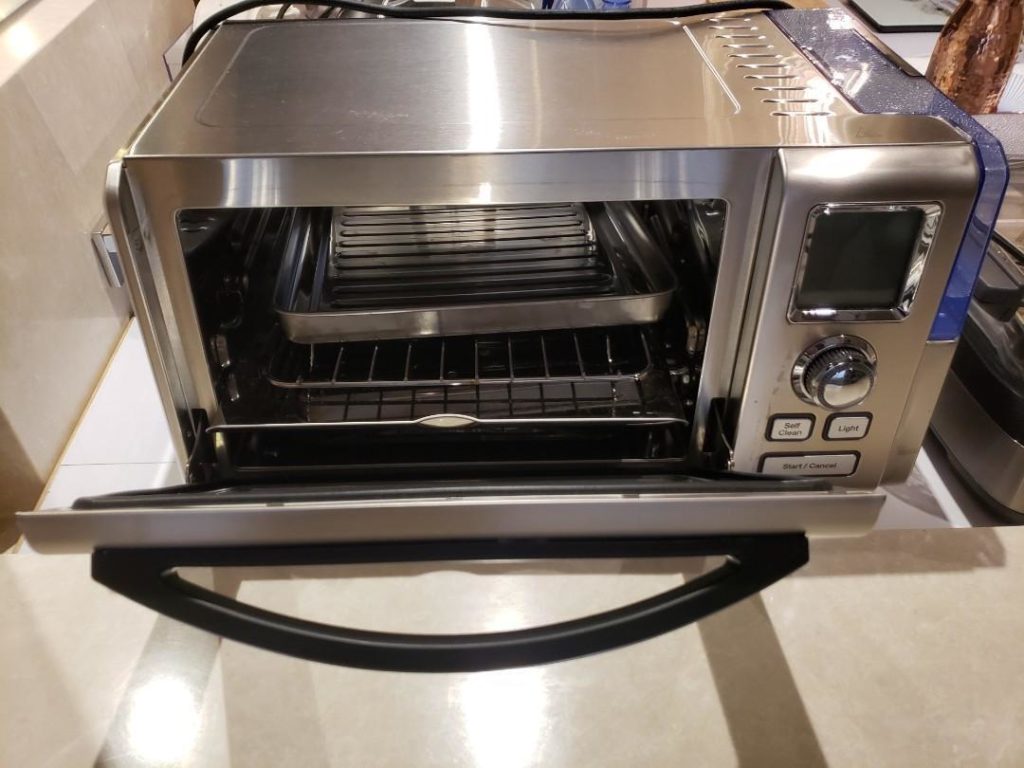 Unfortunately, that's not the only thing it resembles.
Cuisinart has always produced good-looking appliances with their own style, yet this machine looks more like a Breville product than it does Cuisinart. The pale blue LCD and red, green, and blue back-lit operational buttons are right out of the Breville playbook.
That's not to say it isn't a great-looking machine because it is; we just feel they've ripped Breville's design off slightly.
Though the exterior looks premium, the body and the viewing window feel a little tinny, though the door has a solid, smooth action and seals tight to keep the moisture and heat inside the oven.
Inside the oven, there are four separate rack positions (kind of), a lower and middle rack position for baking, roasting (which is achieved by turning the oven rack upside down), and toasting, and two rack positions for broiling.
The Cuisinart recipe book that comes with this appliance gives you directions of which rack position to use for each particular function or recipe.
There's an indentation in the bottom of the interior with a hole that allows excess moisture to escape down to the drip tray to keep water from leaking everywhere.
The reservoir for steam cooking is located on the right side of the machine, and you can remove it by lifting it vertically using the integrated handle. It will slide up with relative ease. The filler cap is on the underside of the tank, which needs to be unscrewed to fill. Everything clicks back into place with little issue.
While we didn't experience and reliability issues, more than a few consumers have bought Cuisinart CSO-300N countertop steam ovens that have failed (either stopped cooking or started to leak) within one to two years of purchase. Of course, most consumers weren't unlucky enough to get one, but enough people did that it forced us to sit up and take notice.
Controls & Ease of Use 8/10
The control system on this convection oven is made up of three backlit buttons, a pressable dial, and an LCD to displays all the information about each feature.

This convection steam oven has nine functions: bake by convection, bake by steam, broil by convection, broil by steam, regular steam, super steam, bread, keep warm, and toast.
The pressable dial does the majority of the heavy lifting on this machine, as you use it to scroll through the different options and select them by clicking it in. It's intuitive and far easier to use than models that have multiple options dials and buttons.
As you turn the dial it'll give you reassuring and confirming 'clicks' to let you know you've changed options, times, or temperatures. In the options menu you'll find nine options each with their own icon and default settings.
The three buttons are Start/Cancel (which is obviously for starting and stopping the cooking cycles), an interior light button for those times you want to check on your food, and a steam cleaning button (which we'll come to later).
The Cuisinart convection steam oven has a smart feature that detects the ambient temperature of the oven's interior and adjusts preheat/cooking time accordingly.
There's a clock built into the LCD, but as Cuisinart recommends unplugging your steam oven from the power outlet when you've finished cooking using it, the clock is pretty worthless unless you can be bothered to reset it every time.
Performance 8/10
Steam Baked Chicken
Using the steam bake function rather than standard bake, you'll be able to cook crispy yet tender chicken. It might seem a little counterintuitive to be able to cook crispy food using steam, but it absolutely works to perfection.
You can use the steam bake function for crispy bacon too. Though it takes longer to cook than frying the bacon in a pan, using the steam bake method is far healthier.
Proofing Bread
Before you can cook your bread, you need to proof the dough, which can be challenging. The unique bread proofing technology lets you complete this process hassle-free.
Toast
There are seven shade settings for toasting, all of which work to perfection, toasting your bread, bagels, and waffles to just the proper doneness depending on your selection. It toasts quickly, evenly, and the LCD will count you down, so you know exactly when it'll be ready.
Cakes & Banana Bread
No oven would be complete without the ability to bake sweet treats. Again, the bake function is the star of the show, producing delicious cakes and banana bread that's cooked evenly through in approximately sixty minutes.
Convection Baked Tater Tots
Nobody wants tater tots that are soft on the outside or overcooked on the inside. Fortunately, this Cuisinart appliance can deliver tots with a crunchy golden brown exterior and a light and fluffy center in approximately 15 minutes using the convection baked setting.
Bread
If you want to bake your own bread, you can do so in approximately 30 to 40 minutes, depending on the recipe you've used. Using the bread function, this Cuisinart convection steam oven at 350F, you can bake bread to an almost professional level.
Roasted or Steamed Vegetables
You have two options when cooking vegetables in the Cuisinart countertop oven. If you prefer crispy golden veggies, use the roast function, while for folks who like juicy and tender veg, the convection steam function is the choice for you as the steam helps your carrots and broccoli retain moisture.
Pizza
As previously stated, this appliance can actually cook a 12" pizza despite its compact nature. The 'bake' setting will cook the pizza to a golden finish far more quickly than your pizza box suggests; in fact, the manual for the oven suggests your pizza will be ready in around 20 minutes (approximately ten minutes faster than most ovens).
It's important to rotate your pizza inside this oven, though; otherwise, one side will be burnt to a crisp while the other not be cooked enough. However, that's the case for most ovens when cooking pizza.
Reheating Leftovers
The reheat function is one of the jewels in Cuisinart's crown. More often than not, when you reheat leftovers or last night's takeout, the results aren't great. You're left with dry and rubbery food. However, this steam cooker replaces the lost moisture and returns the food to its original state producing deliciously reheated food (assuming the food was delicious in the first place).
Results
Accessories 8/10
Cuisinart has included a bunch of accessories with this steam convection oven to help you get the most out of your appliance.
Inside the box, you'll find a drip tray to collect any excess fats and liquids and a crumb tray to catch any stray crumbs when you're toasting bread, waffles, or bagels.
You'll also get a baking pan, oven rack, and a broiling/steaming rack that fits into the baking pan when you're steaming fish or rice.
Though the accessories are helpful, there have been consumer reports that they have been known to rust after a year or two of use.
Cleaning 6.5/10
One of the biggest complaints about other Cuisinart countertop ovens is that the accessories and racks are not dishwasher safe. It appears that the brand listened to its customer base and made the racks and pans that come with the CSO-300 dishwasher safe, so they're straightforward to clean. However, the items will need to be pre-soaked if they're heavily soiled.
For cleaning the interior, there is a self-cleaning steam function that will loosen any dirt and grime that can be simply wiped away, making it one of the most effortless appliances to clean on the market.
Like any appliance that has a steam function, it will require decalcifying from time to time. It's a simple process of running the self-cleaning function but with a mixture of water and distilled white vinegar. You can find the full instructions in the appliance's operations manual.
Cuisinart CSO-300N Convection Steam Oven