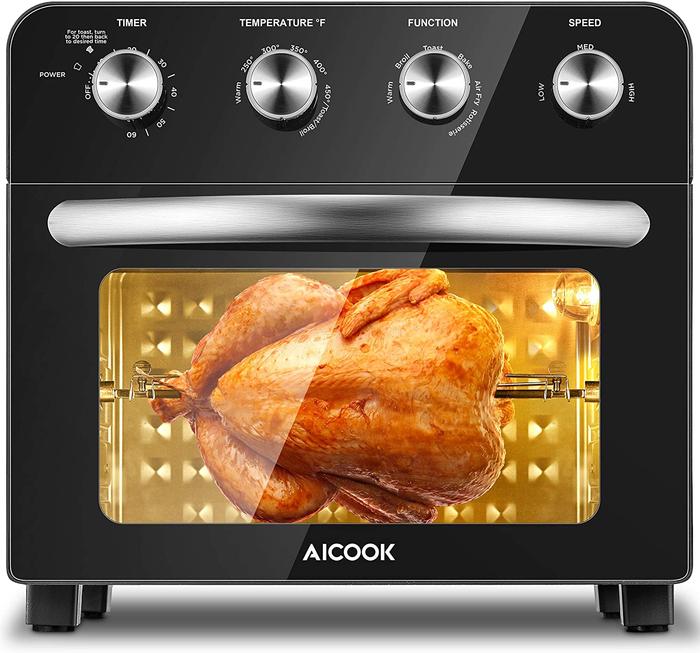 Disclaimer: I may receive commissions from purchases made via links at no cost to you
---
Quick review
This is a budget air fryer toaster oven but even for this price, I would expect a better result. The largest downside is the lack of digital controls and information about time and temperature. Also, poor quality of control knobs, annoying design flaws, and average performance doesn't help the case. The only reason I would recommend this model is if you like the design and looks. Otherwise, there are better options available.
The first look at the Aicook air fryer toaster oven product pages gives a lot of promise. It looks nice in pictures, seems to have a lot to offer for a budget price. I have tested this model myself to see what it is capable of and is it worth the price.
Packaging
The toaster oven is packaged very well. It uses a double box with foam inserts so the probability of damage during shipping is very low. Everything was wrapped in plastic which protects from scratches.
In the box I have found:
Aicook air fryer toaster oven
Manual
Recipe book
Air frying basket
Wire rack
Rotisserie kit
Baking pan
Design and build quality 6/10
Aicook toaster oven air fryer combo has a rather large (24 QT) capacity. I have measured internal useable space and got L32 x H18 x D31 cm (12.6 x 7.1 x 12.2 inches), equating to about 19 QT. Almost 25% less than advertised. The outside measures at L40.5 x H37.5 x D32.5 (16 x 14.8 x 12.8 inches) (+3 cm (1.2 inch) spacer for the hot air). It has some weight to it but it'snot difficult to move but I wouldn't like to do that often.
The Aicook air fryer toaster oven looks beautiful on the product listing page. In reality, it doesn't look as impressive but still looks nice.
The black exterior top and sides are made of stainless steel which feels very nice and of high quality.
The whole front is covered in glass which adds a premium look. There is some cheap black plastic used that wraps around the controls and doors sections.
On the back, I have found a plain stainless steel finish. The part where the hot air is released is sticking out. It prevents the oven from standing flush with the wall behind which is important for safety.
Control knobs look great until you start using them. They are made of cheap plastic that's painted or wrapped with shiny material. They are cut and fit unevenly and one of the knobs has started peeling after only a couple of uses. This is by far the weakest point of this toaster oven's quality and design in my opinion and this is only the beginning of problems with it.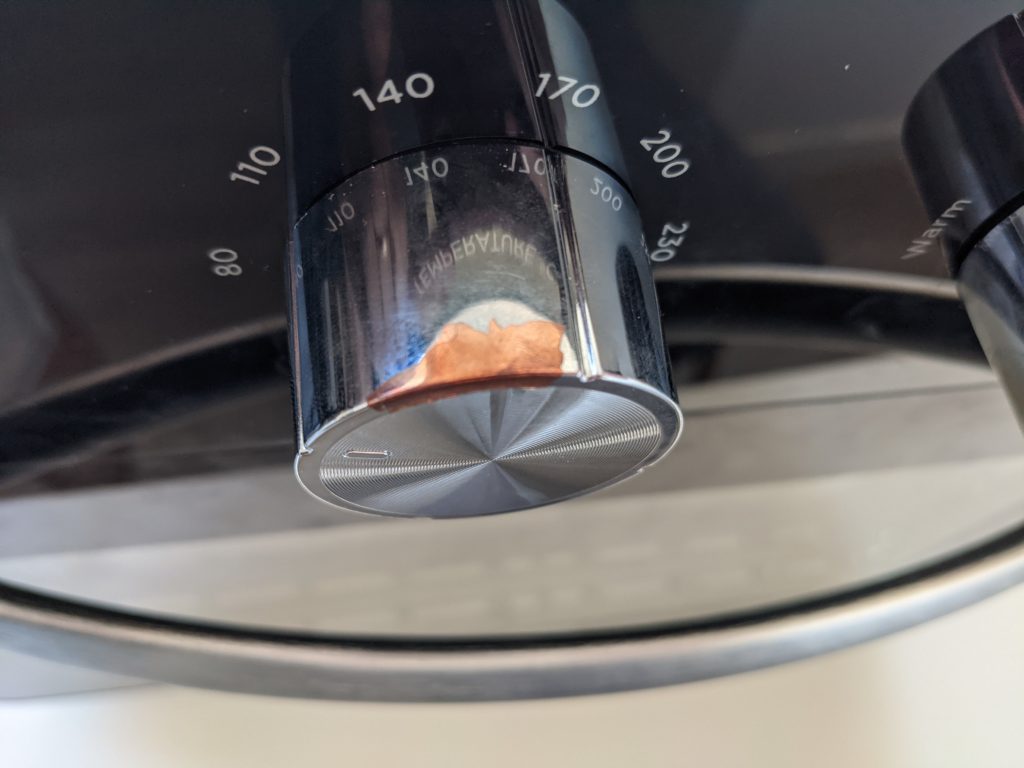 The main handle feels nice to touch is firm and adds a nice silver accent to the overall look.
The inside build is very basic and there was the least effort put to make it look nice. All screws and rivets are visible in plain sight. There are 4 heating elements at the top and 2 on the bottom. It has 3 rack positions.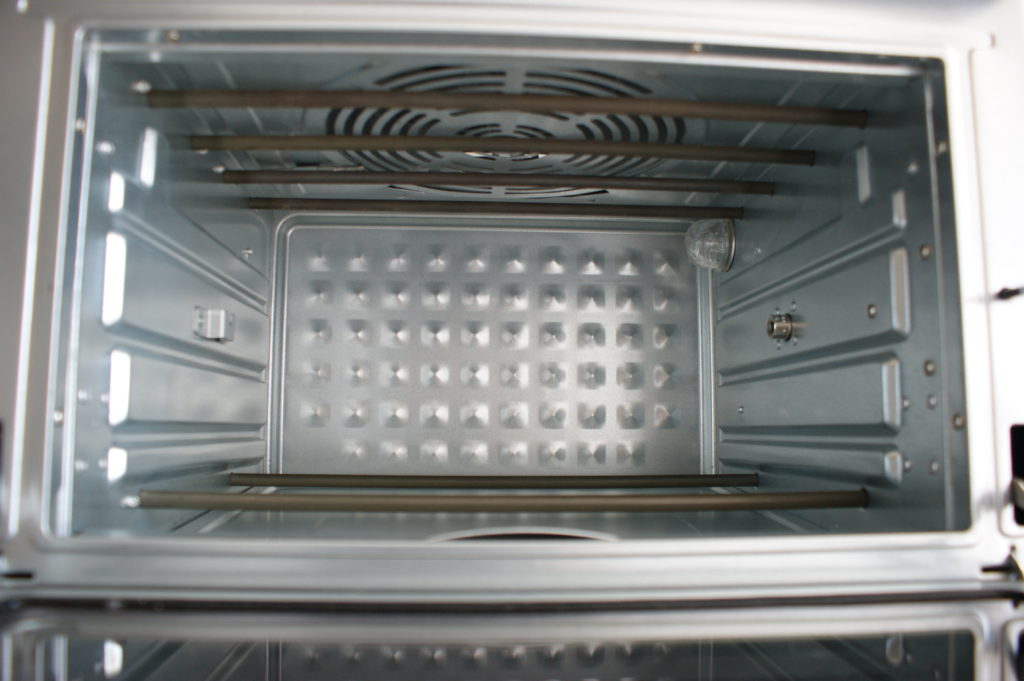 The accessories fit well in the oven. All of them are made of stainless steel. The air fryer basket and sheet pan have about 30 x 24.5 cm (11.8 x 9.7 inches) of usable space. I really like the air frying basket, looks good quality has standoffs that help avoid sliding sideways on the wire rack. The wire rack looks a little weak but given the size of the oven, it shouldn't be a problem. The sheet pan has a black enameled coating which helps with cleaning and just looks and feels nice.
Controls and ease of use 3/10
4 mechanical knobs control all functions of the toaster oven:
The first one controls cooking time. It's marked in intervals of 5 minutes up to 60 minutes. It's almost impossible to set it precisely to 17 minutes for example since there are no markings for 1 minute intervals. And even when setting a time that has a label it is still not accurate. I have set 5 minutes on the timer and it went off after 4 minutes and 5 seconds. After the time is up the oven makes a "ding" sound.
The second controls the temperature. The temperature range is 80 C (176 F) – 230 C (450 F). Once again it has labels only in 30 C intervals so setting up a specific temperature is a challenge.
The third knob controls available cooking modes:

Warm
Broil
Toast
Bake
Air fry
Rotisserie

The last one controls the fan speed: Low / Medium / High. The is no setting to turn the fan off completely.
A combination of these controls gets very confusing at times. For example, if I select a "Toast" function, what temperature should I choose? I think there would be more logic to label the functions as top/bottom heating so at least you can understand what's happening.
The knobs have difficult to see markings and one time I have been toasting bread for 15 minutes until I saw what I did wrong. The temperature was set to a lower setting than I thought I set. That's due to the design flaw: control knobs have 4 indentations and only one of them is used to mark the setting.
It's actually difficult to understand what's the difference between all the modes. Basically, you have to keep guessing and watching the food all the time in order to cook it properly. After a few trials and errors, you will be able to cook the food the way you want but I don't think it's worth it. In this day and age not having electronic controls and displays for time and temperature is unacceptable.
The door can be opened in 4 different positions however I don't see how that's beneficial. For me personally, it gets annoying as you have to apply more force to fully open the door. Aicook air fryer toaster oven product page states that the door opens flat. It's only true if the handle doesn't touch the countertop when opened. Otherwise, it prevents fully opening the doors and makes taking out sheets and baskets difficult.
The oven has a light inside which helps you to easily see how the food is cooking. I think it makes the situation a little bit better since you have to watch the food all the time.
Overall the controls are the complete opposite of what's said on their product page. Very inconvenient, imprecise and needs constant attention.
Performance 5/10
Aicook air fryer toaster oven performance is just ok. The fries and chicken wings come out crispy once you get a hang of what settings to choose. Although it can cook food it doesn't do it better than any other oven.
You might fit 6 slices of bread on the wire rack but it's a very tight fit and I would recommend toasting 4 slices for a better experience. The oven does a pretty good job: the toast has browned evenly on each side but the bottom seems to get more heat than the top.
I have made two temperature tests to see how fast it heats up, how well the heat is distributed and how much the temperature fluctuates from the target temperature.
For the first test, I have started a cold oven with an air fry function and 230 C as the target temperature. It took 4 minutes to reach maximum temperature. There was a 29 C difference between the hottest and coldest points.
For the second test, I have set it to bake function and 170C target temperature. This test has shown that this toaster oven model does a poor job at keeping a consistent temperature. At first, I have seen temperatures inside as high as 210 C but on the next heating cycle, it has stayed between 133 C and 185 C. Each measurement point had about 50 C fluctuations in temperature.
A result like this means that you need to preheat Aicook toaster oven so the temperature sets in. Once you do that there seems no risk of burning the food since the temperature reaches only 15C above target but you might have a problem with undercooked food due to drops to 135C. To solve this you need to give more time compared to better performing toaster ovens.
After about 30 minutes of performing tests, the toaster oven got warm to touch but not enough to burn you. Even the handle got warm. I would expect the outside to become pretty hot when cooking for 60 minutes or longer.
Cleaning 7/10
This Aicook model has a crumb tray which also works as a drip pan for the fat. Unfortunately, it's very shallow and you risk dropping everything inside when taking the crumb tray out.
The inside seems to be covered in some kind of nonstick coating which helps with cleaning.
Like I have already mentioned the inside has all screws and rivets out in the open and that can make cleaning a bad experience. A cloth can get stuck on those rivets. The heating elements also have no protection for the dripping and splashing fat and if some of the fat drops directly on an element smoke might start coming out.
Aicook Air Fryer Toaster Oven Combo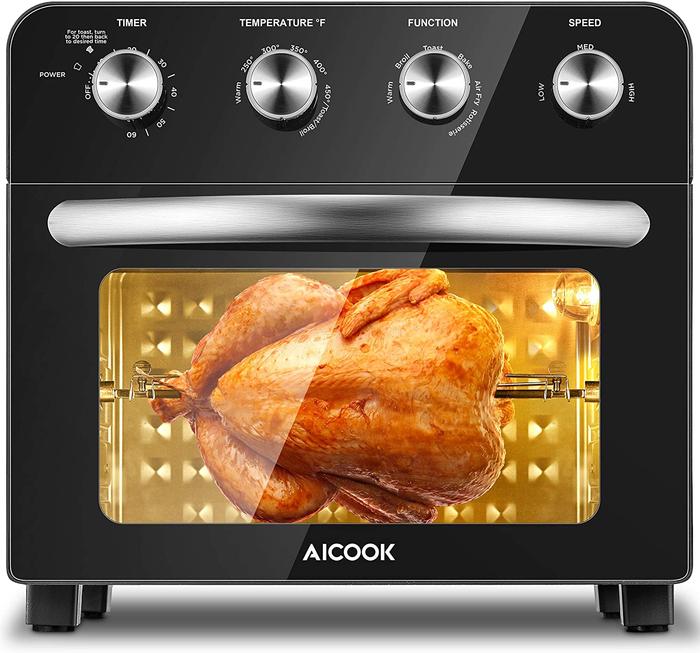 Cheaper
KBS FM9020 Air Fryer Oven
This air fryer toaster oven combo from KBS usually comes about 10%-20% cheaper. It's a very similar model to the Aicook I have reviewed. You get a very similar size, functionality, and performance, but you also get digital controls that make the cooking a lot easier.
Similar price
Chefman Toast-Air Fryer
For nearly the same price, you can get additional presets like dehydrate and fully digital controls. However, you lose about 3 quarts of capacity and there is no black color available.

Higher price
COSORI CS100-AO 12-in-1 Smart Air Fryer Toaster Oven
For about 15% more money you can get a great product from a reputable brand. It has a slightly larger capacity, dehydrate and ferment modes, and works with Alexa voice assistant.

You also get digital controls. If you don't want to spend more then they have renewed models available as well.