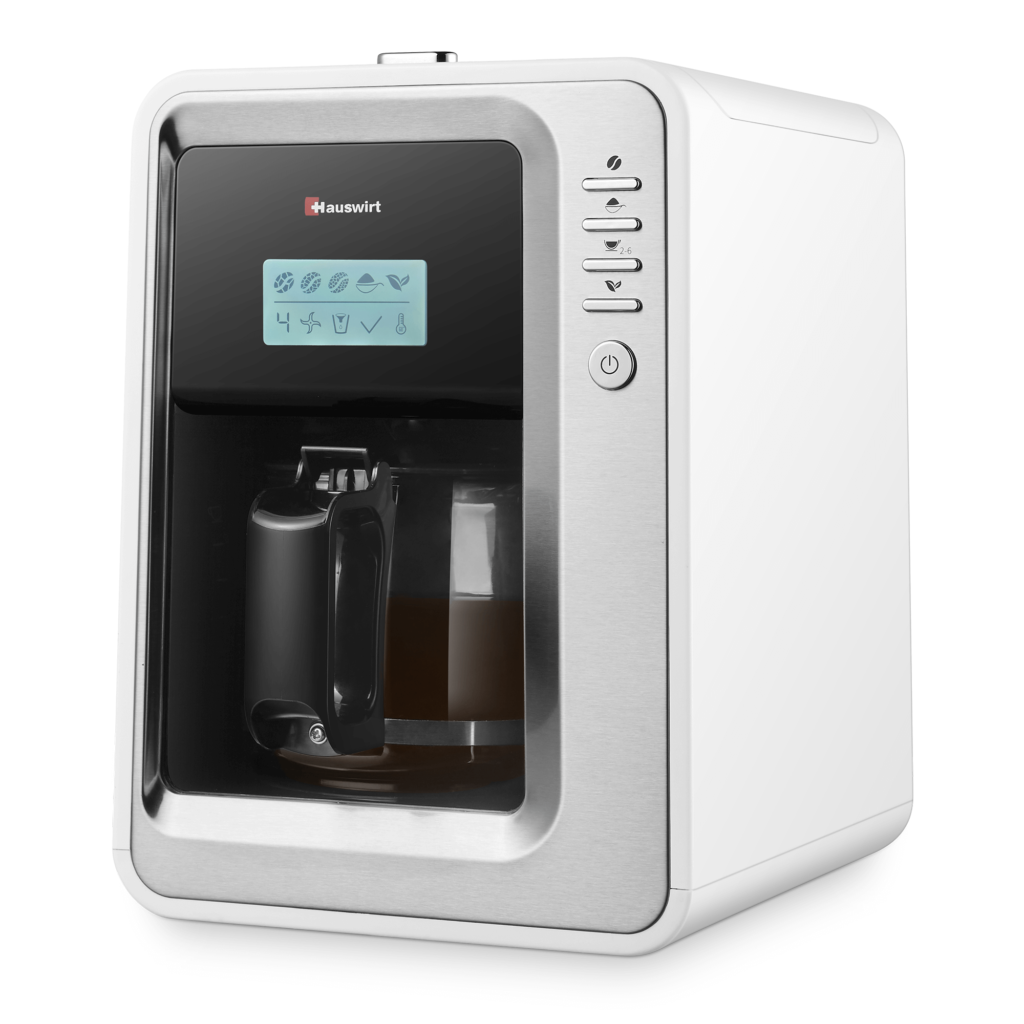 Disclaimer: I may receive commissions from purchases made via links at no cost to you
---
Quick review
Hauswirt coffee maker makes excellent first impressions when you unbox it: it looks very nice, good quality plastic both externally and internally, easy to use controls. It all feels great until you taste the coffee that this machine makes in under 5 minutes. Taste is a very subjective topic but unfortunately in our case nobody that has tried it said that it tastes great. Most of those people said that it lacks full coffee taste like it has been diluted. The taste improves a little bit if you make at least 4 cups of coffee.
If it had made a great coffee we would definitely recommend it as everything else feels great with this little machine.
This is the second Hauswirt product that we are testing. After reviewing the Hauswirt blender we were excited to get our hands on the coffee machine. This coffee machine promises great coffee taste with its selection of grinding levels, smart steaming step and the perfect temperature for coffee brewing. We have put that all to the test to see if it's worth buying.
Packaging
Hauswirt products always come with double box packaging and this drip-coffee machine is no exception. The product is well packaged, with no damage from shipping. Inside the box you will find:
Coffee machine
Glass carafe
Measurement cup
Cleaning brush
Manual
Each item has been packed in a recyclable plastic bag. We would like to have less plastic in the packaging, but this is the best method to keep items safe.
The manual comes in multiple languages. The English version doesn't look like it has been written by native English so there are some strange expressions and grammar mistakes but it is still pretty much straightforward and easy to understand.
Design and build quality 9/10
One of the highlights of the Hauswirt coffee maker is its clean design. It perfectly fits any modern kitchen or office and even makes it look fancier than it truly is. We love that Hauswirt have chosen a different approach to the layout of internals compared to other coffee makers. Instead of putting all electronics on top of the device they instead put them at the back cutting the height by a few inches. The result of that is a compact design with nice proportions (9.45" x 7.87" x 11.42")
Due to its compact design, it's easy to move and weighs only 7 lbs (3.2 kg).
It's available only in one color but it's a great combination of white housing and brushed aluminum-colored front. It's all made out of plastic but it feels high quality and doesn't ruin the overall look. If you like to equip your kitchen with products of one brand for the sake of consistent design and colors then Hauswirt will let you down. Their "white" blender has more of a cream color while the coffee machine is pure white. It's a very strange design choice by Hauswirt.
The control buttons don't rattle and have nice feedback when clicking. We haven't found anything negative about them.
Internal components use the same plastic materials except for the metal mesh filter. They all feel nice and high quality and we had no issues while cleaning or assembling them.
The included carafe uses a rather thin glass but it's quite common among the coffee makers in this price range. It shouldn't cause any problems but you have to be careful not to drop it or hit something with it. The attached plastic handle and lid feel nice and work perfectly. It's a small 6 cup capacity so it's very light (0.55 lbs, 250g).
Controls and ease of use 8/10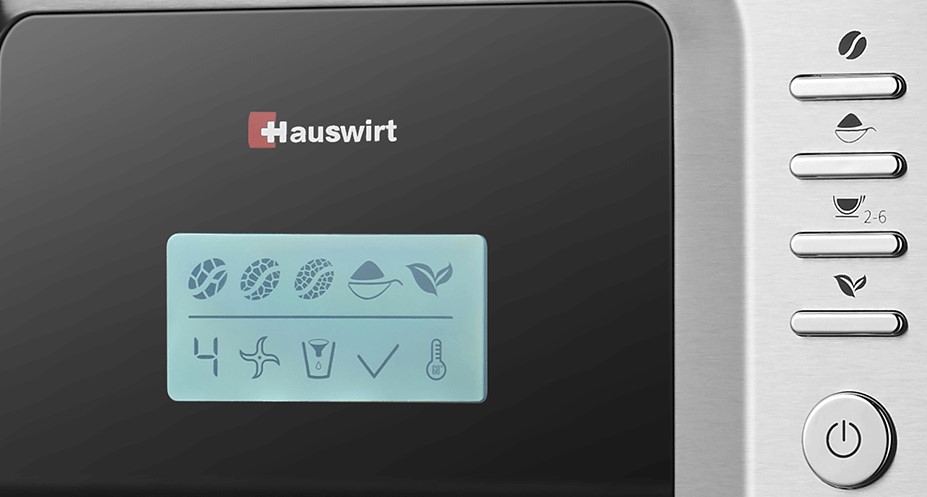 Preparing coffee with the Hauswirt machine is nothing unusual to other drip coffee machines. First, you open the top lid with a button. On the right, there is a water tank which is very easy to pull out using the handle. We recommend filling it up to the MAX label every time as the coffee machine uses only the amount of water needed based on the cup setting.
On the left, there is a grinder which you fill up with your favorite coffee beans, ground coffee or tea.
After you are done filling water and coffee just close the lid and selection brewing settings. Hauswirt drip coffee maker is controlled using an LCD screen and 5 buttons:
The first button controls the coarseness of the coffee grind and you can select 3 levels of that.
The second button selects ground coffee mode which basically skips the grinding step.
The third button selects the amount of coffee to make from 2 to 6 cups. You can't select 1 cup which is a shame although the time needed to prepare the machine and then clean it might not be worth it for just a single cup. A cup is about 4 oz (120 ml) in this machine, maybe slightly more.
The 4th button selects tea mode.
The bottom button is the start/stop button. The image on the button is usually used for turning a device on or off so it's a little confusing at first. Hauswirt coffee maker turns on automatically as soon as you plug in the power and doesn't have an on/off switch.
Overall controls are intuitive and not complicated. We think it could be improved even more:
Instead of having separate buttons for the coarseness of coffee, tea and ground coffee modes Hauswirt should just put one button with a "MODE" label that would select one of the mentioned modes. This would make the design cleaner and make it even less confusing.
The image for the start button should be changed to something else that would clearly indicate that it's a start button and not for turning the device on or off.
Once you start the cycle you can track the stage of brewing on the LCD screen. After it's done the machine beeps quite loudly and then there is another sound signal once the machine goes to "keep warm" mode. It keeps the coffee warm for 30 minutes if you make 2-3 cups and up to 2 hours for larger amounts. Unfortunately, there is no way to control the keep warm time or even turn off this function. The only way to cancel it is to press and hold the start button for 3 seconds, which resets the device to the initial stage.
Sliding the carafe in and out is very easy and satisfying. It has a slight resistance when putting it in but you get clear feedback once it's in place.
Performance 5/10
Measuring coffee maker performance is a mix of objective and subjective metrics. We will go through each stage and share our experiences but you might have different results.
Let's start with grinding. We like our coffee finely ground and unfortunately, Hauswirt coffee machine doesn't do a good job. The coffee is grounded unevenly ranging from fine to half the bean left untouched. It probably needs more time or some kind of pulse mode to improve. If you also like stronger coffee flavor then we recommend using ground coffee with this machine.
Brewing 2 cups takes about 4 minutes and even 6 cups take up to 5 minutes as advertised on their product page. If you use ground coffee then the cycle is about 20 seconds shorter. The coffee temperature is about 154 F (68 C) and you can drink it instantly without burning your mouth.
Now comes the final and most subjective test – what does it taste like. To our great disappointment, it doesn't taste good. Even the advertised steam function doesn't seem to help. The coffee tastes like it was diluted. We have tried multiple grind levels, ground coffee and always get the same result. We have tried adding more coffee than recommended, resulting in bitter dark-colored water with coffee flavor. It feels like the water has too little time to absorb the full flavor and oils from the coffee beans. However, this problem is less noticeable when brewing 4-6 cups of coffee. If you drink large amounts of coffee then this might not be a problem for you. And the taste is subjective.
We are no coffee experts just casual consumers so there might be something we don't understand. Leave us a comment if you have any ideas about what might be wrong.
Cleaning 9/10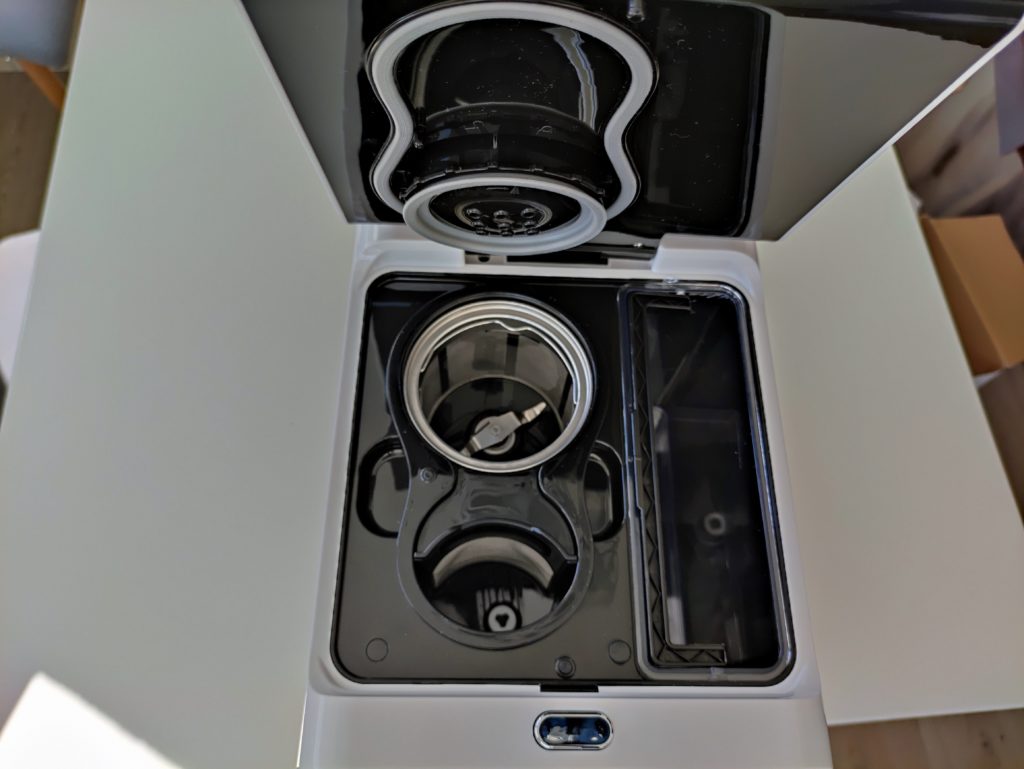 Cleaning the coffee maker is a pretty simple task. You open the top lid and take out the whole container for the coffee. Everything around remains clean. If you want to throw grounds to the trash can then it's a more difficult task as you need to use a spoon to take out as much as possible. After that just wash it in a sink and let it dry. We wish the metal mesh filter would have a base that coffee grounds would settle on. This way cleaning it the proper way would be much easier. You also need to clean the showerhead which is attached to the lid. To remove it you just need a short twist and it easily comes off.
Hauswirt Brew & Grind Coffee Maker